How does it feel to spend a night out, lying inside a cozy tent on a warm summer night under a starlit sky? Amazing, right? For such an incredible experience, you require a 1-person tent that fits your sweet self as well as some, if not all, of your luggage. We've gone to great lengths to bring you five impressive single person tents from some of the best tent brands that will ensure you enjoy your time outdoors.
What is the Best 1 Person Tent?
So far, it's clear that a well-structured tent that's waterproof and has reinforced seams is critical when buying a single-person tent. Keep these tips and factors in mind as you look through our top picks!
TETON Sports Fully Loaded Mountain Ultra Tent
Features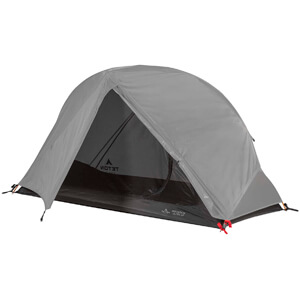 TETON Sports aims to give you camping gear that's pocket-friendly and won't fall apart the moment you first use it. Its highly reviewed products have bagged four and five stars due to their affordability and durability. It has an impressive range of high-quality sleeping bags, back packs, camping pads, and tents.
The TETON Sports Mountain Ultra 1 Backpacking Tent comes with a micro mesh that's designed to allow you adequate ventilation and give you panoramic views of the outside. With an extra-high floor, the tent is well-built, water-resistant, and guarantees you a memorable camping experience.
Some of the fantastic features that come with this 1-person tent are:
Has a single pole design that's easy to setup and breakdown;
Included in the pack is an Oxford foot print;
Comes with mesh gear pockets for easy access to your stuff;
Its seams and anchor points are reinforced, allowing you years of use;
Comes with a rain fly vestibule that keeps water away as you sleep;
Has an ultra-light weight of 4.4 pounds;
Includes a free stylish storage bag;
Has an extra-high Oxford bath tub floor;
This amazing tent comes in 4 sizes that can accommodate up to 4 people.
ALPS Mountaineering Lynx 1-Person Tent
Features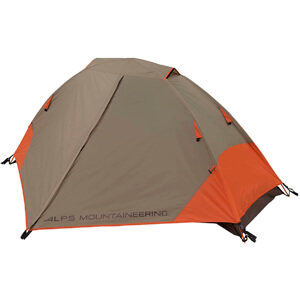 Located in rural Missouri, ALPS Mountaineering is gritty on providing world-class outdoor gear for people around the globe. The products are not only aimed at allowing you to enjoy tough trips with a lot of comfort but also come with a lot of functionality. It has a wide range of products from camping tents to trekking poles, and the newly introduced Outdoor Lynx 1 person Pack that's sure to be a game changer in the outdoor gear industry.
The ALPS Mountaineering Lynx 1 person tent comes with two poles design. Not only is it very easy to carry around due to its light weight of 4lbs. 4 oz., it is also well-hewn to give you supreme room space. From desert heat to snow and windy conditions, the lynx 1 does not disappoint.
Let's take a sneak peek at some of the features that will fascinate you incredibly.
Super easy to set up and tear down with no absolute frustrations. You'll be done in minutes;
Water resistance and also UV damage is now possible with the polyester tent fly;
The vestibule has all your storage problems sorted out with storage pockets;
It is fully equipped with 8 zippers stakes guy ropes and gear loft;
It's very easy to move in and out with the one doorway;
This ALPS Mountaineering Lynx Ten has its position on the best-selling list. Get yours today;
It comes with dimensions of 2'88 by 7'6 base and a center height of 36".
SnugPak Lonosphere 1 Man Dome Tent 
Features
Operating from a 1800s mill on the edge of the inconceivable Yorkshire Dales, SnugPak takes pride in being a manufacturer of a wide range of products across Europe. Ever since its establishment, this revolutionary company has been on the forefront in making sure that it brings to you, not only quality products ranging from quality sleeping bags, camping tents and insulated clothing, but also products that satisfy your needs and meet functionality. One of its most exciting and innovative pack, the Ionosphere 1 Man Dome Tent is sure going to be a knockout blow to other outdoor gear in the industry.
The SnugPak's Ionosphere 1 Man compact Dome is principally hewn with two poles and one door to meet all your overnight ventures. Whether it's the wild camps, adventurous races or protection from adverse weather conditions, the Ionosphere has been tried and tested to be a great fit. It comes with an impressive floor spacing spanning up to 2.4m by 0.9m which can accommodate up to two individuals on emergency.
The Ionosphere 1 Man Dome's features will leave your mouth agape. It entails;
Inner tent made up of Polyester mesh with 190t nylon;
5000mm Waterproof polyurethane coating;
Fitted with Flysheet (lightweight 210t polyester rip stop up);
Repair kit incorporated;
Light weight NSL anodized poles which are fitted with fit connectors;
50D polyester mesh;
Easy to set up and strip down;
Sturdy aluminum stakes with cut ins to secure the ties and rope with.
And one more thing; you can get this tent in two colors: Cayote Tan and Olive Green!
Eureka Down Range Solo 1-Person Tactical (TCOP) Tent
Features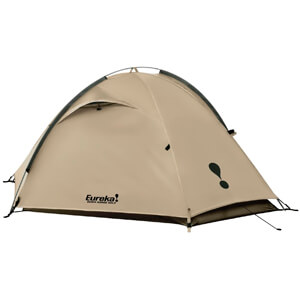 For Eureka, the outdoor journey began in Binghamton, New York with a range of products including rugged canvas for wagons, Horse blankets, awnings for store fronts and camp tents. With quality and durability in mind, Eureka has constantly come up with great innovations aimed at meeting day to day outdoor challenges. With their new Down Range solo – 1 Person Tactical (TCOP) tent, you can only expect the best from them as they do not disappoint.
The Eureka Down Range Solo – 1 Person Tactical (TCOP) Tent is a two pole rectangular dome brought to you by Eureka. It comes with aluminum frame and clip attachments making it very easy to set up. It is conveniently very light (with a weight of 5lbs 8oz) and compact hence making it even more convenient for you to carry it on the go.
Here's what's more to expect from this one-person tent:
2 pole rectangular dome making it easy to set up;
8.5mm DAC Feather lite aluminum frame which comes with clip attachments;
Easy set up enhanced by post and grommet attachments with locking end corners;
Constructed with no-see-um mesh;
Has sizeable mesh panels for airflow;
Fully equipped with two large U-shaped doors easy to roll up;
Fortified with two enhanced storage pockets;
Dimensions spanning up to 7'6" by 2'8" with a room height of 3ft;
Has a minimum weight of 5lbs 4oz. making it easy to carry;
Includes a poke-out vent in the fly that has zippered access via the mesh roof cloth;
Has Bathtub floor that wraps up sides of tent to protect against splashing rain.
Winterial Single Person Ultra-Light Bivy Tent
Features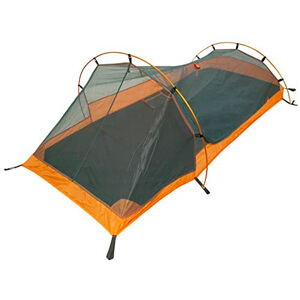 The Wintreal team is constantly looking for ways to enrich your outdoor experience and seeks to inspire you to "get outside and start your own adventure" Its top-notch outdoor products include tents, insulated cups, camping cook ware, and auto travel gear. It also provides you with winter gear such as ski goggles and snowboarding accessories.
The Winterial 1 Person Backpacking Tent is a 3-season tent with a signature open air netting that's perfect for summer outdoor adventures. Its waterproof rain fly opens all the way to the bottom, which keeps water from entering the tent if it rains when you're asleep.
Here are some features that come with this top-ranked tent:
Its seams are pre-sealed and waterproof;
Comes in a light weight of 3 pounds;
Features two durable aluminum poles;
Included are 3 strong chords;
Comes with 14 stakes that are strong and don't bend when the ground it tough;
Its door has a large zipper that allows easy access in and out of the tent;
Has a roof mesh for ventilation.
This tent comes in four beautiful colors: orange, gray, green, and lime green.
How Do I Choose the Best 1 Person Tent?
Do you ever feel like the weight of the whole world is weighing heavily on your shoulders? Those are the days when you just want to grab your back pack and escape to a far-away land where no one knows who you are and what you do. Well, how about going camping? There's something therapeutic about sitting on your camping chair staring at the starlit sky, and later retiring into the comfort of a cozy 1-person tent.
Single-person tents are designed to accommodate an individual who wants to enjoy a comfortable living space when outdoors. In your endeavor to get the best 1-person tent in the market, you'll need to consider key factors such as the size, shape, and workmanship of the tent. A tent of compact size, such as ALPS Mountaineering Zephyr 1-Person Tent is ideal, as it will fit nicely into your luggage along with your binoculars and other camping gear.
Staying dry is essential when out camping, so you need to ensure that your camping tent has waterproof features that shield you from getting drenched. Proper ventilation is also critical, and most single-person tents have a mesh panel that allows circulation of air. A good one-person tent made of breathable nylon and comes with polyester mesh is the Big Agnes Fly Creek HV UL Tent. It's made by a reputable brand in the industry and could be a great fit as well.
Price
You don't need to rob the bank in order to spend a night out in the wild, lying in a comfortable 1-person tent. These tents are fairly inexpensive, with a price range of $30 – $300. Some of the factors that affect the price include the size of the interior and the quality of the material used to make the tent. You may have to fork out a few extra bucks for a single-person tent with good architecture incorporated into its design, giving it more livable space.
In this review, we've kept away from cheap 1-person tents that are not only made of a lesser quality materials that soak in water, but also lack the ability to withstand harsh weather (a common occurrence when outdoors).
Features
Among the key features you need to look out for when buying a 1-person tent are:
Design – After setting up, the tent can be dome-shaped, have a hoop design, a pyramid shape, or a free-standing design.
Size – Has the tent factored weight into its design to ensure that you're able to carry it around? How much camping space does it require when setting up?
Material – Ensure that the material used will keep you dry; the zippers and the floor should be waterproof, and a rain fly should be incorporated, to ensure that you stay dry when sleeping.
User – Depending on how much experience you have camping, you may go for a beginner, intermediate, or professional type of tent.
Capacity – How much livable space is available? Does it have space for you to store your gear?
Construction and Design
The design and shape of a one person tent varies from one brand to another. Some have a dome-shaped design that creates a wide space once it's staked out. A pyramid design, on the other hand, allows for adequate headroom when you're sitting down, and is a favorite of tall people. The market also has tents that have steep walls incorporated into their design, which gives them a high volume.
The construction of single-person tents incorporates poles that are necessary when setting up, and are often made of aluminum for durability. For ventilation, most tents have mesh panels that may be on the rooftop or on the sides, which also gives you a good view of the outside. You may find that others have mesh pockets on the inside for easy access to your stuff.
The seams of the tent are often sealed and reinforced to last longer. The rain fly of the tent is better when it can zip from top to bottom since such a design keeps water away in case of a storm—you don't want your tent floor to turn into a swimming pool, do you?
Performance and Ease of Use
The performance of a 1-person tent depends on how easy it is to set up and your comfort when inside. The easier it is to pitch the tent, the better for you. Some designs are a pop-up type of tent, so that in a matter of minutes your tent is up and ready for use.
Experienced campers may have adequate know-how on how to pitch, but if you're a beginner, you may want to watch an instructional video online on how to set up a tent. For easy cleaning, you can buy a broom to quickly sweep your tent before and after setting it up. And finally, keep in mind that a footprint that extends past the entrance is also essential since it protects the tent's floor.
Get the Best 1 Person Tent of 2021!
Hopefully, through this review you've been equipped with the confidence necessary to go out and purchase an ideal tent. Better yet, we hope you've zeroed in on a particular product that will fulfill your needs. If not, these reputable brands have some of the best camping gear in the outdoor industry, just for you!