Copper cookware is used in the top kitchens in France. However, it can be too pricey for most home chefs.
If you want the experience of cooking with copper at home, you might want to try a copper core cookware sets instead. The design allows the cookware to provide you with much of the same experiences and the best copper core cookware pieces are much like the solid copper pans they resemble.
A copper cookware set comes with plenty of cooking tools. You will likely receive a sauté pan, and plenty of pots and pans.
Why Copper Core Cookware?
These types of copper sets are designed to hold in heat and be simple to use. They also provide excellent heat distribution; which makes them very popular cooking options.
There are several different versions of these copper pans. The stainless steel interior could be surrounded by aluminum, then copper. They may also come with a copper bottom and have a different material along the sides of the pan. No matter what you decide, you are sure to enjoy these dishwasher safe pans.
A copper core pan is dishwasher safe, can be used on induction stovetops, and does not need to be polished. They have the benefit of being stainless as well.
However, there are plenty of copper cookware set brands out there to discover. We will be covering all of the top options for you in this article, so be sure to keep reading if you want to order a new copper cookware set soon.
How We Selected the Best Copper Core Cookware Sets
There are many different brands of copper cookware sets out there. However, how do you know which set of pots and pans is the best to stock your kitchen with? Certain features of the cookware set is going to offer you more than the others can.

For instance, a visible copper bottom can assist with heat distribution. Durable handles provide more support and stainless steel materials are the best at providing you with a nonstick surface. No matter what you decide, you will need to ensure the benefits will be useful to your cooking at home.
You will want to use the following criteria to determine which sets are going to be the best for you:
As long as you find some of those features in the sets, you will be receiving a high quality order.
Best Overall – Lagostina Martellata Hammered Copper Tri-Ply Cookware Set
Available Sizes: 10-pieces and 12 pieces | Weight: 7 lbs for 10-piece set | Pre-seasoned: No| Lids included: Yes | Add-on Options: Set + Stockpot | Colors: copper color | Set Pieces: 8″"skillet, 10″ skillet, 2Qt saucepan with lid, 3Qt saucepan with lid, 3Qt deep saute pan with lid, 6Qt stockpot with lid.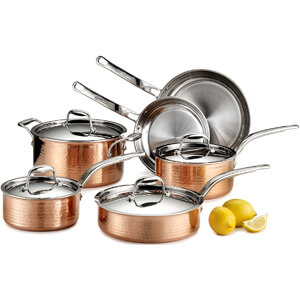 This set is beautiful. The very first thing you will notice is the copper exterior, which is hammered for a special finish. They will stand out in any family kitchen. The cookware feature a tri-ply construction, which is made of aluminum core pressed between two layers of stainless steel. This design allows the layers to evenly distribute heat throughout the sauce pans.
Customers appreciated the premium stainless steel surface. This material is excellent for maintaining the flavor of your cooking and is perfect for searing meats. The included pot lids are stainless steel as well.
They fit tightly into the cookware, allowing them to trap moisture- which prevents your food from drying out. The handles are made from stainless steel too, so you know that they are durable. The final design aspect that we enjoyed was the flared edges. By adding this lip to the edge of the sauce pans, liquids can pour out from the cookware, instead of running down the sides of your saute pan.
Since this cookware set has a copper exterior, you can not use it for induction cooking and it is not safe to put in a dishwasher. You will need to only hand wash the items in this set. Still, you are getting beautiful, quality cookware at a great price. As long as you maintain them, they will last you many years.
Finally, it is worth noting the pans come with measuring markings on them. This feature is very useful while you cook, making them a great investment.
Pros:

Cons:

Design – They include a copper core layer and a beautiful hammered copper exterior. This makes them excellent at heat distribution and warming up quickly. They are great for searing too and you always get amazing cooking results;
Flared Edges – This small detail will make a world of difference as you cook in your saute pan. The edges give you more cooking control and reduce messes;
Stainless Steel – The steel used maintains the flavors in your cooking and is perfect for searing.

Not Dishwasher Safe – While these products are wonderful to have in the kitchen, you will need to spend some time hand cleaning them. Still, doing so ensures they last you many years of consistent use;
Not Induction Safe – You will not be able to use these on an induction cooktop. If that is what your home kitchen has, you will need to look at different pans.
Final Thoughts
Overall, this copper cookware set is one of the best one the market. The pans heat and distribute heat very quickly. You will need to spend some time maintaining them, but they truly are the best copper pans on the market.
Best For Home Chefs – All-Clad Copper Core 5-Ply Bonded Cookware Set
Available Sizes: 10-pieces and 12 pieces | Weight: 7 lbs for 10-piece set | Pre-seasoned: No | Lids included: Yes | Add-on Options: Set + Stockpot | Colors: copper color | Set includes: 10-piece cookware set includes 8 inch and 10 inch fry pans, 2 quart and 3 quart covered sauce pans, 3 quart covered sauté pan and an 8 quart covered stockpot.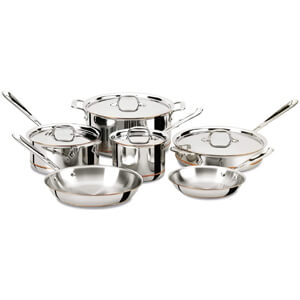 The very first thing you might notice about this set of pots and pans is the price tag. However, they are made from the highest quality materials. The set comes with everything you need too- two fry pans, two saucepan with lid, a sauté pan with lid, and a stockpot. The materials used are a 5-ply bonded stainless steel, aluminum, and a hefty copper core. This construction supplies home cooks with professional levels of heat distribution and even cooking. Plus, they are durable and warp resistant.
We appreciated that these copper core pans can be used in an oven and broiler, up to an impressive 600 degrees F. They are even both induction and dishwasher safe too.
While the initial outlay might make you recoil, you won't ever need to buy another skillet.  Many people hand on well-loved Le Creuset to their children, which is testament to the brand's desirability and performance.
Pros:

Cons:

Polished Stainless Steel – The stainless steel interior offers nonstick features- making it easy to clean and cook with. The material also will not react with food and is safe for cooking;
Design – The 5-ply works wonders for home chefs. These sets are going to greatly benefit those with cooking skills. They also come with flared edges and measuring marks on the inside.

High Cost – This cookware set is not going to be within many people's budget.
Final Thoughts
If you cook all of the time at home, you will need a cookware set to last. This option has a durable and long lasting construction. The stainless steel provides a perfect nonstick surface for your cookware.
Best Heat Conduction – Paderno 12-Piece Stainless Steel Copper Core Cookware Set
Available Sizes: 12 pieces | Weight: 25 lbs for 12-piece set | Pre-seasoned: No | Lids included: Yes | Add-on Options: None | Colors: Stainless steel with copper base | Set Pieces: Set includes three Saucepans (900 mL, 1.9 L, 2.8 L), 4.7 L Wide Pot, 2.5 L Steamer, 10" Sauté Pan, and 6 Stainless-Steel Lids.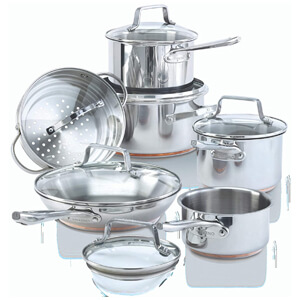 These pieces of cookware are constructed using a stainless steel 5-ply. It includes two layers of stainless steel, two layers of aluminum, and a copper core. This allows the pans to come to temp very fast, then stay there easily.
The stainless steel interior is easy to clean and is perfect if you want to sear your meal. This copper cookware order also can be used on induction surfaces, although it is not dishwasher safe. You will need to wash them yourself in warm water to maintain them.
performance.
Pros:

Cons:

Heat Conductivity – Heat travels easily through the sauté pan. This makes it perfect for cooking a variety of meals. Overall, this set seems to have the best heat conductivity out of everything on this list;
Great Price – You are getting 12 pieces of copper cookware at a lower price point than many other items.

Not Dishwasher Safe – You will be spending a lot of time hand washing these pieces, if you want to ensure that they last a long time.
Final Thoughts
These copper cookware pieces are set at an excellent value. You receive 12 items, including a pan with lid. They heat up easily and offer wonderful conductivity, which leads to an even heating all around. Additionally, the induction cookware is complete with polished stainless steel handles.
Most Pieces – Legend Stainless Steel 5-Ply Copper Core Cookware Set
Available Sizes: 14 pieces | Weight: 36 bs | Pre-seasoned: No | Lids included: Yes| Add-on Options: None | Colors: Stainless steel with copper handles | Set Pieces: 8-quart stockpot; 10-inch frying pan; 12-inch frying pan; 8-inch frying pan; 1-quart saucepan; 2-quart saucepan; 3-quart casserole pan; and 3-quart sauté pan. All with heavy, custom fitted lids.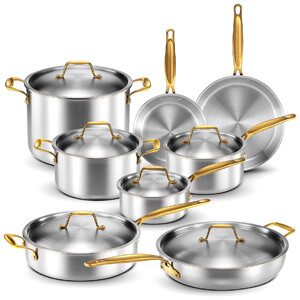 This cookware set offers you the most pieces. If you recently moved or need to completely replace your cookware at home, then this would be the perfect options for you. You are going to get more value from this order.
The pot and pan pieces are made from stainless steel and include copper core construction.
The layers start with stainless steel for easy cooking and clean, followed by aluminum, then your copper core. These pieces can also be used for induction cooking and are dishwasher safe.
Pros:

Cons:

Design – We appreciated the unique design of the pan. They come with different handles, which make them stand out. The construction of the layers supply you with even heating and durability;
Lifetime Warranty – It is also worth noting that this order includes a lifetime warranty. Even if something were to happen 30 years from now, you can still receive customer service from the company;
Value – With this order you receive 14 pieces. Most sets offer you 10 to 12 at most- this one gives you two more to use, making it a great investment.

Heavy – This set is very heavy. Even one of the pans can be difficult to lift.
Final Thoughts
If you are looking for something with a lot of pieces, then this option should help you fill your kitchen with helpful tools. The base of these pieces are very sturdy, they manage heat well, and the handles are strong.
You can use them on an induction cooktop without worry as well. Overall, they are great for many families. The 14 pieces are excellent for cooking very large meals, so they even work great for larger families too.
Best On A Budget – T-fal Ultimate Stainless Steel Copper Bottom
Available Sizes: 13-pieces | Weight: 23.9 lbs | Pre-seasoned: No| Lid included: Yes| Add-on Options: Stainless steel steamer | Colors: Stainless steel | Set includes: 8 inches fry pan, 10.5 inches fry pan, 12 inches fry pan with lid, 1 quart saucepan with lid, 2 quart; Saucepan with lid, 3 quart; Saucepan with lid, 5 quart; Dutch oven with lid and stainless steel steamer.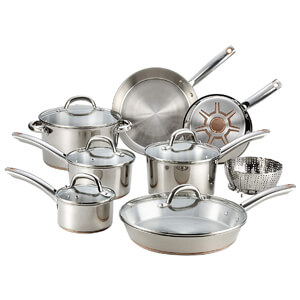 For more than 60 years, T-fal has aspired to make the lives of busy home cooks easier by providing ingenious, high-performing and user-friendly cookware that enables a shortcut to desired results, every time. Today T-fal is part of the Groupe SEB global family of brands.
If you want to buy a quality set of pans on a budget, then this option will suit you nicely. You receive 13 pieces, including a 3 qt saucepan with lid. This large size is perfect for most family cooking. One of the best design benefits comes from the visible copper in the base. They are surrounded by stainless steel and transport heat throughout the cookware. These layers work well together and provide you with excellent cooking capabilities.
Pros:

Cons:

Visible Copper: The copper layer is exposed on the bottom, allowing heat to be transferred through the surface much faster;
Stainless Steel: The body and handles of this cookware set consist of stainless steel. This material is excellent in a pan- it provides you with an easy to clean surface. It is durable too- so you will not see spots or tarnishing for a very long time

.

Check Your Order: Some customers did not receive all of the pans that were supposed to be included. Always count the pieces when you receive them; contact the company for missing products.
Final Thoughts
You can still buy quality copper core products on a budget. The pan heat is consistent and even with this cookware set. They are an amazing investment and will provide you with a perfect cooking environment. The visible copper on the bottom surface of these items are amazing at transporting heat. That way, you are getting all of the benefits of copper and stainless steel inside of one pan.
If you need a quality set of cookware on a budget, we recommend this order. You might even be able to buy it on sale or find some other great deals with it.
Frequently Asked Questions (FAQ)
How to Choose the Best Copper Cookware Set in 2021?
When it comes to a copper core pan, you want to be sure you are ordering something that suits you. These products are not cheap, so you will want to feel confident that it is something you can use daily.
However, it can be difficult to choose a good cookware set in 2021. You will want to consider your needs and how many people you are cooking for before you buy. Plus, it helps if you think about what sort of meals you plan on cooking in your new pan set.
These are the features that you will want to consider the most.
The Amount of Pieces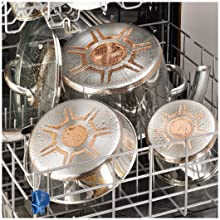 First of all, how many pieces do you need? Most people will use more than a single pan when cooking a family-sized dinner. However, you do not want to spend money on items you will not use.
Most of these orders come with a 10 piece set. This will usually include an eight inch skillet, a saute pan, a fry pan, and several other pieces in different sizes. With a 14 piece set, you get additional items. If you know you will be using a lot of kitchen tools daily, it can be very worth it to have some more. This gives you options to cook more meals.
As a base, you should always consider a 10 piece set. This will cover all of your basic needs in most cooking categories.
The Design Features
Every cookware order is going to be different. Some come with a 9 inch skillet, others are safe to use with induction cooktops, yours might even come with cast iron handles. You will want to find features that benefit you.
One option is a copper base. These provide plenty of heating benefits, as copper is an excellent conductor of heat. This will give you a more even distribution of heat and allow you to cook more efficiently. Other options include cool to the touch handles or a special edge around the pan.
No matter what you need, you will be able to find a version of cookware that comes with those options. This is why it is important to do your research on sites like ours, so that you know you are getting the best order for your home.
The Price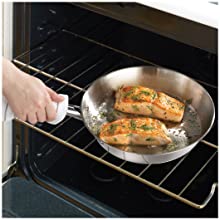 It is essential that you always look into the price of an order before you check out- you might be able to find a better one somewhere else for the price. High quality cookware is expensive. You do not want to be surprised by the cost!
It helps if you have a set budget that you can stick to. Choose the amount, then make sure you do not go one dollar over- this can help you from spending more than you have on the set.
Finally, a high quality copper pan should last you a lifetime.
You want to these of these pieces as an investment for your (and possibly your grandkid's) kitchens. This means you might need to spend more money now, but you should be getting one lifetime of use from a good copper pan.
The Maintenance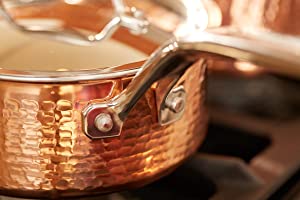 A copper pan is going to need some maintenance. If you notice spots are starting to appear on your frying pan, you will want to use some copper polish on it. Cast iron pans and copper are quite different from one another- so you will need to know how to take care of them.
This is also true if your frying pan has a copper bottom and is not all stainless steel on the exterior. Your copper bottom will also need to be polished from time to time, if you want to avoid spots appearing.
Overall, any time you purchase a quality cookware set for your kitchen, you want to know that it will last. This includes knowing how to properly maintain the cookware and ensure that it has a long lifespan.
Customer Reviews
Finally, it helps if you read customer reviews on the topic (for example on Amazon). Users of a product will be able to tell you their thoughts on it and how the item worked in their own kitchen.
If you notice a particular eight inch frying pan has good reviews and is receiving a lot of praise- that is a good sign! However, you will want to read the negative reviews as well. This can help you know exactly what to expect with your own eight inch frying pan.
How to Maintain Copper Cookware?
Once you have your order at home, you will need to know how to take care of it. You will want to follow these steps after using the cookware, so that you know it will last you many years.
Never put the pan in the dishwasher unless the brand says it is safe: Copper is not usually a dishwasher safe material. If you put a copper pan into the dishwasher, you could tarnish or damage it easily. You will need to make sure that you hand wash copper in warm, soapy water, unless the company has stated that it is alright to use a dishwasher.
Polish the copper every couple months: Next start a routine with your cookware. All copper pieces will need polished every few months, as they begin to tarnish. All you need is a special copper polish that you can apply. This brings the life and shine back into your copper items. However, a faded piece is still going to cook just as well as a shiny one – polish is purely for aesthetics.
Use gentle sponges: Abrasive materials can scratch the surface of your copper. To avoid this, always use soft products and a gentle soap for cleaning.
Always clean before polishing: Before you polish your copper pot, make sure that you wash it. You do not want to trap grime under the polish, as it will be very difficult to remove later on.
Relearn temperatures: Finally, these copper pieces are much more conductive than cast iron cookware you might have used in the past. You will want to relearn the temperature settings on your stovetop- consider them to be higher than what they read. That way, you are not going to overheat and overcook your food by using the settings that you are used to.
Final Verdict
Out of all the options we discussed here, we would have to say that the Lagostina Martellata Hammered Copper Tri-Ply Cookware Set is the best. It provides you with everything that you need and is beautifully crafted. Many people enjoy the design and love how the cookware looks in their kitchen.
Of course, for the set to be the best overall, you will also want it to work well. The copper offers plenty of heat distribution benefits and gives you an even cooking surface. That way, you can use it to sear meat and make delicious meals easily. The construction of the set is also excellent. We appreciated their stainless steel handles.
Overall, there are many reasons that this order stood out to use the most. If you are interested, be sure to check it out at the link we provided! You might love it as much as we do.