The Perfect All Rounder: Excellent For Second Fermentation
If you're a kombucha enthusiast, you know only too well how important it is to find good quality kombucha bottles. The kind that can hold carbonation in all sorts of situations – including for that batch that extends well past its fermentation date.
We've all been there.
It's best if you have kombucha bottles that are strong, stable, and safe so that you can enjoy your brews and experiment safely. Perhaps even more so that you can focus on brewing a perfectly carbonated kombucha batch without having to troubleshoot complications that can arise from low-quality kombucha bottles.
Whether it's kombucha you brew in these bottles or some other types of delicious sounding beverages – one thing's for sure they're convenient. They're perfect for bottling all kinds of liquids and will also withstand the brewing process. That's why we've created this review for you – to help you to find the perfect kombucha bottle to suit your bottling needs.
To review the products fairly, we'll focus on the following eight factors that most kombucha makers want from their bottles:
Carbonation: How well does the kombucha bottle retain fizz after fermenting?
Cap stability: Are the caps leakproof? Are they reusable? Can the caps hold firm during the fermentation phase especially second fermentation?
Strength: How strong is the glass, can it withstand the fermentation phase? Can the glass withstand over fermentation and general wear and tear?
Cleaning ability: How easy are the bottles to clean?
Longevity: Can these kombucha bottles stand up to multiple brews and second fermentation?
Ease of use: How easy is it to fill up the bottles? Are the clasps and seals easy to open and close?
Value: How many features do you get from one bottle, compared to the price?
There's a lot to cover, so let's get onto it here are the best-rated kombucha bottles according to us.
Best Kombucha Bottles – Overall:
Paksh Novelty glass swing top glass Bottles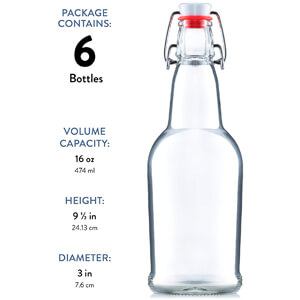 We've found that these wide mouth kombucha bottles (beer bottles) hold up to all of the manufacturers' claims and our key considerations – they're the best bottles in this review. The design is attractive and won't look out of place on a beautifully decorated dinner table or as a gift. Furthermore, this flip top kombucha bottle is designed for second fermentation and has held up when fermentation times have accidentally extended.
Pros:
Brews are fizzier in this bottle than they've been in other beer bottles, demonstrating the bottles' ability to hold carbonation. That's thanks to the flip top cap.
The cap design protects against leaks and holds up under pressure.
Thicker heavy duty glass and rugged bottoms that stand the test of time and last through multiple batches and are perfect for second fermentation.
Make sure to use a standard bottle brush to clean these food grade bottles, and they'll clean up perfectly. This bottle is also dishwasher safe.
The wide mouth bottle stands out as being a significant advantage when compared to some of the competitors. Clasps are easy to open, close and replace too.
Cons:
We found nothing wrong with this product
Who it's best for: beginner and pro, suitable for second fermentation
These items are a great all-rounder – it'll suit all needs. If you're a beginner, you can trust these beer bottles to remain stable as you learn the in's and out's of kombucha fermentation and brewing. Pro brewers and makers of other homemade goodness will also enjoy this bottle, it's a real workhorse, suits all situations and you can rely on them to hold carbonation and to hold up on second fermentation.
Best Bottles for Beginners:
Hemlock Home Brewing, swing top bottles for kombucha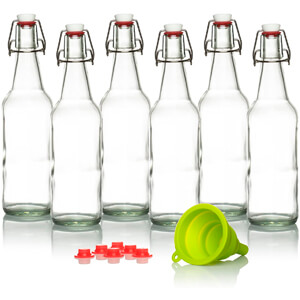 Hemlock offers a 30-day money-back guarantee on these flip top bottles for kombucha – which means they are virtually risk-free. It's a nice touch and one of the reasons why we've ranked these bottles second place – you can't lose if you can get your investment back, can you? You'll also find a funnel and six replacement seals included with this product.
Pros:
The swing top caps on these kombucha bottles are high pressure and suitable for brewing a delicious batch (or two) of kombucha or beer. We had no experience of leaks, nor did we discover any reports of leaks amongst other customers. The caps hold up well during second fermentation and under excess pressure
Rated for 58 psi which is twice as much pressure as a shaken up beer bottle will produce. They hold up well in the fermentation process
Dishwasher safe and can be cleaned with a long bottle brush, but you may need to purchase the right kind of bottle brush to clean well for kombucha brewing.
These bottles are reusable. They've held out for over six uses. According to a customer who has put them through their paces, they were only ready for replacement after ten uses. The bottle caps are replaceable.
The clasps open smoothly, and they are easy to fill.
Hemlock consistently delivers well-packaged containers.
Enjoy a 30-day money-back guarantee with these kombucha bottles.
Cons:
Hemlock's kombucha bottles don't hold carbonation as well as others we've reviewed. You're drinks may not have as much fizz as you'd like.
These bottles are the most expensive.
Who it's best for: Beginners & can handle second fermentation
Beginners will appreciate this product; it will give them some breathing space as they learn kombucha brewing methods without having to deal with excessive carbonation.
Best Kombucha Bottles on a Budget:
Chef's Star Home Brewing Bottle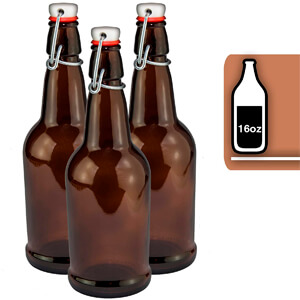 Chef's Star kombucha bottles appear to be good all-around and a good price. However, there seems to be some manufacturing inconsistencies that are worth bearing in mind if the price tempts you.
Pros:
Chef's Star claims that these kombucha bottles incorporate exceptionally durable, pressure-rated clear glass' and these bottles don't disappoint. They handle pressure well.
Dishwasher friendly
Thanks to the funnel (included in the pack) you'll have no problem pouring your kombucha into these bottles just take care to pour in the right amount and not overfill.
Even when taking the inconsistencies into account, the Chef's Star bottles are worth exploring if you like a bargain.
While several customers refer to shipping or manufacturing issues, they also claim to be willing to repurchase these bottles – which tells us that the good outweighs the bad.
Cons:
There are mixed outcomes when it comes to the swing top bottles ability to hold carbonation. Some batches appear to do well, while in others, not so much. It's a bit of a gamble.
We noted inconsistent outcomes concerning cap stability; some caps have stood up to expectations while other caps are unpredictable and require replacing.
The necks on these bottles are petite, so it's not easy to find a good brush to clean the bottles. We recommend looking for a suitable brush before buying to avoid disappointment.
Who it's best for
These bottles kombucha or beer bottles are a great choice if you're testing the kombucha brewing waters and don't want to spend too much before committing because they're the best value.
Best bottles for Storing Kombucha and Liquids – No Second Fermentation:
Yeboda Clear swing top kombucha bottles for brewing at home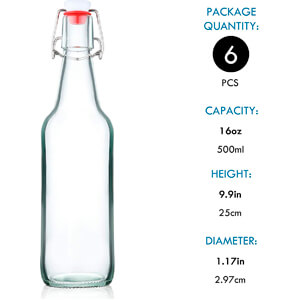 The price of the Yeboda bottles is excellent. They don't appear to leak, and the caps seem to do their job, but these bottles are not so good for fermentation there are some issues with the strength of the bottle.
We've included this option in this review because many people don't ferment their kombucha in bottles, and instead use the bottles to store, gift or transport water or other liquids only. That's what we'd recommend you use these bottles for and for that purpose, they're great value and look more attractive than mason jars.
Here are the pros and cons:
Pros:
Leakproof, airtight, swing top clasps.
Most of Yeboda's bottles are holding up well when reused.
The swing top caps are made from BPA free plastics and stainless steel clasp and holds liquid without leaking.
Comes with replacement caps and seals
Easy to clean with a bottle brush.
Cons:
These gasket top bottles are not stable enough for kombucha brewing but are perfect containers for drinks.
Yeboda bottles don't hold carbonation evenly. You'll find some containers retain their carbonation while others don't. They may not be suitable for second fermentation.
Not so easy to fill with brew because the bottoms can be uneven in some batches.
Who it's best for: storing liquids.
If you're looking for well-priced jars or glass containers to store liquid and brew in and you're not concerned with fermentation in the bottle, this is the one for you.
Key Considerations: Characteristics of Good Kombucha Bottles.
These are the considerations we recommend you make before purchasing your kombucha bottles:
Swing Top Cap Stability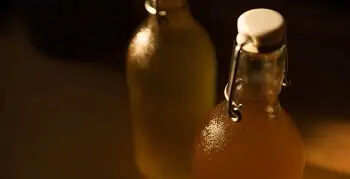 To avoid leakage, you should expect your caps to be secure, airtight and easy to open and close. Keeping your drink as fresh as the day you made it.
If you're storing water, you need it to stay fresh for safety purposes
Carbonation
Suppose you're on your first or second fermentation, or if you're storing your kombucha or other types of carbonated liquids in the bottle, in that case, you'll want the liquid to retain carbonation (stay fizzy).
Even though for most containers the caps do not leak, they can still lose carbonation – brewers should look for caps that hold carbonation well.
Strength
Make sure to look out for a sturdy container that can withstand pressure from the fermentation process – (especially second fermentation) and maximise use while reducing risk. Don't buy bottles with defective glass – they are at risk of cracking or exploding during kombucha fermentation which will ruin your brew.
Cleaning ability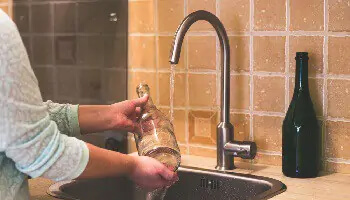 We recommend looking out for bottles that you can easily clean with a bottle brush (and checking that there's a bottle brush that will fit the bottle before buying).
Longevity
Your kombucha bottles shouldn't be single-use – ideally, you should look for bottles that are known to last for at least six brews.
Ease of use
The bottle mouth and neck should be wide enough for you to pour your kombucha into (and clean) easily.
The bottles should be sturdy and not prone to wobbling around.
Safety
There are risks associated with brewing kombucha. You should pay attention to safety guidelines. Taking care not to push the bottle's limits will lead to safer, reliable and consistent brewing process and the bottles will last longer.
Swing Top Kombucha Bottle Brands
Most of the brands featuring here in this review are up and coming Amazon private label brands, dipping their toes into the world of brewing items, or glassware. For this reason, we don't have a considerable amount of information on the brands included here.
Here's what we know so far:
Paksh Novelty Store
Don't be swayed by the brand name here; this brand is far from a novelty. They're a private label brand specialising in glassware like jars and bottles.
Their feedback score on Amazon is already an impressive 4.8 to five stars. Their brand image appears to be very professional.
Hemlock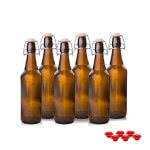 Hemlock is niching in on the brewing at home market and steadily building a well-positioned home brewing portfolio, starting with glassware like glass containers, glass jar, mason jars, brew container and wine bottles and glasses – everything for your bottling needs.
Yeboda
Keeping their sights locked on flip top beverage bottles, like those required by home brewers.
Yeboda is another private label brand. You'll find clear and amber swing cap vessels and replacement caps and seals at the moment, hopefully with more products coming soon.
Chef's Star
Enter the cookware crew. Chef's Star is an up and coming cookware and kitchen utensil brand rather than selling homebrew items specifically. They have a good portfolio of branded items already. The products so far appear to be good.
However, we recommend reading through their product reviews before purchasing because there are some inconsistencies in quality and you need to make sure that your brew jars stand up to pressure.
Maintenance: How to Care for your Kombucha Bottles
Vessels for brewing don't require too much maintenance – the most significant issue you'll need to watch out for is how you store them. Ideally, you should always store your glass bottle carefully when they're both in and out of 'brew' because it's critical to keep the glass free from hairline cracks. Avoid placing these bottles near glass top stoves.
We do not recommend placing your bottles on top of each other without protection and an even weight distribution. It would be best if you handled your kombucha bottle with care at all times, avoiding knocks to the glass – to prevent unnecessary wear and tear.
Conclusion: There's a swing top kombucha bottle for every occasion.
You don't need to purchase a well-known brand of flip top kombucha bottles to guarantee and enjoyable kombucha brew.
Instead, you can find plenty of very well rounded beer bottles, like those listed above, that not only look great for gifting and presentation but are also practical, they hold up well in second fermentation and are a pleasure to drink from making your homebrew experience successful and enjoyable.