Age has a way of creeping up on all of us. You knew your face would suffer the ravages of time, but whoever thought your chest area would suffer the same fate. When you spend time and money on a facial regimen, include the use of silicone décolleté pads in your beauty routine. Most systems are simple to use and address the signs of aging.
Women want something that corrects the issues there, which includes wrinkles and crepe paper like skin and using these pads is one way to solve them. Anyone with an aging décolletage would be wise to research these pads to find the ones that will work in their particular situation.
Quick Picks of Top 5 Best Silicone Chest Pads of 2023
| Product | Size | Reusable/Washable | Form | Returnable | Dermatology Approved | Skin Type | Wrinkle Reduction | Price |
| --- | --- | --- | --- | --- | --- | --- | --- | --- |
| 1. SILCÍOR Chest Pads | 2 Count (Pack of 1) 8.58 x 7.44 x 0.28 – package dimensions | Yes | Medical Grade gel | Money back guarantee | Yes | Combination, Mature, Dry, Normal | Yes | See on Amazon |
| 2. Silc Skin Decollete Pad | 1 Pad Size – 5.5" x 4.5" | Yes | Silicone Pad | Returnable | No information | All | Yes | See on Amazon |
| 3. Muzooy 4 Pack Chest Wrinkle Pads | 1 Pad, 7.5" across + Gift boxed | Yes | Medical Grade Gel | Risk-free purchase, Returnable | Yes | Sensitive | Yes | See on Amazon |
| 4. Blumbody Chest Wrinkle Pads | 2 patches, 5.3" x5.9" + Gift Boxed | Yes | Solid Silicone | 45 Days Return | No information | Oily, Combination, Normal | Yes | See on Amazon |
| 5. Skywee Professional Products | 7.5 " for neck pad, 6.5" | Yes | Gel Silicone Pad | Returnable | No information | Sensitive | Yes | See on Amazon |
Here's a further look at some of the best silicone chest pads
1. SILCÍOR 2 PACK Anti Wrinkle Chest Pads – Non-toxic, BPA free, Reusable, Strong Adhesive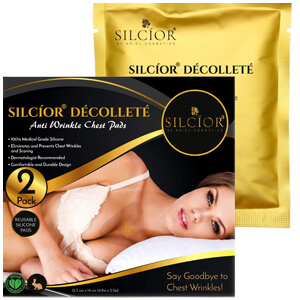 If you want a décolleté area, that's free of wrinkles, SILCIOR chest pads (two pack) come highly recommended. In fact, results with these pads usually come with one application. They are easy to use and effective at fighting wrinkles.
Chest Area Anti-Aging
Most women have a regimen they follow for anti-aging facial skin care, but sometimes they usually don't recognize that their chest skin requires attention as well. Initiating an anti-aging routine with silicone chest pads improves the look of the décolleté area and turns back the ravages of time.
Treating Chest Wrinkles
Whether you sleep on your side or have had years of sunbathing exposure, the lines and wrinkles are appearing where you've never seen them before. SILCIOR pads can be of help, plus you are free of office procedures with this safe and effective method for treating chest wrinkles.
Texture and Tone Improvement
You're also improving the texture and tone of your skin while erasing wrinkles and it begins with one application.
Reusable and Washable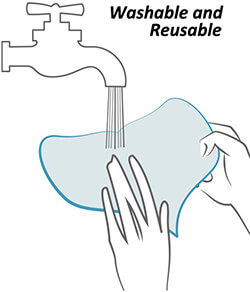 SILCIOR pads are both reusable and washable. They can be reused anywhere from 7 to 20 times. Just wash them with warm water every few days.
Dermatologist Approved
Dermatologists approve SILCIOR pads because they're tolerated well, they're safe, free of latex and also cruelty free. One thing that puts these pads in the positive column if they don't work, you'll be given a 30-day money back guarantee. So, you have nothing to lose but a wrinkled décolleté.
Recommendation
This particular silicone chest pad is recommended because of its overall tolerability with a wide range of women. The company also adhere to high safety standards and provides a money back guarantee.
Pros:
Reusable;
Washable;
Long lasting;
High safety standards;
Money back guarantee;
Regular use keeps wrinkles at bay.
Cons:
Some slippage if not applied correctly.
2. Silc Skin Decollete Pad, 1 Pad – Platinum curing process, first company to use silicone pads in fighting wrinkles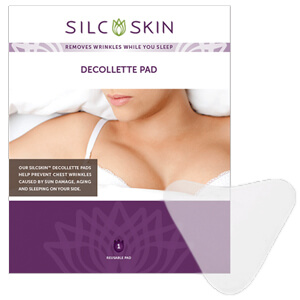 With the use of medical-grade silicone, Silc Skin was one of the first companies to incorporate its use. They're a world leader in non-invasive anti-wrinkle technology by incorporating medical-grade silicone in their products. Their pads are 100% silicone and have no adhesives or superfluous products. All their products originate in the USA and the platinum process allows for a stronger and longer lasting pad.
Exfoliation of the Skin
The pad gently exfoliates the skin while it smooths lines and wrinkles as the result of side sleeping, sun damage and the inevitable, aging. Within two to four weeks, there are signs of lasing results with improved collagen structure and reduction in wrinkles.
Adherence to the Skin
Before applying a Silc Skin pad, the skin must be free of moisturizers, oils and emollients as the pads won't adhere correctly. Using a gentle soap or cleanser before applying a pad, will help with it staying in place. Just be sure skin is both clean and dry before you use the pad.
Perspiration Effects
Sometimes perspiration accumulation in the area will prevent the pad from adhering to the skin. If this happens, wipe the chest with witch hazel and allow it to dry. As no glue is used, the platinum process adds to the pad's lasting ability and aids in adhesion. As the adhesive action wears down, the pad should be replaced every 30 days.

Rough Edges
The pad is a good size and fits most décolletage, though the edges do become rough after use and can be trimmed for a better fit. The natural adhesiveness wears away over time, so replacement will be necessary.
Warming Pad
A Silc pad is comfortable to wear and the material in the pad quickly warms once it comes in contact with the skin. There doesn't appear to be pinching or pulling with this pad or problems for side sleepers. It all depends on the correct placement of the pad.
Recommendation
This silicone chest pad receives a recommendation for its cutting edge platinum cured process. It does appears not to last as long as hoped, particularly when used every night yet it still helps women avoid surgery and lessens lines, wrinkles and crepey skin in the chest area.
Pros:
Made in FDA approved facility;
Self self-adhesive pads exfoliate skin and smooth lines, wrinkles and crepe paper skin;
No glue or adhesive used for adhesion to skin;
Easily trimmed to fit;
Platinum cured process that enables longer lasting pads and help with adhesion;
Comfortable to wear.
Cons:
Red marks and reddish streaks cab appear on skin if not applied correctly;
Adhesion properties appear to wear off after 2-3 weeks of use;
Not to use with moisturizers, oils or emollients;
Rough edging — edges must be trimmed to avoid roughness;
Sweating interferes with adhesion;
One pad only.
3. Muzooy 4 Pack Chest Wrinkle Pads – Affordable chest Patches- 100% medical grade silicone, soft and hypoallergenic, work on sensitive skin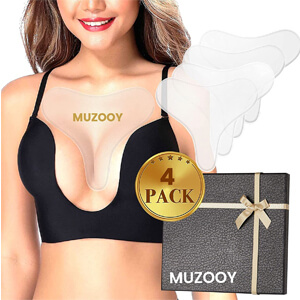 The Muzooy 4 Pack (with gift boxed) silicone chest pads reduce and prevent lines, wrinkles and crepe paper skin and works well for those with sensitive skin. Blood circulation gets to the area quickly and helps stimulate collagen production which also produces skin elasticity and firmer skin.
Affordable Way to Results
With the décolleté area being sensitive to side sleeping, ultraviolet radiation, gravity and aging, this particular pad is an affordable way to get almost immediate results.
Comfort for Sensitive Skins
Muzooy pads are both soft and hypoallergenic and contain 100 percent medical grade silicone that bring all around comfort to even the most sensitive of skins.
The softness comes from the medical grade silicone gel that is safe for skin.
Risk Free Product
Muzooy offers this product gift boxed risk free and it's tested to assure that one size fits just about anyone. It's designed for any type and tone of skin. Their technology also works on stretch marks. The area for coverage doesn't matter.
Recommendation
Though this silicone pad is less expensive, its adherence to the skin is questionable. It would be worth trying at least once because of its affordability.
Pros:
Affordable;
Gift boxed;
Less irritating alternative;
Provides comfort and softness;
Four (4) chest pads;
Thin and easy to clean;
Tested to work on sensitive skin;
Reusable, washable and long lasting.
Cons:
Pads not as sticky as hoped;
Not useable with moisturizers, oils or emollients;
Tendency for adhesive to peel off;
After a few uses, pad no longer sticks;
Looseness on the pad sides.
4. Blumbody Chest Wrinkle Pads, Set of 2 Reusable Patches, gift boxed – gentle chest wrinkle pads, good customer service, return policy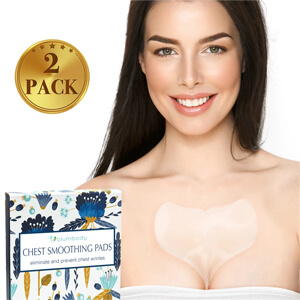 You can diminish chest wrinkles whether from aging, lifestyle and sun damage. If you sleep on your side, these pads will alleviate the lines that appear.
When you wear the pads overnight, there is enough time for the sensitive skin of the décolleté to repair itself as the moisturizing silicone patches stay in place. You awaken to softer and repaired skin.
Visible Results with Silicone Chest Pads
There are clearly visible results with Blumbody wrinkle pads as they improve the tone of your skin and its elasticity with just a few uses. You'll see a reduction in wrinkles and any further wrinkling.
Bonus Patches
You'll also receive free bonus wrinkle patches (33) that add hydration, nourishment and moisturization to your face. Along with the silicone chest patches, these patches offer a double dose of wrinkle reducing nutrients.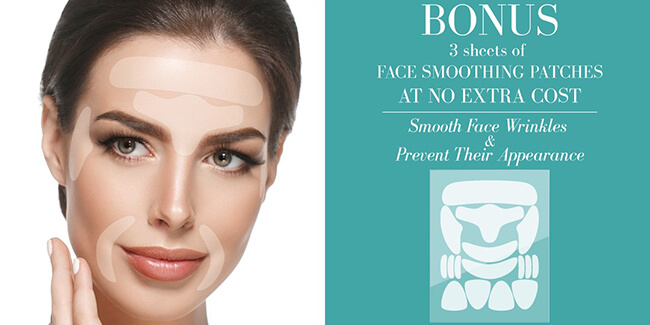 Extended Returns
They added one other advantage: 45 days for return. If the pads don't meet your satisfaction or you're not happy with any aspect of the pads, you can easily return them. Customer service is excellent for this small company.
Recommendation
The excellent customer service and its 45 days return window bring a recommendation for these silicone pads. You have time to try them to see if they work for you.
Pros:
Two pads + gift boxed;
45 day return window;
Great customer service;
Reusable and Washable;
Arrives in attractive box;
Sufficient adhesion;
Don't leave residue with removal;
Gentle yet effective;
Free bonus patches for wrinkle reduction;
Remains in place at night;
Useable 3-4 times between cleaning.
Cons:
Can cause allergic reactions in select few;
Overly adhesive yet loses adhesive after a few uses;
Sticking backing comes off easily.
5. Anti Wrinkle Chest Silicone Pad, Set of 2 Pads by Skywee Professional Products – BPA Free, Medical Grade Silicone, Hypoallergenic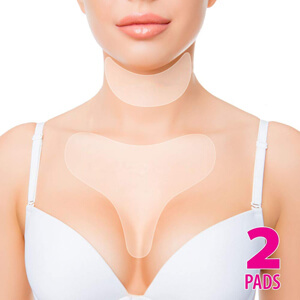 You will achieve a younger looking décolleté area with this pad along with a neck pad that rejuvenates your neck and alleviates lines, wrinkles and crepey skin. The set comes with both.
Packed Affordable Option
When side sleeping is involved as well as over exposure to ultraviolet radiation, gravity and aging, this décolleté pad will soothe and refresh this sensitive area. It's an affordable option that provides immediate results with infused 100% medical grade silicone. The pads are soft, BPA free and hypoallergenic which provide the comfort you need. They also work on sensitive skin.
Circulation Increased
Blood circulation is increased with both the chest and neck pads which increase collagen production that bring elasticity to the skin as well as firmer and smoother skin.
Application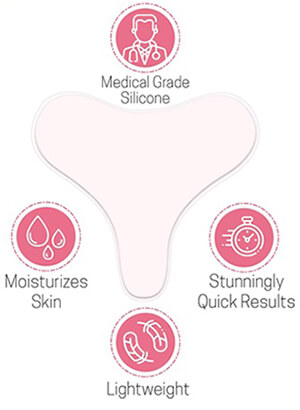 One thing to remember with application is to lie flat on your back. This allows for more contact with the skin of the chest and provides for quicker and faster absorption. The same is true for the neck pad.
Medical Grade Silicone Gel
Both the décolleté pad and neck pad are made from medical grade silicone gel, which is safe for your skin and helps rid it of chest wrinkles, creases and crepey skin.
Risk Free Product
You can try both products, risk free. They're made to work with all sizes, types and skin tones. They'll also work with any stretch marks on your skin.
Recommendation
Though this product is affordable, it can cause irritation to the skin. There are overall inconsistencies with the effectiveness of it. If you are desperate to try this particular brand of silicone chest pads because of the lower cost, go ahead, but it's not entirely recommended.
Pros:
Affordable;
Washable and reusable;
Reduced stress with side sleeping;
Sticks well even after showering;
Comfortable for sleeping;
Tested to work on sensitive skin.
Cons:
Can cause allergic reactions;
Inconsistencies with product effectiveness;
Decreased adhesion.
How To Use Silicone Chest Pads For Décolleté & Chest Wrinkles?
Time needed: 2 minutes
Using a silicone chest pad is as easy as 1, 2, 3. Here's your guide:
Clean the Skin

Clean the skin using non-oily cleanser before sticking it. Dry skin thoroughly.

Remove Protective Film

Cut open the poly-bag containing the silicone pads. Take one pad and remove the pad from its backing.


Apply the Chest Pad

Apply the chest pad to the desired area. Gently press down on the pad to smooth out the wrinkles underneath. Use for two hours or more at a time. Remove the pad slowly after use.


Wash the Pad

After use remove the pads slowly in an outward motion. Wash the pad after every 1-2 uses or whenever it loses its stickiness.

Why You should Buy the Silicone Chest Pads?
Basics in science indicate that silicone is a skin rejuvenator. It works quickly and effectively to bring smoothness to the décolleté area.
Silicone not only moisturizes the skin but it draws moisture in the skin to its surface. This effect hydrates the skin and is critical to healing scars. In treating a wrinkle like a scar, improvement is seen in flattening the scar or wrinkle and building collagen at the same time.
With extended use of silicone chest pads, the skin will return to a younger and supple appearance. Lines and wrinkles will be softened or disappear altogether.
The Main Advantages
One major advantage with silicone patches is they work quickly. Other products can take weeks and months to bring improvement. Silicone patches can work overnight and at their peak one week.
That one ingredient, 100 percent medical-grade silicone, can produce these changes in the decollete area and the silicone is usually safe and non- irritating. There are usually no side effects, though skin sensitivity can result from the adhesives or other materials used, but that is rare.
So, silicone chest pads are a good choice if you're looking for a product that works quickly. Other products that contain a list of ingredients a mile long may not work as quickly or at all, plus you may have skin irritation from any of these ingredients.
With skin silicone patches, you're not getting harmful additives, fillers or chemical adhesives; however, with any skincare items, you don't want to use them on skin that is irritated or red. If you experience any allergic reaction to a skin-silicone patch or related product, stop using it and consult with your primary care physician.
Conclusion
Silicone chest pads are one more anti-aging product that are relatively easy and safe to use, plus they almost always provide positive results. Any of the five products discussed here are good products, some being better than others, but they are an affordable way to rid décolleté skin of wrinkles, creases and crepe paper like skin without going under the knife.