DJI, the world's largest drone manufacturer, launched a brand new drone — the DJI Mavic Mini. This drone can fit in the palm of your hand and is almost as light as a smartphone.
Weighing just 249 grams (about half a pound), the DJI Mavic Mini can be flown recreationally without the need to register it with the FAA. Any drone weighing 250 grams (0.55 lbs) or more, or any drone flown for commercial purposes regardless of weight, must be registered with the FAA following these instructions.
It's clear that DJI designed the Mavic Mini specifically to fall outside of the FAA's discretion. Its low weight places it in the safest drone category according to DJI, which in many areas exempts it from regulations that apply to other, heavier drones. When flying a drone of any weight or size, it's important to always understand and follow local drone laws and regulations.
While its tiny size is the most unique and outstanding feature, the Mavic Mini has a handful of other exciting characteristics. We'll discuss all of the features and specs below, as well as built-in safety measures, who should fly the Mavic Mini, and where to purchase one.
Pros:
Great battery life;
No registration needed;
Fantastic stabilization;
Light and compact.
Cons:
No 4K video capture;
No object tracking.
DJI MAVIC MINI FEATURES AND SPECS
Like all drones in the Mavic lineup, the Mavic Mini has a folding design to enhance portability. Mavic Mini builds on the technological innovations in DJI's renowned series of folding Mavic drones, from the original Mavic Pro through Mavic Air and Mavic 2, to pack professional-quality drone features into the lightest possible frame.
Let's check out some of the technical specs:
Weight: 249 grams
Flight Time: 30 minutes
Camera: 12 MP photos, 2.7 K Video
Gimbal: 3-axis
Video transmission: 4 km HD
Also read: Best Remote Control Drones
The Mavic Mini's camera is less capable than that found on other more high-end drones but is still impressive for a drone of its small size. The 12 MP camera captures compelling footage in high definition, and its new DJI Fly app's suite of creative features enables you to create professional-looking images even if you have no filming or editing experience. The 3-axis gimbal enables smooth and clear footage.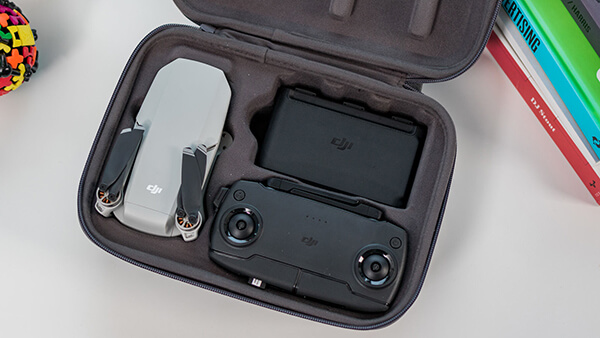 Using the new DJI Fly app, pilots can choose to fly in Position (P) mode for basic operation, more experienced pilots can unlock more capabilities in Sport (S) mode, and content creators can choose CineSmooth (C) mode to lengthen braking time for smoother shots and more cinematic footage.
DJI KEEPS SAFETY AT THE FOREFRONT OF DJI MAVIC MINI DESIGN
Mavic Mini incorporates DJI's renowned safety technology, including geofencing to help drone pilots avoid restricted areas; AeroScope remote identification to help protect sensitive locations; built-in altitude limits; and automatic return to the launch point if the drone loses connection to the controller or reaches critically low battery level.
A 360° propeller guard provides added safety, protecting the propellers in case of a collision and possibly protecting nearby pedestrians if the drone were to sustain damages and fall to the ground.
What the Mavic Mini does not feature is obstacle avoidance, which has come to be an expected feature of most DJI drones. The feature was likely omitted to lighten the drone and keep it below 250 grams.
The drone remains simple and easy to fly with GPS receivers and downward visual sensors to detect the ground below Mavic Mini, enabling precise hovering, stable flying and accurate landing both indoors and out.
Design And Controller
The Mavic Mini looks a lot like other DJI products and drones. Its design is relatively neutral with its light grey finish, reminiscent of the DJI Osmo Action and Osmo Mobile 3. It sports pivoting arms that collapse this quadcopter into a compact bit of kit.and the dark grey propellors and port locations also make sense. 
The Mini's micro SD card slot is exposed at the back, for example, making it hot-swappable – much more convenient than that of the Parrot ANAFI, which is stowed under the battery. There's also a micro USB port alongside it, which charges the drone, unlike that of the Mavic Air. The 2400mAh battery slots in under a door above these.
On the front, the camera is guarded by a removable plastic shield, and at the base are LED battery indicators and a button to power it on. There aren't any object avoidance sensors around the sides, which would have been handy, but the sensors at the base do a good job of ensuring smooth landings.
To fly the DJI Mavic Mini, both it and the controller have to be powered up and connected, and your Android or iOS smartphone needs to be running the DJI Fly app and plugged into the controller. 
The drone ships with all the wires you'll need to get off the ground – Lightning, micro USB and USB-C, and while it's a bit fiddly to get everything plugged in and secured, once done, we never had any connectivity issues when flying the Mavic Mini.
It's also a breeze to navigate the drone; the controller is ergonomic, its screw-on joysticks are comfortable and intuitive to maneuver, and the app also gives you the option to customize what the left and right joysticks do.
Weighing 249g when in-flight, each battery weighs around 100g, while the Mavic Mini itself weighs 150g – this weight was hit by DJI employing a hollow plastic construction that has been fleshed out by foam. While this might not sound premium, the Mavic Mini manages to avoid feeling overly fragile. 
With the iPhone 11 Pro Max weighing 226g, we can't overstate how impressed we are DJI has been able to engineer such a lightweight, competent drone. 
DJI Mavic Mini video capture
Footage shot on the Mini is captured at a maximum resolution of 2.7K at 30fps. If you want to slow things down and shoot at 60fps, you'll have to drop the resolution to 1080p.
Within the DJI Fly app, three shooting modes are available: Position, CineSmooth, and Sports. Position is the default mode, CineSmooth slows down the drone and increases break time, while Sports mode tears through the sky, not to mention the battery too.
As with photos, colors are punchy in video captured by the Mini, and the footage looks graded, ready to be shared out in a heartbeat. In turn, if you don't want to edit your footage too much, the Mavic Mini is a dream. 
While DJI's Osmo Action offers a cinema-style profile to flatten things out, however, there's no control over the look of video captured on the Mini. That's going to put off some filmmakers, as will the lack of 4K capture, and 2.7K 60fps slow-motion recording. Our footage could have done with a flatter color profile, reduced exposure or an ND filter on a couple of occasions.  
In our time with the Mavic Mini, we ended up shooting in CineSmooth at 2.7K for the most part, and were amazed by just how good it was at keeping mid-air video capture so stable.
Final Verdict
With drone rules in the US and UK tightening up its laws for quadcopters weighing more than 250g, the new 249g Mavic Mini is positioned perfectly in the run-up to Christmas and indeed Black Friday drone deals.
Its smart, compact design and extensive feature-set all make it a one-of-a-kind balance of portability, convenience, and affordability. While we do have a wishlist after spending some time with it – 4K video and object tracking, it's still one of the easiest drones to recommend, and is yet another example of DJI raising the bar.