If you are making food for a large family or gathering, it can be difficult to prepare multiple dishes at a time. You will need to focus on getting your food in and out of the oven at certain times, so everything is hot and ready to eat at one time.
However, what if we told you there was a better way to prep all of that food at once? All you need is a roaster oven. It can run while your larger oven is hard at work. Or, you can take with you on the go to gatherings.
No matter how you plan to use it, there is no doubt that roster ovens are useful. We are going to review the Hamilton Beach 18 quart roaster oven and the 22 quart roaster oven in this article. Be sure to continue reading if you want to learn more and let us know if you found this helpful!
How to Choose a Quality Roaster Oven?
When it comes to buying an electric roaster, you want to do more than research what is on sale. There are a lot of factors that go into whether you will enjoy using the unit or not. If you want to cook with the best roaster ovens, you should keep an eye out for the following items:
Customer Reviews: Did the roaster you are researching receive a high star rating online? The quality of a roaster can often be shown through the amount of stars people gave it. Users will know best how the roaster oven operates.
Materials: The roaster oven should be made from the best materials. Stainless steel should be used as the main component. This metal resists rust, is safe to for cooking, is easy to clean, and resists a high temperature range.
Quart Capacity: The quart capacity of the roaster oven will determine how much food you can cook at one time in the unit. If you know you will be cooking a lot of food for large groups, we recommend you purchase a 22 quart capacity oven over an 18 quart one. That additional oven space makes a big difference.
Ease of Use: Your countertop oven should also be easy to use. That way, you can start cooking with it right away- without much hassle.
Temperature Control: Finally, you will want to be able to control the temperature. Being able to adjust the temperature easily can allow you to cook plenty of different meals.
Why Hamilton Beach is a Good Option
Now that you have read the above criteria for a quality roaster oven, Hamilton Beach makes options that cover every single above category. This reason is why their cookers receive a very high rating online. The company also has a decent price range, which is a benefit to any customer.
Best Hamilton Beach Roaster Oven #1:
Proctor Silex Roaster Oven 18 Quart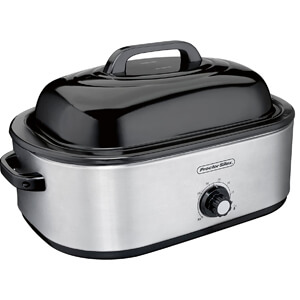 This roaster oven is made by Hamilton Beach, despite the difference in the model names. It has received plenty of 5 star ratings and many a good customer review online.
The oven is made from stainless steel, which makes it very easy to clean. You also get an insert pan, which you can use for side dishes. The other removable accessories include a lift out rack, making it much easier to get your cooking out of the oven. Many customers appreciated that the quart capacity was large enough to cook a 20 pound turkey perfectly. So, if you know you are going to be cooking a large meal this Thanksgiving, this roaster oven could free up space in your conventional oven.
This roaster has plenty of uses outside of making turkeys. You can use it to make sure you keep food warm until it is reading for eating. However, users do warn the removable pan can pinch your fingers, so you will want to be careful when using it.
Overall, these ovens are high quality and a great price. They are made from the best materials and can make everything from side dishes, turkeys, roasts, to small snacks.
No matter what you need, this cooker comes with plenty of options. It is somewhat light and will not make your room hot either while it runs.
What We Like:
The Material: This item is made from stainless steel, making it easy to clean. We recommend you always look for this component in your new cooker.
Oven Space: 18 quarts is a lot of space. You will be able to fit a whole turkey inside, should you choose. This gives you space to roast, bake, or warm large meals. An 18 quart roaster oven should be enough for most families.
Temperature Range: You get a broad temperature range with plenty of cooking options. This electric roaster can be used to make a variety of meals.
And What I Don't Like:
Does not Brown Turkeys: While the roaster oven will cook your turkeys the whole way through, they will not brown. The oven is not able to give that effect to the meat. Most people still are happy with the way their turkeys turn out, even if they are not browned.
Bottom Line
Overall, so many people have enjoyed cooking with this oven, according to the 5 stars they give in their reviews. We appreciated that the cooker is made from stainless steel, making clean up a breeze.
We would recommend this to anyone who needs to cook a lot of food at once. This model is the perfect, basic roaster oven. It comes with everything you need to get started cooking right away with your purchases.
Best Hamilton Beach Roaster Oven #2:
Hamilton Beach 22 Quart Roaster Oven With Self-Basting Lid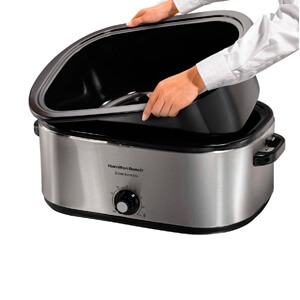 This option is best suited for very large families. The oven space has a 22 quart capacity with a tall lid, making it perfect for cooking large turkeys. It is so large that customers even said they have fit 28 pound turkeys inside, without any issues cooking them the whole way through.
Additionally, this model comes with a self-basting lid. The lid is made with grooves that collect and drip the condensation back onto the turkey- allowing it to baste. This effect makes the meat taste even more delicious and gives turkeys that golden, brown color we love from roaster ovens.
Customers also brought up that they loved using the roaster oven, since they did not dread the clean up afterward. The oven is made from stainless steel and is extremely easy to clean.
However, since the roasting pan is quite large, it is not likely to fit in your sink well. This can be a bit of a problem after cooking. Still, the material the item is made from is simple to wipe down.
As another minor downside, the model and lid are extremely large. You may not have the counter space for this item. We recommend that you check before purchasing, so you are not buying things that will not fit in your kitchen.
What We Like:
The Material: The lid and roasting pan are made from materials that are easy to wash. Food should have a hard time sticking to it, even when burned. Overall, the product is made from quality pieces.
Oven Space: This product comes with a large cooking capacity. It is is much more than our above mentioned model and can even cook a 28 pound turkey without a problem. The lid is high and the oven is deep, allowing for an efficient circle of heat for cooking.
Self-Basting Lid: The lid comes with a unique roaster feature. It collects condensation and drips it back onto the top of your turkey- creating a self-basting effect.
Heating Element: The roaster gets hot fast, allowing you to get fast cooking. The circle of heat is efficient too.
And What I Don't Like:
Baking Pan: While the baking pan is large and sturdy, it might be a bit too big for some people's sinks to wash. If the pan does not fit, you may have a hard time with the clean up process after you cook.
Bottom Line
This is one of the biggest roaster ovens you can find online. The pan and roasting rack are quite large as well. That means that you can use it to cook even the largest turkey without too much hassle. Many customers appreciated the self-basting lid too, since it made their food tastier without adding extra work for them to do.
We would recommend these roaster ovens for anyone who needs to cook for a large family or often cooks for large gatherings. Customers mentioned bringing this oven with them to church or school functions where they were able to easily prepare and keep food warm.
So, if you are looking for a very large roaster to heat up plenty of food at a time- this model would be your best friend in the kitchen. It is simple to use and does not come with many features. However, the self-basting process and the size of the oven make it well worth the purchase. You should get a lot of use out of this item.
How to Choose the Best Roaster Oven for Your Home
There are so many different models of roaster ovens out there. It can make it hard to choose which product you want to buy. However, there are certain aspects you will want to consider.
Things like the temperature range will let you know what types of meals you can efficiently cook in the roaster oven. Additionally, you will want to consider the quart size- are you going to be cooking for one person or a large family? This will impact what type of roaster oven fits you needs. You want to be sure you are not getting something to large or too small.
Here are some other aspects you will need to consider.
What to Consider Before Buying
Oven Size and Capacity
First of all, it is important that you consider the size of the oven. This determines how much food that it can cook at a time. If you overfill the product, the heat element is also going to struggle to reach all parts of your meal- which could lead to unevenly cooked food.
These items are usually larger than a slow cooker, but you will want to think about what food you will use it to cook. For example,
if you want to make one turkey, you will need to think about the size of the bird you plan on cooking. You will also need to know that you have enough room in the oven to fit the lift out rack.
Hamilton Beach Oven Capacity and Size
Usually, this aspect of the oven is going to be the most important. The two Hamilton Beach options listed here are both quite large, but the 22 quart size is the bigger option.
Temperature Adjustments
Next, you will want to consider the temperature range and adjustments. You will want to find a product that can heat food to the specified cooking range on your meals. Otherwise, it will take much longer to cook.
For example, if you need to cook a turkey at 400 degrees F, you need to be sure the roaster can reach that temperature.
It also helps if the temperature adjustments are easy to set. That way, you do not have to spend much time messing with it.
Customer Ratings
Customer reviews and ratings can also be quite helpful to review. Products with 5 stars are more enjoyed by their users.
It can help to read a variety of review levels, so you can see positive and critical reviews of the product.
If you want to leave a review of your experience with a product along with the amount of stars you feel it deserves, doing so can help many people make an informed purchasing choice.
Accessories
It is also worth checking the reviews and product information for accessories that come with order.
These orders come with a stainless steel lift out rack, as well one removable pan. These tools are essential when it comes to using a roaster. You will want to be certain they are included.
Our Top Pick Overall
So, what is the best Hamilton Beach roaster oven product? We would have to say its the Hamilton Beach 22 Quart Roaster Oven With Self-Basting Lid. This stainless steel oven comes with everything you need in a classic roaster.
This item has many positive reviews online and fits into all of the categories for a quality roaster oven. It is made from stainless steel too, which makes it much easier to clean and maintain the oven. The oven is also fairly cost-efficient and can fit very large meals inside. It is simple to use and comes with a self-basting lid.
The self-basting feature was mentioned in many reviews of this item. Many people appreciated the way it made their meat turn out. Plus, it added no extra steps to the cooking process, since the lid took care of everything.
Conclusion
The reviews on these ovens reflect their high quality. If you are interested in buying a roaster oven, we would have to recommend the ones we covered in reviews here. Hamilton Beach is a solid brand that makes ovens you can rely on.
Both of these options are made from stainless steel components, which prevent food from sticking to the surface of the oven. If you want something that is simple to clean, steel is the way to go.
The biggest difference between these two models is their size. Both could be suitable for preparing a family dinner, although, the 22 quart option would be much better suited for making tons of food at once. This model also comes with a self-basting lid; reviews show that customers enjoy it. No matter which you choose, you should be satisfied with the purchase.