Nothing beats the joy of exceeding your range expectations. Yet this comes at a tender price-full armory. That's why it could be the opportune time to add some fresh inspiration to your armory checklist by looking at what's new in the market.
If you are considering a military-grade optic, the Aimpoint PRO might be a good start. There is a good reason it has found its way into law enforcement (as we are going to discover). Generally, it sits well with AR-15s, carbines, and M16 rifles.
Having been around for decades, Aimpoint has amassed both a solid reputation and track record for itself compared to many other optical sight manufacturers.
This review explores whether the Aimpoint PRO actually lives up to its high acclaim by digging up all you need to know about its features, performance, benefits, and value for money (if any). Read on.
Overview & Description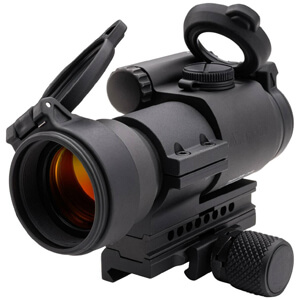 The Aimpoint Patrol Rifle Optic (PRO) is a red dot reflex sight built with a law enforcement combative spirit in mind. A product of Aimpoint, this red dot scope is sturdily built on a 30mm tube boasting a high-efficiency circuit. Thanks to the added efficiency, the scope can run for up to 3 years on one battery.
That said, the powerful red dot has been designed purposely for close range to medium-range applications whether tactical, hunting, or shooting.
As a 2MOA red dot sight, the Aimpoint PRO boasts more accurate and precise shootings at longer ranges than the Aimpoint Micro series. It is also slightly larger than its micro cousins promising a wider field of view and more rugged performance. This makes it an ideal scope for flat-top AR-15s or other mid-range rifles.
Being a more rugged scope, the PRO promises broader versatility and lasting dependability. Thanks to its embedded superior features, the optic showcases impressive potential to take on all manner of abuse.
To secure its good standing in the optical sights market, the PRO is bundled with the following features:
DL1/3N battery providing up to 30,000 hours of constant-on runtime on setting 7;
2MOA reticle system for enhanced speed in target acquisition;
QRP2 mount and detachable spacer;
Waterproof build;
Flip-open lens caps;
ARD compatibility;
Multiple brightness settings (up to 10);
Parallax-free operation;
Anodized finish (semi-matte) to minimize reflection;
LED illumination.
Outstanding features of the Aimpoint PRO
The Aimpoint PRO outperforms its micro counterparts owing to the infusion of more innovative features in its overall design. In other words, it is a by-product of Aimpoint's reinvention of its underlying optic technology. That has not only yielded better performance but also more versatility, flexibility, and value for money.
Some of the most distinctive features of this optic include:
Powerful 2MOA reticle
For shooters with stronger demand for higher precision and faster target acquisition, this might be a decisive consideration when shopping for a red dot sight. Generally, a smaller minute of angle (MOA) reticle like the 2MOA will cover less of your aiming target. That means you can aim more precisely even at longer distances.
For this reason, the PRO optical sight offers better speed and initial hit probability than iron sights and other scopes that are embedded with a magnification capability.
Durable battery
Equipped with a Duracell DL1/3N battery backed by ACET technology, the Aimpoint PRO guarantees continuous operation for as many as 30,000 hours of runtime, an equivalent of 3 years. On daylight setting 7, you can reap this benefit and eliminate the hassle of thinking about battery replacement or mid-mission interruptions. Even better, the battery can last much longer when centered on night vision settings.
Besides, as a constant-on optic, the PRO doesn't need the on and off switches, potentially adding another layer of convenience. Moreover, when caught up in the shooting excitement and forget about the battery life, the PRO comes with a battery replacement date decal to alert you accordingly.
10 brightness settings
Shooting with the Aimpoint PRO might translate to shooting with clarity if you know how to play around with your brightness settings. With 10 brightness levels at your disposal, the PRO might make a dependable companion for all sorts of lighting conditions.
Of the 10 settings, 4 are night-vision compatible and 6 are daylight settings. In addition to that, the rugged optic also incorporates an extra bright setting that comes in handy when shooting under super bright sunlight.
Set back lens openings
To undergird the optic's clarity, the Aimpoint PRO features a recessed lens design. That means both the front and rear lens openings are set back a little from the edges. This special design is purposely aimed at securing the lens's integrity by eliminating the risk of scratches, blurring fingerprint marks, as well as impact damage from falls or knocks.
Absolute cowitness
Upon installing the spacer that comes standard with the PRO red dot sight, you can easily attain absolute cowitness with your iron sights (if you got any) for a more diverse shooting thrill. Setting an absolute cowitness simply means aligning your red dot to match your iron sights.
QRP2 mount
The QRP2 ready-to-mount kit comes complete with a standard spacer and boasts a 1913 Picatinny-designed base. This translates to a straightforward attachment of the optic to any standard mounting rail by simply snapping the knob three times. It fits readily with flat-top rifles and carbines.
The accompanying detachable spacer is tasked with optical sight height adjustment for varying target acquisition. Detaching the spacer also ushers you into more gun options like sub-guns and shotguns.
Flip-up lens seals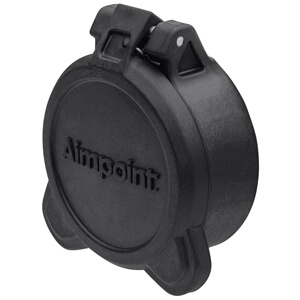 The PRO optical sight integrates dual lens covers to enhance the shooting convenience and lens lifespan. At the front, is a solid black flip-open cap and a transparent one at the rear of the lens tube. The clever design of both caps allows the shooter to use the sight with both eyes open while keeping the covers closed.
When the front cap stays sealed, you can use the sight even in bright sunlight without sacrificing target acquisition. Furthermore, the front lens opening is intuitively threaded to accommodate an anti-reflective device (ARD) should you need to screw in one.
Rugged build
Boasting a lightweight aluminum construction, the PRO delivers incredible performance under different torture conditions hence promising dependable functionality. The aluminum design makes it not only impact-resistant (against shocks and vibrations) but also waterproof when submerged up to a depth of 150 feet or 45 meters.
Hard anodized surface
The aluminum body incorporates a semi-matte anodized finish to minimize reflective detail on the optic's surface. In other words, the unique finish turns the optic's exterior into a non-reflective surface allowing you to shoot with enhanced eye comfort.
Multi-coated lens
The optical coating of the PRO details multiple glass coatings primarily to sharpen precision and boost lens durability. The multi-coating element helps to optimize light transmission to complement the diverse brightness settings. It also infuses a stable way to minimize glare during those shots.
Enhanced compatibility
Thanks to the infusion of the latest optic technology, the PRO integrates seamlessly with all generations of night visions as well as the Aimpoint 3XMag-1 and 3X-C magnifying devices. Such compatibility helps to diversify functionality and widen the field of view.
Eye comfort
With a guaranteed eye comfort integration, you can shoot with more confidence. The Aimpoint PRO promises that much, thanks to the embedded unlimited eye relief and parallax-free operation. The former means you can keep track of the red dot without confining your eyeball location. The latter lets you move your head while keeping the dot locked on the target.
Packaging
Whether you are sourcing your Aimpoint PRO red dot sight from OpticsPlanet, Aimpoint, or Amazon websites, you can expect the package to feature the following items:
QRP2 mount and standard spacer;
Flip-up lens covers;
DL1/3N battery;
Allen key.
Design and Materials of Aimpoint PRO
The Aimpoint PRO comes with a simple construction mostly highlighting an aluminum body. This unique design is further complemented with a semi-matte anodized finish to make the optic's surface completely non-reflective.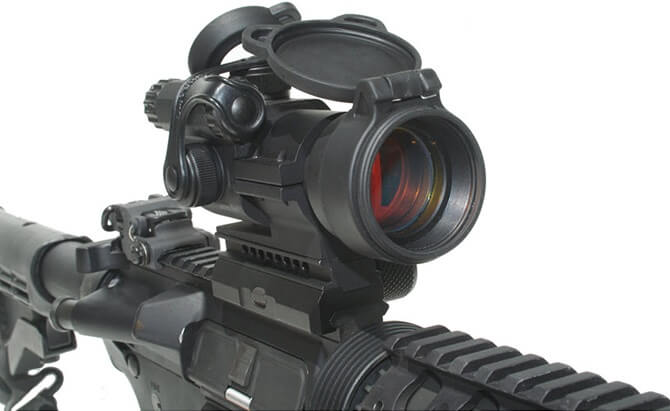 The anodized aluminum alloy housing is sturdy enough to keep all the optical components of the sight protected in all sorts of shooting conditions. It is built to withstand moisture, shocks, and vibrations without compromising the sight picture. Moreover, it can equally endure all the sweat and acidic stains owing to its exceptional corrosion resistance.
The material is also responsible for providing extra shooting convenience thanks to its lightweight properties. You can also consider the PRO eco-friendly because aluminum is 100% recyclable.
Budget Benefits
For under $500, the Aimpoint PRO delivers a stunningly great performance compared to some of its cousins and counterparts in the competition. To cement value for money, the optic comes ready to mount as an all-in-one package. That means you don't need to purchase additional mounting tools as with other reflex optical sights.
Comparably, the PRO is cheaper than the Trijicon MRO Patrol for instance, yet offers similar (or even better) features and performance. Besides, the PRO comes with a larger lens diameter (30mm) for a wider field of view compared to the Trijicon MRO Patrol (25mm). It also features more brightness settings.
So, if you are on a budget looking to buy and settle for a single powerful optic once and for all, the Aimpoint PRO might make the perfect economic sense for you. Its overall value matches the exceptional performance.
Performance and technical issues
Some Aimpoint PRO users have cited noting specks on the objective lens or red streaks cutting across the lens. This essentially points to quality control issues with the product. Others have reported the optic keeps turning on and off after several rounds, say up to 100 rounds on an AR-15.
In terms of functionality, some shooters have expressed immense dissatisfaction with the highest brightness setting of the optic to the point of terming it irrelevant. Reason? It turns out to be extremely bright hence distorting the view while washing out the whole sight picture.
Aimpoint PRO Recommended or not?
Looking at the incredible features and functionality coupled with the Aimpoint PRO, it suffices to state this rugged optic equates to real value for money. Both the interior and exterior functionality effortlessly complement the reasonable price tag.
As one of the most prominent design highlights, the flip-up lens caps qualify the PRO optical sight for use in emergency situations. Keeping the front cap closed lets you use it with both eyes open while shielding your glass in violently turbulent situations or quick reaction situations.
Moreover, compared to the micro red dot sights like the Aimpoint Micro T-1 and Aimpoint Micro T-2, the Aimpoint PRO is a 30mm red dot sight with a wider field of view for sharper targeting. The aftermath is even better with a magnifier behind the lens.
What's more, the constant-on operation keeps your optic on standby for up to 3 years making it reliable whenever a shooting need arises.
Therefore, the PRO might suit both the shooters on a budget as well as those prioritizing performance, versatility, and convenience for their rifles and carbines.
Pros:
Easy to mount without needing extra mounting tools;
Produces a crisp and crystal clear sight picture with a wide field of view;
Powerful battery to last the optic up to 3 years (30,000 hours);
Fitted with a battery change schedule reminder;
More affordable than its cousin Aimpoint Comp M4;
2MOA red dot for super fast target acquisition;
Flip-up caps are an incredible bonus for emergency shooting and lens protection;
Zero laser emissions that could affect the eyes;
Sizeable adjustable knob;
Standard removable spacer for mount height adjustment;
Anti-reflective finish;
Set back (recessed) lens openings for extra protection;
Threaded front lens opening to accommodate an anti-reflective device (ARD);
Bright enough for bright backdrops and targets;
Excellent cowitness with iron sights;
Compatible with Aimpoint magnifiers (3XMag-1 and 3X-C);
Sturdy aluminum alloy construction;
Waterproof up to 150 feet of submersion.
Cons:
Shorter battery life than Aimpoint Comp M4;
Battery cannot function without the cover;
The highest brightness setting can get overly bright and ruin the sight picture;
Limited reticle settings.
Frequently Asked Questions (FAQs)
What is the point of making the rear flip cover clear?
The underlying justification for that is to allow you to make sudden quick shots without having to flip up the covers first. This empowers you to shoot with both eyes open without compromising target acquisition. Even amidst a rain or dust storm, the clear rear cover facilitates vision by superimposing the red dot on your target while minimizing debris invasion.
How do I get the Aimpoint PRO off my rifle?
Now that's a delicate affair and you must ensure you do it gently to avoid damaging the knob. First of all, avoid overtightening the knob when mounting it owing to its special design. Secondly, when unmounting it, simply push it in gently as you turn it in the open direction. That should help you get it off your rifle.
Does the Aimpoint PRO pair with all Windham AR-15 models?
The optic comes standard with a QRP2 rail grabber mount that perfectly sits on any flat-top AR-15 model. That includes the Windham models. That said, the PRO mounts directly to a Picatinny rail without needing additional mounts.
Must I unmount the optic first before replacing the battery?
Not exactly. The innovative Aimpoint PRO's DL1/3N battery is cleverly positioned on the opposite end of the tiny tube at the optic's top side next to the rear lens cap. Simply twist the end cap to dislodge and replace the battery. Ensure you insert the battery with the negative (-) terminal facing up. Then, reattach the cap and tighten it firmly.
Why am I seeing multiple red dots on my optic?
There could be several potential reasons for that. It is possible your brightness settings are faulty, perhaps too high to trigger a glare effect. It could also be a case of astigmatism causing the red dot to appear oddly shaped. Moreover, a wet lens also tends to display multiple dots. Ensure you dry it thoroughly using a clean lens cloth or lens pen.
The other likely reason is you could be dealing with a counterfeit Aimpoint PRO optical sight, so always make sure you register yours with Aimpoint. That said, there is also a chance your optic might be broken. You may have to contact Aimpoint and take advantage of the warranty.
Will the Aimpoint PRO be effective when shooting with one eye open?
While the initial design was intended to shoot with both eyes open, the PRO still offers incredible accuracy even with one eye open. It all boils down to shooter preference.
Can I adjust yardage with the PRO?
The PRO doesn't feature yardage adjustment. Being a red dot sight without any magnifying features, it is not designed for extra-long distances. The only adjustments provided are for zeroing in the sight to a slightly further or closer distance from the recommended yards.
It also comes with elevation and windage adjustments situated on the top and side of the scope. For these two, you can use a flathead or a quarter adjuster to make the necessary adjustments.
Can I detach the flip-up lens covers?
Yes, if you are better off using your optic without them (some shooters do), you can easily remove them. In case they are damaged or worn out, you can as well replace them.
Conclusion
From the review, it is safe to state that the Aimpoint PRO might make the perfect optic sense for wielders of AR-15s, PCCs, or shotguns. The rugged design fluently complements the heavy demands usually placed on such firearms. What's more, at below $500, you might end up surprised to receive more than what you paid for.
Ready to try out something new (yet ancient) at the local range? It wouldn't hurt to take a shot at the Aimpoint PRO, now that you are more enlightened.