Metatarsal pain is felt at the ball of the foot, located above the arch and under the toes. If left unattended, it can cause damage to your back, ankles, and toes. It can also lead to significant discomfort and may interfere with your activities.
According to NIH (National Institutes of Health), plantar fasciitis affects more than two million people in the United States. It causes daily discomfort that diminishes performance and quality of life.
Normal daily activities like walking, running, or even cooking can become a dreadful experience. The good news is that adjusting your footwear can be an easy preventative solution to this problem and can provide immediate relief.
If you are experiencing a foot condition, are an athlete, work on your feet, or simply wear difficult shoes, you might be experiencing foot pain.
Metatarsal pads provide an easy solution to painful feet. They prevent serious foot conditions from developing and can put your spine at ease.
Read more to review the best 5 metatarsal pads of 2023. This buying guide will help you decide which metatarsal pads are best for you. Ready, set, go!
Quick Picks of Top 5 Best Metatarsal Pads of 2023
| Product | Material | Washable | Quantity | High-Impact Activities | Price |
| --- | --- | --- | --- | --- | --- |
| 3M 100% Wool Felt Pads | 100% Wool Felt | No | 12 | No | See on Amazon |
| Dr. Frederick's Original Pads | Biodegradable TPE Gel | Yes | 4 | Yes | See on Amazon |
| ZenToes Metatarsal Ball of Foot Cushions | Fabric and Gel | Yes | 4 | Yes | See on Amazon |
| Dr. Scholl's Metatarsal Pads | Silicone | Yes | 2 | No | See on Amazon |
| COMFYLUX Metatarsal Pads | Silicone | Yes | 4 | Yes | See on Amazon |
1. 3M 100% Wool Felt Pads – Soft and Supportive Self Adhesive Metatarsal Pads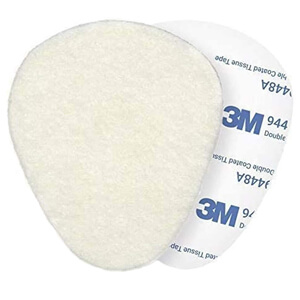 Temiart 3M is a brand that is likely to delivery a high quality metatarsal pad. These pads may provide immediate pain relief from excessive standing, Morton's neuroma, calluses, post-surgery, and plantar keratosis. They are made from high-grade wool felt, but won't last as long as silicone pads.
The adhesive design prevents pads from shifting inside your shoes without leaving a glue residue behind. You may stick these metatarsal pads directly to your foot or inside your shoe to experience a painless day even during high-impact activities.
Benefits
This simple and effective design made from 100% natural wool felt is easy to use. The adhesive surface makes it easy for the user to stick on feet or shoes. Pads balance forefeet and provide relief that may last all day.
Notable Features
Thick and Sturdy Structure: Pads are 1/4″ thick and feel more sturdy than the usual wool pads.
Recommended by Podiatrists: Thousands of podiatrists in the United States recommend these pads as they simulate the same shape and size as the ball of the foot.
Strong 3M Adhesive: 3M provides some of the best adhesive products in the industry. Pads stay in place until you are ready to peel them off. New technology allows the glue to stick to your feet and shoes, but not leave a sticky residue behind when you peel them off.
Pros and Cons
Pros:
Self-adhesive without glue residue;
Thick structure provides more support than average wool pads;
Comes in a pack of 12 for use with multiple pairs of shoes;
Bionic design is ergonomic for a comfortable fit.
Cons:
The pads only come in one size and are not appropriate for large feet;
Cannot be washed or reused, they have to be replaced regularly.
Overall Market Satisfaction
The self-adhesive design and 100% wool felt material provide ease of use and comfort. The 1/4″ thickness provides immediate relief for most conditions. Users experience long-term improvement of their conditions. It is a durable product made by a trusted manufacturer. The pads enjoy high consumer ratings with most people reporting successful outcomes.
2. Dr. Frederick's Original Pads – Effective Washable and Reusable Metatarsal Pads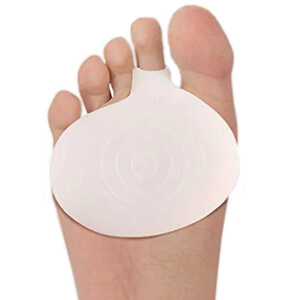 Created by a physician, Dr. Frederick's Original Metatarsal Pads were designed for people with chronic conditions but are helpful to everyone. They provide pain relief from conditions including metatarsalgia, calluses, fractures, and sesamoiditis. Immediately absorbs shock and vibration while evenly distributing pressure.
Benefits
These pads are made with a biodegradable TPE gel material that seems to provide maximum comfort and may allow users to experience all-day relief. They are designed with a toe loop anchor to keep them in place, which some people prefer to adhesive designs. The size is big enough to fit most people, providing full forefoot coverage.
Notable Features
Non-slip Design: Center ridges allow pads to stay in place even for those with active lifestyles.
Durable: Pads are designed to last for months for daily use. Made from biodegradable thermoplastic elastomer (TPE) material that provides the comfort of gel.
They are made to withstand moderate to extreme activity levels.
Washable and Reusable: The pads allow users to stay fresh because they are easy to wash. They are a budget and eco-friendly option for people that prefer reusable products and want more durability.

Pros and Cons
Pros:
Designed by a physician;
Provides immediate relief from pressure and pain;
Made from biodegradable durable materials that lasts for months;
Toe loop anchor keeps pad in place;
Anti-slip center ridges allow user to feel more confident as they step;
Made for moderate to extreme activity levels that include high-impact activities.
Cons:
Non-adhesive design cannot be kept in place inside the shoe;
Toe loop design may not be comfortable for some users;
Toe loop is not ideal for users that like to wear sandals without showing straps.
Overall Market Satisfaction
Dr. Frederick's design provides an effective way to treat and prevent painful foot conditions at an affordable price. Most users are happy with the quality and design of the product. Some people experience difficulty or discomfort using the toe loop, but overall, it receives positive consumer reviews. One of the most liked features is the washable and reusable material that lasts for months.
3. ZenToes Metatarsal Ball of Foot Cushions – Best Value Designed for Dancers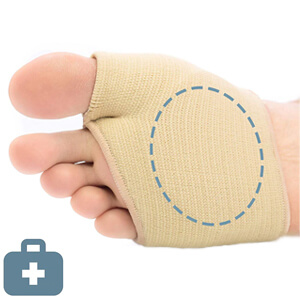 These reusable metatarsal pads are washable for maximum cleanliness. Each pack comes with four pads that you can wear out of the box. This unisex fit is ideal for dancers that require a product that handles high-intensity activity. They can also be used by people who experience painful foot conditions such as sesamoiditis, corns, bunions, and others.
Benefits
Strong enough to provide support for dancing and other high-impact activities. Gel metatarsalgia dancer pads provide comfort to the entire forefoot to foot sizes 6 to 9 for men and 8 to 11 for women. Economical and eco-friendly pads are washable and reusable. Made with comprehensive fabric sleeves that allow maximum flexibility and comfort.

Notable Features
Made from Medical-Grade Materials and Design: Durable flexible fabric hugs your feet while gel inserts provide support to the ball of the foot.
Washable and Reusable: Users save money and stay clean, simply by washing pads with mild soap and hanging them to dry. It is ideal for dancers and athletes that need a reliable and long-lasting product.
Gel-Infused Foot Pads: Provides cushioning and shock absorption even for high-impact activities with the most comfort.
100% Satisfaction Guaranteed: ZenToes is dedicated to providing great products and customer service. It is a brand that will make sure you are happy with their products.
Premium Quality: The manufacturing process has three quality checks and products are packaged in the United States for the highest standards.
Pros and Cons
Pros:
Appropriate for high-impact sports;
Washable and reusable;
Manufactured in the United States;
Fits most feet shapes and sizes.
Cons:
Encases the whole foot not allowing you to use sandals;
May be too bulky for everyday wear.
Overall Market Satisfaction
Customers feel good about buying from ZenToes. It is a woman-owned business and hires diverse individuals including those with disabilities. They are dedicated to providing high-quality foot care products, which is why they have excellent ratings. People enjoy the quality of these pads and since they are washable and reusable, they are popular amongst those with an active lifestyle.
4. Dr. Scholl's Metatarsal Pads – Reusable Pads That Fit All Shoes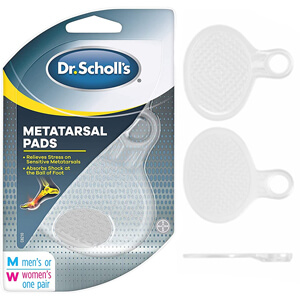 With a name like Dr. Scholl's, you will receive a product made by a manufacturer that specializes in foot care. These pads are made from silicone that conforms to any shape of feet. They are reusable and can be washed with soap and water for maximum cleanliness. Metatarsals are protected with shock-absorption technology that provides support and helps you evenly distribute the pressure on your feet.
Benefits
Relieves pressure from the ball of the foot with a thick silicone material that molds to your feet. The toe attachment allows you to keep it in place even during demanding activities. Ergonomic design provides support all day without wear and tear on the pads. They are washable and reusable, which saves money and keeps your feet clean.
Notable Features
Designed by Experienced Manufacturer: Dr. Scholl's has been making foot care products since 1904 and is still at the leading edge of quality.
Washable and Reusable: It is easy to stay clean, save money, and help the planet. Simply wash with water and soap to maintain them.
Made in the United States: Higher quality standards are followed during the manufacturing process.
Silicone Construction: The flexible material wraps around any foot size or shape while providing a thick platform for maximum support.
Pros and Cons
Pros:
Made in the USA from quality materials and high industry standards;
Silicone construction molds to any foot size or shape;
Washable and reusable;
Gel cushioning absorbs shock and distributes pressure evenly.
Cons:
Toe attachement is uncomfortable for some users;
Thickness is not compatible for high-impact activities such as sports.
Overall Market Satisfaction
Although Dr. Scholl's is a reputable brand, these pads are not as popular as other models. They are basic pads made for light use and do not have special features that set them apart from competitors. There are good ratings from consumers, but the pads are not made for sports or high-impact activities. The toe attachment is a hit or miss with customers as some people find this feature uncomfortable. It is a good purchase as a budget-friendly option and light-duty support.
5. COMFYLUX Metatarsal Pads – Washable Premium Quality Gel Design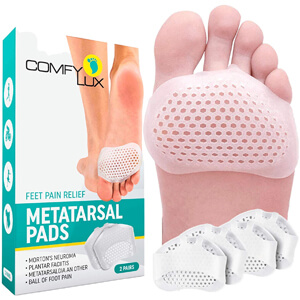 COMFYLUX provides superior quality pads that cushion the ball of the foot with high-grade silicone. They provide immediate relief from painful conditions such as metatarsalgia or just normal daily foot pressure. The material allows your feet to breathe all day while providing support during extensive use.
Benefits
These unisex pads provide ultimate comfort and support at the ball of the foot with a special mesh silicone design that molds to your feet. They are durable for active lifestyles that include sports and high-impact activities. The washable and reusable material is ideal for those looking for a long-lasting product.
Notable Features
Hypoallergenic Medical Grade Material: The high-quality PU gel made from durable silicone material will last for months in high-level activities. You may never experience rashes or skin irritations because it is hypoallergenic.
Built-in Toe Separators: Designed for maximum comfort and a smooth feel, the toe separators prevent overlapping.
Waterproof: Perfect for active people that enjoy sports and hiking.
One Size to Fit Most: No need to adjust pad as it easily fits most people.
Pros and Cons
Pros:
High-grade hypoallergenic material;
Washable and reusable for a budget and eco-friendly option;
Compatible with high-impact activities;
Effective for most foot conditions and everyday stressors.
Cons:
Straps between the toes are visible with sandals;
Toe straps are uncomfortable to some users;
Customers complain of the pads roll under the foot and get out of place.
Overall Market Satisfaction
This product has mixed reviews from consumers. While some people find the flexible mesh design effective, others report having issues with the pads staying in place. It is not preferred by sandals wearers, especially women who don't like to show the toe straps with their open-toe shoes. The waterproof feature is popular amongst users who like to engage in outdoor activities.
Buying Guide for Metatarsal Pads
To select the best metatarsal pads from the five mentioned above, you must assess your requirements. Perhaps you are buying the pads for a current medical condition, as a preventative measure, or simply for more comfort. Consider the following when choosing the ideal pads:
Material
There are pads made from wool, rubber, and silicone. Choose a material that provides you with the comfort and durability you desire. Wool is by far the least durable compared to silicone gel that proves to last the longest in addition to providing the best comfort.
Breathable
It is best to choose anti-microbial pads to prevent infections. The mesh design allows air to flow through for an airy and lightweight feel. It is important to keep your feet dry by using a pad that doesn't retain moisture.
Practicality
Choose a pad that can be used with a variety of footwear. Those that shape themselves inside most types of shoes including sandals will be the most useful.
Quality
Certain brands use high standards in research and development as well as the manufacturing process. Look for those that put their products through extensive testing and quality control measures. A high-quality product will not only provide your feet with the most support but will also last longer.
Medical Conditions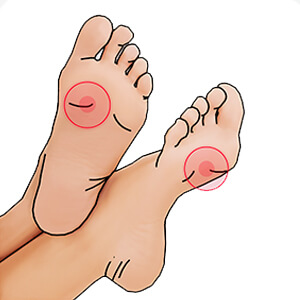 Consult with your podiatrist if you are currently experiencing injuries, chronic conditions, or unusual symptoms. Your doctor will guide you in choosing a metatarsal pad that is made for medical purposes.
Thickness
The ideal thickness is 1/4″ to 1″ for most users. Too thin or too thick will be uncomfortable and may create foot problems. A bit of trial and error is required for you to find the ideal thickness. Thin pads will be softer while thicker ones will be more sturdy.
Other Benefits
Depending on your health and comfort goals, choose a pad that is designed to help you achieve them. Some target only foot pain, while others are designed to improve ankle and back discomfort at the same time.
Frequently Asked Questions (FAQs)
Are metatarsal pads comfortable to wear?
Comfort level can vary between individuals and the type of metatarsal pad. Some people find metatarsal pads to be comfortable and provide relief from pain, while others may find them uncomfortable or not effective.
Can metatarsal pads be worn with any type of shoe?
Metatarsal pads can be worn with most types of shoes, including athletic shoes, dress shoes, and sandals. However, it's important to choose the right size and type of pad for your specific shoe to ensure a proper fit.
How long does it take to get used to wearing metatarsal pads?
It can take several days to a few weeks to get used to wearing metatarsal pads. It's important to gradually introduce them into your shoe gear and to wear them for short periods of time until you become more comfortable.
Can metatarsal pads be worn by people with diabetes?
People with diabetes should consult their doctor before using metatarsal pads, as they may have decreased sensation in their feet and may not be able to feel if a pad is uncomfortable or if it is causing any foot damage.
Are metatarsal pads safe to wear during pregnancy?
Metatarsal pads are generally safe to wear during pregnancy. However, it's best to consult a doctor to ensure that they are appropriate for your specific needs and to rule out any potential foot problems.
Can metatarsal pads be used to treat other foot problems?
Metatarsal pads are designed specifically to relieve pressure and pain in the ball of the foot. They may not be effective for treating other foot problems, such as heel pain or arch pain. If you have any concerns about your feet, it's best to consult a doctor for a proper diagnosis and treatment plan.
Conclusion
The health of your feet will affect the rest of your body. No matter if you have the high-impact activity of an athlete or just need comfortable shoes to walk around the office, metatarsal pads are a great way to modify your footwear. They help you achieve optimal support and comfort.
Not all brands or pad models are created equal. The market has a wide range of products with different features that accommodate specific needs. Most consumers prefer washable and reusable pads, but your choice will depend on your lifestyle and particular requirements.
If you are experiencing foot symptoms, consult a podiatrist to receive the best guidance in buying metatarsal pads. The health of your feet matters, especially if you have an active lifestyle. Metatarsal pads provide the shock absorption and support your feet need so that you can perform your best and feel great. They are a great addition to footwear that people from all walks of life should consider.