Do you wish that you could stream a movie from your phone to your non-Bluetooth enabled TV? The easiest and cheapest way to do it is by using a good quality Bluetooth transmitter.
With a device like this, you can connect all of your peripherals and gadgets with built-in Bluetooth to other devices without Bluetooth easily and reliably.
We have chosen the most recommended Bluetooth transmitters being offered on the market in 2021 for you.
Read on to find out more about these nifty and affordable devices.
Best Bluetooth Transmitter of 2021
TaoTronics Bluetooth 5.0 Transmitter and Receiver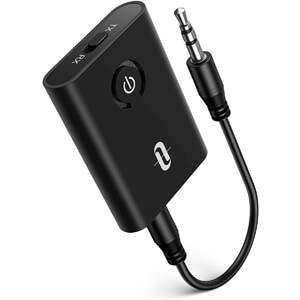 This Bluetooth 5.0 Transmitter by TaoTronics is a bestselling product and one of the top Bluetooth transmitters you can find in 2021.
It is affordable and will provide you with 24/7 Bluetooth access even when it is charging.
The 2-in-1 transmitter and receiver can be paired to two Bluetooth enabled devices, like speakers and headphones at the same time.
The device has a low delay of hi-fi sound or streaming thanks to its aptX Stereo Sound Low Latency.
The 2-in-1 Bluetooth transmitter has a rechargeable battery with a life of up to 10 hours of continuous use, but you can continue using it even while it is charging.
You can use it to make your TV, your tablet, PC, or music player into a Bluetooth gadget.
The receiver mode of the device is very reliable so that you will have access to clear, uninterrupted sound or streaming at home, in your office, or in your car.
The TaoTronics Bluetooth 5.0 transmitter and receiver costs less than $30 and is sold with an 18-month warranty, and 24/7 customer support.
Avantree Oasis Long Range Bluetooth Transmitter Receiver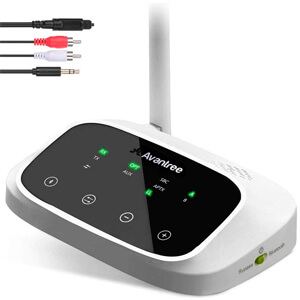 The Avantree Oasis Long-range Bluetooth transmitter and receiver will ensure that you have wireless connectivity throughout your home.
This powerful Bluetooth transmitter has a range of up to 295 feet when paired with headphones and up to 328 feet as a receiver in line-of-sight conditions.
In a home where there are walls and other obstacles, the range of the Oasis is up to 164 feet.
Thanks to its aptX Low Latency codec in transmission mode, you can stream movies and other content seamlessly, and without the annoying lip-sync effect due to the audio lag which is common among other less powerful Bluetooth connections.
The device is easy to install and use, thanks to its comprehensive voice guidance, and status indicators.
It has digital optical, AUX and RCA Audio outputs, so you can connect it to just about any device. Plus, there is a bypass switch, so you can switch from one input to another, without having to connect and disconnect the different devices.
The size of the unit is 4.49 x 2.95 x 1.18 inches.

This premium quality Bluetooth transmitter and receiver is FCC and CE certified.
It is compatible with just about all TVs, TV boxes, PCs, AV systems and devices, and will allow you to stream music to all Bluetooth enabled speakers, headphones, and others.
As a receiver, it is capable of receiving wireless audio from any Bluetooth music player, phone, Echo, or other audio device.
Nulaxy Bluetooth Car FM Transmitter Audio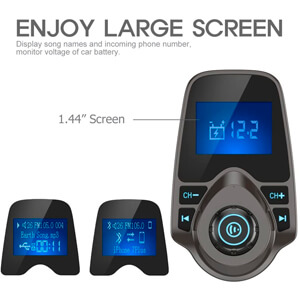 If you are looking for a good quality car Bluetooth transmitter, then the Nulaxy FM transmitter is a product which you should definitely check out.
This inexpensive car kit has a 1.44 inch large and easy to see LCD display where you can view the track playing, the car battery status, as well as your incoming phone calls.
The Nulaxy Bluetooth car transmitter has a car lighter plug adapter, and will allow you to listen to your favorite playlists, take calls at a high quality and listen to your preferred FM stations – hands-free and safely while driving.
You can listen to music at a higher quality from your phone, music player, and another device via Bluetooth, a TF Card, or the AUX port of the transmitter. It has highly efficient noise canceling and sound interference technologies, so you can listen to music and take incoming calls in crystal clear quality.
Another nifty feature of this Bluetooth transmitter car kit is a voltmeter, which will allow you to monitor the status and condition of the car battery in real-time.
This Bluetooth transmitter for cars is available in different color options and finishes and costs less than $20.
TROND Bluetooth V5.0 Transmitter Receiver
The Trond Bluetooth v5.0 transmitter-receiver is similar to our top pick for Bluetooth transmitter for 2021.
It supports aptX Low Latency in RX and TX mode, so you will never have to deal with delays in the audio while watching a movie or streaming other content.
The device can be paired to two Bluetooth devices at the same time, and thanks to its dual-stream function, can stream the music or other audio to them simultaneously, without delays and with superb quality.
You can use it to transmit high-quality stereo sound from audio sources that do not have Bluetooth wirelessly to your Bluetooth enabled speakers or headphones.
Every TV, PC or music player can be transformed into a smart device with Bluetooth wireless connectivity thanks to this affordable gadget.
The Trond transmitter comes with a USB to micro USB charging cable, as well as a 3.5mm to 3.5mm male to male cable, and a 3.5mm to RCA female cable.
With it, you can turn your old sound system and other analog audio equipment into a wirelessly enabled one, so you can enjoy a CD-quality sound without the need for messy and restricting cables.
TROND Bluetooth V5.0 Transmitter Receiver Wireless 3.5mm Audio Adapter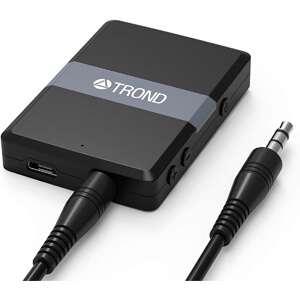 This is a newer and improved version of the Trond Bluetooth v.5.0 transmitter receiver from above.
It is fitted with the latest chipset, which supports the latest Bluetooth version 5.0 but also offers aptX and aptX Low Latency to both the RX and the TX modes.
Thanks to the aptX feature, you will be able to listen to high-quality audio via Bluetooth from devices that have aptX, such as your TV, tablet, or phone.
With the aptX Low Latency feature, you can say goodbye to the annoying lag when watching a movie or streaming other content, where the audio is delayed and out of sync.
In TX mode, you can connect the Trond Bluetooth transmitter to any non-Bluetooth device and enjoy high-quality audio or music wirelessly on your Bluetooth headphones. In TX mode, you can pair it with two Bluetooth enabled headphones, so you can enjoy listening to music, playing games, or watching a movie with somebody else without disturbing the other people in the room or house.
In RX mode, you can turn your old headphones into wireless Bluetooth ones, and use the Trond receiver to control the tracks, and volume as you listen to the music of your choice.
You can easily see which codec is in use thanks to the useful LED indicator, which will tell you whether you are in SBC, aptX, or aptX Low Latency codec mode.
Along with the superb Bluetooth transmitter, you will receive a charging cable, 3.5mm to 3.5mm male adapter and cables, and a 3.5mm female to RCA male cable.
TaoTronics Bluetooth 4.1 Transmitter Receiver
The TaoTronics Bluetooth 4.1 transmitter and receiver is only 1.9 x 1.9 inches in size, and 0.6 inches thick, which will allow you to easily carry it in your pocket or take it with you wherever you go.
It works as both a Bluetooth transmitter and a receiver and can transform 3.5mm audio out sound from non-wireless audio devices into wireless Bluetooth audio and streaming.
With this ingenious little gadget, you can stream high-quality audio and music to any non-Bluetooth device like your TV, your old stereo system, or your car stereo from your phone or other Bluetooth enabled device.
It supports the aptX Low Latency codec technology, so there will be no or just minimal delay in the audio reception and transmission via this device.
You can easily pair two sets of headphones to the TaoTronics Bluetooth transmitter simultaneously, so you can enjoy listening to music or watching a movie with your partner even when the children are asleep.
When it is in receiver mode, you can control the playlist, volume, and tracks via the receiver itself, thanks to the easy to access controls on its side.
The device will remember its last pairing setting and will automatically pair to the device or devices when switched on or when you are in range again.
You can also connect it to wired speakers or headphones, or use it in your car to stream music to your car stereo from your mp3 player or phone.
This reasonably priced Bluetooth transmitter and receiver is powered by a battery with a long life, which will last for up to 20 hours of continuous use.
TROND TV Bluetooth V5.0 Transmitter and Receiver Digital Optical TOSLINK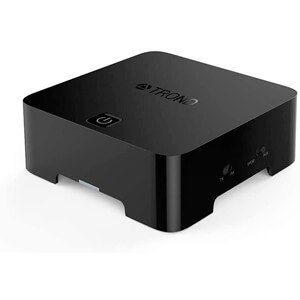 Last but not least is this top-performing Bluetooth transmitter and receiver.
It is a versatile, easy to use, and reliable gadget which will allow you to listen to premium quality music and audio from any non-Bluetooth device, and also use your old speakers and headphones wirelessly too.
It features the latest and most powerful CSR8670 chipset. The gadget supports aptX and aptX Low Latency in both TX and RX modes.
You can choose among the three available connectivity options offered by this Bluetooth transmitter and receiver, including a 3.5mm headphone jack, RCA (via the included RCA adapter), and TOSLINK for a high quality digital optical connection.
This reasonably priced Bluetooth v5.0 transmitter and receiver is powered by a 350mAh rechargeable battery, which can last for up to 15 hours per charge, and you can continue using it as it charges via any USB port on your TV, computer or a phone charger adapter.
Along with this high-quality Bluetooth receiver and transmitter by Trond, you will receive a charging cable, a TOSLINK audio cable, a 3.5mm male to 3.5mm male cable, and a 3.5mm female to RCA male audio cable adapter.
Avantree Priva III aptX Low Latency Bluetooth
The Avantree Priva III Bluetooth Audio Transmitter is designed for connecting analog audio output devices like ones with RCA audio outs, or big headphone jacks.
This Bluetooth Low Latency Bluetooth Audio Transmitter can be connected via AUX, RCA, 3.5mm, and PC USB audio.
It has a range of up to 100 feet. Thanks to the Low Latency aptX codec, there will be no delays in the audio signal.
The device will remember its last settings and will automatically pair to the last connected device when switched off and on again.
The Bluetooth transmitter runs on power, which is fed from your TV's USB port and will switch on as soon as you turn the TV on.
It doesn't need to be charged nor to have its batteries replaced. You can also connect it to a USB port on your computer.
You can plug it in any USB port of your computer without any added cables, and it supports digital USB audio output.
It is reasonably priced and offers reliable connectivity and performance.
What is the difference between a Bluetooth transmitter and a receiver?
Many of the products on our list are combined Bluetooth transmitters and receivers, and you may be wondering what the difference between the two functions is.
A Bluetooth transmitter will enable you to wirelessly connect a device that is not Bluetooth enabled with one which has Bluetooth. So, you can listen to your old hi-fi sound system on your new Bluetooth speakers, for example.
On the other hand, a Bluetooth receiver will allow you to connect a Bluetooth-enabled device with one which doesn't have integrated Bluetooth connectivity.
This means that you can connect your smartphone to your favorite old headphones wirelessly.
Keep in mind that even if you buy a product that is both a transmitter and a receiver, you can only use one of these functionalities at a time.
Then again, it is a better idea to invest in a more versatile device that combines both functionalities, so you can use it for both purposes when needed.
This can save you the hassle of dealing with messy wires, and will also save you a lot of money for having to upgrade your appliances and gadgets to be compatible with one another.
Features to look for when shopping for Bluetooth transmitter
If you are deliberating which Bluetooth transmitter is the most suitaable for your needs, here are some of the main features you should look for, and the factors to keep in mind when shopping for one:
The Bluetooth version and technology
This feature is crucial if you want the highest quality seamless connectivity and also one that your devices are compatible with.
If you want the newest and future proof choice, then you should opt for a transmitter with Bluetooth version 4.0, or 5.0.
Bluetooth 5.0 is the latest version and is backward compatible, so you can use it with devices that are enabled with the older versions.
In order to get the best out of the Bluetooth signal, it is advisable to upgrade your devices and peripherals to the latest version.
Bluetooth 4.0 and 5.0 have a Low Energy feature, which reduces the usage of power by the devices connected.
This means that your phone, music player, or other paired device will not run out of battery faster when using the Bluetooth connectivity function.
The functions
When choosing a Bluetooth transmitter, take into consideration its functionality. This includes checking how many devices can be connected to it simultaneously, how it operates, and what its wireless range is.
Some transmitters have a memory function, and will automatically pair with the last connected device automatically, which is a useful feature if you go out of range for one reason or another, like entering or leaving a room with your headphones on.
If you want a more versatile device, you should opt for a combined Bluetooth transmitter and receiver. This will save you money for having to buy the two separately and will enable you to connect more Bluetooth enabled and non-enabled devices in different combinations.
The ease of use
If you are not particularly tech-savvy, then you should choose a device that is easy to understand, install, and use.
Check out the controls of the unit and how easy it is to switch from one function to another, to pair devices and other functions.
The price and brand
As with any other purchase, you should choose the Bluetooth transmitter, which offers the best value and quality for the money you have decided to spend.
Choosing a Bluetooth transmitter from a reputable brand or manufacturer will give you peace of mind that it is well-built and more reliable, and that you will be using it for a longer time.
The range of the signal
Choose a Bluetooth transmitter that has an operational range that suits your needs.
If you are going to use it at a short-range only, then you can opt for one with a more limited range, but if you plan on pairing devices which are located far away from each other, or to move them while they are paired, then you should choose a transmitter with the most extensive range possible.
The audio delay
If you have used a low-quality Bluetooth connection to stream music or watch a movie, then you probably have noticed the annoying lag which occurs with the audio. The lack of synchronization between the video and audio can be frustrating and will ruin your listening or viewing experience.
Thankfully, most of the products which we have picked for you have little or no delay and are compatible with the codecs, which prevent such a lag.
The battery life
While some of the transmitters can be plugged into a USB port in order to function, others rely on battery power only. These are the more portable ones and are particularly useful when on the go.
So, if you want a transmitter that is battery powered, you should check out what its battery life is, how long it takes to charge the battery, and how long you can enjoy the wireless connectivity provided by the transmitter.
Final words
Hopefully, you have found the perfect Bluetooth transmitter for your needs from our list.
Whichever product from the list that you choose, you can be confident that it will provide you with reliable connectivity, with no audio lag, and one which will serve you well for long.
Buying a Bluetooth transmitter is the most sensible and least expensive way to connect non-Bluetooth with Bluetooth enabled devices of all kinds.