Every good home office must have a good printer, but you might not have the space nor the budget for a full-size office printer. There are tons of great options for printers but not every printer is ideal for a home office. Here are 5 of the best printers that you can get for your home office.
Canon MAXIFY GX7020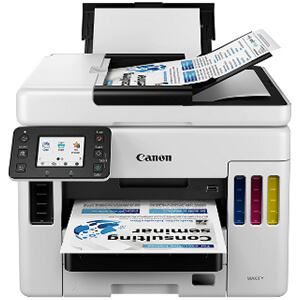 One of the best brands for printers would be Canon and the MAXIFY GX7020 is the best all-in-one printer you can have for your home office. The printer is an inkjet model that features an automatic document feeder with duplex scanning and a flatbed scanner that can even scan thicker media and documents like books. You can also use the printer as a fax machine. While this printer cannot print via Bluetooth, there are other connectivity options like Wi-Fi, Ethernet, and USB so you can directly connect your laptop to the printer.
Printers can be expensive due to their ink consumption but since this printer uses a supertank system, it has a high page yield but at a low cost-per-print. You also will not need to wait for the printer to warm up because the printer can print almost immediately for the first page. This printer can also do a decent job printing out coloured documents and pictures. Overall, it is a solid and well-built printer that would make a great addition to your home office.
Canon PIXMA TR8620
If you need a home printer for high-quality photos, you can check out the Canon PIXMA TR8620. This all-in-one inkjet printer does an amazing job when it comes to printing coloured prints and photos, so it would be great for those who need to print tons of images for their work. Unfortunately, the high-quality photo prints do come at a cost which is why this Canon printer is not the cheapest option on this list. It also does not have a fast print speed but that is expected for images and coloured documents.
Despite those disadvantages, this is still a great printer, and it comes with tons of features. One of which is the automatic document feeder and the flatbed scanner. There is also an LCD touch screen control panel where you can access all functions and configurations. It also offers a wide variety of connectivity options, including Bluetooth, Wi-Fi, Ethernet, and USB. Overall, this printer is the best option if you need to make high-quality photo prints at home.
Brother MFC-J995DW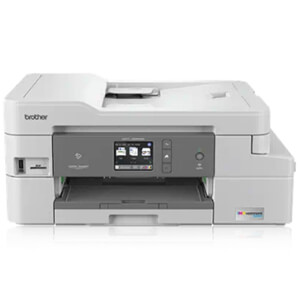 Another great brand when it comes to printers is Brother and the best Brother printer for a home office would be the MFC-J995DW. It is an all-in-one inkjet printer that is versatile and does a great job for all sorts of printing. It has an automatic document feeder, a flatbed scanner with a good scan resolution, and it can also be used as a fax machine. The printer also uses Brother's INKvestment Tank system which has an outstanding page yield but with a low cost-per-print.
As for print speed and consistency, this printer does a decent job, and the printed images are detailed with reasonably accurate colours. As for the connectivity options, it offers the option for Wi-Fi, Ethernet, USB, and SD cards. Unfortunately, this is not a printer with a Bluetooth option, which is rather important for some people. However, this printer is still one of the best all-in-one printers for when you are working from home.
Brother MFC-L2710DW
If you are more likely to print black-and-white documents and will not be using your home printer for coloured prints, you can always choose a monochrome printer. The one that is highly recommended is the Brother MFC-L2710DW, which is a monochrome laser printer. It comes with an automatic document feeder and a flatbed scanner that has a high scanning resolution. The scanner can also be used to scan thick media and documents like a textbook.
This printer can yield thousands of prints per toner cartridge, which can also keep the cost-per-print significantly low. The warm-up speed can be somewhat slow but the subsequent pages after the first page come out quite fast. This is another printer with tons of connectivity options, including Wi-Fi and Ethernet, and if you have Apple AirPrint, you can also try it out with this printer. Overall, this monochrome printer is great for black-and-white printing and can save you tons of money.
Epson WorkForce Pro WF-3820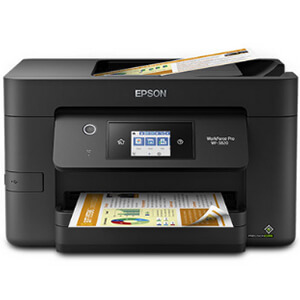 Epson is another great printer brand and if you are looking for a budget-friendly home office printer, the WorkForce Pro WF-3820 would be a great option. It is an all-in-one inkjet printer with an automatic document feeder and a high-resolution flatbed scanner. If you also need a printer for photos and coloured documents, this printer offers decent quality photos prints with great colour accuracy.
This printer will take some time to warm up for the first print, but subsequent documents come out quite fast, especially if it is black-and-white documents. Unfortunately, this printer does not yield a high number of monochrome pages per ink cartridge, which means you will have to spend a lot to replace the cartridge. However, that should not concern you if you do not frequently print a lot of documents. Overall, this printer is still a great choice for those looking for an all-in-one home office printer on a budget.