Metatarsalgia refers to pain in the ball of the foot due to pressure, compression, or irritation of the structures of the forefoot or midfoot region. Namely plantar fascia, sesamoids, tendons, nerves, bones, joints and other connective tissues in the area. It can cause pain with activities such as running or walking that involve pushing off with the toes. It can also be caused by wearing shoes that are too tight or that have little room in the toe box.
Selecting the best shoes for your metatarsalgia is important! Because they help to support your arches, help you stand comfortably without pain, and relieve pressure points on your feet that can cause more stress on your toes and heels than normal. If you're ready to relieve your metatarsalgia pain with good-quality insoles, you'll find what you need in this buying guide of the top 5 best metatarsalgia insoles of 2023.
What is Metatarsalgia?
Metatarsalgia is a condition in which one or more of your metatarsal bones, located at the ball-side of your foot, begins to ache. Metatarsal insoles are specially designed inserts that are made specifically for treating metatarsalgia. They feature an extra-thick padding that spreads evenly across your foot, preventing weight from being directed towards your sore metatarsal bones. If you're experiencing painful sensations near toes, these metatarsalgia insoles may be a great place to start looking for relief. If you want to learn about our recommendations and read reviews, please continue reading below!
Metatarsalgia common symptoms/complaints
Pain in ball of foot;
Arch pain;
Tenderness of ball of foot;
Redness or color changes on top of toe joint.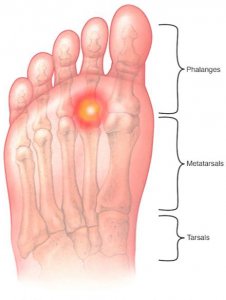 The pain may extend into toes. Pain occurs while walking or standing on toes. Each step feels like being struck by a hammer on inside edge of forefoot. Pain can get worse with activity or standing for long periods. Tight shoes and high heels may increase symptoms. Weight gain and pregnancy also worsen metatarsal problems.
It is normal to have some pain and discomfort in your feet at some point in your life, but if you are experiencing any of these conditions on a regular basis, it's important to seek out relief from an expert foot doctor or by investing in insoles, specifically one of the best insoles for metatarsalgia.
Selecting proper shoes that fit well is imperative when it comes to preventing symptoms caused by improper fit, motion control issues, etc. Over-the-counter orthotics can help support your arch while cushioning sensitive areas. If you're suffering from metatarsal pain or other foot related conditions like plantar fasciitis, bunions or hammer toes, don't let discomfort keep you off your feet; invest in insoles today!
How do I find the best metatarsalgia Insoles?
If you're experiencing metatarsalgia, it can be difficult to find shoes that are comfortable as your pain may be made worse by shoes that put pressure on your arches or heels. It is best to wear shoes with proper arch support and cushioned heels.
When shopping for metatarsalgia insoles, try to choose shoes with lower heels or a wider base. Also, look for low-arched shoes with soft soles. Finally, consider insoles for metatarsalgia shoes as they can greatly improve comfort and reduce pressure placed on joints and nerves in your feet.
That said, make sure to consult with a podiatrist prior to using an insert as some people experience pain from them. A foot doctor will be able to recommend appropriate footwear and inserts based on your condition. The final word: Shoes should fit comfortably but snugly at first, then only loosen slightly over time. Here are our top five picks for metatarsalgia insoles in 2023.
Also read: Top 5 Best Metatarsal Pads
Best

Metatarsalgia Insoles of 2023
Superfeet Unisex Insoles – Green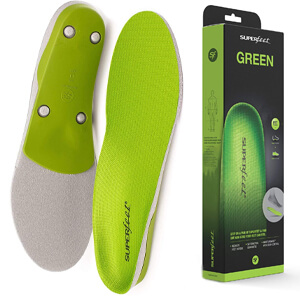 If you are looking for a best insoles that can help you with your metatarsalgia, look no further than Superfeet. This insoles has been specifically designed to provide comfort and support to anyone suffering from pain due to injury or foot issues.
Its shock-absorbing characteristics will allow you to focus on your workout without worrying about discomfort or extra pain while doing so. The rubber base ensures a firm grip and keeps it from slipping off, making it ideal for training sessions at home, outdoors or even in a gym.
This orthotic shoe insert is available only in green and they are only good for 500 miles or around 12 months, whichever milestone is crossed first. Plus, this insoles are made from natural ingredients, are non-toxic and washable so you can wear them time and again without worrying about durability or other problems. All these features make Superfeet insoles for metatarsalgia one of the best insoles for metatarsalgia.
Dr. Scholl's Insoles for Metatarsalgia – Blue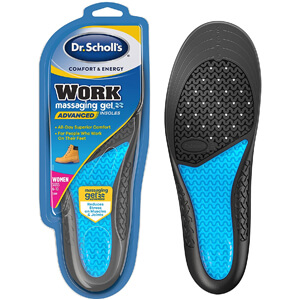 The Dr. Scholl's are massaging gel insoles that are specially designed to help relieve foot pain caused by plantar fasciitis, heel spurs, or metatarsal discomfort. This insoles is able to do so by providing great arch support and cushioning, which reduces pressure on your feet while walking.
Softer, bouncier gel waves provide you with all-day superior comfort that allows you to feel energized and move more than ever before.
The Dr. Scholl's insoles comes in size 6 through 10 and available in blue color. This modern insoles provides relief from pain caused by metatarsal discomfort or plantar fasciitis. It gives great arch support allowing you to feel lightweight all day.
Protalus T100 Thin Series – Blue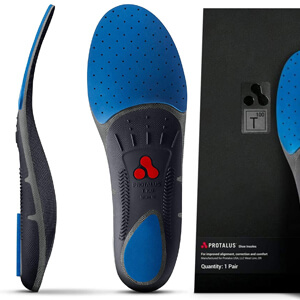 These shoe insoles will support and cushion your feet while walking around at home. But when you venture outside, the Protalus T100 offer easy access while protecting against rocks and debris while walking down sidewalks and streets.
These premium shoe inserts offer shock absorption and anti-bacterial protection without being too bulky. There are two sections of cushion underneath, one under the heel and one under the forefoot. Preventing your toes from sticking together while offering breathability against bacteria-carrying elements.
These insoles may take up to a week to break in and start feeling good. If you still have foot pain in the first few days after buying them, be patient and they should conform to your feet.
CURREX SupportSTP Insole – Gold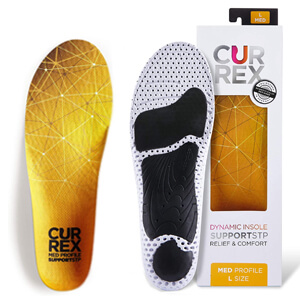 Looking for a premium insole that is suitable to wear when suffering from metatarsalgia? Try out these great insoles CURREX, which are meant to accommodate your special foot needs! Designed with high levels of shock absorption and stability, these insoles will allow you to push yourself! For metatarsalgia sufferers, you won't have to worry about pain when wearing these insoles, allowing you to exercise without limitations.
You can choose from three different arch heights, and the Dynamic Arch Technology allows the insole to conform to your foot for an almost custom fit. They have been specifically designed to support your feet while reducing strain on sensitive areas like your ankles, heels, and toes.
This premium insole will give you exactly what you need—whether it's during physical activity or simply walking around town. When it comes down to it, you don't want to leave anything up to chance when it comes to treating or preventing pain from plantar fasciitis—and walking shoes are no exception.
Topsole Insoles for Metatarsalgia – Red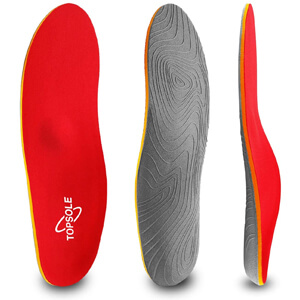 TOPSOLE arch support insole was developed specifically for those with varying degrees of foot problems and those seeking additional arch support and comfort.
This Insoles comes in sizes 6 through 12, and is available in one color. Whether you need them for travel or general walking around town, they offer maximum comfort. And because they are lightweight, you won't feel like you're carrying around excess weight on your feet all day. So when it comes down to it, these insoles might just be what you've been looking for to relieve pain caused by metatarsal discomfort or plantar fasciitis
How do Insoles Help with Metatarsalgia?
When we're talking about footwear and how they can help with metatarsalgia, we're really just looking at a few core features: arch support and shock absorption. With arch support, insoles provide extra cushioning for sensitive arches and help prevent any unwanted pressure on your feet.
In addition to arch support, shock absorption is another key feature to look for when searching for best insoles for metatarsalgia. Shock absorption works by preventing uncomfortable vibrations in your shoes so you feel more comfortable all day long.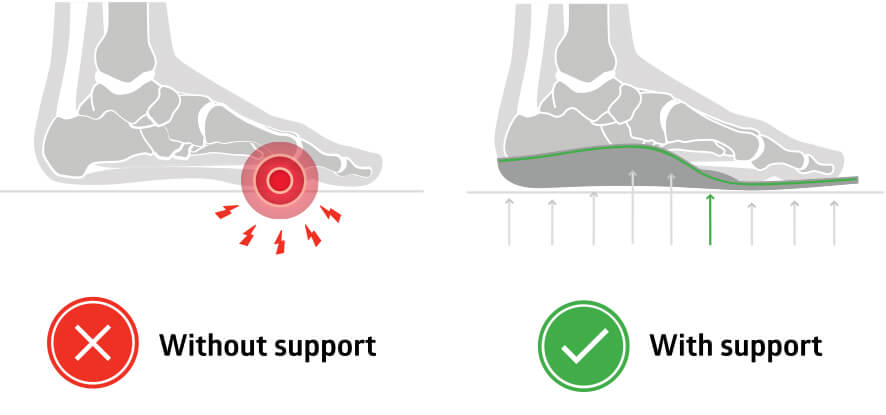 There are plenty of great options out there to find — you just need to know where to look (we recommend Amazon)! While some people swear by certain brands or types of shoes that work well for their pain, there are also others who have found success using top rated products made specifically with their unique needs in mind.
Regardless of what type of insoles you're buying for yourself, it's always best to take your time when making a decision so you don't regret it later on. With so many choices available online today, finding what works best can be overwhelming — but also very rewarding at the same time!
Final Thought
If you suffer from metatarsalgia, your life is probably filled with problems. First, you need to treat your metatarsal pain in order to be able to run or walk without limping; then you'll have to find an insole that will help reduce pain caused by plantar fasciitis so that you can walk without limping.
After all, there are many insoles for metatarsalgia on the market — but not all of them are suitable for treating your particular foot problem. That's why we decided to do some research and came up with a list of our five favorite options for both men and women. They will help you out significantly; now, it's just a matter of choosing one or two that work for you. Of course, if you want to be sure that they work as advertised, feel free to check out each product page; we included links so that it would be very easy for you.