Lemon and cucumber water is a nutritional drink that will help you fill your thirst during summer. This drink has many benefits besides filling up your thirst. It's a natural remedy that benefits the skin and cleanse your body. When you combine lemon with water, it helps your body to function to its fullest. This drink also has anti flammable properties, helps digest food easily, and upon all, it soothes stomach problems that you have. This drink helps body in a lot of ways, and you should read below some of the amazing benefits that lemon and cucumber water will bring to you.
Health Benefits of Drinking Lemon and Cucumber Water
This drink boosts you immune system, making easier for you to digest food
Added vitamins and minerals in your water make your body healthy and fresh. These vitamins lift your diet, and you will be getting antioxidant and extra supplement from it.
It keep up with your hangover problem, helps with your weight loss, and relieve from bad breath.
Cucumber is a good resource for your body to get vitamin B. It also fight cancer, reduces blood pressure, and helps with your cholesterol level.
Mint leaves is an added advantage with water and cucumber. It provides Potassium, Phosphorus, and Calcium to the body.
It has a natural flavor unlike artificial drinks. It can reduce empty calories that you might be consuming by artificial drinks.
If you don't like drinking simple water then lemon and cucumber water will fill-up your thirds and provide significant amount of water to the body.
How to Make Cucumber and Lemon Water
Lemon and cucumber water is a natural drink that you should try on regular basis along with other beneficial recipes and drinks. It's a simple recipe that can be prepared in minutes without having any kind of problem. Below mentioned are some of the preparation steps that you should follow to ensure that you get most out of your drink.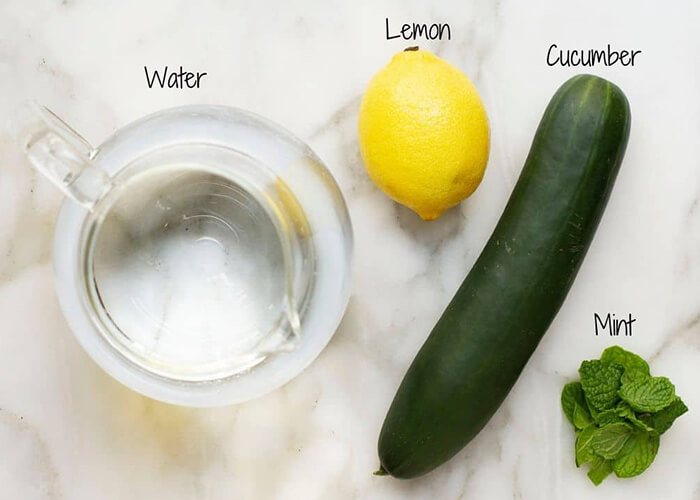 Preparing Cucumber and Lemon Water
You should choose fresh cucumber, lemon, and mint leaves to get maximum output from your drink.
Wash cucumber properly, and then peel off the skin from outer surface.
Clean freshly picket mint leaves by washing them properly.
Clean Lemon so that there are no germs left.
Making Cucumber and Lemon Water
Take a jug and fill it with chilled water. Two quarters of water will suite well with one medium size of cucumber.
Cut cucumber into pieces, and if you don't like cucumber-seeds then take them out, otherwise leaving them there will not have any problem. Put those pieces inside jug. If you want maximum output then leave it there for an hour, but you can also make it instant.
Add mint leaves to your jug and mix it a little bit.
You can squeeze lemon juice into your jug, or cut lemon in slices and put inside the jug with cucumber and mint leaves.
Cover and Let it rest in a refrigerator for 2, 3 hours, or you can also add ice cubes and serve. But it is recommended that you leave it in a refrigerator for few hours so that ingredients are properly mixed together.
Cucumber and Lemon Water Recipe
Cucumber and lemon water recipe will surely fit well with your diet. It suites well for those people who are sensitive about their health. Try this cucumber recipe and you will want to make a lot of jugs on regular basis. Below you will find lemon and cucumber water complete recipe.
Ingredients
Medium size cucumber – 1 (Made into slices);
Water – 2 Quarter (according to cucumber);
Lemons – 2 to 4 (made into slices or you can also add orange slices);
Mint leaves – 15 to 20 leaves (slice into ribbons for maximum taste).
Instructions
Take a jug and put 2 quarter of water in it.
Add Slices of cucumber into the jug (rest it there for an hour to increase taste).
Add lemon slices, and then mint leaves in it. Cover it and then put it to rest in a refrigerator for few hours for getting most out of your cucumber and lemon water.