Most hunters have seen people handle feed in rudimentary ways. Simply placing kernels or other mixtures on the ground and leaving them there for the vermin to get to first, and the deer to pick at second.
That's not an ideal way to feed deer, given the many technological improvements to feeders made today. No longer must one suffer throwing away dozens of pounds of feed after having it go bad from exposure to the elements. The deer feeders below aim to help you achieve this, making the feed you provide cleaner and healthier for the deer population near you.
Quick Picks of Top 5 Best Deer Feeder of 2022
| Product | Capacity | Material | Takes Batteries | Price |
| --- | --- | --- | --- | --- |
| Wildgame Innovations Tri-Pod | 225 lbs | Polyethylene | 6 Volts, not included | See on Amazon |
| On Time 71540 Buckeye | 200 lbs | Polyethylene | No | See on Amazon |
| Moultrie 30 Gallon Spin Cast | 200 lbs | Polyethylene | AA or Lithium Ion | See on Amazon |
| Stand and Fill Wildlife & Deer Feeder | 300 lbs | Steel | 12 Volt Rechargeable Included | See on Amazon |
| Redneck Outdoors T-Post | 80 lbs | Polyethylene | No | See on Amazon |
1. Wildgame Innovations Tri-Pod Deer Feeder — Best Feeder for Stability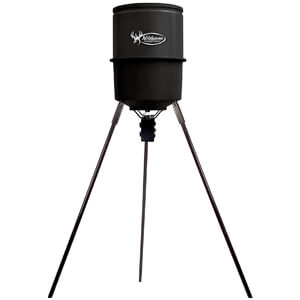 If you're worried about getting a feeder with a weak polyethylene shield, then the Wildgame Innovations Feeder should be near the top of your list of potential buys. It comes with three legs and rests as a tripod once assembled. You can set it up to where it rests on the ground without any support. However, staking with a T-post is recommended in most situations. If you do this, you'll have to find one or fasten a post with something that you already own.
Height Adjustable
This feeder's height is fully adjustable, having a maximum of eight feet. That's enough to keep out most critters lurking about during the day and night. The spinner is small so you won't have issues with squirrels or other small mammals climbing that far towards the feeder exit.
You'll have to pull it back down when you're ready to feed deer with it or to refill the holding container. The lowest it'll go is close to the ground. The lowered height will help immensely when lifting those 50-pound bags of feed, as you may already know.
Power Unit & Quick Assembly
There's no battery featured with this feeder. It takes six volts and has a slot at the bottom for 6-volt batteries only. If you're thinking of upgrading to a 12-volt, you'll have to get a larger feeder box to hold it in. Even without a post, you shouldn't experience any wobbling or movement when under normal operation and deer feeding.
Try out the Wildgame Tri-Pod if you want one that's rust-free and easy enough to set up without needing the help of someone else. Be sure that it's put together correctly, and the moisture should stay on the outside of the feeder's body. Recommended for seasonal or yearly usage in any region with a deer population.
Pros:
Has an adjustable height of eight feet;
Tall enough to keep most small animals from reaching into the feeder;
Doesn't wobble or move when used, even when the container is filled to the brim;
Long, powerful reach for the corn, capable of throwing at distances of up to 10 feet.
Cons:
A ladder or step stool will be needed for most to add the feed into the barrel;
Unless all parts are tightly screwed during assembly, wobbling can occur.
2. On Time 71540 Buckeye Gravity Feeder — Best for Seasonal Feeding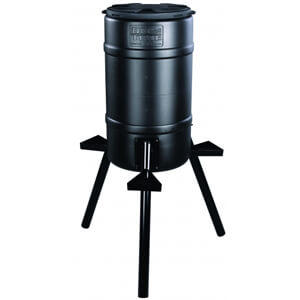 In many ways, the On Time Buckeye Feeder would be a better choice than the taller models, particularly when utilized seasonally.
The low height makes it easy to fill without needing to continuously lower it to pour in more feed. It's a gravity feeder, so there are no batteries or electronics of any kind here. It's best for times you want your deer to have plenty to eat, without having to wait for it. Think of it as a step up from pouring the feeder bag on the soil. It has three troughs that hold the feed as it gravitates downward.
Protein is essential for getting the deer to bulk up fast. It keeps them healthy and helps calves take in healthy milk from their mothers. A continuous supply of food is great for these benefits, and the Buckeye will provide you larger game during the hunting season.
Tips for Assembly Deer Feeder
Some trouble during assemblage could arise. It's a tripod feeder, though the legs are difficult to screw on unless done simultaneously. For this reason, have a second hand to help you get it propped after it arrives. You don't have to keep it on the ground if you don't want to
Get a ratchet strap and tie it around a tree branch to keep it higher. There's no hook at the top, so storing outside with a pulley isn't feasible. It might work with a gambrel, but since this is a gravity feeder, you would have to close the holes to keep feed from landing in the trough for squirrels.
Do regular checks on the feeders inside if deer aren't regularly eating from it. Moisture could get in from the top and create a domino effect of rot that travels to the bottom. It's one for continuous usage, so most buying this product won't experience any such issue.
Pros:
Easy to put together, even easier with two people;
Safe for DIY drilling for added drainage;
Can be strapped to a tree with a ratchet strap for animals larger than deer, such as cows.
Cons:
Could become wet in some circumstances, leading to mold or rot unless cleaned.
3. Moultrie 30 Gallon Spin Cast Deer Feeder — Best Moisture-Resistant Feeder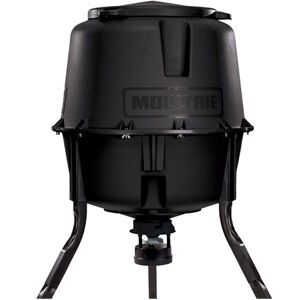 The Moultrie Spin Cast Feeder holds up to 30 gallons of feed, which is approximately 200 pounds of food for the deer. It spins food outward for the deer to eat on the ground. Two AA batteries come with the feeder, so it's ready to use right after you've got it erected.
The instructions are easy enough for anyone to figure out, even a total novice at putting together feeders can have it up and running in less than an hour. You can time the number of dispenses up to four times over 24 hours with the digital timers. Keep the instructions so you don't forget which buttons to press, though it's pretty straightforward. Or read all-In-one Feeder Kit Manual (English) here.
Keeps out The Moisture
Thanks to its powerful legs, the Moultrie will stay in the same position, even if slightly brushed. Its weight contributes to this, but it's not easy to move around even when empty. The seal above the hopper is strong and covers it well. No water or moisture will condensate to the inside.
Are there any faults? Hardly any at all. Jamming may happen if the spinner isn't cleaned out from time to time, or if moist feed is added to the hopper. But since these are entirely preventable, it's not something that the product should be turned down for.
Pros:
Compatible with AA batteries;
The comprehensive instruction manual that shows in detail how to set the timer and attach the battery;
Sturdy legs never shake or move around;
Hard seal on the lid that works as advertised in keep out moisture, even in heavy thunderstorms.
Cons:
The spreader may jam at times, requiring manual turning to get it back moving again.
4. Stand and Fill Wildlife & Deer Feeder w/ 4-Foot Stand and Fill Legs — Best Battery Life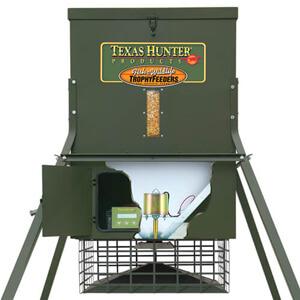 Texas Hunter creates many useful products for many outdoor sporting and hunting activities. It comes naturally that their Sand and Fill Wildlife feeder has garnered notoriety.
This is another spinner-type feeder with large stakes for you to drive into the ground. Once they're hammered in, there's no way that the legs will move the hopper. The lower portion of the legs has footpads, helping you to place it in areas that other feeders may not stand up to. For people planning on situating the feeder on the ground that gets muddy during rainfall, it's a must-have product.
Digital Setup
Nine times is the limit of the feeding instances that can be set for each day. Do this and your deer will stay well-fed, though you can opt for fewer feedings if you wish. Do you have a caulk gun? If so, make a seal along the top portion of the hopper and its lid. This ensures that water won't seep into the inside. Don't expect moisture to get it, though. The steel is coated sufficiently and mitigates the likelihood of condensation.
As a warning, be careful setting the spinner to move when you're near the feeder. The kernels will shoot out with enough force to pinch the skin if they hit you. A 12-volt battery is provided, one that you can recharge once depleted.
It'll last for months before you have to do this. Attach a solar panel to the feeder, and you'll never have to recharge it again. The Stand and Fill are useful for people that want to fully automate the feeding process, at least besides adding food to the container.
Pros:
Footpads at the bottom work well in areas that are muddy or slightly rocky;
Has a feeding capacity of nine times per day;
Built with compatibility with some solar panels;
The exterior finish doesn't peel or rust in wet climates.
Cons:
Unless the feeder is caulked, water may leak inside.
5. Rednek Redneck Outdoors T-Post Gravity Feeder — Best for Tree Suspension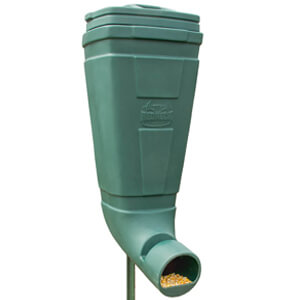 The T-Post Gravity Feeder made by Rednek is simple and easy to prepare. This is one for the people that don't need fancy digital timers or elaborate models with legs and stakes. Weighing 15 pounds when it's empty, this feeder has two mounting options.
Mounting and Shape Advantage
Mounting to the provided T-Post is the easiest to do if you don't want to strap anything down. Have you seen road workers erecting new signs for vehicles driving down the highway? The concept is the same here. Just place it in the ground until it doesn't move at the top. Then screw on the hopper with the bolts included. Add the feeder to the top and you'll be good to go. Both the hopper and T-post are green colored.
They're not as off-putting to deer that have little interaction with humans. You should expect the deer to go through your feed quickly if you've had issues in the past with them shying away from other feeders.
You can set the feeder to a high or low position. Opening the lid is easy, manageable with one hand when adding a light bag of food with the other.
As for the second mounting option, you'll need a ratchet strap to do it. There's a concave portion immediately below the lid. This is for you to strap down to a tree. You might need to put another one close to the trough, but there's a dipped part for that area, too.
Introduction and Installing (Video)
Pros:
Large feeder width allows plenty of room for deer to eat without causing them discomfort;
The cover can be opened with only one hand and is reachable when strapped according to the owner's desired height;
Feeding tube height can be set high or low;
Has holes in the back to tie around trees with ratchet straps;
Strong design built with hard and heavy materials, including polyethylene.
Cons:
Easy for squirrels to get in from the muzzle.
Buyers Guide to Buying a Deer Feeder
Comparing Deer Feeders to A DIY Feeder
Aside from not having to or saw anything, factory-built feeders tend to last longer and seal in the feed better, especially when they're made of exposed metal. Many use their DIY feeders to provide deer with a continuous meal instead of one set in intervals.
But even the gravity feeders are great at this since mounting is possible to do by either handing, staking, or with a pulley. Every feeder shown has an extended warranty and reachable contact with the brand through email or chat. And their polyethylene material is lightweight. Taking one out into the woods will never become a hassle.
Why Deer Feeders Are Better than A Manual Distribution
Without a deer feeder, you would be left with pouring the feed on the ground. This can have several unwanted effects, such as the following:
Insect infestation — At the first sign of wet feed, it won't take long for the insect to appear. Rot would soon follow and potentially a stomach-churning abundance of their larvae.
Rodent and raccoon magnet — If you have a game camera and have placed feed on the ground, you may have noticed animals eating the food that was intended for deer. It's unfortunate having the buy new feed just to replace what wasn't meant for squirrels, mice, or raccoons.
Feed goes bad quickly — Even if there are no animals or insects around to spoil the feed, mold would eventually set in. With a feeder, the food is stored in a hopper that acts as a preventative tool for rapid spoilage.
Choosing Based on Battery Power
With a six-volt feeder, you'll have to recharge it more often than you would with a 12-volt. Both will last for a month, but a 12-volt will take you months before a recharge is done. You can hook up solar panels to either, though some feeders aren't compatible with them all.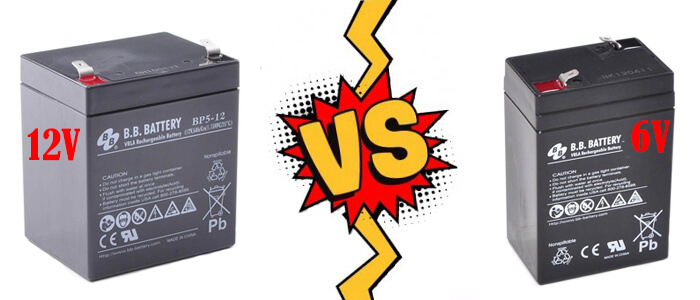 Additionally, if you wish to change out the battery for something better, make sure that its holder is big enough for it to fit. You won't have to do any of these things if you know what you're getting beforehand.
Remember that the 12-volt lasts longer and the 6-volt is quicker to recharge.
Spinners and Gravity Feeders — Which is Better?
Neither one of these feeder types are better than the next, since they all have advantages unique to their design. The gravity feeders perform well when the season's in, giving deer a constant flow of feeders to keep them full and healthy. A feeder that spins requires less tinkering when distributing food, most being outfitted with digital controls helping you to set the desired number of times you want them to eat.
Summary
Ready to choose one of the feeders shown? Even with only five reviews, their differences are easy to see. Know the details of the one you want before making your final choice. Whichever one is better for the regions you live in or the conditions around your feeding location, they're all beneficial to your local deer herd.