The rowing machine is not unknown to fitness enthusiasts. In fact, in the past few years, the overall sales of rowing machines have crossed a huge 135 Million USD. These machines are undoubtedly the best home gym addition. But, the challenge that most people deal with is the constrained space and poor maneuverability. Well, not so with this 2-min-read article. Here, we have listed the best portable rowing machines available in the market in 2021. But, before we move further, let us read on the basics.
What is a Rowing Machine?
A rowing machine is an exercise machine that offers a low-impact workout session. It is a wonderful machine for anyone who is recovering from an injury. You get aerobic workouts to improve cardiovascular fitness, strength, and flexibility. Exercising on a rowing machine is a good way to fulfill your daily exercise needs.
These machines are extremely durable and long-lasting, comprising high-quality steel, aluminum, and other metals. Moreover, investing in a portable, foldable machine, and easy to maneuver can benefit you in numerous ways. However, before buying, there are a few points that should catch your attention.
Best Portable Rowing Machines for 2021
Concept2 Model D Indoor Rowing Machine
The Concept2 Model D Indoor Rowing Machine is a popular choice among health and fitness enthusiasts, and it isn't hard to see why. The Concept2 is a solid, dependable choice that will last for years, is easy to assemble out of the box, and is covered by a five-year warranty. Its performance monitor works well. Its large flywheel is smooth and quiet, and it comes with a calorie monitor and a built-in fan.
Stamina Body Trac Glider 1050 Rowing Machine
The Stamina Body Trac Glider 1050 Rowing Machine is the right choice for anyone who wants to get in shape quickly and affordably. It allows you to work out your thighs, buttocks, back, and abdominals the way you would with a traditional rowing machine. In addition, it's easier to store than a comparable rower since it folds up into a vertical position that doesn't take up as much space.
NordicTrack RW Rower
The NordicTrack RW Rower is a great mid-level rower. If you are looking for an affordable rower and will provide an effective workout, the RW is a superb choice. Its adaptive rowing motion is smooth and natural and mimics the feeling of rowing on the water. In addition, it includes a tablet holder and is powered by silent magnetic resistance.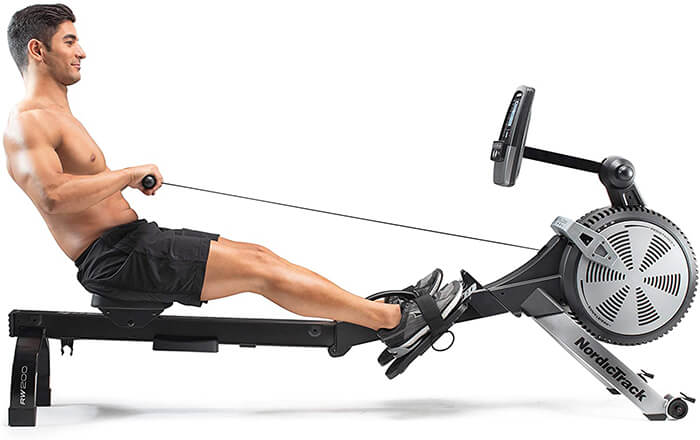 Merax Magnetic Rowing Machine
The Merax Magnetic Rowing Machine is a brilliantly designed machine that can be adjusted for different users. It is a foldable, easily stored, and easy-to-use rowing machine. This model is known for its quiet operation and is a great way to get a cardiovascular workout at home. It comes with a large LCD that allows you to track various workout variables like time, count, calories, and total count.
Velocity Exercise Magnetic Rower
The Velocity Exercise Magnetic Rower is one of the most popular rowing machines in the market and is also our top pick. It features a gray and black frame that's made of aluminum. Both the seat and the handlebars are comfortable and padded. This is a magnetic resistance rower, meaning it's quieter than other rowers. It also has an LCD and a heart monitor.
Features To Consider When Searching For Foldable Rowing Machines
Buying a rowing machine may seem to be a simple task. But when looking for a compact and foldable rowing machine, keep a few considerations in mind. Continue reading to know more.
Weight
The model you select should be lightweight. This is because, although heavy models may give you better stability, they are difficult to maneuver. Even if they are easily foldable, they will still present difficulty when you move them to different corners or rooms. Therefore, if you need to move your rowing machine from one room to another, you should consider buying a lightweight model.
Size
Rowing machines come in a variety of sizes. While some people may not care and want to go for the biggest size possible, others may want to go with the smaller ones. You should select the size of the machine based on your exercise needs. If you are overweight or tall, you will want a model that can offer you enough space for rowing. On the other hand, also consider your space limits.
Comfort
Comfort may not seem to be an important pointer, but in reality, it can impact how well you are following your exercise technique. If your rowing machine is not comfortable and feels odd, you will most likely end up performing the wrong exercise. This can lead to injury or pain in muscle tissues. The right comfort completely depends on the right size, comfortable seats, handles, and overall build-up of your machine.
Portability
There are many different things to consider when buying a rowing machine, and portability is probably the most important one. There are rowing machines that are extremely portable and can be moved around easily. This is an enormous benefit if you don't have a lot of space to store your machine. So, with such models, you can place them in the corners or empty spaces when not in use.
Durability
When shopping for a rowing machine, make sure you consider durability. You will not want to invest in models that are foldable, compact but are not durable. Aluminum-made machines are durable and can offer long-lasting, satisfactory performance. You can also consider models that come with sturdy steel frames.
Warranty
Another important thing is to know what the warranty covers before you buy. Some warranties cover the frame, and some cover the entire machine. Other warranties may cover the frame but not the moving parts.
Strength and Type of Resistance
Rowing machines are available in different resistance types. Thus, depending on your exercise goals, you may want to choose the right type of resistance. For example, if you want to work on your lower body muscles, you may want to consider hydraulic resistance.
Else, if you are looking for a more full-body workout, magnetic resistance can be your best-preferred choice. Make sure you also consider the resistance levels offered by your selected model. This will allow you to set your workout intensity accordingly.
Conclusion
Buying portable rowing machines is an investment in your health and fitness, but picking the right one can be a daunting task with so many styles to choose from. But, to make this task easier, we have listed some of our favorite picks above. You can choose any of them and turn your workout sessions more effective.