When it comes to Bosch, what do you think of? For me, I think quality, I think concrete and I think professional power tools. Up until now, I never thought about Thermal Imaging Cameras but here we are, talking about the Bosch Thermal Camera. So let's take a look at this Thermal Camera and see what we like and don't like about this tool.
Bosch Thermal Camera Overview
Thermal cameras can help us see into a whole another world. We can see things we can see with our naked eye. We can see if there is a draft in a house or if an appliance is running too hot or if something on your car may not be right. When it comes down to it, it can be used in so many different applications.
One of the best features of a thermal camera is not only can it help detect if there is a problem, such as a furnace or another mechanical motor failing but it can also help detect the premature failure of a motor. Taking simple measurements over time can give you a head-up if a problem is starting to occur, a bearing failure, or hundreds of other problems.
Sure not everyone needs a thermal camera but for those who do, it can make your job and your life so much easier.
Bosch Thermal Camera Features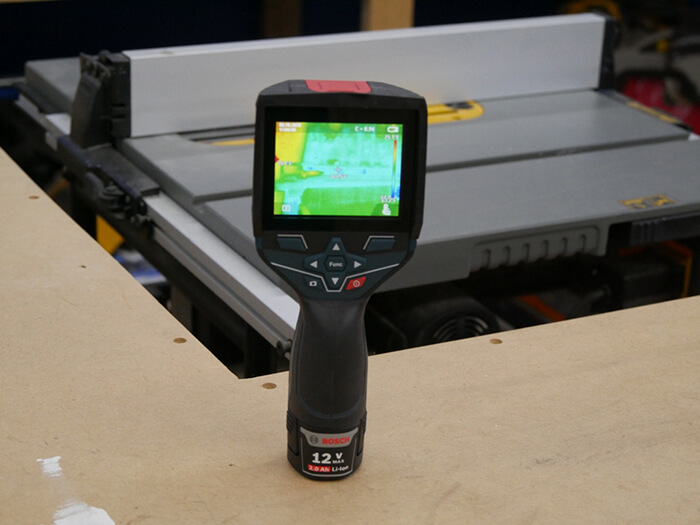 The Bosch GTC400C is a thermal camera designed for finding temperates in seconds and capturing the results. The integrated visual camera records actual images, so the user can document the work area visually as well as thermally. Great for side by side comparisons.
The camera can store more than 500 images. A user can then transfer the thermal documentation to a device with Bluetooth® or WiFi hotspot.
While I would like to see this camera come with a hard case, it does include a soft case that provides good protection.
The kit includes the following items:
GTC400C 12V Max Connected Thermal Camera;
12V Max Lithium-Ion Battery;
12V Max Charger;
USB Cable;
Soft Case.
On the front of the camera, there is an easy-to-use and simple layout. While holding the camera, you can easily access any of the buttons with your thumb. The camera has a large screen that delivers a 160×120 thermal graphic image accurate to ±3° C.
The thermal camera shows hot and cold spots, the temperature at the center, and an adjustable temperature scale. This camera uses more than 19,000 measurement points for accuracy.
The USB port is located on the side of the camera and easy to access. On the front of the tool, there is a single red trigger to take readings. The camera offers a lens cover for protection when not in use.
Bosch Thermal Camera Performance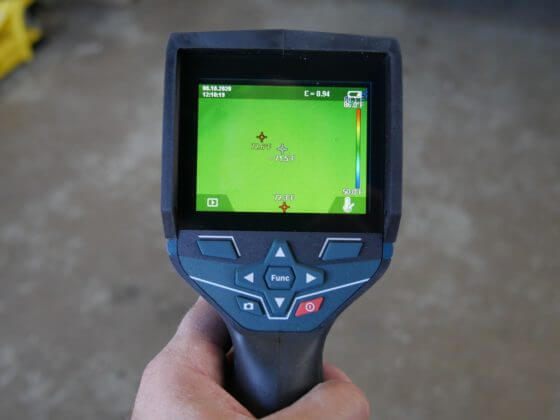 While the camera is very fast and effective, my favorite feature of this camera is how easy it is to use. A lot of other thermal cameras we have used over the year tend to have cluttered and complicated menu systems. With the Bosch, it's straight-forward and easy to use.
I like how fast and responsive the tool is. Again, other tools seem to lag and are always trying to catch up. With the Bosch, it quickly takes a reading and very few times did we receive and lag between reading.
Screen resolution is another plus. It's extremely easy to see and pinpoint the exact location you are taking a reading.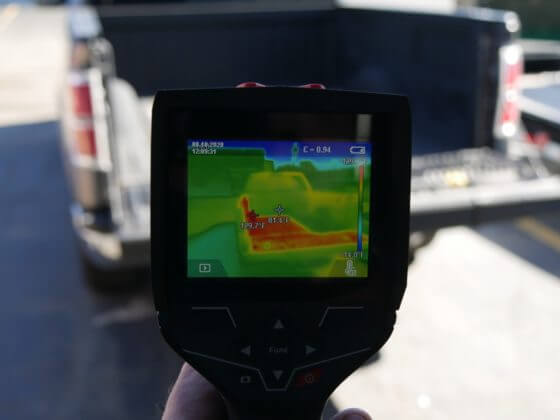 Here are just a few readings we took to give you an idea of how it shows up in darker or light areas. Also, you can see them in closed environments as opposed to open areas such as outside.
Just now i installed a heated floor in my basement when we poured the concrete. I always wondered if we covered all the areas and how the water really flows, plus will it be too hot when the water first hits the concrete and be too cold by the time it returns to the boiler.  I was able to use the thermal to take a reading from when the water left the boiler, entered the floor, and when it returned to the boiler to see the exact heat loss at each point.
Video to give you a nice walkthrough of the camera
Bosch Thermal Camera Value
The camera runs about $1,200 but we found it on Amazon for ~$999. Yes, this is a lot to drop on a thermal camera and yes you can find ones cheaper. However, you will not find a camera of this quality for under $1,000. So for me, this is a great value.
Bosch Thermal Camera Final Thoughts
Bottom line, the Bosch thermal camera offers a great value. The camera is fast, clear, easy to use, and accurate. If you are in the business and need a thermal camera, this should be at the top of your list.