If you're trying to achieve a smaller waist and an hourglass figure, a Colombian Waist Trainer may be the answer to your figure goals. Many women need the motivation of a good device to put them on the road to inches lost and a trim figure.
A Colombian Waist Trainer can be an incentive to gaining an enhanced figure, but you want to choose the right trainer to work with. Reducing an inch or two from your waist can be more attainable with a waist trainer, particularly one that addresses your needs.
Here are the top 5 fives Colombian Waist Trainers for 2023 and information on what waist training is, how the trainers work and the benefits of waist training.
Quick Picks of Top 5 Best Colombian Waist Trainer of 2023
| Product | Sizes | Fabric | Closure | Color | Price |
| --- | --- | --- | --- | --- | --- |
| YIANNA WT | X-small to 6Xlarge | Latex/Cotton/Spandex | Hook and Eye | Black/Beige | See on Amazon |
| Ann Chery WT | XX small to XXX-large | 96% Cotton, 4% Spandex, Outer layer latex/rubber | Hook and Eye | Black, Beige, Blue, Pink, Purple | See on Amazon |
| Ecowalson WT- Comes with Extender | 3XSmall to 6Xlarge | 96% Cotton, 4% Spandex, Outer layer nylon, lycra, spandex, middle layer cotton | Hook and Eye | Black/Beige | See on Amazon |
| Salome 0313 WT | X-Small to 3X Large | Latex, Cotton | Zipper | Black/Beige | See on Amazon |
| M&D 0055 WT | XX Small to XX Large | 85% Nylon-15% elastane/ Lining 85% Nylon-15% elastane | Hook and Eye | Black/Beige | See on Amazon |
What is Colombian Waist Training?
Waist training is a process where you reduce the size of your waist by using a waist training device. The process has other names such as waist cinching and tight-lacing. The whole concept became more well known during the Victorian era, when women sought the look of a small waist.
You can reduce your waist by using a waist trainer in combination with exercise and eating health conscious meals. You can reduce your waistline, but it involves commitment, time, and patience.
More Temporary Effects
Waist training has to be done at an individual pace. You may whittle your waist down, but the effect is temporary, as the device won't give you a permanent change or a significant loss of weight. There are risks that go with extended use. You may experience breathing problems, issues with digestion, and damage to different organs.
Materials Used
A Colombian waist trainer is generally made of sturdy fabric (latex, nylon, or spandex) that usually has some kind of boning that gives support to the waist and torso area. The trainer fastens either by a lacing system, hooks and eyes or Velcro sticky clasps. The boning material runs vertically, which allows the fabric to remain smooth rather than gathering up in the area where the waist needs the structure to allow for a smaller waist.
Stick With It
The more you wear a waist trainer that cinches your waist, the more effect it will have. Reduction in your waist and reshaping your upper torso requires discipline, so stick with the program and you'll see results.
Every time you wear the waist trainer, you want to tighten it a bit more. Once you establish a routine, you should be able to take the trainer a size down and continue with your program. You'll want to wear the trainer for 4 to 6 hours a day and gradually increase wearing it from there.
One thing to remember, you can't speed up the training process by wearing the trainer too long and straining the waist area. Wear the trainer over a t-shirt or liner such as plastic wrap. This helps in eliminating the amount of times you'll have to clean the waist trainer.
Remain Patient
If you're going to see any reduction in waist size, the process usually takes about two weeks to see any changes in your waist size. You want to stay hydrated with water and steer clear of sodas, alcohol, and heavy meals. If you follow these guidelines, you can lose inches from your waist and lose weight.
How Colombian Waist Trainers Work?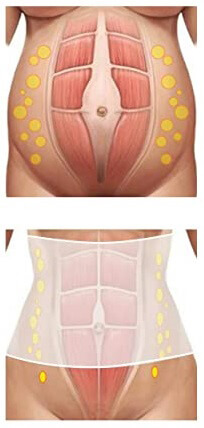 A waist trainer works by utilizing tight constriction to the waistline area of the body. The device trains the body into a smaller waist size. When you use a waist trainer, you get a more productive workout while reshaping your body and improving your posture.
Benefits You Can Get From Colombian Waist Training
Waist training gives you short-term results that include:
Fitting into a particular outfit for a special occasion or event. You don't have to use a waist trainer indefinitely. The commitment time involves using it for fulfilling a goal for a special event or committing yourself to longer term use.
Motivator – When you use a waist trainer, you are more apt to stick to a diet and exercise program. A waist trainer serves as a nudge to eat less, have good posture and exercise regularly.
Easily removable – You can easily remove a waist trainer and anyone using it can wear it as long as they want but when you wear one, you need to watch what your body is telling you when you experience pain, labored breathing or any kind of discomfort.
Wearing a Colombian waist trainer and consuming a healthy diet reduces the amount of food taken in by compressing your organs and removing the cravings that make you want to eat more. Consuming smaller meals throughout the day is much better than eating full larger meals at set times.
1. YIANNA Women's Underbust Latex Sport Girdle Waist Trainer Corsets Hourglass Body Shaper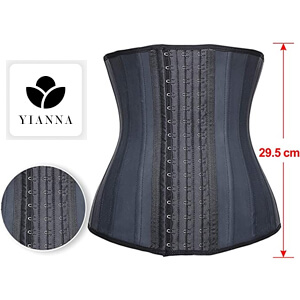 The Yianna latex trainer allows adjustment with its large and wide, 3-column hook-and-eye closure, which makes for easy adjustments to the right size. There are 3 layers of natural fabric that are smooth yet provide high constriction. Support to the waist area comes in 9 or 25 spiral, flexible and covered steel boning, which allows for easy bending and a quick return to its original position.
Sizing
For correct sizing, you'll want to measure your waist from the area around your abdomen that is the largest and compare your measurement with the size chart. The trainer does work with both long and short torsos and is sturdy enough that you can use it as a training corset and reduce anywhere from 3-4 inches in your waist while wearing it. You'll also receive a heating sensation and a gentle lift under the bust area. Just by putting it on, you are controlling the waist area.
Multi-use Trainer
It's a multi-use trainer in that you can use it while walking, running, hiking, driving, and cleaning the house. If you need a special lift for wedding ceremony attire or if you're the bride, you can wear it under your wedding gown.
Injury Reduction
The trainer is protective of your core muscle groups and lessens the chance of injury during sporting events and other strong movement activities. When you wear the Yianna waist trainer, you almost automatically see a 3-4 inch reduction in the waist area which enhances your body curve. You'll gain the right kind of attention.
How to Use Guide
Putting on a Yianna waist trainer involves wrapping the trainer around your midsection. You'll want a lightweight t-shirt, either sleeveless or with sleeves under the trainer. Either stand up, lie down on a bed, or get someone to help you.
It may be difficult to put the waist trainer on the first time out. Tugging and stretching the trainer is not a good idea. That's why sizing is important.
The next step is to start at the bottom of the trainer and connect the hook to the first row. You'll hook it all the way to the top of the trainer. Go to the next row if the tightness is bearable and doesn't restrict breathing.
Adjust the trainer and smooth it out over your abdominal area. You'll probably see a fairly significant change in your waist.
Pros:
Lightweight material that prevents heat stroke;
Increases body heat during exercise for easier waist trimming;
Curve design supports abdomen and lower back;
Proper core protection;
Removes excess water weight;
Multi-use for postpartum recovery, yoga, abdomen trimming and fitness/exercise routines;
Interior's non-slip surface prevents slippage and bunching;
Comfortable and stretchable fabric remains in place.
Cons:
Hand wash only;
Can cause chemical burning and rashes;
Some difficulty closing fasteners.
Recommend – 

Yes
But the trainer needs to be used with caution. Consult with your health care provider before using this Colombian waist trainer for possible allergic reactions.
2. ANN CHERY Corset Waist Trainer for Women's Weight Loss – Colombian Waist Cincher – 3 Hook Latex Body Shaper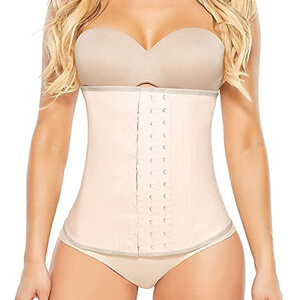 A high quality Ann Chery latex waist trainer, which is made in Colombia, is able to reduce your waist size by 3 inches from its initial wearing. The flexible boning gives the necessary structure to the cincher that corrects your posture and also keeps the cincher from coming up when you sit or move. You can adjust the sizing when you want to increase the compression.
Fabric Content
The fabric content in this trainer is 100 percent natural latex which aids the body temperature in producing a sweating effect. You'll sweat more and reduce abdominal fat at the same time. The inner layer of the trainer is comfortable and absorbs sweat. The trainer also works for both short and long torsos.
Multi-use Trainer
Besides being a trainer, it has enough strength for use as a training corset or waist band. You won't have to worry about seeing it as it's invisible under almost anything you wear, so you can use it while you're working, going to the gym and any other activity. It's also good for new mom's and recovering your figure in the postpartum phase.
Ann Chery Quality
Ann Chery has been in the waist trimmer/compression garment industry for over 35 years and is considered a leader in the industry. All of the different garments they produce are manufactured in Colombia. Whether it's waist cinchers, shapers or girdles, their design structure makes the garment wearable for several months. The latex core has been approved for use on your body, but if you have any allergies, you'll want to consult your health care provider for any possible reactions to using the waist trainer.
Sizing
Before you blindly pick a size, you'll want to measure your waistline and go with the size chart that's provided. Measure your size from the area around the abdomen and compare your findings with the chart.
How to Use Guide
Putting on an Ann Chery waist trainer involves similar steps from the previous waist trainer. You may want to use a cream/gel until it's absorbed in the abdominal area and then put on the trainer.
As you are hooking the trainer, you'll want to continue smoothing it out towards your lower toros so it doesn't bunch up at the waist level.
Again, sizing of the trainer is important and can affect your overall results.
Pros:
Instant slimmer appearance;
Very comfortable to wear once on;
Cotton liner feels nice next to skin;
Hides fat rolls and slims stomach;
Improves posture to a great degree;
Helps with back aches.
Cons:
Latex odor;
Hand wash only;
Very tight;
Sizing – you may need to size up;
May struggle putting it on;
May need help fastening it.
Recommend – 

Yes
This product is well made, comfortable and is long lasting. Again, you do need to be aware of any allergic reactions that can occur with the trainer. Always consult a health care provider concerning its use.
3. Ecowalson Waist Trainer for Women Corset Cincher Body Shaper Girdle Trimmer with Steel Bones Extender
The 100 percent latex Waist Trainer for Women by Ecowalson is available in three heights (11.2″, 10.23″ and 9.45.") and you can figure out what's right for you by measuring the distance from the bottom of your breast to the hip area. The size chart gives an explanation. Sizes range from 3X-Small to 6X-Large. The sizes don't include extenders for size. You want to choose the size you need without the extenders.
Streamlined Design
Your body movement is not inhibited and support is given with the 9 fish scale memory flex steel bones and 6 hooks-and-eye closures for flexible sizing. The most amount of comfort is given with the longer front and the shorter back. Cotton lining and the breathable design quickly absorb any perspiration that is given off.
Fat Burning and Sweating
Both fat burning and sweating can be increased with this waist trimmer. While using it you can elevate your blood circulation and increase the temperature around the waist area. You metabolize food faster, plus you're getting the effects of exercise and a sauna. You can also offset any postpartum belly fat as the trainer helps you to tighten both your waist and abdominal muscles and creates strength in both areas.
Multitasking Trainer
Whether you're doing aerobics, walking, jogging, driving, house cleaning or are part of a bridal party, this trainer protects your core muscles and reduces the chance of injury during stressful activities or sporting events. You can use it every day and get slimmer while you're at it. You'll see at least a 3-4 inch difference almost right away and your body curves will be more attractive.
Sizing
It's important to find a size that suits your body. You'll want to measure your size by the largest area around your abdomen and compare the measurement with the size chart. If you want good body sculpting results, tighten the measuring tape to reflect the shape of what you would while wearing a waist trainer. That measurement is generally between 2-3 inches less than what you would measure in a casual posture.
How to Use Guide
With this waist trainer, you may need the extender in order for it to fit around the abdominal area, particularly if you cannot get the trainer to close at all.
Again, follow the previous steps and be sure you measure extensively to find the right size for your body.
Pros:
Helps with back pain;
Good quality item;
Keeps your body straight but flexible;
Right fabric combination;
Fabric soft to skin;
Comfortable for long hours;
Comes with an extender.
Cons:
Can be difficult to put on;
Creates arm bulges;
May need to size down;
Stretches too much;
Difficult getting the right size;
Difficult getting the trainer on;
Hand wash only;
Can cause skin irritation.
Recommend –

No
Mostly because of the issues with size, too much overall stretch with the trainer and the possibilities of skin irritation from it. Once again, speak with your healthcare provider and any personal trainer about allergic reactions that can happen with any latex product.
4. Salome 0313 Colombian Waist Trainer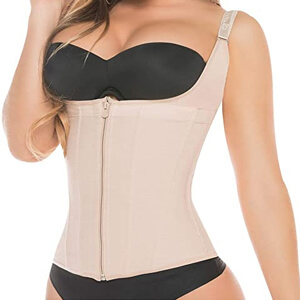 The Salome waist trainer is a total compression body shaper. It's a braless trainer with a flat zipper closure that provides abdominal and back control and also serves as a posture corrector. The model is defined by its Powernet (fabric) structure that is found on the outer layer of the trainer, which provides needed compression. An inner cotton lining brings comfort with any movement.
Fajas Salome Shapewear
The waist trainer and shapewear is part of the Fajas collection, which consists of different shapewear styles and bodysuits that reduce inches from your waist and stomach. A variety of sizes are available for thin to plus size women. You can attain the look you want with this trainer and any of the other shapewear selections in this line.
Multitasking Trainer
The trainer and other girdles are great for everyday use and for anyone who wants to lose postpartum body fat. The girdles are particularly good after pregnancy, C-Section surgery and other surgeries. They're also effective with liposuction compression and the recovery process after surgery. Whatever the activity, including bridal shapewear, the trainer and other shapewear items are effective.
Sizing
Because of the trainer's high compression level, you'll need to select a size above where you would normally fall, particularly if you're in between sizes. Follow the given chart for sizes and measurements.
How to Use Guide
Though the zipper style may be different, beneath the zipper enclosure are hooks and eyes to secure the vest even more. Sizing is the key with any waist trainer.
Follow the instructions from the video link.
Pros:
Doesn't run small – supposed to fit tight;
Open bust, no crotch compression garment;
Comfort with sitting, eating and walking;
Molds your figure;
Authentic Colombian shapewear.
Cons:
Putting it on can be a struggle;
Doesn't conceal back fat;
Hooks under the zipper closure;
Measure multiple times;
Runs really small;
Bulky shows through clothing;
Hand wash only.
Recommend – 

Yes
As the quality is there but there are problems with sizing up or finding the exact size. You'll need to take serious measurements to get the right fit. Remember, it's supposed to fit tight.
5. M&D 0055 Waist Cincher Trainer Vest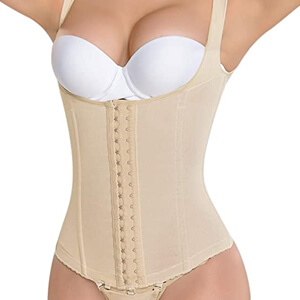 M&D's waist trainer is made of 85 percent nylon, 15 percent elastane and its lining is 85 percent nylon and 15 percent elastane, which makes this waist trainer very comfortable and easy to wear. It's a high waist trainer that slims the abdominal area along with the stomach and waist. The closure is hook and eye and the trainer is available in sizes XX-small to XX-Large.
Quality Materials
This model of waist cincher, girdle or waist trainer is made of the highest quality fabrics and the lining material brings a soft and fresh feeling to the skin. As a high waist shaper it brings the control you want minus any discomfort. You can be confident that all day or everyday use will bring the results you are seeking.
Multitasking Trainer
Whatever the activity, this Colombian waist trainer is usable for any situation whether at home or work. You can exercise, clean house, run, walk, compete in sports and other activities and not realize you're wearing it and it can be worn under any clothing item.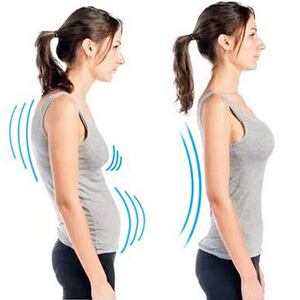 Good Design
The convenient design of this Colombian waist trainer gives you the immediate effects of a small waist and hour glass figure within minutes. Your skin is allowed to breathe while your waist in narrowed. It's high waist design features stomach control, full back coverage, thong design, two levels and wide straps. You can easily use this trainer with any of your favorite bras.
Sizing
For sizing with the M&D waist trainer, you'll want to take a look at the size chart before making a decision. The sizes run from extra, extra small to extra, extra large. You'll want to make sure your measurements coincide with the chart.
How to Use Guide
You'll want to fasten the M&D Waist Cincher from the bottom up. Make sure that the location of the clips remains in the center of the abdomen.
Pros:
Good fabric content;
Allows for both stomach and back support;
Wide straps/removable thong;
Two level hook and eye closure;
Flexible boning to keep the garment in place.
Cons:
Soft and thin texture;
Trainer runs small;
Metal rods can be discomforting;
Appears to be good for only the waist area;
Soft and thin textured fabric;
Hand wash only.
Recommend – 

Yes
Though the fabric content is good and the trainer provides support, the sizing dilemma and other negatives give this trainer more of a negative context. Try this trainer at your own risk. Make sure you know your size as this trainer runs small.
Buyer's Guide
The technology behind the waist trainer phenomenon goes back centuries, particularly during the 1500s and the appearances of royal ladies in the courts of the day. Corsets continued to grow into the 1700s and beyond. Women's fashion dictated the functionality of a corset to stress a small waist and elevate breasts with an emphasis on good posture.
Today's waist trainers took their cue from corsets (type of laced bodice) of yesteryear. Individuals simply made corsets from various materials during different time periods. The main fabric was linen or cotton that used starch or paste for stiffness. More elegant corsets were made from fabrics such as satin or silk. On into the 16th century, whalebone was incorporated into corsets to provide stiffness.
In the 21st century, most body shapers, cinchers, girdles or waist trainers use synthetic materials that include steel boning or other flexible products. The advantages of waist trainers today are both lasting workmanship and accessibility to almost every woman, though many of the reasons for wearing one are the same today as they were centuries ago. Waist trainers today just consist of stronger materials that are made to constrict the abdominal area and back, enhance weight loss, strengthen the body core, and promote good posture.
Frequently Asked Questions (FAQs)
Is it safe to wear a Colombian waist trainer?
When used as directed and in moderation, waist trainers are generally considered safe. However, it is important to select a well-made waist trainer that fits properly, and to avoid wearing it for extended periods of time, as this can lead to discomfort or even harm.
How should I choose the right size of a Colombian waist trainer?
It is important to measure your waist and select a waist trainer that corresponds with your measurements. Most brands offer size charts that you can use to determine the right size. It is also important to consider the level of compression you prefer, as some waist trainers offer more compression than others.
Can I wear a Colombian waist trainer while exercising?
Yes, you can wear a waist trainer while exercising. However, it is important to choose a waist trainer specifically designed for exercise, as regular waist trainers may not provide enough support during physical activity.
How often should I wear a Colombian waist trainer?
It is generally recommended to wear a waist trainer for no more than 8 hours per day, and to allow your skin to breathe for at least an hour after wearing it. Overuse of a waist trainer can lead to discomfort, irritation, and even harm.
Is it okay to sleep in a Colombian waist trainer?
No, it is not recommended to sleep in a waist trainer. Wearing a waist trainer for extended periods of time, including while sleeping, can be harmful and restrict breathing.
How long does it take to see results from wearing a Colombian waist trainer?
Results from wearing a waist trainer can vary, but some women notice a temporary slimming effect after wearing it for just a few hours. However, it is important to remember that a waist trainer is not a long-term solution for body reshaping, and a healthy diet and regular exercise are necessary for sustainable results.
Conclusion
In the review of the Colombian waist trainers given here, you'll want to use a waist trainer of your choice along with an exercise and healthy diet plan. Waist trainers are a short-term method of helping you whittle your waist, lose weight, improve your posture and gain the look of an hour-glass figure; however, anyone using a waist trainer needs to be aware of allergies when in contact with the material in a waist trainer and any other health hazards that can occur. It's always best to check with your health care provider or personal trainer about the long-term effects of waist trainer use.