Why do you want to use boob tape? Well, women and even men need boob tape for different reasons. Boob tape seems to be a necessary thing for making revealing clothing work. It's also a catch all kind of product that alleviates heel rubbing from shoes. It's also good for applying to your body where a lift is needed from sagging or loose skin. It doesn't sound all that appealing but if you're bound and determined to wear revealing clothing, you may just need that tape.
Dress The Way You Want Comfortably With The Best Boob Tapes
Adjustments
If you plan on wearing a plunging neckline or a V-neck top or dress, a low cut top or dress, or anything backless, adjustments with boob tape may be necessary. You want a pulled together natural look without the fear of exposing more than you intend to. With that in mind, boob tape appears to solve clothing mishaps, sagging skin issues and other problems with loose skin or fat.
Awkward Clothing Pieces
Positioning your "girls" with awkward clothing pieces can be crucial and if you're able to put them in the right place, you've obviously found a remedy for wardrobe malfunctions. Sometimes the answer is not wearing a bra at all, but in most cases, you need some kind of support. Hence, boob tape saves the day.
Quick Picks of Top 5 Best Boob Tape of 2022
| Product | Tape/Size | Directions | Cup Size | SkinTest | Price |
| --- | --- | --- | --- | --- | --- |
| Risque Body Tape | Risque 3″ X 36″ | Y/box | All sizes | No | See on Amazon |
| Busties Boob Tape | Busties 2″ x 16.5′ | Y/kit | All sizes | Yes | See on Amazon |
| Bearkig Breast Tape | Bearkig 2″ x 16.4′ | Y/box | A-E cups | No | See on Amazon |
| Korfee Boob Tape | Korfe 3″ x 19.7′ | Y/box | A-E cups | No | See on Amazon |
| Laneco Boob Tape | Laneco 2″ X 16.5′ | Y/inbox | A-E cups | No | See on Amazon |
There are other benefits to boob tape, and the Best Boob Tape reviews of 2022 will give you the information you need. Find what works for you and your situation. Here are five reviews of the best boob tapes.
1. Risque Body Tape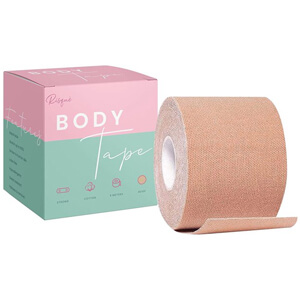 Risque Tape by Epic Elements is a latex free, medical grade cotton and spandex fabric that in combination create a strong and moisture proof tape. Whether you're dancing or moving about, the tape won't slip or lose it's grip on your skin. No matter how long your wearing it, you can count on it being comfortable and breathable. You'll also get a natural look that goes with your body contour and shape whether you have small or large breasts.
The box comes with a foot of 3-inch in width tape. Also included are two (2) reusable silicone nipple covers. Most women want a smooth and seamless look and Risque tape's beige color allows you to go strapless without the fear of anything coming undone from movement or perspiration, plus your worries are over with the fear of anything showing. You can enjoy comfort the entire time you're wearing the tape.
Pros and Cons of Risque Boob Tape
Pros:
Stays in place;
Seamless look;
Lifts and pushes up breasts with all types of clothing;
Works with all apparel – thin straps, backless, deep necklines and formal wear;
Holds larger (40 DDD, 36 DDD) size breasts in place;
Nipple covers (silicone pasties) are included for more coverage;
Able to adjust the tape during the application process.
Cons:
Can be difficult to put on;
May be difficult and slightly hurtful to remove;
Can be sticky.
Recommend –

Yes
The tape accommodates women with larger breasts and stays in place. It's able to lift the breasts seamlessly and naturally, plus it has multi-functional uses as you can apply it to other parts of the body where sagging and binding is necessary, such as supporting sports injuries and related issues.
2. Busties Boob Tape
Busties Boob Tape is made in the United States or it's imported. The fabric consistency is 95 percent cotton and 5 percent Spandex with acrylic backing. It's both perspiration proof and waterproof. The tape lifts saggy breasts and allows them to show lift in a matter of seconds. Included in the box are two satin nipple protectors and the tape removes the need for a bra so you're able to wear backless or frontless apparel.
Busties is a multifunctional tape as it helps with plus-size breasts while it creates superior lift for small breasts. The spandex content of the fabric allows for stretching beyond 100 percent of its length, which makes the tape easy to use, comfortable and usable with any clothing items. You cannot detect the tape under the lowest of dresses or shirts. With the right positioning, slippage is non-existent. Your breasts will be held in place indefinitely or until you remove the tape.
The box contains a roll of 2 inch by 16.5 feet tape, along with 4 satin boob petals, a pair of reusable silicon lifting boob covers, a skin sensitivity test kit and a storage pouch, plus instructions that show the various ways you can tape for uplift, cleavage and support. The instructions also show you how to apply the tape and remove it.
Pros and Cons of Busties Boob Tape
Pros:
Complete kit with instructions;
Supports, lifts and stays put;
Easy to apply;
Cutting grid on back of tape to assure right length;
Trim the tape to the shape you want;
Thick tape;
Sticky but not too sticky;
Doesn't lose its adhesive;
Stays in place and easy to manipulate;
Tape won't budge until you remove it;
Good customer service.
Cons:
Can cause reactions in sensitive skin;
Difficult application for plus size breasts;
Tape length is inadequate for larger breasts;
Too much work to remove, particularly if a larger size;
Have to remove carefully to avoid pulling skin with it.
Recommend –

Yes
The packaging is perfect as it includes all necessary items along with a carrying bag and instructions. Customer support is based in the United States, which makes for prompt communication and return requests. The company will send replacement kits to those requesting them. You can cut the tape to size and adjust it to your shape. Also, the tape has a good thickness, provides a seamless look, doesn't lose adhesion, is comfortable and stays in place.
3. Bearkig Breast Tape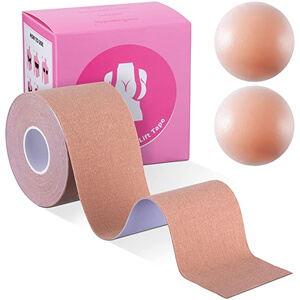 Bearkig latex free Breast Tape's imported fabric tape consists of 95 percent cotton and 5 percent spandex. It's 2 inches in width and 16.4 feet in length, which should be sufficient for women with larger breasts. Included with the tape are silicone nipple covers that are reusable.
The tape has good retention, adheres well to the skin and is waterproof. The strong retention factor has to do with the tape staying in place and not falling off. It's also waterproof, which deters excess perspiration and allows you to go underwater, as the tape doesn't lose its adherence to the skin.
BearKig tape is breathable and comfortable whether you are exercising, running, jumping, dancing, swimming or involved in any activity where slippage is possible. The tape adheres to the skin, is invisible, discreet, and follows the shape of your chest and bust area. The cup sizes run from A to E and are perfect for lifting, separating and pushing up the breasts to limit sagging and unevenness. Whether you are wearing a top or dress with one shoulder or a backless dress, the tape will give you the breast shape you want.
If you want a seamless appearance, Bearkig breast tape will give you both a seamless and natural look with any kind of clothing whether it's suspender straps, spaghetti straps, backless and even wedding apparel. Its ergonomic design gives the feeling that you are wearing nothing at all.
The applications for BearKig tape are versatile as it works with both backless and strapless tops and dresses, deep V-neck tops and dresses, t-shirts, sports bras, swimsuits and wedding dresses.
Pros and Cons of BearKig Breast Tape
Pros:
Has good ability to stretch;
Promotes cleavage with smaller breasts;
Clean and relatively painless removal;
Easy to follow directions;
Easy to put on and holds a grip well;
Enough tape for several occasions;
Skin friendly – if you follow directions.
Cons:
Adhesive is overly sticky – use caution in application;
With larger breasted you may end up using the entire roll;
Limited sticking ability with larger breasts (D width);
Can stick to skin and irritate it upon removal;
Don't leave on the skin too long with sensitivity issues.
Recommend –

Yes
The recommendation of BearKig tape is positive, as it's stretchable, easy to apply and holds a grip well. The directions are easy to follow and removing the tape is relatively painless when done slowly and correctly.
4. Korfee Boob Tape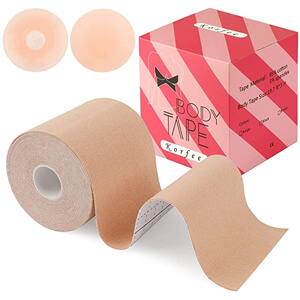 Korfee Boob Tape fabric content is 95 percent cotton and 5 percent spandex and it's an import product. The boxed tape or chest strap has a snap closure and is 3 inches in width and 19.7 feet long. The box includes 2 disposable, one time use, nipple covers and 2 cotton protection pads.
The waterproof strap has a firm hold and adhesion and accommodates plus size breasts (DD-G cup). It's a comfortable fit even if swimming or perspiring, and the strap will easily remain on the skin.
Korfee boob tape is stretchable, flexible and hypoallergenic as well as soft and comfortable. It holds up well to larger breasted women and women with smaller breasts can achieve a pushup effect with the tape. The added support also brings firmness and stability to breasts large or small. Whether you're wearing low-cut blouses or dresses, thin strapped tops, backless and strapless dresses, swimwear or with wedding apparel, the tape will cover and conceal what's necessary.
It's a multi-functional tape because it works with the heels in shoes to curb rubbing and it helps protect areas of the body during exercise or heavy workouts. It's also good for the support of injured muscles, tendons, ligaments and joints.
Removal of the tape is simple and pain free. We recommend body oil or essential oil in the removal process. Rub it on the areas where the tape originally was. Tingling should be minimal to nonexistent. Any remaining tape residue and inflammation quickly fade.
Pros and Cons of Korfee Boob Tape
Pros:
Easy to use and comfortable;
Tape is easy to measure and cut;
Keeps breasts in place;
Hypoallergenic and waterproof;
Comes with simple to follow directions;
Stretchable with good elasticity;
Wide range in cup sizes from A to G;
Tape lifts the largest and smallest breasts to achieve cleavage;
Tape is skin friendly;
Three (3) color choices (beige, brown and black).
Cons:
Dry clean only;
Strong stickiness;
Can be difficult to remove – (use oil to soften and remove).
Recommend –

Yes
The Korfee Boob Tape design accommodates all breast sizes and seems to separate and lift both large and smaller breasts without difficulty. The only drawback is the dry cleaning aspect with this tape and the possible difficulties with tape removal.
5. Laneco Boob Tape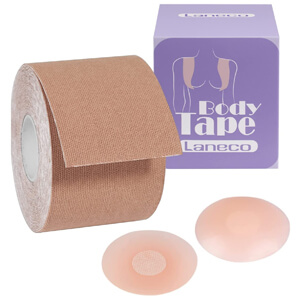 Laneco Boob Tape's fabric content is 95 percent cotton, 5 percent spandex is latex free and comes in one size. It's an imported product and the box contains the tape, which is 23 feet in length by 2 inches in width. On the back of the tape there is a grid that allows you to cut and trim it exactly to the measurements you need. Also included in the box are two silicone, reusable nipple covers. You simply wash a mild soap and water and allow them to dry. Additionally, there is a test patch that the company asks you to use to determine if there are any allergies or reactions in the chest area.
The tape is waterproof and holds the skin in place and it's available in light beige, beige, brown and black color choices that make skin matching easy. You also get the benefits of it being an undetectable bra for strapless, backless, plunging necklines, wedding dresses, swim attire or any other clothing where you need coverage in the right way.
Laneco boob tape not only lifts, separates and pushes up the breasts but it is usable as a sport tape as well. Whether you're running, jumping, swimming, exercising or needing a binder to protect your knees and ankles, the tape provides the protection you need.
Pros and Cons of Laneco Boob Tape
Pros:
Holds larger breasts in place (D to F);
Good for those women lacking the firmest of skin;
Good tape for plus size women;
Easy to remove;
Good adhesion.
Cons:
Adhesive not as strong as it seems;
Some difficulty with extra large sizes;
May be difficult to remove;
Tape not thick enough for larger breasts;
Difficult and painful to remove when directions aren't followed;
Not good on second use.
Recommend –

No
A recommendation of no on this tape has to do with the removal process. There are indications that skin is being lifted at the same time that the tape is being removed. Skin adhesion and sensitivity issues come into play and there are other reasons for not recommending it.
A Beginner's Guide to Using Boob Tape
Technical Background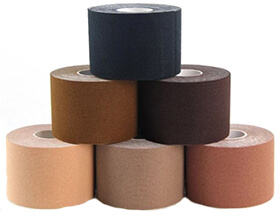 Many women will tell you that boob tape has no value. It's bothersome, awkward and uncomfortable, but this alternative to wearing a bra is fast catching on and becoming a standard throughout the world. Hollywood has set the stage for it and many celebrities use boob tape for red carpet affairs, but what's the whole strategy and technology behind it? Most every women wants more lift and definition but they want to safely achieve the look without related health issues involving their breasts. Real boob tape is made for extended contact with the skin so it happens to be the best choice.
So, what tape should you use as there are all kinds available and there are different ways of applying them? With all that's in the market, here's a rundown on the various types of tape used by many as replacements for boob tape.
Gaffer Tape
Whatever you do, don't confuse gaffer tape with duct tape. Gaffer tape is made from heavy cotton cloth and you can use it for boob tape. It's normally used by camera crews in film, television and live music productions to tape down cables. It has a matte finish and doesn't reflect light. When the tape is removed, there's no residue left behind, plus it endures high heat with no melting.
Sports Tap
Athletes often use sports tape to lessen their chances with sports-related injuries. The tape helps with healing and aiding in the recovery period. The tape is applied to different areas of the skin with little to no irritation. It's a good substitute for boob tape as it is gentle tape compared to gaffer tape and it does help with the irritation that can come from breast taping. It's worth a try as an alternative to regular boob tape, though it may not be as strong.
Flash Tape
Troubles arise when you're unable to button a blouse because of the gap that happens because of big boobs. Flash tape will help alleviate the problem as manufacturers made the tape to keep your breasts where you want them to be. It eliminates the possibility of a low-cut top or dress from popping open and revealing more than you intend.
Advantages and Functionalities of Products
The advantages of boob tape are many as the tape is specifically designed for breasts. So, you have a niche for something that every woman desires and needs. Rather than thinking about expensive plastic surgery, women have the option of booby tape as an inexpensive way to get a discreet yet glamorous look without spending a fortune and possibly suffering the repercussions of surgery.
How to use Boob Tape?
So, how do I apply the tape? It's very important that you use boob tapes safely. Not doing so can result in rashes, blisters, or extremely irritated skin.
Here and the 4 Don't's that everybody should know before trying boob tape.
Time needed: 2 minutes
Clean Your Skin

Clean and dry the breast area (Try wipe breasts with a warm towel).

Use Nipple Covers in addition to tape

Protector your nipples by silicon nipple cover (silicone pasties) are included for more coverage.


Secure the Tape

Measure a piece of tape and place it underneath the side of the breast and pull it up and secure the tape.


Final Step

Apply tape to achieve desired outcome and enjoy your worry-free, all night and into day hold.

Conclusion
The five boob tape products reviewed here are suitable for use by both small, medium and large-breasted women. The difficulties in dealing with any of the breast tapes reviewed are finding a product that remains in place, is easy to use, is easy to remove and doesn't cause harm to the breasts.
Boob Tape to the Rescue
If you've found a dress or top that you like but know it won't work because it needs a certain kind of bra, you give up and put the clothing back on the rack. This is where boob tape comes into the picture. If no bras are available for what you want to wear, don't worry, boob tape is there to the rescue.
Confidence Factor
There's a confidence factor as well. A woman has to feel she can wear the tape without the worry of it slipping or falling away from the intended area. Each of the tapes meets the criteria, though there are mainly safety concerns with the removal of the various tapes, particularly with the last tape reviewed.
Future Boob Tapes
Boob tapes that are discussed here are all available in roll form with adhesive backing. Boob tapes of the future will probably develop into something more compact and less complicated and time-consuming to apply. Different shaped pieces like shorty cut boob tape, lighter weight strips or oval shaped pieces will probably replace roll tape along with a stronger yet less reactive adhesive. The oval-shaped pieces and shorter strips that are made now rather than the rolled variety appear to work as well. The oval pieces are categorized by different cup sizes that include A-B, C-D, DD-DDDD, which gives coverage to a full range of bust sizes.
Women today are looking for alternatives to wearing bras and what's available now has grown out of a need that women want in order to wear different, revealing clothing in a fashionable though discreet way, and boob tape has made that possible. The tape is here to stay. Women appreciate it, male and female athletes appreciate it and your sore feet appreciate it.