Using your phone to receive traffic updates is a thing of the past. Each Garmin DriveSmart 65 comes with a cable dedicated for traffic updates to notify you of delays, accidents, road construction and anything else that may delay your ETA to your destination. Simple turn-by-turn routing along with landmark guidance makes navigating easier than ever. See and hear directions with advanced detail such as "Turn left after the school" along with street names and distances to turns. Be alerted on your DriveSmart 65 display of speed zone changes, school zones, and animal crossings so you are aware to your changing surroundings.
Pros:
Large screen and slick design;
Free map updates;
Car charger and suction mounting included.
Cons:
Need to plug in the device to the charger during navigation due to small battery.
Garmin DriveSmart 65 – Don't Hate Traffic, Avoid It
Road trip ready, your DriveSmart 65 comes preloaded with a database from The History Channel that will provide you with historical notable sites and a US National Parks Directory perfect for history buffs or people who are just looking for a new adventure. Change in plans? Garmin has you covered. Simply use the voice command "OK Garmin" and verbally change an address, change city, or make a phone call hands-free at any time you are using your DriveSmart 65. While traveling in unfamiliar territory and you need food, fuel, or hotels, simply use the "Up Ahead" feature which will alert you to upcoming points of interest.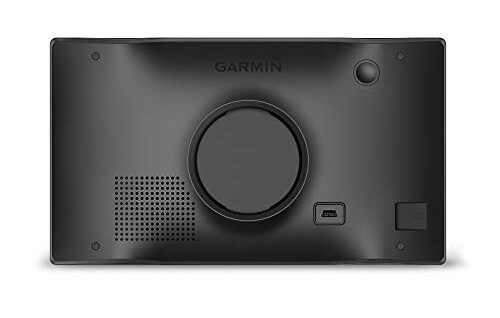 In the event that your maps and software need to be updated and you have no access to a computer, Garmin designed the DriveSmart 65 with built-in Wi-Fi so you bring yourself up to speed with new maps, software, and points of interest making the rest of your trip a breeze. Lifetime map updates allow you to update your maps and software for as long as your DriveSmart 65 is working to get you where you need to be. Garmin takes this device a step further and allows for wireless pairing to a compatible Smartphone for you to access Garmin Live Services to provide you with updated information on weather, traffic cameras, parking areas, hands-free calling, and more. The DriveSmart 65 could be the missing piece to your next adventure, so purchase yours today!
Pros:
Large screen;
Slick design;
Multiple connectivity options;
Nice and informative graphical and spoken instructions;
Phone calls are clear;
Free map updates;
Free traffic updates (Please double check your device model);
Car charger and suction mounting included.
Cons:
Need to plug in the device to the charger during navigation due to small battery;
A slight glare can be seen on the screen if in a car with no roof in bright conditions;
Compass needs the car to move at the start of the trip to be calibrated;
Traffic updates can force a specific route if it thinks that a road is closed.
When Amazon first announced the Amazon Echo smart speaker and its Alexa assistant, there were some jokes about putting it inside cars somehow. With the Echo Dot and third-party batteries, that almost became possible. Now they won't have to resort to hacks and workarounds thanks to the new Garmin DriveSmart 65. That not only gets drivers and their passengers to their destination, they can also make their shopping list on the go, all hands-free.
Voice-controlled actions are becoming popular in homes thanks to smart speakers but, on the road, they're more than just a convenience. When you need your hands to be on the wheel and your eyes up ahead. Voice is pretty much the only form of communication you can have with your phone or your car.
With the DriveSmart 65, you can do that not just for the navigation that has made Garmin a household name in that market. You can ask Alexa anything from the weather to playing your music from Amazon Music, Pandora or iHeartRadio, to taking notes for your grocery list. The communication also happens both ways, with you getting notifications from the device as well.
Each Garmin DriveSmart 65 With Traffic Comes with
DriveSmart 65;
Vehicle Suction Cup Mount;
Traffic Receiver and Vehicle Power Cable;
USB Cable;
Quick Start Guide;
One Year Warranty.
Garmin DriveSmart 65 Key Features
6.95" Edge to Edge Display;
Driver Alerts – Alert you to school zones, animal crossings and speed changes;
Included Traffic Cable provides traffic updates without having to use your smartphone;
Preloaded Mapping of North America with Free Updates;
Up Ahead – Shows upcoming stops for food, fuel and more;
Size: 6.8″W x 3.9″H x 0.7"D.
Final Thoughts
In order to summarize this review, I have compiled a list of pros and cons that I have encountered so far with the Garmin SmartDrive 65.
Overall, I think that the Garmin DriveSmart 65 is a great device with a few minor quirks. At the end of the day, it will get you to where you want to go.
If you are interested to learn about the Garmin SmartDrive 65's price and other users' reviews, then please check out our affiliate link below (redirects to your local Amazon store).