Home cameras used to be expensive and complicated. It didn't matter whether they were meant for security or other purposes. Either way, they were mainly used by the rich, the paranoid, or both.
We've come a long way. Not only have cameras gotten smaller and cheaper in general, but Wi-Fi makes it much easier to put them anywhere you want. The Annke 1080P IP Camera is a Wi-Fi camera that you can control from anywhere with just your phone, and it's surprisingly affordable.
Pros:
Great  design;
Good image, both day and at night;
Low price.
Cons:
The connectivity issue at 35 ft.
Features
This is an indoor camera, meaning it's not weatherproof. Still, the viewing angle is adjustable, either manually or by using the app, so if you set it up near a window, you could probably capture outside activity just fine. In case you're trying to see if racoons are getting into your garbage at night or if it's actually your neighbor, the camera also has night vision with a range of twenty feet.
The camera has a 3.5 mm lens, and as the name implies, shoots up to 1080P footage. The bitrate is variable from a bandwidth and storage-friendly 32 Kbps to a higher-quality 8 Mbps. The night vision is powered by six infrared LEDs.
Connectivity options is where the Annke 1080P IP Camera really tends to shine. It offers integration with Amazon Alexa plus optional cloud storage support. It can also alert you when it detects any motion, using an app on your smartphone. This means you can use it to keep an eye on what's happening inside your home when you're not there.
Setting Up the Annke 1080P IP Camera
When you open the box, you'll find more than just the camera. You also get a mount, an Ethernet cable, power supply, USB cable, and the manual. Reading the manual, you'll find there are a few ways you can set up the camera.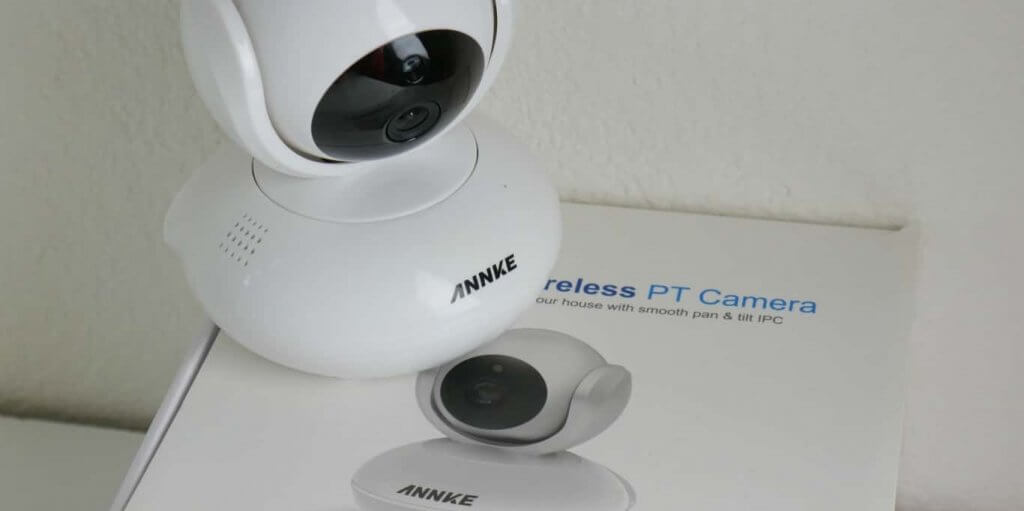 If you can manage it, plugging the camera into your router with the included Ethernet cable is the easiest way to get set up. The other method plays audio from your phone, and this works fine but is more prone to interruptions or interference. Either way, you'll need to download the Myannke app (Android, iOS) to your phone for the setup process.
First, the app will have you set up an Annke account to tie together multiple devices if you have them, and then you need to set the camera up with your Wi-Fi information. After this you set a password for the camera, give it a nickname, and pick the time zone you're in.
Once you've finished the initial setup, you can unplug the Ethernet cable. Move the camera to your desired location (as long as it's within Wi-Fi range), and plug it in.
Using the Annke 1080P IP Camera
The main way to interact with the camera is with the Myannke app. If you've never used this type of camera before, one of the most fun aspects is controlling where the camera is aimed. You can rotate it as well as shift the angle up and down simply by swiping around the screen. This is intuitive when it comes to control and lets you aim the camera with ease.
You can use the camera without any sort of storage, but it has a micro SD card slot. As mentioned above, you can adjust the bitrate of captured video to optimize for quality, storage space, or a balance of both.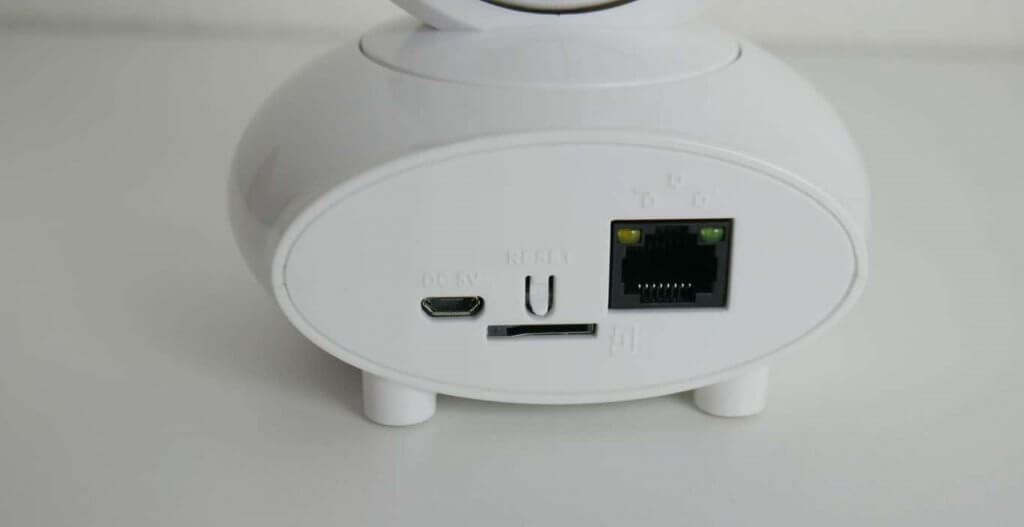 This camera only supports 2.4 GHz Wi-Fi, not the 5 GHz frequency commonly used for faster speeds and lower interference these days. Given the lower price point, this makes sense, but I've frequently had issues with 2.4 GHz and my router. As a result, my best bet was to use the camera plugged in via the Ethernet port.
Plugged in, I had zero issues with the camera, with the cameras video feed subject to just a short delay. Only standing in the same room and waving at the camera while watching the feed on my phone could I detect the delay.
In the box
Annke DVR
4 x 720P indoor/outdoor cameras – wired
4 x video cables (60 ft)
2 x power adapters
Power adapter "splitter" for cameras
USB mouse
4 x anchors for mounting cameras
Quick user manual
Software CD
2 x door/window stickers
Conclusion
The camera results in a good image, both day and at night, except for then then sun is feeding directly into it (although a lot cameras have issues with that). Night vision allows you to see a good distance and allows you to see facial details when a subject walks up close to the camera. The fingerprint option (if your mobile device has a reader) is a great way to secure access to the application, and not locking you 100% to the cloud storage is a big deal. As long as the price for the cloud service is for all cameras associated to the account and not per camera, then the price is average and nothing to frown at.
The connectivity issue at 35 ft was really one of our biggest complaints which limits those with bigger homes or offices that don't have a perfectly spread out network (which we typically don't have any troubles where it was tested). That, and the fact that there aren't any zone options for motion control, which could help eliminate false positives like vehicle traffic on nearby streets if pointing outside. Beyond that, for only $49.99, it competes well with other cameras within its range, and the motion issues can be resolved most likely with future enhancements to the app. It still resulted in an excellent score from us.
Source: The sample for this review was provided by Annke. Please visit their site for more information and Amazon to order.