LeFun 1080p Wi-Fi it's straightforward, wi-fi capable camera with good images and an impressive price.
The LeFun 1080p is the least expensive wi-fi option in this review with high-quality images and ethernet capable connection. We love that this camera is budget-friendly making it a good choice for parents who need or want wi-fi capabilities but have a tight budget. This unit works well in both day and night lighting and it features remote pan and tilt abilities with digital zoom to keep an eye on the action. While the sound is sub-par compared to dedicated monitors and the set up isn't as intuitive as the other wi-fi choices, we believe that the money you'll save getting true to life images is worth whatever it lacks.
It is a reasonable price monitor with good characteristics. LeFun has motion detection, sound activation, two-way conversation with the child, zoom and remote-controlled camera with real pan and tilt capabilities.
LeFun 1080p has some latency when using the pan and tilt feature, and is a little harder to use than some other Wi-Fi options, but given the lower price, we suspect most parents will forgive these minor flaws thanks to the excellent video quality and budget cost.
Product Features
1. Two way audio;
2. 1080P video quality;
3. Motion detection;
4. Micro storage up to 64 G;
5. Remote viewing and remote control;
6. 350×100 view angle;
7. Night vision;
8. Support multi-camera and multi-user.
Microphone
With this advanced technology WiFi camera not only you be able to hear your baby, but you can also talk to your little one from any place. The camera has microphone and speakers, and if you need to speak to your loved one, you can do that without a single problem. You can also get message alerts from mobile application thanks to the intelligent motion alert. Intelligent motion alert is also very useful if you are using this camera as the surveillance camera.
Battery Life
Because the LeFun plugs in and you use your personal device for monitoring., There is less concern for battery life which earned this monitor a 10 of 10 for battery life. Using a dedicated device for this camera and keeping it plugged in will extend the battery life for monitoring. Only using the LeFun app will also keep you monitoring for hours without concern. Which is one of the reasons we think you shouldn't use your phone.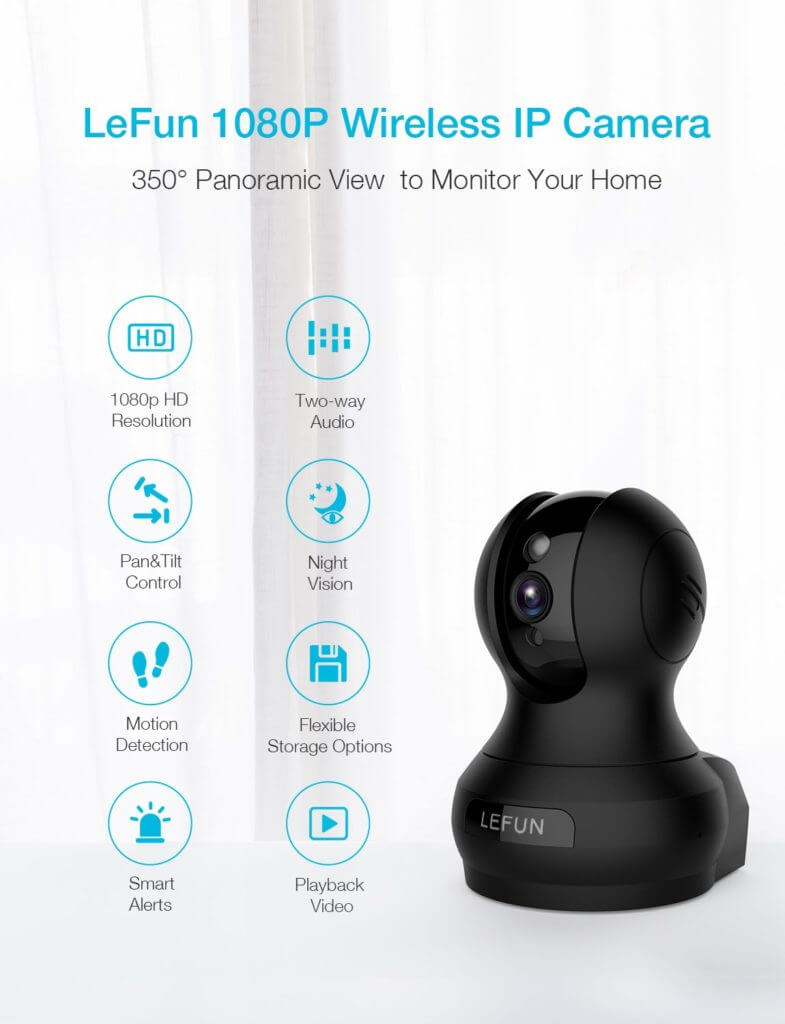 Other Versions
While LeFun offers a few other wi-fi camera options, most of them appear to be similar to this model with prices ranging from $44 to $70. The main differences appear to be video camera quality and remote camera capabilities. We believe this model meets the needs for baby monitoring with the features you'll find most useful.
Conclusion
If your budget is tight, one of the least expensive video baby monitors available is the LeFun 1080p Wi-Fi. Which gets consistently good ratings from reviewers. This Internet-connected camera isn't specially a baby monitor. But it has all the features you need to monitor your children when you're in a different part of the house.
Reviewers have mostly positive things to say about the LeFun WiFi Camera, including that it streams quality footage and is easy to set up. Several reviewers do cite occasional connectivity issues, but overall, this is a popular product at an unbeatable price.