Ready to level up your pistol aiming precision? You will need a professional-grade optic with a proven record of delivering the best performance – we recommend the Holosun 509T.
Optics are an enjoyable shooting option especially for small targets because they profoundly increase your hit potential at long distances. Finding the right optic is a function of knowing what to look for in the design, features, and overall functionality.
Fortunately, you can now access more advanced optical sights in the market as massive innovation continues to fuel the world of red dot sights or reflex optical sights.
Holosun is the latest innovator in the list with the latest noticeable expansion of its reflex sight line. This has brought on board a newly formulated and sturdily designed enclosed Holosun 509T.
Being the most recent optic by Holosun, 509T has proven to be better in design and overall functionality compared to its cousins 509C and 509K. It comes bundled with more titanium as well as an enclosed emitter for better precision in contrast to an exposed emitter found in 509C and 509K.
So, whether you are shopping for the best innovative optic for your local range or all-time favorite video game, this Holosun 509T review will afford you a more informed starting point.
Read on to find out all you need to know about the optic, its outstanding features, benefits, drawbacks, and whether or not it is a good fit for your full duty or concealed pistol.
Overview & Description
The Holosun 509T is a reflex optical sight that features an enclosed emitter backed by multifaceted technology.
Its special lightweight design is most ideal for pistol applications.
Among other design elements, 509T features a multi-reticle system, titanium housing, solar failsafe, and an LED lens with up to 50,000 hours of runtime on battery mode. By integrating multiple cutting-edge technologies, Holosun has found a creative angle to reinvent its previous reflex optical sights to add an extra layer of functionality.
That means with a 509T optic, you are bound to get more control, durability, versatility, and value for money. If you are actively seeking a powerful way to enhance your shooting range or hunting experience, you might want to make a quick stop at this ultramodern optic.
In a nutshell, here are the 509T specs:
Up to 12 brightness settings with 10 for daylight and 2 for night vision;
Shake Awake technology;
Multi-reticle system (MRS) comprising Circle-Dot, Circle Only (32 MOA), and Dot Only (2MOA);
Lightweight titanium housing;
Multi-layered reflective glass;
Zero parallax and limitless eye relief;
Maximum CR1632 battery life of 50,000 hours on setting 6;
Double power source featuring solar and battery;
1 minute of angle (MOA) adjustment per click.

Outstanding features of the Holosun 509T
The outstanding features of the 509T optic speak a lot about its performance. As you interact with the multifaceted technology features, here is what you can expect to receive in return:
Shake Awake Technology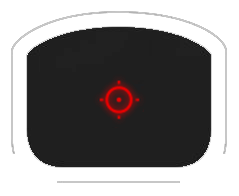 Talk of an incredible power-saving technology. When there is little to no motion, this technology automatically shuts off the LED sight. What's more, you have complete control over the duration the LED takes to switch to sleep mode or deactivate. You also have the option to deactivate the technology entirely to keep your optic powered on and keep the shots rolling.
Multi-reticle system (MRS)
Depending on the precision you are after for your shooting needs, this varied technology has got it all under one roof. You can choose from a series of reticle options including 2MOA for dot only, 32MOA for open circle, or a 2MOA/32MOA circle-dot reticle.
The MRS feature essentially provides an extra layer of flexibility to your optic allowing you to turn on and off parts of the reticle based on the need at hand. With the most ideal reticle setting, you can aim perfectly for both long-range and close-range shootings.
Typically, the 32MOA for circle only setting does an excellent job at extremely close ranges and speed takes precedence over precision. In the 2MOA for dot only setting, you can easily aim at tiny targets from a relatively long distance. This is how you end up getting that extra performance with a 509T.
Solar Failsafe Technology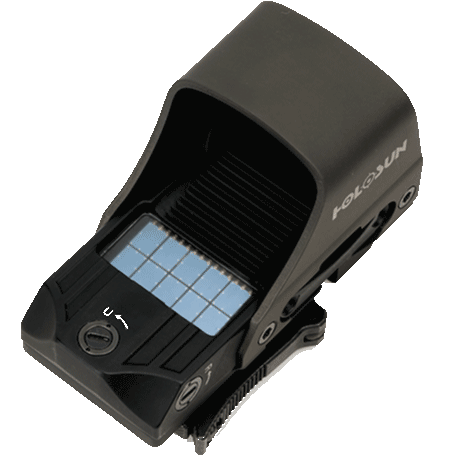 Solar failsafe in red dot sights? Yes, Holosun pioneered this technology in its reflex optical sights to keep your red dot sight always operational way longer past battery collapse. The solar failsafe is built-in with an automatic brightness adjustment capability.
That simply means each time you are out shooting in the sun, you get a bright reticle in return. The reverse is also true. Upon moving indoors, your bright reticle automatically dims down to blend with the ambient lighting conditions.
Multilayered coatings
This red dot sight features optical glass with multiple layers of coatings. This special design plays an integral role in boosting seamless light transmission, mitigating wear, as well as minimizing glare in the optic.
Super LED
When shooting under varying light intensities, this uniquely powerful feature is designed to suit the situation at hand accordingly. Whether in a super bright environment or a low-light scene, you can select from red dot, green dot, or gold dot sight that all provide an incredible luminous efficiency.

If your vision struggles under the red color spectrum, you can opt for the green LED sight or the gold LED sight for that extra eye comfort. The green LED sight is also considered highly power-efficient when applied in high brightness environments.
Titanium housing
Holosun uses Grade 5 Titanium in the design of the 509T optic to afford you extra strength and durability for prolonged moisture resistance. The material is considered stronger than aluminum, more lightweight, and offers a better industrial design overall.
Long-lasting battery
The 509T optic also features a high-capacity lithium battery. The battery can power your reflex optical sight for up to 50,000 hours of run time on setting 6. With such extended battery life, this optic might make a great companion for long hunting treks.
Multiple brightness settings
Featuring 12 brightness settings, the 509T might make an excellent optic for varying lighting conditions. For daylight applications, you can access up to 10 different settings as well as 2 night vision-compatible settings for dim lighting.
Enhanced precision
The 509T comes with an enhanced optical design that offers unrestricted eye relief while ruling out the parallax effect completely. So, if you are wary of your eye comfort and care, you might want to consider an optic built with your needs in mind. The 509T might be an excellent choice.
Enclosed design
With an enclosed emitter design, the 509T comes with extra reliability altogether. Compared to an exposed emitter found in earlier versions (509C and 509K), an enclosed emitter delivers adequate functionality even under compromising situations such as snow, water, or dirt invasion. This keeps your dot from being obscured and ruining your precision shots.
Tray battery compartment
If you are after extra convenience for your reflex optical sight, the 509T might fit the description if you know where to look. Its side-mounted tray battery compartment makes battery replacement a breeze without necessarily having to unmount the optic first. What else does that guarantee if not a fast and enjoyable shooting experience?
Multiple lighting modes
The 509T optic can run in all lighting conditions thanks to its tri-mode operation. You can conveniently switch between auto mode, manual mode, and lock mode with the auto mode being the default setting.
Auto mode automatically adjusts the reticle's brightness to blend with ambient lighting. Depending on the ambient lighting available, the sight automatically switches between the solar cell and battery power.
Manual mode allows you to personally adjust the brightness settings depending on the desired lighting with setting 12 being the brightest and settings 1 and 2 being the darkest hence compatible with night vision. Lock mode keeps all your settings fixed until you exit the mode to auto mode.
Packaging
When you purchase your 509T optic from Amazon or Holosun directly, the packaging will feature:
RMR Adapter;
T10 L Key;
User Manual (see here on PDF);
CR1632 Battery;
Lens Cloth.
Design and Materials of Holosun 509t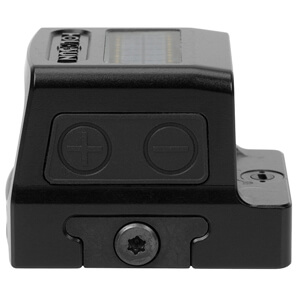 The powerful lens of the 509T features multicoated optical glass and the housing boasts a titanium material.
Multicoated lenses let in more light compared to other lenses. With minimal light loss through reflection and scattering, light transmission in this optic can be kept at a maximum and glare at a minimum.
Titanium is both a healthier and safer choice for red dot sight housing because it is highly non-toxic to human tissue. It also provides greater resistance to corrosion caused by body fluids such as sweat thanks to its protective oxide layer that easily forms in the presence of oxygen. Besides corrosion resistance, titanium is also lighter than steel yet produces a considerable amount of tensile strength, enough to boost the lifespan of your 509T optic.
Therefore, combining the benefits of both these materials, having a 509T by your side in the range or hunting expedition might be worth your dime after all.
Budget Benefits
In terms of value for your money, Holosun mini reflex optical sights carry the best price tag for pistol-sized optics currently available in the market. These mini red dots have succeeded in amassing some powerful features while keeping the price below half of what competitors offer.
What's more, they have easily outperformed the competition, yet at a much lower price. If you want to combine the benefits of both performance and pocket-friendliness, you might want to take your chances with the Holosun 509T. In a way, your investment is more likely to amount to a win-win.
Performance and technical issues
When shopping for a 509T optic, you should know that the red dot sight comes with a 1913 proprietary rail mounting system. It is also shipped with plates specifically designed for RMR cuts.
This might limit your mounting flexibility altogether and you might be forced to purchase additional plates from other vendors like the CHPWS.
Recommended or not?
While the 509T qualifies for a wide range of applications like its counterpart 507C, it is mostly recommended for pistols and pistol-caliber carbines (PCCs).
First of all, the 509T optic comes with a rather limited range. That means you don't need a magnifier to use it. Secondly, it features an extremely compact size making it lightweight for both pistols and PCCs.
Additionally, the 509T is a great fit for both close-range and long-range shooting thanks to its unique MRS system. It, therefore, passes for versatility depending on the amount of premium you place on that.
That said, going by the mounting restrictions of this red dot sight, you may have to incur a higher initial outlay. If your pistol doesn't fit on the RMR adapter, you may have to spend extra getting the right mounting system.
In conclusion, therefore, if you are seeking improved functionality, more technology infusion, and shooting versatility, this might turn out to be your best companion after all.
On the other hand, if you are on a budget, you may want to consider other more affordable and standard options. Furthermore, you might want to look elsewhere if you wield a shotgun or rifle as the 509T may prove too tiny for your outfit.
Holosun 509t Pros and Cons
Pros:
As an open view reflex sight, it provides a bigger field of view than a tube red dot.
Uses an LED lens hence more efficient in battery power.
Can be run in solar mode or battery mode.
Fast side battery insertion without unmounting the optic.
12 brightness settings for varying lighting conditions.
Up to 50,000 hours of battery life on setting 6.
Titanium housing is more durable and lightweight.
Equipped with eye relief hence more user friendly.
Versatile applications with both the dot and the circle reticle.
Ideal for anyone with astigmatism.
Easy to clean the lens.
Solid mounting.
Bright reticle.
Larger and enhanced buttons.
Enclosed or sealed emitter enhances durability.
Waterproof and fog proof.
Excellent memory function that recalls the last brightness setting upon powering on and off.
Low battery warning blinker when the voltage drops below 2.2Vdc.
Cons:
Its RMR adapter may not be compatible with other mounting interfaces hence limited mounting options.
Windage and elevation adjustments are restricted to only +/- 30MOA that's only ideal for pistols and not rifles.
It is too small to mount on rifles and shotguns effectively.
Removing the battery requires a special tool.
Cannot use a rechargeable battery.
Battery tray is extremely small and easy to lose.
The RMR plate is tall making the optic sit too high.
Blurry glue around the lens.
Frequently Asked Questions (FAQs)
Can the 509T mount on an FNX-45 Tactical?
As long as your FNX-45 Tactical came with an RMR plate, the RMR adapter plate that comes with your 509T will blend in perfectly. In other words, this optic only attaches to plates drilled specifically for an RMR pattern. It is therefore not compatible with Shadow Systems or ZEV-style RMR interfaces.
Does my delivery location affect shipping?
Being a firearm-related accessory, some states may pose certain firearm restrictions. That said, it is important to check with your state whether any restrictions exist before shipping because many shoppers have reported enjoying seamless shipping across many different states.
Will the 509T fit on a pic rail?
Being a 1913 proprietary rail, that may not be possible. This red dot sight doesn't feature a standard Picatinny. Instead, it features a proprietary mount resembling a Picatinny that cannot mount to a rail directly. This restriction arises because of the enclosed emitter design that only accommodates a tiny Picatinny-like mounting system, not thick enough to blend in with a weaver rail or standard Picatinny.
Do I need an extra plate for the 509T to fit on my CZ-P 10 F?
No, but only if your CZ-P 10 F is branded optics-ready. In that case, you only need the mounting plate that comes packaged with the 509T. It is designed to fit all slides cut for Holosun or RMR.
Is the 509T ideal for an FN 509 Compact Tactical?
No, it may not be the best fit here because of its relatively large size. It would be wise considering the smaller versions like 509C or 509K that are equally built with the same tensile strength. In other words, ensure you only use the right tool for the right job for optimal functionality and performance.
What are the challenges of an exposed emitter?
An exposed emitter tends to be more susceptible to mud, snow, or sand invasion. These invaders may significantly hinder the ability of the emitter to deliver the red dot on the lens. However, using an enclosed emitter swiftly resolves this challenge.
Why is titanium preferred for the 509T?
Holosun places a premium on titanium because other than providing additional durability to the optic, titanium is also extremely strong and lightweight. These are the best qualities for a mini optic to guarantee maximum convenience.
What's the best care for my 509T optic?
As a high-precision tool, this red dot sight demands a certain level of special care. When cleaning the multicoated optical glass making up the lens, gently blow away the dust on the surface. Then, apply lens cleaner or water to wet the lens before wiping away the smudge with a soft microfiber cloth.
While at it, avoid using organic solvents, tissue paper, or dry cloth on the lens. Try these maintenance tricks and your 509T optic will stay with you for the longest time without frustrating your aiming efforts.
What is the elevation and windage adjustment in the 509T optic?
The elevation and windage adjustments for this reflex optical sight have been preset at 1MOA per click. The value of each adjustment is about 1MOA or 1″ at 100 yards.
The elevation adjustment is situated toward the upper section of the optic's housing whereas the windage adjustment sits on the right side of the housing.
Conclusion
From this review, the Holosun 509T proves to be a powerful, effective, and versatile optic option for pistols especially. However, that shouldn't limit your choice of applications as its technology empowerment makes it an equally able fit for PCCs and braced subguns.
Whatever you were actively looking for in the best optic for your gun, hopefully, this guide will bring you a step closer to it. Remember to narrow down your needs and try to match them to the features and benefits highlighted in the guide.