In recent years, Korean-style skincare products (including Korean face mask) have become super popular in the West. Korean skincare is based around a different philosophy than what most Westerners are used to. People from Western countries often aim for squeaky-clean skin that is vigorously exfoliated. Korean skincare places a much higher priority on hydration, prevention, gentleness, and skin that glows.
Korean sheet masks are one of these products that have made their way across the seas. It's important to select your sheet masks carefully. If you use the wrong one, you may experience irritation and the possibility of making any skin problems worse rather than better.
Quick Picks of Top 5 Korean Face Mask of 2022
| Product | Skin Type | Benefits | Fragrance-free | Price |
| --- | --- | --- | --- | --- |
| Mediheal Tea Tree Essential Blemish Control Mask | Oily | Blemish and oil control | Yes | See on Amazon |
| COSRX Ultimate Nourishing Rice Overnight Spa Mask | All skin types | Smoothing and hydrating | Yes | See on Amazon |
| Ebanel Collagen Face mask | All skin types | Hydrating and anti-aging | Yes | See on Amazon |
| LAPCOS Vita C Sheet Mask | All skin types | Brightening, rejuvenating and anti-aging | No | See on Amazon |
| Too Cool for School Egg Cream Mask | Dry | Deep moisture, firming, nourishing | No | See on Amazon |
Here are the key facts on five excellent masks for a variety of skin concerns and skin types. These are a great place to start when delving into the world of Korean skincare. Plus, read on for a quick and basic guide to selecting and using a Korean mask.
Mediheal Tea Tree Essential Blemish Control Mask — Great for Acne-Prone Skin
Do you have skin that is acne-prone or oily, yet sensitive at the same time? The Tea Tree Essential Blemish Control Mask could help you out. Although it reduces oil and helps clean out clogged pores, it is still so gentle that a lot of people with eczema or rosacea can use it.
This sheet mask is fun to use because as the serum absorbs into your skin and the fabric starts to dry out, a logo will become visible on the sheet mask, letting you know it's time to take it off. The sheet itself is made of 100% ultrafine cotton, rather than any harsh artificial fibers.
Mediheal's Tea Tree Essential Blemish Control Mask is of high value because there is an abundance of serum in the packets. It will soak your skin very well with serum leftover. It has a pleasantly earthy, wood-like aroma.
What can I expect from this mask's formulation?
This mask contains a lot of botanical extracts that purify the pores and fight bacteria. These include tea tree extract plus willow bark, rosemary, sage, frankincense, and natural chemicals from the licorice plant. Tea tree oil is renowned for its antimicrobial and acne-fighting abilities.
Despite its high acne and oil-clearing power, this sheet mask is still quite gentle and soothing. This is thanks to the inclusion of things like chamomile, vitamin E, lavender, lemongrass, and pea extracts.
The light and breathable moisture you can get from this mask comes from ingredients like glycerin and allantoin, two plant-derived ingredients. Panthenol, a moisturizing form of vitamin B5, also plays a key role.
Who is this sheet mask best for?
Give this mask a try if you suffer from pimples, blackheads, clogged pores, or excess oil. It can be a bit difficult for people with these problems and sensitive skin to find products that work for them, but this mask fits the bill. Even if you don't have particularly sensitive skin, your skin can still benefit from the antioxidant and moisturizing properties.
Pros and Cons of Mediheal Tea Tree Essential Blemish Control Mask
Pros:
Well-designed product;
Clarifying yet soothing;
Cons:
Not recommended for dry skin, so those with both acne and dryness may experience irritation and should try a different product;
Contains polysorbate 80, an ingredient that some people are sensitive to. Some people also think it may carry minor safety concerns, but there is not very much evidence for this.
COSRX Ultimate Nourishing Rice Overnight Spa Mask — Gently Smooths and Hydrates
Sheet masks are among the most popular K-beauty products, even among people who aren't very familiar with complex Korean skincare routines. That's why the focus of this buyer's guide leans toward sheet masks. However, the Ultimate Nourishing Rice Overnight Spa Mask from COSRX deserves an honorable mention even though it's not a sheet mask.
All you need is a pea-sized amount of this Korean face mask. It is meant to be applied as the last step of your evening skincare routine, massaged into the skin, and left on overnight. This mask contains a whopping 68% of rice extract, making it brightening, hydrating, and smoothing. People who have used it often say it makes the skin bouncy and supple.
How are the ingredients?
The 68% rice extract content makes this mask good for dullness, dryness, and uneven skin. It also offers 2% niacinamide, which is a form of vitamin B3 that smooths, softens, and protects the skin. These two main ingredients work together to give this mask most of its soothing properties.
The COSRX Ultimate Nourishing Rice Overnight Spa Mask also contains sunflower oil, fatty acids derived from olive oil, beneficial humectants, and dimethicone. Dimethicone is a type of silicone that is great for locking in moisture without greasiness. However, some people prefer to avoid silicones due to sensitivity that can lead to clogged pores. Not everyone gets clogged pores from silicones, and dimethicone is overall considered a non-comedogenic ingredient.
This mask has a very light, pleasant scent and hydrates without heaviness or stickiness. The texture is so nice that many people even use it as a regular daytime moisturizer. Sunscreen and makeup can be layered over this moisturizer and it will not cause pilling.
Who will benefit the most from this face mask?
The Ultimate Nourishing Rice Overnight Spa Mask from COSRX is appropriate for almost all skin types. The only caveat is that this mask may not do very much if your skin is very dry. However, it is still moisturizing enough to help out with the dryness that can occur during winter. This mask is especially great if you have sensitive skin, rosacea, or eczema.
Pros and Cons of COSRX Ultimate Nourishing Rice Overnight Spa Mask
Pros:
Vegan, hypoallergenic, and cruelty-free;
Ultra-gentle and soothing.
Cons:
Not effective for very dry skin;
Some reviewers have reported that they received a counterfeit product;
Contains palm oil, which carries environmental concerns.
Ebanel Collagen Face Mask — An Antioxidant-Packed Anti-Aging Mask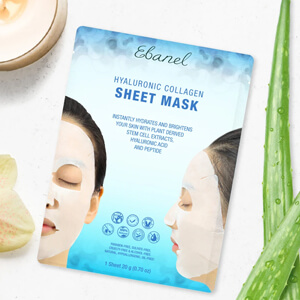 The Ebanel Collagen Face Mask is brightening, hydrating, and anti-aging. This sheet mask uses plant-derived fibers, and the gel serum in it is nice and thick. This makes the mask hold your face snugly without leaving the skin with a sticky feeling. It will hold the moisture far longer than most other sheet masks, allowing for an extra-deep treatment, if desired.
What makes this mask anti-aging?
The Collagen Face Mask from Ebanel uses several different approaches to achieve its anti-aging benefits. As the name suggests, it contains collagen. This is a type of protein that is responsible for skin's suppleness, elasticity, integrity, firmness, and youthful appearance. Although many collagen skincare products use collagen extracted from animal tissues, Ebanel uses seaweed-derived collagen.
This sheet mask also offers multiple antioxidants such as vitamins C and E. Antioxidants are molecules that help prevent oxidative damage to body cells. Oxidative damage is a key component of cellular aging. Applying antioxidants to the skin could help reduce skin aging on the cellular level.
Finally, the moisturization that this mask offers also adds to the long-term anti-aging effects. It contains hyaluronic acid, a molecule that attracts water. When absorbed into the skin, hyaluronic acid helps the skin to hold onto water. Well-moisturized skin ages more slowly. This mask also contains peptides, molecules found in your skin's natural moisture barrier.
Is this the right face mask for me?
The Collagen Face Mask from Ebanel is a good choice if your main skin concern is aging. More specifically, fine lines, sun damage-related aging, sagging skin, and skin that has lost its elasticity could all be helped by this sheet mask.
This product is appropriate for all skin types. It is unscented and hypoallergenic, making it non-irritating. Aloe leaf juice and chamomile extract make it even more soothing, so this mask is A-OK for sensitive skin.
The Ebanel Collagen Face Mask is also oil-free, so if you have oily skin, using this mask will not make your skin greasy at all.
Pros and Cons of Ebanel Collagen Face Mask
Pros:
Uses vegan collagen derived from seaweed;
Uses several different approaches to combat skin aging.
Cons:
A small number of reviewers reported irritation or a burning sensation;
Contains polysorbate 80, an ingredient that some people are sensitive to. Some people also think it may carry minor safety concerns, but there is not very much evidence for this;
Contains a couple of artificial preservatives, albeit safe ones.
LAPCOS Vita C Sheet Mask — Rejuvenates and Restores Glow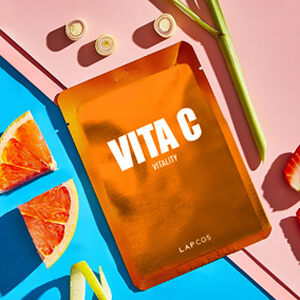 If you would appreciate a brightening, calming, rejuvenating effect, the LAPCOS Vita C Sheet Mask will do this for you. This sheet mask can help restore your skin's glow. It is made with Tencel fabric, which is a natural fiber.
Some reviewers thought this mask left a slightly gummy residue, which is one of the only downsides of this mask. However, it is advisable to only use vitamin C at night since it can make your skin much more sensitive to the sun and easily burned. Since this mask is high in vitamin C, it is best to only use it before bed, in which case a slightly gummy texture does not matter so much. After all, you'll be asleep before you know it after using this mask to help you relax in the evening.
How does this sheet mask work?
When vitamin C is absorbed into the skin, it stimulates the skin from within to regenerate its cells and shed old ones. This makes it a great ingredient for fading post-acne hyperpigmentation, reducing fine lines, and giving overall radiance and an even skin tone.
The Vita C Sheet Mask from LAPCOS also offers niacinamide, which is great for moisturization and improving skin texture. Allantoin is another ingredient in this mask which is known for its soothing abilities. There are several types of antioxidants, fatty acids, and humectants in the serum of this mask to nourish the skin. It also delivers a variety of soothing and anti-inflammatory plant extracts.
Who should pick this face mask?
The LAPCOS Vita C Sheet Mask is supposed to be good for all skin types. However, it is most appropriate for anyone who seeks to improve the appearance of hyperpigmentation (red marks), fine lines, or dull skin.
This sheet mask also contains lemongrass extract, which has antibacterial properties. So, this mask could also be a good choice for anyone battling acne pimples.
Someone who should definitely not use this mask would be anyone who is allergic to coconut, as the LAPCOS Vita C Sheet Mask contains coconut-derived ingredients.
Pros and Cons of LAPCOS Vita C Sheet Mask
Pros:
Can help stubborn hyperpigmentation;
Very well-formulated with a variety of beneficial ingredient types.
Cons:
Contains hydrogenated oils which carry purity concerns because they are so processed;
Contains coconut-derived ingredients, which can trigger a reaction in people with a coconut allergy;
Some people think it has a gummy texture.
Too Cool for School Egg Cream Mask — Best for Dry Skin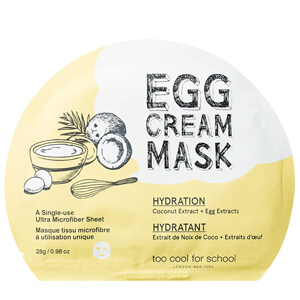 The Egg Cream Mask is great for dehydrated skin. It restores nutrients, moisture, and suppleness with both egg white and egg yolk. This mask can help hydrate, firm, and tighten pores. Your skin may be more radiant, glowy, and soft after using this mask.
This sheet mask is made with an ultra microfiber sheet that is gentle on the skin. It contains no parabens, sulfates, or mineral oils. The idea of putting egg on your face may seem off-putting, but the serum in this sheet mask actually uses extracts of egg. This concentrates all the healthy compounds that are found in eggs and leaves behind the texture and smell.
What ingredients make this mask the best for dry skin?
The egg white in this mask helps to cleanse and purify, while the egg yolk contains lipids, vitamin D, and lecithin that all help nourish and deeply hydrate. Japanese camellia oil helps to further lock in moisture.
It has other ingredients to offer as well, such as coconut water, which contains cytokinins. Cytokinins are compounds that may help reduce skin aging. The ceramides in this mask will help repair your skin's own natural moisture barrier.
How can I know if this mask is right for me?
The Egg Cream Mask from Too Cool for School is best for dry to very dry skin types since its primary benefit is its deep moisturization and nourishment. Some people even use it for rosacea flares, it is that moisturizing and soothing. If you have a combination skin type, the Egg Cream Mask could also work for you.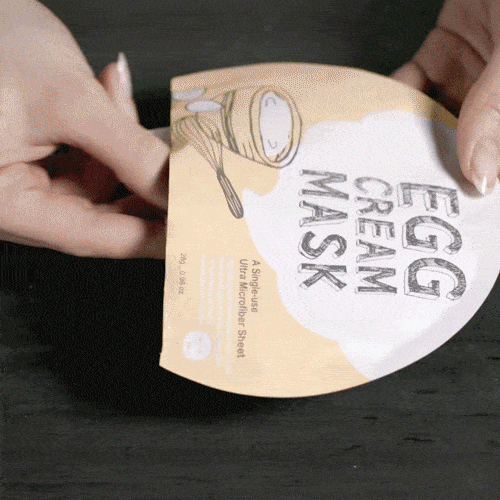 Pros and Cons of Too Cool for School Egg Cream Mask
Pros:
Highly moisturizing;
Has antioxidants and other compounds that can reduce the signs of aging.
Cons:
Contains silicones, which are great for dry skin but some people prefer to avoid them;
Many of the ingredients are artificial, though they are safe for the human body and effective moisturizers;
Not appropriate for people allergic to egg or coconut.
Korean Face Mask – Buyer's Guide
Loved for their nourishing and hydrating properties, sheet masks can make a great addition for anyone who wants to level up their skincare routine. With such great variety available, there exists the perfect sheet mask for everyone. Even oily and acne-prone skin types will see benefit from the extra moisturization of a sheet mask.
What Exactly is a Sheet Mask?
It consists of a face-shaped piece of disposable cloth soaked in a specially formulated serum. Sheet masks are meant to hydrate and nourish the skin, rather than to cleanse or exfoliate.
The sheet mask is placed onto the face after cleansing and left to absorb for ten to twenty minutes. Any remaining product is not rinsed off but rather allowed to absorb completely. Then, additional skincare products like moisturizers can be applied to seal in the moisture and nourishment provided by the mask.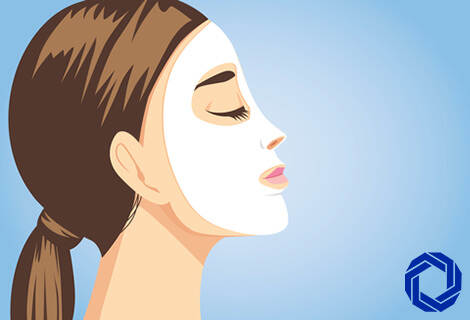 When most people think of Korean masks, they think of sheet masks. However, there are also lots of non-sheet Korean masks out there that come in a tube or jar. The considerations you should think about when choosing a jar or tube face mask are the same as those for selecting a sheet mask.
How to Choose a Face Mask?
The first thing you should look for in a face mask, whether a sheet mask or a spreadable one, is that it is appropriate for your skin type. The skin type categories are oily, combination, normal, and dry. Some products may even specify that they are for very oily or very dry skin. Using an appropriate mask for your skin type will help bring balance to your skin, whereas if you use a product meant for a different skin type it can make existing skin problems worse or even cause new problems.
For example, if you have oily skin and use a product for dry skin, your face might become unpleasantly greasy. If you have dry skin and use a mask meant for oily skin, your skin may be drier and become red, irritated, and painful. These are the kinds of dilemmas that can be avoided by simply picking the right face mask.
Depending on your skin's sensitivity, you may want to avoid certain ingredients in a Korean face mask that could cause irritation. Common culprits of irritation in skincare products include fragrance, sulfates, menthol, camphor, and dyes.
The main other consideration is what skin concern you are looking to treat. Below is a quick compilation of popular and effective ingredients used to treat some of the most common skin concerns. These lists aren't comprehensive, and there are many other wholesome ingredients out there that can give you great results, but this is a good place to start and outlines the basics.
Acne:
Tea tree oil;
Salicylic acid;
Willow bark extract;
Honey;
Coconut oil;
Charcoal;
Essential oils;
Rosemary extract;
Kaolin and bentonite clays.
Dryness:
Botanical oils of all kinds;
Honey;
Glycerin;
Aloe vera;
Hydrolyzed wheat and rice proteins;
Cocoa butter;
Lecithin;
Shea butter.
Anti-aging and fine lines:
Retinol;
Vitamin E;
Green tea;
Collagen;
Vitamin C;
Glycolic acid;
Plant extracts of all kinds.
Sensitive skin and redness:
Aloe;
Allantoin;
Chamomile;
Lavender;
Cucumber;
Green tea;
Niacinamide;
Oat extract.
Hyperpigmentation:
Glycolic acid;
Lactic acid;;
Vitamin C;
Honey.
Final Thought
Korean face masks can offer countless benefits for the appearance and quality of your skin, and they are an easy way to add extra moisturization and nourishment to your existing skincare routine. There is a face mask for every skin concern you can imagine, from acne to wrinkles to dryness. Give your skin a beautiful glow to reflect the glow you have within and try a Korean face mask. Skincare researchers keep discovering more and more beneficial ingredients each year, so the world of Korean skincare will only continue to get better.