We present to you new in 2022 interactive map for New World by Amazon that can help you in many aspects. We at NewRealReview.com present it to you in more detail and tell you what you can use it for.
What kind of map is this? The game-maps.com created the map. On the map you can find various information about the areas, including:
The location of various materials;
Places where there are special types of monsters or bosses;
Hidden treasures;
Points of interest that you should visit;
Lore documents;
Quick travel points;
Information about which level you need for the corresponding region or event.
Set the map correctly: At the beginning, basically everything is shown to you on the interactive map. This is a lot and very confusing.
That's why you'll find the "Filter" option on the right edge of your browser window. Here it is recommended to first hide everything – "Hide all". Then you can display the different contents that are relevant for you.
New World Map Filter
The resource map allows you to find not only materials, but also bosses, treasures and other things. That's why the filter in the margin is so important.
At the filter you will also find the function "My preferences". There you can save the filter settings so that you can immediately see what you want to see.
Find resources easier and craft faster
How does finding resources work? All materials in New World appear in specific locations that are exactly the same on every server. For example, if you're looking for iron ore in your area, you don't have to spend minutes wandering around the open world, but can use the interactive map to help you.
The map is most useful for rare resources like oil or saltpeter. Because these are only available in a few places. But it can also be used for really important resources like fibers or iron.
The map allows you to collect crafting materials faster, so you can craft items and improve your skills faster. How crafting works exactly, you will learn in this guide:
Learn more about the lore of New World
What does the map have to do with the lore? New World tells its story only partially through quests and dungeons. However, if you want the whole picture, you'll have to find diary entries and other written notes scattered throughout the world.
The interactive map allows you to find these lore texts, letting you piece together the entire story the game world. While the map does lose some of the explorer spirit, those who already have several entries from a journal together may want to finally complete it and can seek help here.
New World Map Lore
With the help of the map you can find all the important lore notes that are in the game world.
I can find hidden treasures and bosses, but it also takes away from gameplay.
The map can do a lot, but is it good? As mentioned at the beginning, the map offers many different possibilities, but in my eyes also risks.
In the beta, for example, I used it to find boss challenges at my level and see how hard they really were. I also "found" treasures and certain NPCs via the map.
However, there are drawbacks to this, as exploring and discovering the open world is lost this way.
For the beta, it was important to me to test as much new and challenging content as possible, because I already tested the "standard stuff" in the closed beta. In the live version, I'm sure I'll go back to the map a time or two, but I don't want to take away too many challenges.
That's why I recommend a healthy balance when dealing with this map. However, if you want to get into the endgame quickly, you'll find a good ally in the resource map.
More about New World Map:
Are there any alternatives? Yes, we also offers a not interactive map. There you will also find important features like bosses, materials and fast travel points.
Territories – Zones in New World
Low Level Zones
Starting areas, player-controlled territories with Settlement and Fort.
Everfall (lvl 1-25)
Monarch's Bluffs (lvl 1-25)
First Light (lvl 1-25)
Windsward (lvl 1-25)
Mid Level Zones
Player-controlled territories with Settlement and Fort.
Brightwood (lvl 27-35)
Cutlass Keys (lvl 28-40)
Weaver's Fen (lvl 30-40)
High Level Zones
Player-controlled territories with Settlement and Fort.
Restless Shore (lvl 42-46)
Mourningdale (lvl 45-50)
Ebonscale Reach (lvl 51-60)
Reekwater (lvl 58-60+)
Endgame Neutral Zones
Neutral territories with Outposts.
Great Cleave (lvl 41-60)
Edengrove (lvl 50-60)
Shattered Mountain (lvl 60+)
Future Unreleased Zone
Brimstone Sands (lvl 60+)
AETERNUM World Map
Brightwood Map
Cutlass Keys New World Map
Ebonscale Reach Map
Edengrove Map
Everfall New World Map
First Light New World Map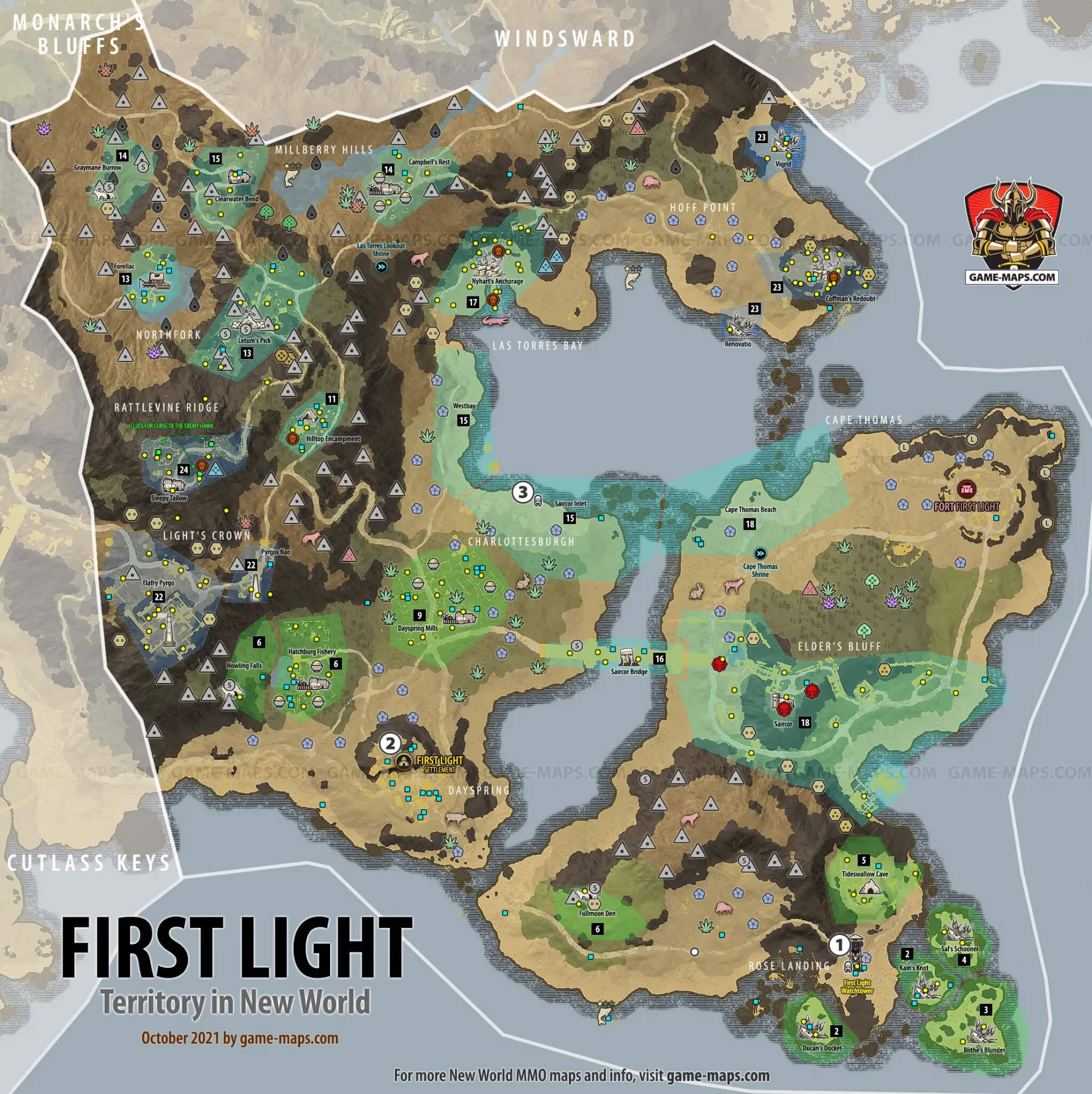 Great Cleave New World Map
Monarchs Bluffs New World Map
Mourningdale New World Map
Reekwater New World Map
Restless Shore New World Map
Expeditions New World Map
Fast Travel Points In New World Map
Group Areas In New World Map
What do you think of such New World maps and will you use the interactive map? Or do you prefer to explore the world without outside help? Feel free to write it in the comments.
Your opinion? Discuss with us!
[Note:] 
As a New World fan, would you like to see your favorite game around you? You can choose to customize stickers on Customsticker, choose the pattern, size, and game quotes you want, and stick them on your cups, cars, and laptops. Not only will this decorate your items, but will also attract others and allow you to have more friends to play the game with!