Although it is for many people, going for a simple walk shouldn't be painful. You probably know already that the style of shoes never guarantees comfort. Some of them can look great and get you lots of compliments but can wreak havoc on your feet, especially when you're ready to take them off. Plantar fasciitis, or heel pain, is a common problem among women. Shoe comfort can change from woman to woman.
Sorting through the good and the bad gets old after a while. You want something sure to work, not a pain to break in, and most importantly, can get rid of your heel pain. The five shoes below will do just that. Plus, they're not the boring, dull, and tired shoes that lack style for substance. Check them out to find out which you think deserves a spot in your shoe cabinet.
What is Plantar Fasciitis and How Can it be Treated?
Plantar fasciitis is inflammation of the plantar fascia from overstretching, overuse or a medical condition.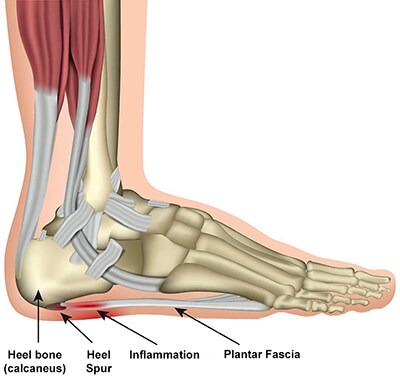 On the inside of the heel are tissues that connect the leg bones with the foot. When these become inflamed, it's known as plantar fasciitis. Many millions of people suffer from this problem and may require a doctor's visit to get rid of it entirely. But even with a visit to the hospital, medical workers will recommend comfortable shoes to wear.
For many people, this will be enough to keep the problem at bay. If the pain continues or gets worse over time, a more serious issue could be the cause of pain and should be evaluated as soon as possible.
Plantar Fasciitis Common Symptoms/Complaints
Plantar fasciitis typically causes a stabbing pain in the bottom of your foot near the heel. It's usually worse when you take your first steps in the morning or after you've been sitting for a long time. The most common symptoms of plantar fasciitis include:
Pain on the bottom of the foot near the heel;
Pain with the first few steps after awakening, or after a long period of rest, such as after a long ride. The pain must subsides after a few minutes of walking;
Pressing on sides of heel or arch of foot hurts;
The pain is often worse after (not during) intense activity or exercise;
Discomfort when stretching the foot.
Best Women's Shoes For Plantar Fasciitis Ratings of 2022
| Product | Size Range | Number of Colors | Type of Insoles | Customer Rating | Price |
| --- | --- | --- | --- | --- | --- |
| Orthofeet Shoes for Plantar Fasciitis | 5-12 Wide and Narrow | 5 | Removable Premium Orthotic Insoles | 4.8 out of 5 | See on Amazon |
| ASICS GEL-Nimbus 22 | 2-12 Wide and Narrow | 24 | Removable Insoles | 4.70 out of 5 | See on Amazon |
| New Balance 608 V5 | 5-12 Wide and Narrow | 6 | Removable Insoles | 4.55 out of 5 | See on Amazon |
| Brooks Adrenaline GTS 21 | 5-13 Wide and Narrow | 27 | Removable Insoles | 4.25 out of 5 | See on Amazon |
| Vionic Beach Malibu Casual | 5-12 Wide and Narrow | 20 | Removable Insoles | 4.4 out of 5 | See on Amazon |
Here's a further detailed look at some of the Best Shoes for Plantar Fasciitis.
1. Orthofeet — Proven Shoes for Plantar Fasciitis (Editor Choice)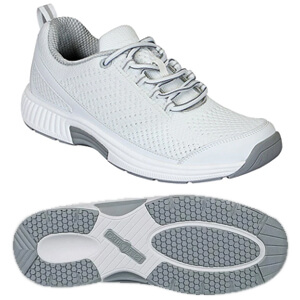 What do you want a shoe to do for you? From the product description to the physical makeup of the shoe, Orthofeet is clear in its messaging. They want your feet and heels to feel better, not by saying it but through the comfort each shoe can provide to you. Orthofeet prescribed by podiatrists since 1985.
They resemble ordinary running shoes, a style that's lightweight and easy to put on when you're trying to rush out the door. By the time you make it back, your feet are going to feel the same way they did before you left. A shoe that's capable of doing this must be built with some impressive features, right? Let's check them out.
Get Ready to End Heel Pain
The first thing that you're going to notice about the Orthofeet, besides its catchy name, is the large outer soles. They're built this way on purpose, providing the wearer with amazing support when jogging, running, walking, or standing in one place for a while. But heel pain isn't always caused by the front of the shoe. The comfort of the toes plays an equally important part in whether you're going to experience pain.
You're in luck with the Orthofeet. It has good toe room, particularly around the bunions. This part is where many other shoes which say they're built for heels get wrong. Nowhere on your feet will hurt with these, and the room is great but not pronounced to the point of feeling like you bought the wrong size.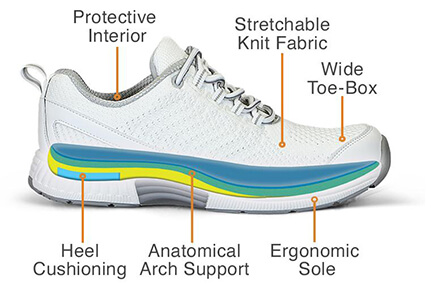 Breathability holds up to the image of the shoes. They're made of a mesh-like material, and we'll never make your feet sweat. Even on a hot day, you're going to feel like you never stepped out of the house. As a result, you'll keep the odor and bacterial level down on the inside, letting you go longer before the shoes must be washed. It also contains very dense cushioning around the premium orthotic insoles, which can be taken out whenever you're ready.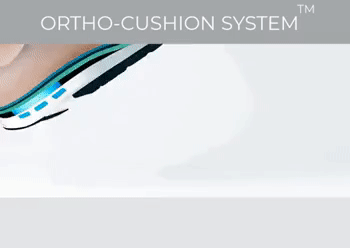 With all of these strong points, is there anything the Orthofeet could do better? It would be hard to find, but the insole can get a little small around the toes. This is one reason why there's good space on the inside. After you've had them for some time, they may wear down in this area, faster when walking over brought surfaces like gravel. But truthfully, the Orthofeet hits the right marks where it counts, which is why they sit at the top of the list as best for easing heel pain.
Pros:
Has plenty of room for all toes, even if wearing thick socks;
Breathes well and can be won for a long time without sweating;
Strong cushioning by the heel area, doesn't subside after wearing for a while.
Cons:
The sole becomes thin around the upper feet to the point where a jagged surface could damage it.
2. ASICS Women's GEL Nimbus 22 — Best Shoe for Added Arch Support (People's Choice)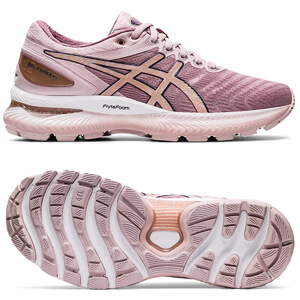 The Asics GEL-Nimbus is a running shoe that's classy but keeps the feet relaxed when moving fast. You could run in them all day and your toes, heels, and ankles would hold up well. The first time that you put them on is like stepping on a brand new carpet or rug. The insole is made of memory foam and acts as a sort of pillow for your feet. Although running shoes, the material on the outside is made well and will travel over brought surfaces better than most thinner running shoes.
Not to say that they're not thin, but the outer soles are very sturdy and dense, helping to keep the feet protected and increase the life expectancy of the shoes. It's a given that you're going to have them around for a while, even if they're worn every single day from the time that you first put them on.
Padding in the Right Places
Have you thought about how the arches can add to the hurt you feel around the heels? Arch support is very much needed by many, even people that don't have heel pain. But when a person with a high arch attempts to slip on a shoe without one, hurting all over the heel may develop, including around the heels. To stop this, GEL-Nimbus has added a slight incline right around where your arch would rest. It doesn't sit higher than the heels, however. That part of the shoe remains the thickest.
The insoles are great and don't sink into the shoe at any age. Shoe shoppers with heel pain may sometimes prefer them ready to wear out of the box, without needing extra layers of protection like a different brand of insoles. For those people, this product is the way to go. It can correct the walk-in people that have overpronation in their walk. Though it's not a cure for it, moving around will straighten out your heels, keeping them from bending awkwardly and reducing pain later in the day.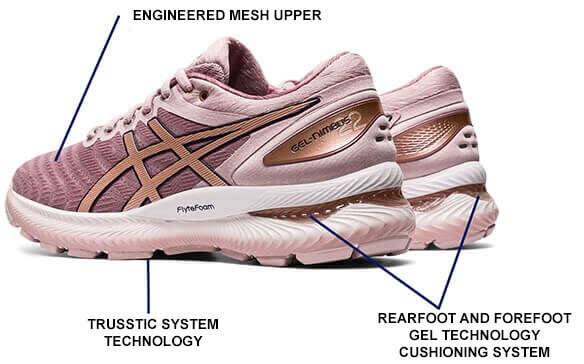 What more can one ask for when there's accurate sizing? Even the most expensive shoes can have bad sizing charts. The GEL-Nimbus ensures that what you pick will measure precisely the size of your feet. Sizes are plenty, with alternatives for people with wide and narrow foot width and flat feet.
As you walk in the GEL-Nimbus, the rubber around the heel edge may quickly wear down. Try to avoid shuffling your feet when you're outside and be careful not to puncture the outer soles when cleaning. You'll find that the shoes will last long after their date of purchase.
Pros:
Emphasizes support not only in the heels, but the arch;
Improvement over previous shoe models made by the same company, especially in tightness;
Can correct people with overpronation in the arches;
Accurate sizing.
Cons:
The rubber may wear down quickly for people that underpronate with jogging.
3. New Balance Women's 608 V5 Casual Comfort Cross Trainer — Best Shoe for Running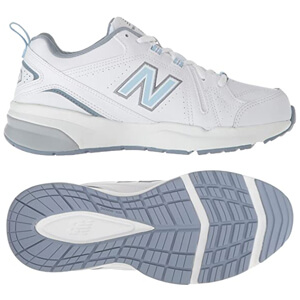 The next time you go for a job, check out the shoes that people are wearing. There's a good chance that you're going to see New Balances on more than one person's foot. New Balance has consistently put out great running and walking shoes that people love. And now, they've shown that the style can conform to the needs of people with plantar fasciitis. These are the 608 V5s, a pair of shoes that look like a hybrid sneaker and sports footwear.
Taking them Where you Want
Shoe break-in periods can change based on the shape of your foot. If the foot is large and has a wide width, the break-in period might be short. People that buy their shoes in the incorrect size oftentimes have the most problems with break-ins, at least in the time it takes for shoes to mold to the shape of their foot.
Buying them too tightly can also cause pain, increasing what was only felt in the heel to everywhere else around the feet. The New Balance 608 V5s don't have these issues and can be shaped in as little as a day. That's fast for a shoe, where some can take longer than a week before being fully ready to wear.
Unfortunately, before you do that, the feeling is very uncomfortable on the first day. It gets better, so hang in there and the rest of your experience with this New Balance shoe should keep you out and about longer than lower quality shoes.
Are they the right product to buy? Try out the V5s when a short break-in time and strong laces are what you're looking for. You can slip them on and off fast, never when they're tied up.
Pros:
Breaks in after a short walk or run;
Takes away pain in people that stand up for long periods;
The soles aren't woven into the shoe and are easy to remove if preferred;
The laces don't need to be manipulated to get the fee inside or out.
Cons:
Very stiff until broken in
4. Brooks Women's Adrenaline GTS 21 — Best Shoe for Wide Feet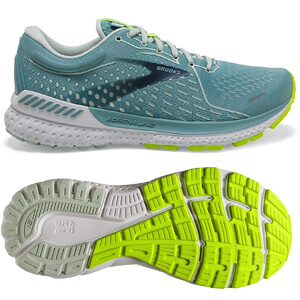 The Brooks Women's Adrenaline GTS 21 showcases heel support that's recommended for anyone with wide feet and heel pain that travels up to the knees. Plantar fasciitis doesn't end where the feet begin. Many have reported pain up to the shoulders, though beginning at the lower portion of their body. There are several physical characteristics to the GTS's design meant to combat these unwanted symptoms.
The first is the thin tongue in front of the shoe. Though you might not think it, this tongue helps provide extra room for the feet, making shoes easy to put on and allowing you to fine-tune the tightness you want out of them. With more maneuverability in the front comes added versatility around the heel. Even with its thin tongue, the material that the shoe is made from holds it together, never showing exposed threads after washing for the first time. Wide feet or not, you're going to feel relaxed in them.
Shoe Material
It would be a lot better if the shoelaces were as nice as the outer material. They're low in quality and may break after walking or running for a couple of months. Consider getting different laces if you plan on buying these. Washing them only seems to make things worse. The toe box is also pretty small. If you have small toes, you may not feel it but anyone with a size 10 or higher might get a bit of discomfort for at least a week after they're first worn.
Pros:
Has a thin but durable tongue that never gets in the way when walking or running;
Takes pain out of the heels and knees;
Built for wide feet.
Cons:
Shoelaces loose threads quickly, particularly after washing;
The toe box is a bit small and may feel uncomfortable if acquired in the accurate size.
5. Vionic Beach Malibu Casual Women's Slip On Sneakers — Best for Casual Wear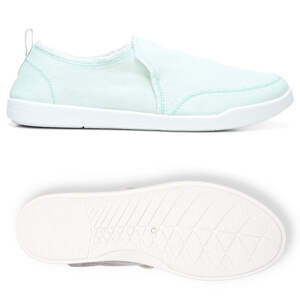 Last but not least, the Vionic Malibu Slip On are perfect for lounging, walking around the park, or wearing in the office. They contain no shoelaces. The shape is about the same as a moccasin, but more relaxing. It has a fluffiness to it that presents the feeling of a house shoe, but just enough strength around the exterior to make them perform for casual situations where you're not doing anything strenuous.
The Perfect Go-To Shoe
You can get them on in a jiffy, though you must pay attention to sizes because of that. Even while the sizing is precise, there's no room for error at all. The Vionics grip the ground well and are walkable on waxed and slippery surface areas that are damp or dry. They're the most skid-resistant casual shoes that you're likely to find anywhere. There might be a tightness in the fit when getting them in the accurate size, which won't go away until a couple of days have gone by. But through and through, the Vionic Beach Malibu is a great lounge and informal shoe for long drives, beachwear, or relaxing in your home.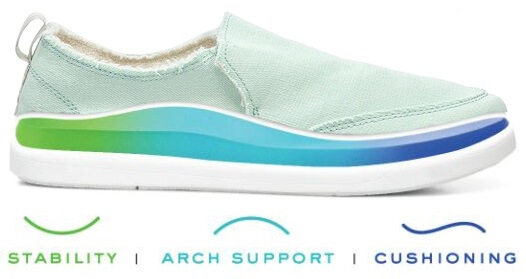 Comfy Kicks in Materials That Make a Difference
Sustainable Outsole – 80% rubber/ 20% soybean-based compound.
Machine Washable – To keep them looking great for a good long time.
Eco-Conscious – Canvas fabric made with natural materials.
Vegan Certifies – No animals were harmed in the making of these shoes.
Pros:
No shoelaces results in less time required to get them on in a hurry;
Good sole traction when walking on waxed or slippery surfaces;
Plenty of color options.
Cons:
Long break in period for people with wide feet.
Frequently Asked Questions (FAQs)
Can The Right Shoe Fix Overpronation And Underpronation?
People with overpronation should look for shoes that provide extra stability around the arch and ankle. Underpronation is best corrected with added support around the heels. Both can be found in the right shoe, one that he's the wearer position the movement of their feet in as straight a parallel line as possible.
What Attributes Should Be Of Focus When Looking For Shoes To Reduce Heel Pain?
You'll want to find shoes with entirely removable insoles. The insoles placed in shoes with padded heels are great, but won't last forever. But this is easy to correct when you're able to add a new insole, which may stop you from buying new shoes at a frequent pace.
How To Ensure That The Correct Size is Purchased?
Every shoe has the potential to be bought in the wrong size. But most of the time, there's nothing to worry about. Use the sizing chart and take heed of what other people have said about the sizing in reviews. Use such info to gauge the right size. You might find yourself going up or under your normal size to get a comfortable fit.
Is The Break-in Period That Important?
Absolutely. Some shoes take longer to do this, but those reinforced with more heel protection could take a bit longer than the average walking or running shoe.
Final Thoughts
Are you ready to make your heels more comfortable again? You deserve a shoe that fits as if it were tailored to your feet. Plantar fasciitis is a pain that you shouldn't learn to live with. There are shoes capable of ending it, no matter where you wear them.