Promoting a business profile on Instagram is getting more and more difficult in 2022. The main reason is growing competition. It is harder to achieve an increase in coverage and conversion today, especially compared to how it was several years earlier. However, there are many free and paid methods of effective promotion. In the article Viplikes specialists have collected tips on how to promote your Instagram without hiring an SMM professional. Let's review them in detail: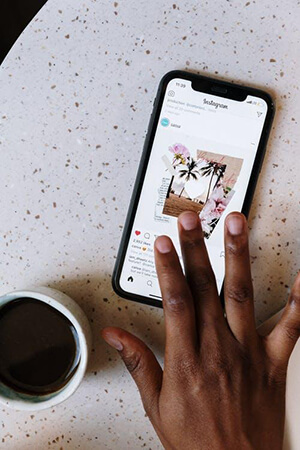 Firstly you need to switch to a business profile. This is the first step, without which further actions do not make much sense. If you want to attract potential customers, you need to switch your regular account to a business profile. You will see features that are not available in regular user accounts: setting up feedback buttons: mail, phone number, directions; indication of the brand's field of activity; statistics of views, bookmarks, subscriber actions; launching and tracking the effectiveness of advertising. The transition to the business profile is available in the settings, in the "Account" section.
Then you need to take care of your page's organization. The profile name may differ from the login. It can be changed when editing the account. The name is displayed next to the profile photo. We will give just a few recommendations: for a personal professional account, it is better to specify a first and last name or a pseudonym. For a brand or company account — the official name without abbreviations; you can specify a professional direction in the name and link it to the region, for example, "New-York Dog Grooming". This way potential customers will be able to find your account in the keyword search in Insta.
It is equally important to complement the profile with a high-quality main image. For a personal account — a portrait on a neutral background, for a brand — a logo or other official symbol. Make sure to also upload from 9 to 12 publications into your profile and add stories, which later you will be able to organize into highlights. Highlights should include all the most important information about you or your business, so that people who visit your page always have a clear understanding about who you are and what you are doing on this platform.
After Those Two Steps You Can Proceed to Use Promotional Tools. What are those?
Add hashtags to your posts. Hashtags on Instagram help find posts in search; publish posts in the feeds of users subscribed to these hashtags; create thematic collections. There are several types of hashtags: unique, branded, as well as high-, medium- and low-frequency. To promote your Instagram profile, it is better to use the first three types of hashtags. This will make it easier to find posts for potential and current subscribers. Add no more than 10 hashtags to each post. The maximum allowed number is 30, but it is better not to abuse it so as not to clutter up the main text. Hashtags can be placed in the text of the publication, if it corresponds to the meaning, at the end of the post or in the comments to it.
Use geotags. This will increase the audience reach of each publication. Posts with geometrics are included in collections of publications from the same location. When your post is actively liked, commented on, or saved, it increases its chances of getting into recommended publications in such collections. If your business has a physical address, add it to your profile and mark it in each publication.
Create your own masks. Masks on Instagram are a funny trend that sets the brand apart from others and increases its recognition. One condition: masks must be unique and such that they would be really wanted to be used. The difficulty depends on the goal and capabilities: from a beautiful filter to a detailed volumetric effect. To create a mask yourself, you can use the Spark AR Studio service. There are a lot of step-by-step instructions on the site, so even a beginner can figure out the settings. If you're doubting your abilities, you can always hire a specialist who will gladly help you with creating your own mask.
Do mutual PR. This one is suitable for those accounts who have already found their audience, even the smallest one will do. Find bloggers who work in your niche and have a number of subscribers more or less equal to yours. Invite the profile authors to tell about you in their account, and you will tell about them in return. Stories are the most suitable tool for such advertising. Individual posts in the feed will be too promotional, but the format of short videos or photos with comments may be interesting. A personal meeting and an interview will add naturalness. In some cases, mutual PR can be successfully applied in posts. This should not be a one-time campaign: it is better to repeat it weekly, finding one or two interesting bloggers. You don't need to be shy about writing them with such an offer – many authors are very interested in cooperation, and this is how they make money online.
Our specialists from Soclikes also remind, that you can comment on posts in other profiles – the ones that have a huge and active audience. This is an effective way to promote Instagram for free. All you need is to track the top accounts and leave comments under posts with a large number of views. Ideally, your comments should correspond to the subject of your account. Comments that collect a lot of likes or responses are displayed on top.
Offer your audience giveaways, contests and presents. This one will work, if you already have active subscribers. It is important to remember that – a gift is a service or product from your brand. In the description of the contest, tell your audience about your company and about the product. During the competition period, publish only high-quality content, and avoid "passing" insignificant posts. Offer simple conditions for participation: in particular, do not require a repost, as this weeds out part of the audience. If all of that is going to be done, such a contest or giveaway will bring you many new subscribers and lots of activity under posts.
Instagram promotion is a set of actions that need to be performed almost non-stop in order to stay afloat and constantly attract new audiences. We recommend combining free and paid methods: each of them brings its own results, which in total will give you the necessary coverage results. And don't forget about the main way to promote Instagram — creating interesting content. You should also take care of your visuals and get a nice camera, thankfully today there are lots of budget smartphones that can provide you with good quality pictures. This is the key rule of promotion, free or paid. It is impossible to promote something that is not interesting to the audience. Even if you decide to spend an impressive sum on advertising, boring posts will not attract subscribers. Therefore, think in advance about what and how you will publish.