When it comes to professional power tools, Hilti is one of the leading power tool manufacturers. While they offer a large line of quality tools, it's what is behind the tools that make them stand out. Hilti has a large support network to help you find solutions. If you need the best way to complete a job, they have the accessories, fasteners, and everything else you need. If you are having problems with a tool or need to buy a tool that day, they have a large network of people to visit the jobsite and/or a vast range of service centers available.
So you may be wondering why I am telling you all this before we jump into the Hilti SD 5000-A22 Cordless Drywall Screwdriver? I am telling you this so you know what kind of company Hilti is. If they have this much backing and resources for the jobsite, then you know what is behind the scenes is even more. So when they design and release a tool, they make sure it's tested and will perform on any jobsite. Plus they have a reputation to uphold.
Hilti Cordless Drywall Screwdriver Overview
Hanging drywall is a challenge and anything you can do to make the task easier, is always better. That is what the Hilti SD 5000-A22 does. Not having to drag around a cord and having a fast and reliable tool is key to production. Especially because you are required to hang so many sheets an hour, well at least for some jobs. So when it comes to professional tools, the Hilti Cordless drywall screwdriver is a great option on the market in 2021. Now let's take a look at some of the features.
Features & Applications
Features
Brushless motor – virtually maintenance-free to minimize tool downtime;
Upgraded ergonomics – 300 grams lighter than the first-generation SD 5000-A22, with a well-balanced design which sits firmly in the user's grip;
Built for precise control – redesigned switch and electronic brake help you to balance faster progress and consistent results;
Bright LED provides direct illumination of the work surface.
Applications
Fastening drywall boards to metal or wood framing on walls and ceilings;
Fastening wood boards to metal or wood framing on walls and ceilings;
Fastening special boards (e.g. Fermacell, Habito, Knauf Diamond) to metal or wood framing on walls and ceilings;
Fastening metal studs to metal tracks;
Fastening exterior sheathing boards to metal or wood framing on walls and ceilings.
Hilti Cordless Drywall Screwdriver Features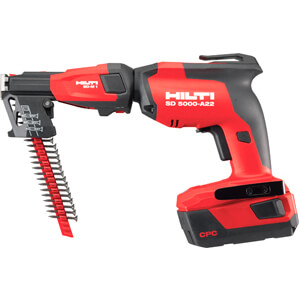 The SD 5000-A22 is a cordless screwdriver for drywall, wood boards, and exterior sheathing. The screwdriver produces 5000 rpm and 7 ft-lbs of torque. The screw gun is powered by a Hilti 22V battery. You can use any size Hilti 22A battery but for me, I found the best balance and performance was the 2.6Ah. Before using it, be sure to teach the operating instruction.
The nose guard features a metal tip for durability. With a simple turn, you can easily adjust the drive depth. On the top and side of the tool, there is a belt clip so as you are hanging drywall, it's easy to access the tool. On the base of the tool, there is an LED light to help lighten darker areas when working.
The trigger is variable and easy to control with a single or two fingers. To lock the tool in the "on" position, just depress the button on the side to keep the tool running. Just above the trigger, you can easily access the direction, forward or reverse.
Video Overview of the Hilti SD 5000-A22
Hilti SD 5000-A22 Cordless Drywall Screwdriver Value
The screwdriver kit runs $350 on Amazon with the screwdriver, two batteries, and a charger. I know Hilti can be a little more than other tools, but for what you get, it's well worth the cost. You know they make some of the best tools on the market, and if for some reason there is a defect, they are easy to replace or get fixed.
So for me, the price is fair. Once I buy the tool, I really don't have any worries and if I do, they can easily be fixed.
Hilti Cordless Drywall Screwdriver Final Thoughts
The bottom line, this screwdriver is smooth, fast, and easy to work with. I have used other drywall screwdrivers and while most are nice, I feel the Hilti SD 5000-A22 is the smoothest and easiest to work with. Yes, there is a learning curve with these tools because you want to achieve speed and accuracy. With the Hilti, it's easier than the others we have tried over the year.