Samsung was one of the first companies to join the production of truly wireless headphones with Gear IconX in 2016. The term "truly wireless" is used to describe new Bluetooth headphones where no wires are used to connect, as in Apple's AirPods. Recently released an updated version of Samsung Gear IconX 2018.
This year, Samsung is back with a new version of Gear IconX 2018, making a few nice changes to its popular product. Therefore, we have prepared gear iconx review for you.
Benefits of Samsung Gear IconX 2018
Great battery life on single charge;
Universal control buttons;
Excellent battery life from a single charge.
Disadvantages of Gear IconX 2018
The case has only one charge;
Uncomfortable for prolonged use.
Samsung Gear IconX 2018 has a discreet look, but not fashionable
The design of Samsung Gear IconX 2018 is very similar to the style of last year's model. There is no elongated shape, as in Apple's AirPods, they are more round. Three different colors are available: black, gray and pink. At this time, the colors do not have enough contrasting shades, as in previous versions, depending on the taste, someone will like it, someone does not.
If you have not used wireless headphones before, you should think about how you will look with this model. In the case of the Gear IconX 2018, I'd say they look a bit weird and won't quite decorate me with their look.
Size and comfort
Samsung Gear IconX 2018 come with silicone earbuds in three sizes – S/M/L, this is enough to choose the right one. Inserted into the ear tightly, which will not slip out during training.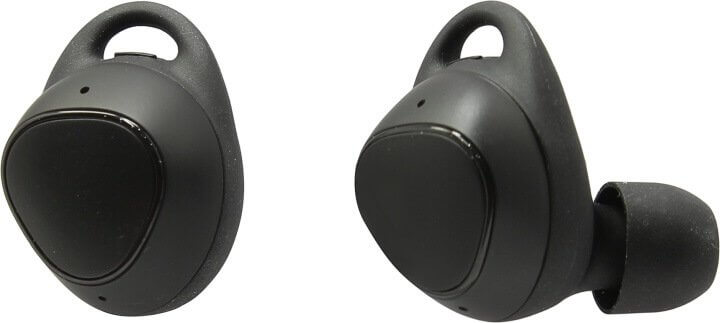 On the other hand, they are not as comfortable as Apple AirPods. The updated Gear IconX 2018 is great for an hour-long workout, with longer use, you can feel the pain and inconvenience. Built-in, universal remote control is in each earphone, it gives more options for advanced settings. Each control button is configured so that if you accidentally touch the earphone, the other track will not turn on, the sound will not turn off and there are no unwanted actions.
Problems with charging case
As usual, the Samsung Gear IconX 2018 wireless headphones come in a carrying case that also serves as a charging case. But first, the case is the same color as the headphones, and frankly, it's not the best performance I've seen. Secondly, it is relatively large, larger than AirPods.
The mechanism of opening the case IconX 2018 does not always work as it should — sometimes the spring does not fully open the lid, which means that it will have to Tinker. This may sound like a quibble, but we must remember that we are dealing with a product for ~200$.
In addition to the bulkier size and imperfect opening mechanism, a single charge of the case is only enough to fully charge the headphones themselves. By comparison, the more compact AirPods housing contains almost four additional full charges.
Battery life improved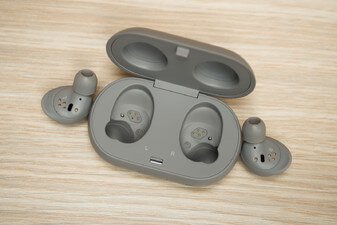 The headphones Samsung Gear IconX 2018, significantly improved battery life, compared to last year's model. When listening to music via Bluetooth, the new IconX will run for about 5 hours on a single charge, which is equivalent to the AirPods running time. Last year's model worked only an hour and a half.
One of the great features of Gear IconX 2018 is the presence of a built-in memory capacity of almost 4 GB, which allows you to store music directly in these tiny gadgets. It's great when you do sports or run long distances, you don't need to carry your phone.
In this mode, IconX 2018 can run for up to 7 hours without stopping. A small battery reserve that can be stored in the charger is still a serious inconvenience. This means you need to think regularly about battery life.
The charger provides fast charging, while Samsung promises up to an hour of listening to music, after 10 minutes of charging. While it's not the best result, compared to AirPods that offer 3 hours of listening after 15 minutes, it's a delight.
Sound quality is good for athletes, bad for connoisseurs
The tight fit of the Samsung Gear IconX 2018 provides good depth and clarity when it comes to sound quality. Headphones sound good in General on a par with the AirPods from Apple. In IconX 2018 there is a hard minimum and a more pronounced maximum of frequencies, there is also a little noise that can be heard by listening carefully.
Overall, between the discomfort in the ear and the excessive "coloring" of the sound, these Bluetooth headphones are not for truly appreciating music. They are more suitable as a sports accessory.
Samsung Gear IconX 2018 sports coach
Compared to last year's IconX, the 2018 model lacks a heart rate sensor, but there is a new voice coach. It encourages you to exercise and tries to motivate with messages like"go after your goal, believe in yourself."
Voice messages mostly sound like primitive and naive, but it's always good to train in a company, even if it's a repetitive, annoying coach. Anyway, IconX 2018 will keep track of your basic data during workouts like time, distance, calories burned, and of course this information syncs with the Samsung Health app on your smartphone.
Final opinion
Samsung Gear IconX 2018 is a good choice for wireless headphones. They provide reasonable sound quality, and 5-hour battery life ensures you won't be left without an inspiring soundtrack during workouts.
However, the design and tight fit of IconX 2018 create discomfort in a short time of operation. This, along with not the best charging case and a relatively high price of ~100$, makes Icon a product that I would not recommend from the heart.