Most dash cameras come with a parking mode option, even the lower end ones, however, the parking mode feature differs greatly from camera to camera.
Some dash cameras offer a parking mode option without using a hardwire kit and instead use an external battery pack, while others depend on your cars 12 volt battery for power while in parking mode.
Here is our list of the Top 5 Dash Cams with the Best Parking Mode:
#1 BLACKVUE DR900S-2CH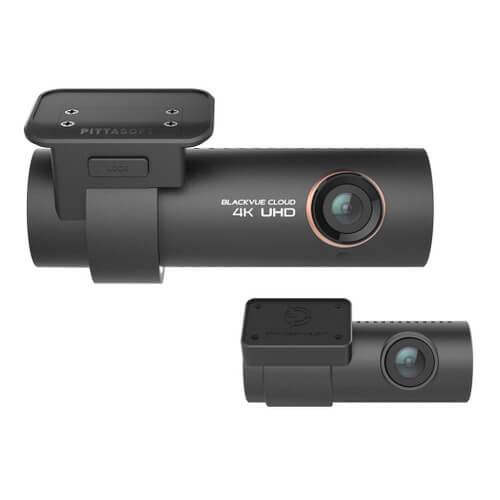 This dual dash cam package from Blackvue features a full 4K video on the front camera. She recording 3840 × 2160 @ 30FPS through a 162 degree wide angle lens on its 8MP CMOS image sensor. The rear camera shoots HD video 1920×1080 @ 30FPS through a 139 degree lens angle with its 2MP STARVIS image sensor.
BlackVue DR900S-2CH has been a leader for a number of years now in high end dash cams that are known for their parking mode features. Often times those with expensive cars that can afford just about any car surveillance system on the market will tend to go towards the Blackvue line of car cameras. This is usually due to their parking mode type accessories that they also sell.
Blackvue offers a remote cloud storage system that integrates into the DR900S. This uses your mobile or car embedded internet to send and receive data from the dash cam unit. With the Cloud Dashcam service you are able to see where your car is 24/7, remotely upload videos to the cloud for safe keeping. Also receive push notification on your phone when a major event is detected, such as a car breakin when parked.
If you don't use their cloud service, you can still use the DR900S built-in WiFi to connect your smart phone directly to the dash cam. It's letting you view and download videos and change camera settings.
Parking Mode Features
Motion Detection
Impact Detection
Tech Specs
Real 4K Video on Front Cam, 2K on Rear Cam
Image Sensor: Front: 8MP CMOS image sensor Rear: 2MP STARVIS sensor
Lens Angle: Front: 162° Rear: 139°
MicroSD card, up to 256GB
#2 VANTRUE N2 PRO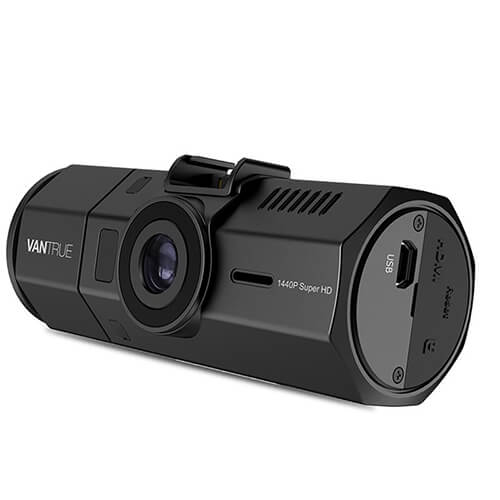 The N2 Pro is marketed towards taxi and Uber drivers because of its interior facing camera that can record passengers. This front and rear dash cam can also be good for parking mode, to provide inside and out surveillance on your car.
When the N2 Pro is in parking mode, it will be in standby and appear to be off. But if it detects motion, both in front of your car and inside if a thief gets in it will automatically start recording. The interior camera records full HD video at 1920X1080P using a Sony IMX323 image sensor and uses 4 IR LED lights to capture nighttime footage within your ccar. The parking mode will also turn the front and interior camera on if there is an impact, like in a hit and run accident.
Unlike some of the other dash cams that have good parking mode features, the Vantrue N2 Pro does not offer any cloud or remote video storage options. This means that all your video footage is on the dash cams microSD card, which could be a problem if your entire dash cam was stolen, your video footage would go with it. If the N2 Pro did have remote video storage, this dash cam would be higher on our list because of its great interior camera.
Parking Mode Features
Motion Detection
Impact Detection
Interior Cam with Night Vision
Tech Specs
Video: Front: 1920 x 1080P Rear: 1920 x 1080P
Sensor: Front: OV4689 Rear: Sony IMX323
Lens Angle: Front: 170° Rear: 140°
MicroSD Card, up to 256GB
#3 THINKWARE U1000 4K DASH CAM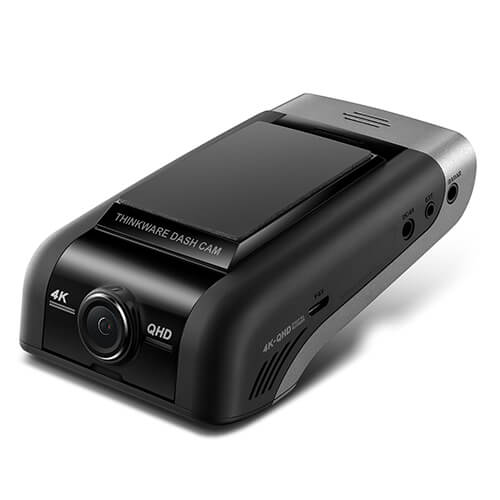 The U1000 from THINKWARE is one of the few real 4K dash cams currently sold. It is a dual dash cam, with the front cam recording 4K 3840 x 2160p @ 30fps with its Sony Exmor R STARVIS 8MP image sensor and the rear camera recording 2K 2560 x 1440p video. The "rear" camera with the U1000 is for the back window of your car, to capture the road behind you, not an interior facing camera like some of the other camera posted here.
THINKWARE offers a cloud service that can monitor your cars current location, send you push notifications to your phone via their APP if there is a crash or major event detected. THINKWARE does not offer a direct connection to this service (like 4G LTE), you need to have your own mobile hot spot or internet connection synced to the U1000 for this to work.
Along with the regular parking mode features like motion and impact detection, THINKWARE offers a radar detection module at an extra fee which can detect incoming cars in parking mode. If an impact is detected from a hit and run it will save the first 10 seconds and the last 10 seconds of the crash on to the cameras microSD card.
Parking Mode Features
Motion Detection
Impact Detection
RADAR Sensor (optional addon)
Tech Specs
Real 4K Video on Front Cam, 2K on Rear Cam
Image Sensor: Front: 8.42MP Sony STARVIS Rear: 5.14MP Sony STARVIS
Lens Angle: Front: 150° Rear: 156°
MicroSD card, up to 128GB
#4 OWLCAM DASH CAM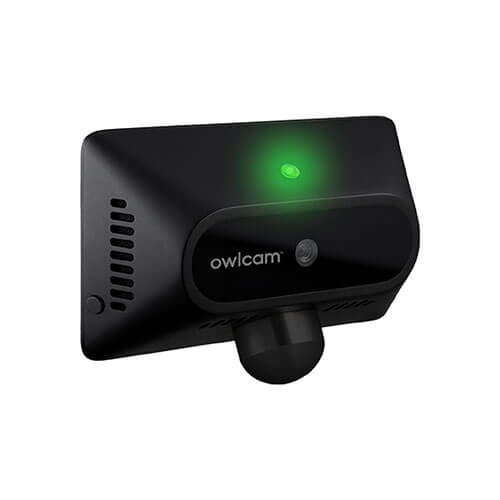 The Owlcam is different from a traditional car dash cam because it was designed to always be connected to a 4G LTE connection to store video files remotely or notify the car owner if there is an event on their smart phone via the Owlcam APP. The Owlcam comes with 1 year of 4G LTE service and costs $100 a year thereafter, with certain restrictions on how often you can remotely access the camera or view videos. The 4G LTE subscription plan lets you remotely check up to 60 minutes of video from your cam per month. You are still able to access all the video for free directly while in your car.
The dash cam connects to your cars OBD port (1996 or newer vehicle). It features 2 cameras, a front facing HD 1440p camera and a 720p interior camera.
Owlcam is far more visible than most dash cams that brand themselves as "stealth" and mount up behind your rear view mirror. The Owl Cam mounts on your dashboard, taking the literal meaning of "dash cam" from dashboard. It looks more like a GPS navigation system than a camera security system. Because the camera unit is mounted out in the open, it makes it more vulnerable to theft, although Owlcam does offer "100% Theft Replacement".
Parking Mode Features
Motion Detection
Impact Detection
Interior Camera turns light on to capture a break in
Tech Specs
1440p Front Camera, 720p Rear Camera
4MP Image Sensor
2.4″ LCD Touch Display
Powered by OBD Connector
Uses 4G LTE connection that requires paid subscription after a year
#5 THINKWARE Q800PRO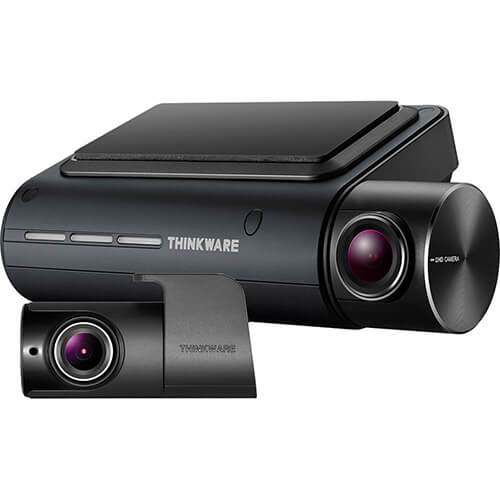 The Q800PRO from THINKWARE is a dual channel dash cam package with a front 2K full HD camera and a rear 1080p HD camera that share the same memory card. Both cameras use a Sony STARVIS image sensor, which capture quality night time video footage.
THINKWARE has released a variety of parking surveillance mode related dash cams that are compatible with their parking mode accessories and the THINKWARE Cloud service.
Their cloud service allows you to view where your cars location is at anytime, get a notification on your smartphone when the car is involved in an accident or parking mode detects motion. You can also setup a "GEO Fence" that will send you an alert when the car enters or leaves a predetermined geo location. To use any of the cloud related features you need to have mobile or car internet in the car that can connect to the Q800PRO in order to send out these updates and notifications.
Using the parking mode time lapse setting, you can have the Q800PRO record at 2FPS, or 2 frames per second. Basically, the dash cam will take 2 photos per second, with no audio. This setting is always recording from the camera and saves on power consumption and battery usage.
Parking Mode Features
Motion Detection
Impact Detection
Time Lapse Recording Mode while Parked
Tech Specs
Video: Front: 2K QHD 2560 x 1440p Rear: HD 1920 x 1080p
Image Sensor: Front: 5MP Sony STARVIS Rear: 2MP Sony STARVIS
Lens Angle: Front: 140° Rear: 140°
MicroSD card, up to 128GB
Built-in WiFi and GPS
Things you should know before buying a dash cam to use in parking mode
The first key point about a dash cam is that it uses a small internal battery or a capacitor. This is not meant to power the dash cam to actively use like you would on a digital camera. The power coming from the internal battery or capacitor is only used to quickly save the last video file when you turn your camera off and the car power adapter is no longer supplying power to the dash camera. The dash cam battery is so small, it is not capable of powering the dash cam for an extended period of time when you have your car parked and turned off. Because of this, you will need either a hardwire kit, or an external battery pack to use your dash cams parking mode feature.
Hardwire kit
A dash cam hardwire kit is a power adapter that goes from your dash cam to your cars fuse box. The hardwire kit is plugged into a fuse slot that your car always supplies power to when it is turned off, like your headlights. This way, the dash cam is able to always get power and go from standby parking mode to recording video when a motion or bump is detected. It sounds complicated, but putting in a hardwire kit is as simple as pulling out a fuse and plugging in the hardwire fuse adapter into the slot, along with screwing a ground wire into an existing metal grounding screw that is often located near by.
External Dash Cam Battery
If you want a dash cam that has parking mode without a hardwire kit, you need to have an external battery pack. A dash cams internal battery is not meant to power it to film video, it is only meant to save the last video file when you turn your car off. Although most hardwire kits will monitor your car battery's voltage levels and make sure you don't drain your battery, some people don't like to put any kind of added stress or usuaeg on the cars battery, so they choose to use an external battery pack that is dedicated to the dash cam. These dash cam battery packs can be a bit pricey. Blackvue, a popular dash cam brand was one of the first companies to make an external battery for car cameras. They have a few different battery packs for sale
Cloud Connected or Self-Contained
After you have decided how you want to power your dash cam when using parking mode, you need to decide if you want to have all the video footage stored directly on the cameras memory card, or if you want to have it remotely connected to a cloud service. With a cloud or remote storage service, your dash cam can send video files over an internet or cellular phone connection to be stored outside of your car. If someone did break into your car and see that a dash cam was recording them inside, they could simply rip the dash cam off of the windshield and take the footage with them. This is why it is important to consider remote video storage that is triggered by an event.