Garmin has been a trusted brand for many years. The compact Garmin Dash Cam 57 is one of the latest releases as the company introduces a new generation of mainstream dash cams. This stealth camera has a discreet design that features parking mode, cloud storage, and a long warranty.
With this new dash cam model that includes Garmin Clarity HD, you will have a 140-degree view of the road ahead even with low lighting. Record, share and store images with Bluetooth® and Wi-Fi® capabilities for the best traveling experience.
Continue reading this Garmin Dash Cam 57 review and find out why this camera is top in its class.
Features and Design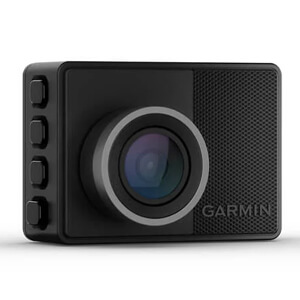 One of the best features of this new model is its diminutive size, measuring approximately 2 inches in width, 1.5 inches in height, and 1.35 inches in depth at the lens. Despite its small body, it still features a 2-inch color display and it feels comfortable as you press its buttons.
There are four buttons on the side of the camera that make it easy for you to operate. The micro SD card slot includes a 16GB preinstalled card that you can pop in and out from the top. Its body allows it to run cooler as the vents release heat, increasing the longevity of the machine.
On the side, you'll find the micro-USB power connector and on the bottom a magnetic mount. The Garmin Dash Cam 57's mount is a plate made from metal, about the size of a nickel, with semi-permanent tape sticks to the windshield.
Voice Control
Perfect while driving, this camera is able to process verbal commands through its voice control feature. You can give verbal instructions to the camera to enter Travelapse mode, start an audio recording, or save a photo or video. It is ideal for keeping drivers safe as they don't need to take their hands off the wheel or eyes off the road.
Drive Alerts
The camera also features various driver alerts such as a forward collision warning, speed camera notifications, and lane departure warnings. It also has an incident detection capability that automatically records and saves video of 15 seconds before and after impact. It footage is stamped with the date and location, which is ideal for documenting such events.
The parking guard feature begins to record footage if an incident is detected, even if the engine is off. This is a great element that gives you a sense of more security and safety. You will be aware of anything that happens to your vehicle while you are driving or when parked.
Travelapse Function
This fun feature allows you to create a reel of your travels using the fast-tracking tool that turns hours of footage into minutes. It is perfect for people who like to post their journey on social media or like to keep archives of their adventures.
1440p Camera
This small camera features 1440 pixels, providing fairly good resolution and a 140-degree field of view.
Its lithium-ion battery powers the camera for continuous recording for 20 minutes, and much longer while the vehicle is parked. When the engine is off and the G-sensor is disturbed, the camera automatically starts to record video.
Integrated GPS
A big advantage of using this camera is that it has integrated GPS capabilities that assist the driver with voice commands. This feature allows the camera to warn the driver when red light or speed cameras are detected so that you can be warned in advance.
Garmin DriveApp
Another feature that sets this dash cam apart is its ability to be controlled in three distinct ways via an app. The first way to connect to the camera is through the Vault. It is one of Garmin's online storage platforms.
Whenever the camera records an incident, it automatically uploads it to the Vault. You won't have to worry about retrieving the video from the memory card. The footage is easily accessible on the app anytime you connect to Wi-Fi.
The second way to connect to the camera is using Live View, which allows you to see what is happening in front of your camera at any time, from any location. All you need is to access your Drive app to watch the live feed.
Lastly, Parking Guard is the third way you can connect to the camera. You will be able to view activity around your vehicle while it is parked with the engine off. Alerts are sent to your phone to notify you of incidents while the camera automatically records and saves video footage.
Built-In Microphone and Monitor
The camera allows you to record audio, which can come in handy in case of needing to document an incident. In case you need to dismount the camera and use it manually to snap pictures in situations such as after accidents. It has the capability to capture 3.7-megapixel photos. You can view the pictures on the built-in two-inch monitor or connect the camera to your computer where the dash cam software allows you to keep your files accessible and organized.
Multiple Camera System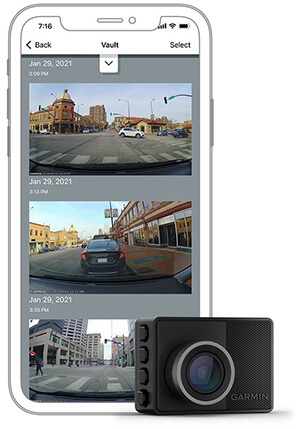 Using the Garmin Drive app, you are able to link multiple Garmin dash cameras. This feature allows you to mount multiple cameras on one vehicle to achieve more angles. You can also connect dash cameras from different vehicles to one viewing hub on your phone.
Garmin gives you the ability to create composite picture-in-picture videos captured from simultaneous recordings.
Saved videos are stored securely in the online Vault and can be accessed using the Garmin Drive™ app on your compatible smartphone. With an active Wi-Fi® connection, share video clips with others by sending a link and passcode.
Each video clip is saved in the online Vault for 24 hours from the time of upload. Garmin also offers extended storage plans via paid subscriptions.
Simple Setup of Garmin Dash Cam 57
It is very simple to set up your new Garmin Dash Cam 57. Its design is so small, that you'll be able to set it up on different spots of your dash without obstructing the view. The camera comes with a kit that includes adhesive metal dots for placement on the windshield.
The mounting arm and device are detachable so that you can reattach them at any time. Two charging cables come in the box and the camera starts to record footage when it detects power from the ignition.
Easy-to-Use Software
You will be able to easily connect to the Garmin Drive app from your device. From the app, you can control various features as well as manage your gallery. Easily access photo files and stored videos. Control up to four Garmin dash cams from one account.
More enhanced software features are available through a monthly subscription plan. Keep videos for up to 30 days and manage more footage. Included with the camera is the Live View feature that provides a live feed from any location.
Performance on the Road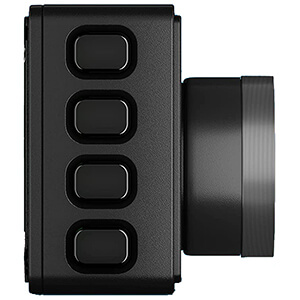 One issue that has improved with this new dash cam model is video stabilization that allows you to capture better quality footage. The camera records steadily even through tough terrain. Rough roads are not going to compromise the quality of your video.
Whether it is day or night, this compact dash cam performs as well as other top competitors. You will notice little to no headlight flare with rich color. With its 1440p ability, it is able to capture a lot of details of the footage without compromising the overall quality of the shot. Nighttime images are clear as daytime and do not require editing.
The GPS feature initializes rapidly for immediate use and the battery lasts as much as it is advertised on the product specifications. Overall, the performance is reliable and consistent.
What's in the box
Garmin Dash Cam 57 owner's manual
Dash camera with adjustable magnetic mount;
16GB microSD card (installed);
2 Adhesive metal windshield mounting disks (1 installed on magnetic mount);
Long power cable (13′-3″) with Type A USB on one end and right-angled Micro-B USB on other end;
Short power cable (5′) with Type A USB on one end and right-angled Micro-B USB on other end;
Dual USB power adapter (DC output: 5V 2.4A total);
Installation and Setup Guide;
Important Safety and Product Information.
Garmin Dash Cam 57 Video Quality
Night Time:
Specs of Garmin Dash Cam 57
General Specs

PHYSICAL DIMENSIONS
WxHxD: 5.62 cm x 4.05 cm x 2.19 cm
DISPLAY SIZE
2.0″ diag (5.1 cm)
DISPLAY RESOLUTION
320 x 240 pixels
DISPLAY TYPE
QVGA color TFT LCD
WEIGHT
60.5 g
BATTERY TYPE
rechargeable lithium-ion
BATTERY LIFE
up to 30 minutes
MAGNETIC MOUNT
+
Maps & Memory

DATA CARDS
16 GB microSD™ included (supports up to 512 GB, Class 10 or faster)
Camera Features

INCIDENT DETECTION (G-SENSOR)
+
CAMERA RESOLUTION
1440P
FIELD OF VIEW
140 degrees (diagonal)
VOICE CONTROL
+
FRAME RATE
up to 60 FPS
CLARITY ™ HDR
+
GPS SPEED AND LOCATION INFO IN VIDEO
+
DASH CAM AUTO SYNC
yes (up to 4 cameras)
MOBILE APP TO REVIEW FOOTAGE
yes (Garmin Drive™ app)
VAULT COMPATIBLE (SECURE ONLINE VIDEO STORAGE)
+
PARKING GUARD (ALERTS YOU TO VEHICLE IMPACTS)
yes (with Garmin Drive™ app)
REMOTE LIVE VIEW (WI-FI CONNECTION REQUIRED)
yes (with Garmin Drive™ app)
CAMERA-ASSISTED FEATURES FOR FORWARD COLLISION WARNINGS, LANE DEPARTURE WARNINGS, "GO" ALERT AND GARMIN REAL VISION™
+
Pros and Cons of the Garmin Dash Cam 57
Pros:
Voice control allows you to stay focused behind the wheel;
Small size is easy to conceal and doesn't block your view;
Safety alerts create a more secure driving experience;
Magnetic mounts are easy to use and not messy.
Cons:
Does not feature an easy-to-use touchscreen;
Quality of images is compromised with poor lighting;
Does not feature a glare filter that allows for better shots.
The Final Verdict
For a mid-range dash cam, the Garmin Dash Cam 57 is a quality option that allows you to connect via an app on your phone. Its safety features and GPS capabilities are perfect for assisting the driver to avoid accidents. If you are planning to go camping or fishing, we recommend taking the InReach Mini from Garmin with you.
Its vast menu of features makes this dash cam one of the best amongst its competitors. Although it does not feature a touch-screen, the two-inch monitor is great for quickly viewing shots.
The quality of the video is not great, but it is comparable to other cameras on the market. The software that connects to your computer is ideal for polishing your footage and staying organized.
One of the best things about this camera is its small size that does not obstruct the driver's view. It is perfect for easy setup on the go and its voice command features give it another component in safety that lets you take your trip more confidently.
Hopefully this Garmin Dash Cam 57 review has served you to determine if this camera is right for you. Garmin is a trusted brand that continues to surprise us with its new innovations.