I am going to be reviewing the BlackVue DR900S-2CH (4K) vehicle dash camera. I have been using this camera for a few weeks now and I love it. Note–I've been using their DR750S-2CH for a year now, and I've got to say I love their dash cams. I've used a wide variety of dash cams, and the BlackVue are the best on the market in my opinion.
With that being said, there are some aspects they could improve on to make it actually worth the price tag.
BlackVue Cloud
Like other BlackVue dash cams, the DR900S can connect to the BlackVue Cloud if you have a portable access point in your car. The cloud allows you to view live footage from anywhere over the internet, send alerts to your phone, and talk directly to the driver using two-way voice communication.
At this time, BlackVue are the only brand that let you live stream video from your dash cam. A basic version of BlackVue's cloud account is available for free, allowing you to stream a limited number of minutes per day. If you'd like to stream more than a few minutes, you'll need to upgrade to a paid account.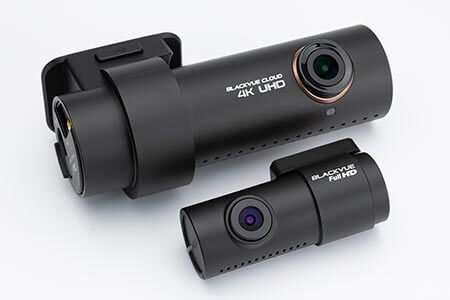 For example, to add more then one camera you must subscribe to BlackVue cloud service. The service costs $20 month and includes unlimited live view, 600 replays or downloads per month, 15GB of Cloud Storage, and GPS tracking. These are some great features and all, but to be able to use them you will also need to get a WiFi Hotspot in your car, which you'll need to get from your cell provider at an additional charge of $40+ per month for unlimited data–which is what you will want. So then you're looking at $60+ per month just for a dash cam.
I would be more willing to pay the $20 per month for the BlackVue cloud service if the dash cam had built in 4G LTE and the service included this.
Even if your car has built-in wi-fi hotspot capabilities, it typically only functions when the car is turned on. If you get a wi-fi hotspot adaptor that plugs into your diagnostics port, again it generally only functions when the car is on.
Which brings me to my next product–the BlackVue Power Magic Ultra Battery. I love this. Your car charges the battery while you're driving, but when you leave your car the battery powers the dash cam so it will continue to record. As someone who has previously had someone break into my car overnight, this may have lead to their capture if I would have had the BlackVue dash cam at the time. That being said, the battery lacks USB Ports, which would have been great for powering a wi-fi hotspot.
BlackVue DR900S-2CH Video Samples
In my opinion, the battery pack is a must if you get the BlackVue DR900S-2CH. Also, I would suggest hard wiring them to the vehicle. The battery charges 3 times faster hardwired vs using the 12V port inside the vehicle. You can connect multiple battery extensions to add more capacity which is a great idea. And I will be getting a few.
On a scale of 1 to 5–with 1 being easy and 5 being extremely difficult–the level of install is a 2.5. The hardest part was the back/rear camera, and trying to get it through the grommet on the hatch lift with all the other wires. But, as long as you have an old wire hanger you can bend it and pull the wire through. It took me a total of 25 minutes to install the front camera, back camera, and battery pack in my car. For comparison, my wife's 2015 Jeep Grand Cherokee took me over an hour just to install new headlights as they had to make that so difficult.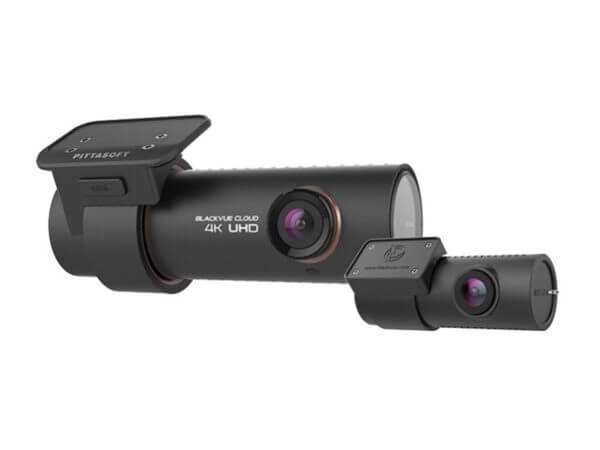 I like how compact the dash cam unit is. It hides up behind the rear view mirror so you don't even know it's there. Compared to a lot of these other dash cameras on the market that are big or have their own dedicated screen that you have to place on the dashboard somewhere where you can see the screen.
The lack of screen brings me to another thing I would like to see. I would like to see a dedicated optional video output that could connect the camera to a vehicle's built-in display. Then, if you wanted to, you could see the video on your vehicle's built-in display. Since there is a rear camera why not have a backup camera function also where–when put the car in reverse–the rear camera automatically appears on your vehicle's display?
These are just a few of the features I would personally love to see in the next version of the BlackVue DR900S-2CH dash cam.
FULL SPECS
4K Ultra HD video recording (front camera) – 4 times Full HD resolution
Full HD 1080P video recording (rear camera)
8 megapixel CMOS sensor (front camera)
Sony STARVIS CMOS sensor (rear camera)
BlackVue 'Over the Cloud' equipped – please be aware that you will need to make sure the dash cam is connected to a Wi-Fi hotspot at all times in order to get complete access.
Ultra-wide 162 Degree Viewing Angle – what the dash cam sees and records is enough to catch action beyond that of the human eye, which has a viewing angle of only 120 degrees.
Night Vision Mode
Built-In Wi-Fi – allows the BlackVue to communicate with a smartphone or tablet via the BlackVue app, without the need for cables or the removal of the SD card. Files can be viewed, downloaded, setting changed etc.
GPS logging of location and speed
HEVC (H.265) video compression technology
Supports Up To 128GB microSD™ Card (16GB card supplied)
Loop Recording & Intelligent Parking Mode – the BlackVue will constantly record over the oldest video clips, unless they are 'event' files (when something important has been recorded) which are protected and cannot be overwritten.
Impact and Motion Detection
Event File Protection – event footage will not be overwritten
User-Friendly Interface (Voice Guidance & LED)
Wireless Firmware Upgrade (Firmware upgraded over-the-air) – no need to connect to a PC or Mac, the firmware can be updated via a smartphone or tablet.
Adaptive Format-Free Technology – A BlackVue exclusive feature – means that the BlackVue will organise and then manage the files on the SD card to reduce the need for regular reformatting or the potential for corruption.
Intelligent Parking Mode – With a Power Magic Pro or OBD Power Cable, the BlackVue will continue recording after the vehicle's engine is no longer running, monitoring the vehicle when you're not around. It will then automatically switch-off should the vehicle's battery start to run down to a level where it may not be able to restart the car.
Discreet Design – all black casing for stealth installation
Quick release windscreen mount
One Touch Self Format and advanced file management – microSD cards are formatted in the BlackVue device itself, no need to remove and format in a PC.
BlackVue App (Android and iOS, Windows 8/TR)
BlackVue Viewer application (Mac and Windows)
Final Opinion
Overall, though, this is a great product with the best video quality I've seen in a dash cam. Even the older DR750S at 1080P was the best I'd seen, and this one raises the bar to 4K. It has several great notifications you can setup or disable based on your preferences such as motion detection in parked mode. I would definitely recommend the BlackVue DR900S-2CH if you're in the market for a vehicle dash cam.