Pregnancy is marked by amazing transformations that happen so quickly. Understanding the changes to expect enables you to take good care of yourself months ahead. The majority of the physical changes happening to your body may be attributed to the pregnancy hormone, relaxin. An increase in abdominal size shifts your center of gravity. Wearing of heels becomes unbearable as you could hurt the back, quads, and calves. The feet normally swell because of fluid retention. Extra body mass puts pressure on the feet. Consequently, the arches flatten, increasing the foot's length and width. This calls for a new shoe size. Instead of lamenting, why not take this stage of life as an opportunity to rock the best shoes for pregnancy?
Whether or not your foot size changes, pregnancy is the right moment to buy comfortable footwear. So, put to rest your old sneakers, high-pitched stilettos, and sandals because you are about to restock your closet with these comfy maternity shoes.
Prepare your body and your feet for a new arrival, we break down this year's top shoes for pregnancy.
Quick Picks of Top 5 Shoes for Pregnancy of 2022
| Product | Upper Material | Outsole | Insole/Footbed Technology | Color Options | Fitting Style | Price |
| --- | --- | --- | --- | --- | --- | --- |
| Skechers Sport Women's Empire Fashion Sneaker | 100% Faux Leather | Rubber | Air-Cooled memory foam | 19 | Bungee-laced | See on Amazon |
| Skechers Women's Walking Sneaker | Flat-knit crotchet fabric | Rubber | Air-Cooled Goga Mat | 6 | Slip-on | See on Amazon |
| Vionic Women's Indulge Relax Slipper | 100% Polyester terrycloth | Thermoplastic Rubber (TPR) | EVA Foam | 15 | Slip-on Sandals | See on Amazon |
| TOMS Women's Alpargata Cupsole Sneaker | Canvas | Vulcanized Rubber | Removable latex arch insert | 28 | Slip-on | See on Amazon |
| Dr. Scholl's Shoes Madison Sneaker | Faux leather/microsuede/fabric | Synthetic | BE FREE Energy | 19 | Slip-on | See on Amazon |
1. Empire Fashion by Sketchers – Best Athletic Shoes for Pregnancy
Looking for a fashionable sporty sneaker that doesn't need lacing up? The Empire Fashion Sneaker by Sketchers will work for you. With bungee-lace, it stays snuggly without squeezing the upper foot. All your active days are sorted with these shoes featuring smooth woven mesh and faux leather heel panel overlay. The lightweight bungee-laced shoe has an upper metallic finish with interwoven patterns. Skechers Empire Fashion has an interior air-cooled memory foam to keep the feet comfortable while working out. You'll appreciate its shock-absorbing midsole as it minimizes the stress your feet are subjected to. Moreover, the non-skid sole protects you from accidental slipping and falls.
This sneaker is not limited to sporty activities. They are suitable for everyday activities that require moving around, including shopping. When selecting footwear for pregnancy, make sure it has an extra layer to cushion the rearfoot. With the Sketchers, you don't have to worry about putting pressure on your joints and ankles because it has generous arch support. Depending on your preferred color, they can give you a laid-back or an athletic look. Keep it neat by spot-cleaning the outer mesh fabric and occasionally throwing it in a washing machine. Do not use a dryer, though. Since you cannot tighten the shoelaces, you might want to order a smaller size than your regular laced trainer. Luckily, the sneakers do not squeak
Pros
Easy to wear no-lace slip-on design;
Cute color combination (19 variants);
Roomy toe area;
Easy to clean.
Cons
They run big; you might have to size down.
Why we recommend it: It is cute, versatile, sporty, and feels great even after wearing it for an extended period.
2. Women's Walking Sneaker by Sketchers – Best Sneakers for Tired, Achy Feet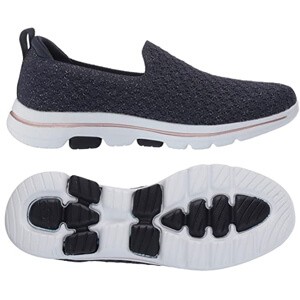 Walking sneakers are a huge trend, and you don't need multiple pairs of casual shoes as long as you have the Women's Walking Sneaker. It is perfect for casual events, and you can pair with just anything from t-shirts, jeans, jumpsuit, and yoga pants. The slip-on style allows you to wear and remove without a hassle. One of the features that make this sneaker ideal for pregnancy is a responsive 5Gen Goga max insole. With an air-cooled rebound insole, you enjoy instant soothing and pressure relief on your achy feet. This means your foot remains aerated while the heel rests on soft padding.
The last thing you want is a shoe that overheats your feet while taking a leisurely walk. Fortunately, a breathable crotchet upper lets in the air while providing plenty of space for swollen feet. In case they become your favorite everyday sneaker, you'll love the fact that they are machine washable. Depending on your taste, choose from white, black, mauve, purple, taupe, or navy. The navy design features a gold stripe around the sole. Skechers Women's Walking Sneaker is safe for walking on cobblestones and uneven terrain, thanks to solid grip and cushioning on the bottoms.
Pros
High-rebound comfort pillar technology for underfoot comfort;
Added stability and support by a dual-density outsole;
A Flexible and well-ventilated upper fabric.
Cons
Why we recommend it: This breathable sneaker is super comfy and will soothe your achy feet with a cushiony sole. We also recommend it for casual events.
3. Indulge Relax by Vionic – Best Pregnancy House Slippers for Plantar Fasciitis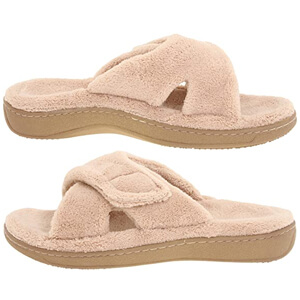 If you are among the few women suffering from plantar fasciitis, we suggest you get these Indulge Relax Slippers by Vionic that are designed for wearing indoors. It can help relieve pressure on your plantar fascia. Additionally, the footbed is designed with an extended heel cup to protect the heel from rolling inwards as you move. The slippers are heavily padded, so you can expect excellent their arch support. The upper is designed with textile, while the footbed features EVA plastic that minimizes tension on the lower leg, especially the ankles and knees. You'll appreciate such a footbed that props the feet in every step and absorbs shock.
If you need to adjust the size for a snug fit, the Velcro straps allow you to do just that. The straps are also make it easier to remove the slippers. The slippers may seem chunky at first sight, but they are lightweight; use them for relaxation when you feel fatigued. A thermoplastic rubber outsole provides excellent traction no matter the surface you step on. Again, it is flexible to facilitate natural strides while protecting the feet from impact.
Only use the Vionic Relax Slippers inside the house. Avoid wearing them on rough terrain, the beach, or hiking trails. Neither are they waterproof nor water-resistant. Because of the nature of the materials, we do not recommend machine wash. Instead, wipe dirt with a clean dry cloth. Do not Submerge them in water as this can reduce their lifespan.
Pros
Orthotic footbed;
Adjustable strap;
Soft odor-resistant terrycloth;
A broad array of colors.
Cons
Not the easiest to clean;
Not ideal for outdoors and wet conditions.
Why we recommend it: A pregnancy-friendly footbed shapes itself nicely around swollen feet. Plus, the terrycloth offers the ultimate smoothness and has been infused with eco-fresh to resist bacteria that causes smelly feet.
4. TOMS Alpargata Cupsole: Best Low – Budget Flat Shoes for Pregnant Women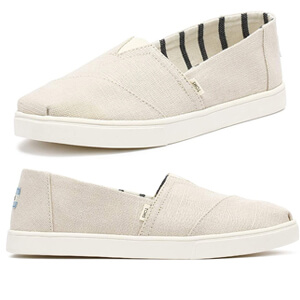 Do you prefer a laid-back, durable, and lightweight shoe? Then this canvas flat is your go-to option. The Women's Alpargata Cupsole from TOMS is a budget-friendly slip-on sneaker ideal for summer adventures. Since the insoles are removable, you may replace them with orthotic inserts. With a breathable canvas upper and quality rubber sole, you'll love the smoothness and flexibility of the sneaker.
Elasticity is among the significant highlights of TOMS Alpargata Cupsole. The elastic v-panel facilitates easy sliding of the foot in and out of the shoe. Flexible material accommodates an increasing foot size through the trimesters. Plus, a classic round toe-stitch comes with extra support.

On account of online reviews, this flat sneaker could be narrower, especially at the toe area. Most consumers claim that the molded latex insert absorbs shock well while the rubber sole prevents slippage. Though the shoes get dirty quickly, they hold up well when machine-washed. Given that it comes in 28 hues and patterns, you can pick one based on the occasion.
Over time, the sneakers' fabric can stretch, but this is an advantage for swollen feet. Remember that canvas is prone to salt spots, so you should avoid wearing the Alpargata Cupsole Sneaker on wet, gritted roads. Thin white lines on canvas are hard to remove, and they can hurt the fabric construction. If you are doing more physically demanding activities, we suggest you try another sneaker with more cushioning.
Pros
Easy to put on and off;
Breathable upper canvas;
Long-lasting make;
Numerous colors and patterns.
Cons
The firm canvas lining rubs the foot a little. Consider wearing socks when breaking in;
Narrow size can hurt the toes.
Why we recommend it: It is affordable, adaptable, and low-maintenance. It makes for an excellent casual footwear in summer.
5. Madison Sneaker by Dr. Scholl's: Classic Pregnancy Sneakers for Sore Sole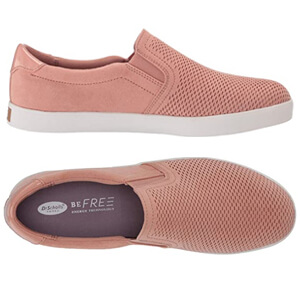 Dr. Scholl's Madison is a classic slip-on shoe available in three materials (fabric, microsuede, and leather) and neutral palettes. It is suitable for pregnant and plus-sized women as it offers maximum comfort with rubber soles and sidewalls. A mixture of materials adds interest to the overall shoe design. For the love of prints, choose from leopard, zebra, and camo patterns. If you'd rather have something basic, there are various solid colors at your disposal. The front section features perforations that allow air exchange while providing a sleeker silhouette.
The anatomical footbed, in addition to 'BE FREE Energy' insole, gives a comfy and cushiony platform. The insole has three comfort zones offering joint support, fall prevention, balance, and foot pressure control. You should therefore get this shoe if you have sore soles. What's more, the insoles have small nubs for massaging the sole while on the move. The stretchy nature of the Madison sneaker favors swollen feet. Another feature you will enjoy is a padded collar designed to prevent the heel from slipping off. Furthermore, the soft lining and microsuede materials have been recycled from bottles, making you feel environmentally friendlier.
Pros
The insole supports both swollen and sore feet;
Ankle support;
A pop of contrasting color at the heel;
Reasonably priced.
Cons
The fabric can get hot in summer.
Why we recommend it: Madison sneaker from Dr. Scholl's is the ultimate everyday shoe with a soft, breathable lining and orthotic insole
Buyer's Guide – How To Choose The Best Shoes For Pregnancy
Are your sneakers fit enough to carry you through pregnancy? Keep in mind that you are carrying both your weight and your baby's. Anything that poses a danger, like slippery sandals or gives you discomfort, is a no-no. Your vulnerable feet deserve some pampering as you wait for the bundle of joy. There are two words to describe the type of shoe you need right now: super comfy. Here are helpful guidelines for choosing the most comfortable shoes for pregnancy.
Arch and Ankle Support
Expect your feet to grow during the maternity period. An increase in foot length and width lowers your arch height. It may lead to flat feet, where the arches touch the ground rather than remain slightly curved. Flat feet are associated with plantar fasciitis, swollen ankles, and increased joint problems.

Extra support is a must for pregnant feet because they're susceptible to joint pains. The right technology helps to maintain decent posture and avoid all sorts of body aches, including pelvic and back pain. Examples of shoe technologies with adequate arch and ankle support include.
BE FREE Energy
To prevent overpronation, you need orthotic insoles like those of TOMS Women's Alpargata Cupsole Sneaker. They support the ball of the foot, arch, and heel.
EVA
Ethylene-Vinyl Acetate or EVA is an elastomeric polymer or plastic designed to offer rubber-like flexibility and softness to the insole. It combines ethylene and vinyl acetate. You'll find such technology in Vionic Women's Indulge Relax Slipper.
Air-cooled Memory Foam
Memory foam is like a mini mattress for the feet to rest on. An experience with Skechers sneakers can be likened to wearing perfectly fitting slippers with extra comfort. This is thanks to a memory foam insole that is sensitive to temperature and pressure. When you slip your foot in, the insole conforms to shape, giving you the much-needed support and cushioning.
The Grip and Material of the Outer Soles
We highly recommend rubber soles because the material is an excellent shock absorber. Avoid thin outer soles because they increase the risk of joint pain and injury. Rubber soles have sufficient traction, making them ideal for pregnancy sneakers. It is always good to have a firm grip in dry or wet conditions.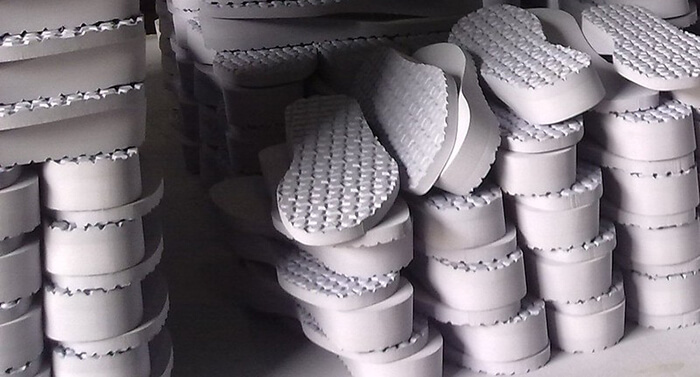 Easy-to-wear Style
Shopping for pregnancy requires you to sacrifice some of your favorite shoe styles. How you put on your shoes can have an impact on your health. Steer clear of anything that could exert pressure on your belly. That is why we listed lace-less shoes. If you love laced shoes, go for bungee laces as in the Skechers Sport Women's Empire Fashion Sneaker. That way, you don't have to worry about bending to tie laces. Slippers are also good for pregnancy because they give enough room for heavy feet. You just slide in and get going.
Flat Heel
For the sake of stability, put away the pumps, stilettos, and stacked heels. Aim to keep your feet grounded and your body as well.
Size
When ordering a new pregnancy sneaker online, it pays to order a size bigger than your regular shoe size. You never know when the feet are going to swell. So, have an extra pair to save your day if the worse happens. Go for elastic materials as opposed to rigid ones to accommodate your expanding feet.
Breathability
Breathable footwear lets air in and out to keep your feet aerated. Ventilation is fundamental to your active days. Your feet sweat when you exercise, and you don't want to feel drenched or overheated. Before picking a sneaker, ensure the upper material is ventilated.
FAQs about Pregnancy Shoes
What Shoes Should I Add to My Closet During Pregnancy?
With a baby bump, you cannot wear all the shoes in your closet. Just like you have changed your outfits, you need new footwear. When shopping for pregnancy shoes, look for:
• Casual shoes: Look for a multipurpose shoe design you can wear at home, when running errands, or jogging.
• Athletic shoes: Moderate exercise is necessary during pregnancy. Invest in breathable, cushioned walking shoes for outdoor adventures.
• Flip-flops and sandals: Flip-flops shoes are differentiated by a Y strap between the second and big toe. Sandals are open-toed and may feature ankle straps or horizontal straps. You can wear them at home or when going for short distances in hot and humid weather. Because they're open, your swollen feet will have enough room to breathe. But we do not recommend wearing of flip-flops for too long as they have little or zero arch support.
• Work shoes: Buy an official shoe that you'll be comfortable with even at your place of work. Make Comfort a top priority.
• Winter boots: Suppose you're currently living in a cold area. It would be best to buy some flat easy-to-wear winter boots with adequate ankle support.
Why Can't I wear Heels When Pregnant?
Rocking heels is not a good idea if you have a baby bump. Having more weight means your center of gravity has shifted, so you tend to walk less steadily. Loose ligaments can cause instability in joints and muscles, rendering you prone to slips and falls when on heels. Such accidents are fatal for a mom-to-be and the unborn child.
How Do I Know My Pregnancy Sneaker Fits Well?
First, you must not feel the tip of the sneaker with your toes. Wiggle the toes to see how free they are inside the shoe. Also, see to it that the heel cup is not sliding off or pinching. You want to avoid anything that puts pressure around the feet. A good sneaker cradles the heel without squeezing it. Last but not least, the shoe should neither compact the top side of the feet nor the sides.
Will Strappy Shoes Affect My Pregnant Feet?
If you cannot let go of your strappy shoes, there are two things you should beware of. For one, fastening the straps will be a hurdle, particularly in the last trimester. Secondly, straps can add pressure to your already tired feet. It gets worse when you have a burning sensations or edema.
As My Feet Grow, Can I Shop for Cheap, Large Sneakers?
The first thing that comes to mind when on a tight budget is where to get cheaper shoes for maternity. However, shoes on the lower price tag may lack sufficient support. Flat sneakers are usually inexpensive, but you'll regret in the end when back pain or feet discomfort sets in.
When Should I Start Shopping New Shoes for Pregnancy?
Some ladies panic when it dawns on them that they're pregnant. There's no need to rush into anything. Relax as you watch the physical changes that will come about in the first trimester. Regardless of what happens, it's imperative that you buy comfortable footwear in the second trimester.
For How Long Can I Wear My Sneakers When Pregnant?
As long as they are comfy, supportive, and breathable, it is okay to have them the entire day. After working out, take off the shoes and let the feet relax.
Should Pregnant Women Wear Crocs?
Crocs are not the most fashionable designs, but they are better than flipflops as far as support and traction are concerned. They are created with non-skid soles. Plus, some models have cushioned insoles.
Can I Transform Regular Sneakers into Maternity Footwear?
Do you have a favorite pair of sneakers you cannot let go of? If it is a lace-up design, cut out the back side such that it leaves your heel open. This trick is however not feasible in zip-up booties.
Final Thought
When you're expectant, it's good to have more expectations for your ideal shoes. Ditch all blister-provoking open shoes, flat soles, and pinching sneakers. While shopping for a new shoe closet, focus on more flexible models that will support your heavy, achy feet. Swelling is one of the many challenges of having a baby bump. Also, your hormones can make your ligaments loosen, or the arches might fall. This calls for adequate arch support. It doesn't matter if your old sneaker is stretchy and supportive; you still need new maternity footwear. Worried that practical pregnancy sneakers will make you look like you've lost your taste of fashion? Our top five recommendations are chic and designed to complement different dressing styles. At the end of the maternity period, you'll be glad you spent money on something that conforms to your sensitive feet.
We believe that the future of maternal footwear lies in customization as well as sustainability. Women are seeking shoes that can fulfill their unique preferences and needs. Chunky sneakers might exit the fashion scene, leaving the new lightweight trend to prevail. Most of the manufacturers of pregnancy sneakers may start utilizing 100% recyclable materials. Many brands have already integrated sustainable solutions to curb environmental degradation. As the modern would-be mothers uphold a healthier lifestyle, they are looking forward to exercising in shoes with tracking abilities. We expect to have smart training shoes that can count steps. No doubt, maternity shoes are bound to become more stylish while prioritizing support and comfort.