What We Like. Users of Fuji's medium format line will be happy to hear that the Tokyo-based manufacturer has added another zoom lens to their GF lens line. And, in the short time that we've tested and shot with it, it seems to have all the makings of a brilliant lens. For one – and perhaps, most importantly – it yields sharp and clean images, with very minimal aberrations. It also delivers impressive autofocusing skills, especially in good lighting conditions. Fuji couples that excellent performance with 10 points of weather sealing, great image stabilization, a constant aperture and a surprisingly compact form factor for its focal range. Don't expect a perfect lens, as it does have its limitations, which we will get to next, but it's still a remarkable addition to the GFX family.
What We'd Change. Probably the biggest thing we'd do here is to give this lens a maximum aperture that's wider than F/5.6. As it is, it's a bit too slow for our taste, and it's a bit too slow if you're going to use this for sports and wildlife photography. In fact, even with that image stabilization, this was a kind of a pain to shoot with in low light. Plus, it's not going to give you the creamiest or roundest bokeh. Granted, this would make the lens slightly bigger, but even an F/4 would have been better. We understand Fuji trying to keep the size and weight down though – even as it is now, in its relatively compact state, it already feels like a burden mounted on the Fuji GFX 100.
Pick This Up If… if you shoot with one of the GFX medium format cameras, and you need the versatility of a zoom lens for sports, wildlife, portrait, and landscape photography.
Pros:
Excellent image quality;
Extensive weather-sealing;
Versatile;
Optical image stabilization.
Cons:
AF is bad in low lighting;
Maximum aperture is only F/5.6.
Intro
Personally, this reviewer is not as big a fan of longer telephoto lenses as many other photographers, and that's just because I don't have a lot of use for them. I don't shoot sports, and while I adore animals, I don't really have a lot of patience for wildlife photography. As far as portraits, I prefer 50mm and 85mm lenses for those.
However, I definitely appreciate how vital they are for other photographers, and why Fuji choose a 100-200mm zoom as the latest addition to their GFX roster. And, what an addition it is!
A 79-158mm 35mm equivalent, the Fujinon GF 100-200mm F5.6 R LM OIS WR is the second zoom lens in the GFX system – the first one being 2017's GF 32-64mm F/4.
It seems like Fuji has spared no expense or effort in crafting it. As far as first impressions go, this lens is well-made, well-built and well into its way to becoming a favorite among GFX users. It delivers excellent performance and is very versatile as well, so you know that you're getting quality results.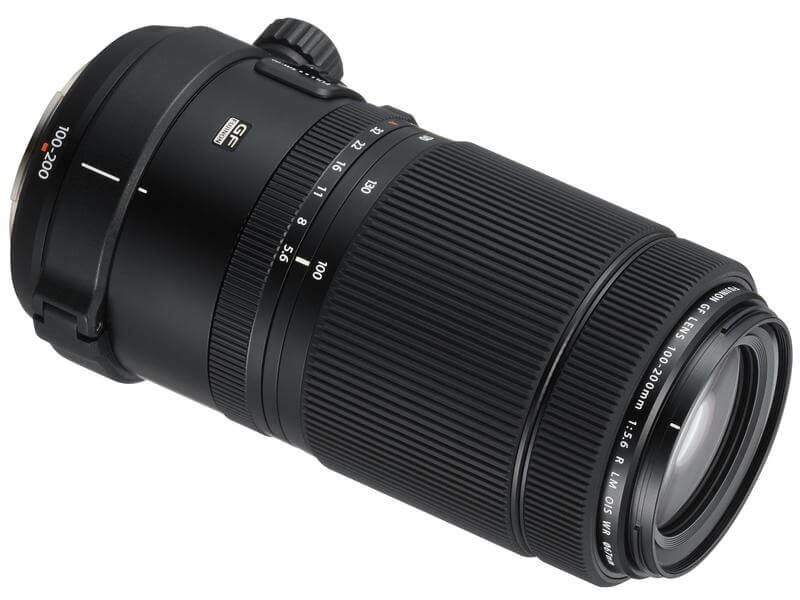 Gear
We shot with the Fujinon GF 100-200mm F5.6 R LM OIS WR alongside its prime cousin, the FUJINON GF 23mm F4 R LM WR, while testing the Fujifilm GFX 100 Medium Format Mirrorless Camera, which we will be reviewing soon. All the shots we took with this lens were taken handheld.
The Fujinon GF 100-200mm F5.6 R LM OIS WR is solid and durable. You won't doubt that when you get your hands on this tank. Its moving parts – the rings and the switches – as well as its semi-matte metal body, are evidently made of premium quality materials, and they will definitely last you a long while.
That's on top of the superb weather sealing that Fuji slapped on this lens. Not only is the Fujinon GF 100-200mm F5.6 R LM OIS WR sealed in 10 different spots to keep away dust and moisture, but it's also designed to operate down to -10°C. This weatherproofing feature makes it perfect for shooting in inclement weather conditions outdoors, which is great news for landscape and wildlife photographers.
Since we tested this lens in the middle of summer, we weren't able to properly test just how moisture- and cold-resistant it is. But we were able to test how it fared in extremely hot, dusty conditions in Anza Borrego, a desert state park in San Diego, CA, and we're happy to say that it performed as expected.
Ergonomics
At 7.7 x 3.5 inches, the Fujinon GF 100-200mm F5.6 R LM OIS WR is fairly compact, especially for a telephoto lens of this focal range. Its lens hood adds a sizable 4.25-inch to its length, but it's still a decently-sized lens that you can easily handle even with small hands.
The issue here is, mounted on the GFX 100, which already weighs 3.08lbs, you'll be lugging around a setup that's close to 6.0lbs. That is heavy, and it will feel even heavier if you're used to mirrorless cameras. That's something to keep in mind when you plan on backpacking with this thing to access remote areas, or if you have been considering investing in the GFX family. A few hours at the LA Zoo, and this reviewer ended up with wrist soreness that lasted for a couple of days.
On the upside, everything else on this lens is easy to handle. The "grippable" focus, zoom and aperture rings are easy and smooth to turn, but have enough tension to prevent accidental turns. The focus limiter and optical image stabilization switches are the same. And, of course, for a more balanced mounting on a tripod, the lens comes with its own tripod mount, which doubles as a grip when you're shooting handheld.
Final Opinion
Perhaps in its effort to keep its 100-200mm zoom telephoto lens relatively compact, Fuji had made a compromise that could have possibly been key to a more superior overall performance: that maximum aperture. If Fuji has opted to give the Fujinon GF 100-200mm F5.6 R LM OIS WR a bigger maximum aperture, instead of the F/5.6 it has now, it would have given us creamier bokeh, and it would have been faster for improved low light performance.
Besides that glaring drawback – not to mention the fact that its autofocusing performance in low lighting could be better as well – however, this lens doesn't fail to impress.
The Fujinon GF 100-200mm F5.6 R LM OIS WR unquestionably makes up for its albeit minimal shortcomings with its remarkable image quality marked by outstanding sharpness and clarity as well as nice color rendition. And, that's not all. This glass also boasts fast and accurate AF in good lighting conditions, as well as a plethora of features like extensive weather sealing and optical image stabilization.
As we said before, we're not big users of telephoto lenses such as this one, as we don't have a lot of use for them in our own photography. However, we're definitely fans of this lens.
If you're a GFX medium format shooter, and shoot a lot of wildlife and sports, then this lens is an important addition to your arsenal. If you do a lot of portraits, photojournalism, and landscapes, it's also worthy of your consideration.