What We Love. For those who want performance similar to a DSLR in the smaller size of a mirrorless interchangeable lens camera, the Canon EOS M6 Mark II delivers. It has 32.5 megapixels of resolution in an APS-C sized image sensor, delivers impressive autofocus speeds, and records video at a 4K resolution at 30 fps.
What We'd Change. The M6 II carries a pretty high price point, as you could purchase an entry-level DSLR with a couple of lenses for the same price as the M6 Mark II's body alone. It'd be nice to have the electronic viewfinder built into the camera body, rather than as an extra piece.
Pick This Up If… You want the best Canon mirrorless camera on the market. The EOS M6 Mark II's levels of performance are impressive, with fast autofocus and a 14 fps burst mode, so it's a great choice for those who want to catch every spontaneous photography situation with excellent image quality.
Pros:
Significant upgrade in many ways over previous Canon mirrorless cameras;
Autofocus performance is fast and accurate;
Delivers 4K video recording at up to 30 fps;
Supports UHS II technology in the memory card slot for fast performance.
Cons:
Detachable EVF screen isn't as sharp as we'd like to see;
Camera may overheat during long 4K video recording sessions;
Can't use an external flash and the external EVF at the same time.
Intro
Although Canon's primary focus as a camera manufacturer has been with DSLR cameras, it has dabbled in mirrorless cameras over the past decade. Canon has a handful of mirrorless camera bodies, including the recent M5 and M6, as well as fewer than a dozen Canon M lenses to represent the company's mirrorless camera family. Clearly, Canon has focused the majority of its attention on DSLRs.
So when we had a chance to test the Canon EOS M6 Mark II mirrorless camera, we weren't exactly sure what to expect. But the strength, speed, and feature set of the M6 II shows Canon is serious about mirrorless cameras. This camera is placed as a significant upgrade for the M5 and M6 models.
The M6 Mark II uses an APS-C image sensor, which is a good size, similar to what you'd find in an entry-level DSLR. But it's this sensor's 32.5 megapixels of resolution that represent a significant step up for this camera from past Canon mirrorless ILCs. Its 32.5MP are more than any other mirrorless camera with an APS-C image sensor on the market. Additionally, this model can record 4K video at up to 30 frames per second.
The M6 II certainly isn't perfect, as it doesn't have a built-in viewfinder, its LCD screen doesn't swivel to the side, and its battery life could be better. It's not cheap, either. But this camera is still an impressive performer, making it one of the best mirrorless cameras on the market.
Build Quality & Design
This is a solidly built camera, so you'll feel comfortable using it in almost any shooting situation. Occasionally, the kit lens felt like it was moving as we carried the camera around, but it does have a locking switch to counteract this issue.
The top panel of the camera includes a large mode dial, as well as two command dials. This simplifies the process of making changes to the M6 Mark II's settings.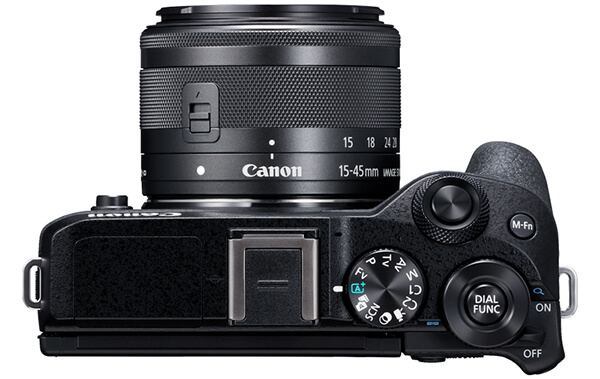 The mirrorless Canon M6 Mark II makes use of the Canon EF-M lens mount. This is a different mount than Canon DSLR cameras use, so if you want to use Canon EF lenses with this camera, you'll need to purchase the EF to M adapter. Just understand that the EF lenses are quite a bit larger in size than the M lenses, so you'll lose some of the benefit of the small size of the M6 II by using EF lenses.
There are fewer than a dozen Canon M lenses currently available, but you should be able to find enough choices to give you the versatility you want. The model we tested shipped with an EF-M 15-45mm f3.5-6.3 kit zoom lens.
One complaint advanced photographers may have is that the collection of M mount lenses aren't quite of a high enough quality to take full advantage of the outstanding image sensor in the M6 Mark II. The lenses can't always quite handle the 32.5MP of resolution, leaving some photos just a little bit soft when viewed at large sizes.
Ergonomics
We were pleased with the way the M6 Mark II feels in the hand. Despite having a small camera body versus a DSLR, the right-hand grip is a decent size. It is more comfortable to hold than the average mirrorless camera. Canon added rubbery coating on both the front of the grip and on the back to help you hold the camera steadily, even when you're trying to shoot one-handed.
The control buttons are of a good size and are well placed. This layout simply makes sense, meaning the majority of photographers will not require much of a learning curve to begin using the M6 II efficiently straight out of the box.
It might be better if the M6 II had its EVF built into the camera body, rather than as a separate part. When you attach the EVF, the camera seems a little bulky. And because many competitor mirrorless ILCs have the viewfinder built into the body — including the Canon M5 — this is a disadvantage of the EOS M6 Mark II.
Speed & Af Performance
The M6 II includes Canon's DIGIC 8 image processor, which gives this mirrorless ILC impressive performance and operational speed. It can record up to 14 photos per second in JPEG burst mode, which is well above average.
With the Canon EOS M6 Mark II, the autofocus system uses Dual Pixel AF technology Canon has developed. This uses the image sensor to accurately dial in the autofocus and to do so quickly. The M6 II's autofocus performance is a significant step up from previous Canon mirrorless cameras.
The autofocus performance in the M6 Mark II was outstanding during our tests, even outperforming quite a few DSLR cameras that we've tested during low light shooting. Its AF speed means you'll rarely miss a spontaneous photo.
You can pick between a mechanical shutter or an electronic shutter with the M6 II. The electronic shutter has some limitations in burst mode, but it can reach a maximum speed of 1/16,000th of a second. The mechanical shutter's fastest setting is 1/4000th of a second.
Key Features
32.5MP, APS-C image sensor (22.3 x 14.8 mm)
3.2 µm square pixel unit
3:2 aspect ratio
Canon EF-M lens mount
JPEG, RAW 14-bit, and C-RAW formats
Attachable viewfinder for hot shoe
Dual Pixel CMOS autofocus with maximum 143 AF points
Evaluative metering using image sensor, 384 zones
ISO range: 100-25,600 (51,200 expanded)
Shutter speed range: 1/4000 to 30 seconds
Exposure compensation: AEB -/+ 3 stops in 1/3 or 1/2 increments
Flash exposure compensation: -/+ 2 stops in 1/3 or 1/2 increments
High-speed continuous shooting: up to 14 shots per second
Maximum 4K video resolution, 30 fps
3.0-inch LCD, 1.04 million pixels, touch enabled
Tiltable LCD, upwards 180 degrees, downwards 45 degrees
Wi-Fi and Bluetooth connectivity
Size: 4.71 x 2.76 x 1.94 inches
Weight: 12.73 oz. (body only)
Final Opinion
The Canon EOS M6 Mark II mirrorless ILC is an impressive piece of tech. It has quickly jumped to the top of the chart of the Canon family of mirrorless cameras, featuring impressive levels of performance along with outstanding image quality and video quality.
At 32.5 megapixels of resolution, the M6 II can pick up details in a scene that older Canon mirrorless models can't match. With such a high level of resolution, you can crop photos successfully, while maintaining plenty of resolution to make large prints. And its color accuracy is excellent.
With the DIGIC 8 image processor, the EOS M6 Mark II is a fast performer, delivering a burst mode up to 14 frames per second. Its high-quality autofocus system works almost instantly in most photography situations.
You'll appreciate the ability to record 4K video with this camera at speeds up to 30 frames per second as well.
It'd be nice if Canon had chosen to build an electronic viewfinder into the camera body of the M6 II, instead of allowing you to add an external EVF by attaching it to the hot shoe. And advanced photographers will really wish Canon had more pin sharp M mount lenses available. The quality of the M lenses almost holds the M6 Mark II back just a bit in terms of image sharpness. (Canon DSLR owners may want to invest in an adapter, so they can use their DSLR lenses with the M mount.)
Ultimately, if you want outstanding performance speeds and image quality, all in a mirrorless camera design that's quite a bit smaller than the majority of DSLRs, the EOS M6 Mark II is a choice that won't disappoint. It's easy to recommend that Canon M6 and M5 mirrorless owners should make the jump to the M6 Mark II.