The popularity of digital cameras has been immensely growing ever since the technology was introduced during the late 20th century. Today, the digital camera market has grown tremendously to become one of the hottest selling industries. There are countless digital camera models in the market in 2021. Each offers different features and benefits. Some popularly known brands are Canon, Nikon, and Kodak. However, Canon is by far the most trustable and preferred brand.
Canon digital cameras are the best in capturing amazing high-quality pictures and videos. Canon products are primarily known for their quality and durability. And, that is why most of the top professionals prefer using Canon cameras instead of others. If you too are looking to buy a canon digital camera, we have listed some of our top picks below.
List of Best Canon Digital Cameras in 2021
Canon EOS-1D X Mark III DSLR Camera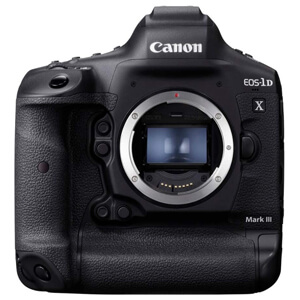 The EOS-1D X Mark III is like nothing before it, with a totally new imaging system. New AF sensors. The fastest, most durable Canon shutter yet. Innovative mirror control. The most powerful video features in an EOS DSLR to date—and more. Canon EOS-1D X Mark III DSLR Camera comes with the latest 20.1-megapixel full-frame CMOS sensor that has a combined low-pass filter.
The processor used for high-quality image processing is DIGIC X Image Processor and can be expandable up to 50-819200. It's the next level in pro SLR quality, speed and reliability. With an accurate AF system having 3869 Manual and 525 Automatic Positions, this camera is a must-buy item for all professional photographers.
Canon EOS 5D Mark IV Digital SLR Camera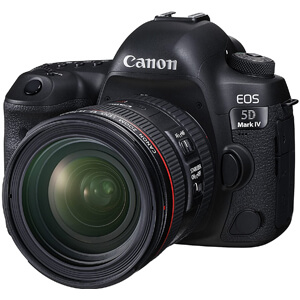 The EOS 5D Mark IV delivers high-resolution still and 4K video files with incredible clarity and detail. This Canon EOS 5D Mark IV Digital SLR Camera is one of the best full-frame cameras available in the market.
Also, it comes with a 30.4-megapixel CMOS sensor and has a continuous shooting speed of 7fps. So, this model is best for expandable vertical coverage and includes an AF system with 61 points and 41 cross points. See legendary with inspiring performance you can rely on for your most important ideas.
Canon Mirrorless Camera [EOS R]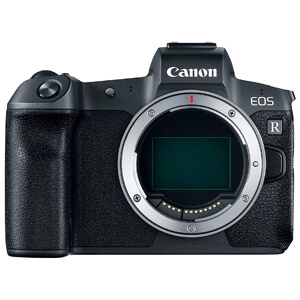 The full-frame mirrorless EOS R camera is the first in Canon's new EOS R system. With a new mount, a variety of dedicated lenses, full compatibility with EF/EF-S lenses* and significant achievements in handling and performance, the EOS R leads a new chapter in Canon's legacy of imaging excellence.
Canon Mirrorless Camera [EOS R] has a full-frame CMOS Sensor of 30.3 MP and a DIGIC 8 Image processor for delivering high-quality pictures. It comes with an AF system that has 5,655 manual AF points. Moreover, this model has a built-in EVF containing 3. 69 million dots along with a dot-matrix LCD panel.
Canon EOS-1D 0931C002 Digital SLR Camera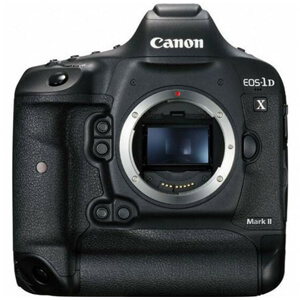 Canon EOS-1D 0931C002 Digital SLR Camera is popular for its fast shooting capability at 14 fps and in live mode, the frame rate reaches up to 16 fps. With 4K video capability and a powerful sensor, the EOS-1D X Mark II performs swiftly and stunningly anytime, anywhere.
The processor used in this model is a dual DIGIC 6+ image processor. And, during the continuous shooting, it can achieve the maximum burst rate of 170 RAWs. The camera features a rigid, magnesium-alloy body with dust-, weather- sealed ports & mounts for rugged performance.
Canon EOS 5DS Digital SLR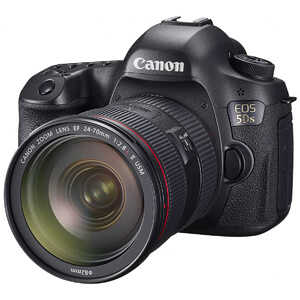 Canon EOS 5DS Digital SLR comes with a powerful EOS scene detection system that features a 150,000-pixel RGB+IR metering sensor for optimal performance. It uses the latest 506 Megapixel full-frame CMOS sensor to record at ultra-high resolution. Besides, this model can be used as high-quality webcam after connecting with EOS Utility Webcam Beta Software.
New features like a crop function of 1.3x and 1.6x and a Custom Quick Control screen are complemented by advanced, multi-featured Full HD Movie capture, with Time Lapse Movie, and much more. With EOS performance and 50.6 Megapixel Capture, the EOS 5DS revolutionizes high-resolution photography!
Canon EOS 5DS R Digital SLR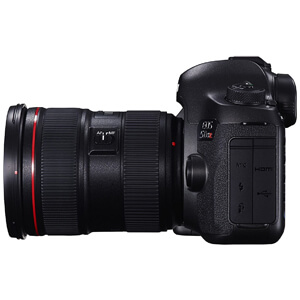 With all the features and capabilities of the EOS 5DS, the EOS 5DS R camera offers the potential for even greater sharpness and fine detail for specialized situations. Canon EOS 5DS R Digital SLR features low-pass filter effect cancellation that helps in delivering even better clicks.
The model includes a 506 megapixels CMOS sensor and AF system with 61-Point high density and 41 cross-type AF positions. With EOS Scene Detection System including a RGB+IR metering sensor, this model can be your must-go item. For photographers wanting the ultimate in high resolution capture, the EOS 5DS R camera has a low-pass filter* (LPF) effect cancellation.
Canon EOS RP Digital Camera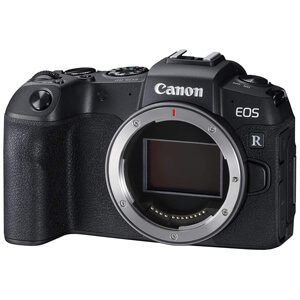 The Canon EOS RP is among the smallest and lightest full-frame cameras on the market, and is the least expensive full-frame camera at launch, ever. It comes with an RF lens mount and is compatible with RF and EF lenses. With the help of a 26.2 Megapixel CMOS Sensor and DIGIC 8 processor, it is capable to deliver high-quality images.
The Canon EOS RP is a likable little camera with solid JPEG image quality that will be a fine photographic companion for casual users and those already within the Canon ecosystem looking for a compact second body.
Canon EOS-1D X Digital SLR Camera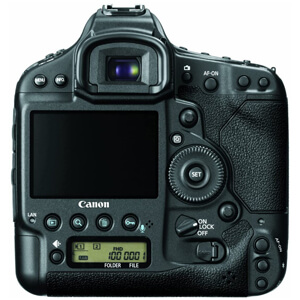 The EOS-1D X features a newly developed Canon full-frame 18.1 Megapixel CMOS sensor that's designed from the ground up to create high resolution, perfectly detailed images with unprecedented speed and clarity. A full 24 x 36mm, the sensor captures 5184 x 3456 large individual 6.95 µm pixels and has a much-improved S/N ratio resulting in better images from the start.
This model can record at the frame rate of 12fps and the rate can extend up to 14fps at high-speed mode. It includes an autofocus system that primarily uses DIGIC 4 image processor. With a durable construction and sensor warranty of 1 year, this canon product can be your top priority choice.
Canon EOS 6D Digital SLR Camera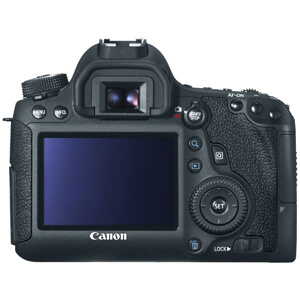 Canon EOS 6D Digital SLR Camera has a 20.2MP full-frame CMOS sensor and can record at the speed of 4.5 fps during continuous shooting. It delivers 1080 HD resolution pictures and also, have manual controls. The EOS 6D is perhaps best understood as a full frame version of the popular EOS 60D – indeed it's very similar in both control layout and dimensions.
For better connectivity and control, it features 3 inch LCD display and supports wifi connectivity. This combination will be enough to satisfy enthusiasts who'd appreciate the D600's distinctly higher spec'ed autofocus system, dual card slots and built-in flash remains to be seen.
Canon Digital SLR Camera [EOS 80D]
The Canon EOS 80D is an enthusiast-level DSLR, and the successor to the 70D. Canon Digital SLR Camera [EOS 80D] features an intelligent viewfinder display that consists of a horizontal electronic level along with other important information. This model has a 242 Megapixel (APS C) CMOS sensor that is best in delivering high-resolution pictures.
Featuring a body sealed against dust and moisture, the 80D has a polycarbonate exterior and magnesium alloy chassis. It is nearly identical in design to its predecessor, with the majority of controls accessible via the articulating rear touchscreen, as well as via physical control points.Plus, it is compatible with EOS Utility Beta Software and can be converted into a high-quality webcam.
What to Look for in a New Canon Camera
Design
Selecting the correct design of Canon digital cameras for your needs is essential. Don't lug around a bulky DSLR if you only intend on using the included lens; consider other options such as a compact, lighter camera with a fixed lens. Be sure to choose a design that you won't mind carrying around — and remember that a bigger camera isn't always better! A compact camera like the EOS-1DX Mark II can weight as little as 10.6 ounces, while a more full-sized camera like the Canon EOS R weighs 1.46 pounds, which is still reasonable for outdoor use with a camera that powerful.
Zoom
Will you be zooming in on distant subjects with your new camera? If so, consider a camera with powerful zoom functions. If you're thinking of purchasing a DSLR or mirrorless model, know that the included lens typically isn't too powerful when compared to the built-in 50x zoom in some compact cameras. More professional users will want to pick up a 2x telephoto pro lens to capture close-ups.
Sensor And Processor
All of the cameras on our list come with enough megapixels to make anyone happy with poster-sized prints, but consider the quality of each sensor and what you wish to do with it. For example, while some of our offerings are excellent at shooting video, others focus their strengths primarily on still photographs. So it's not just the raw megapixel count, but also the processor that makes a difference.
UPD!
If you're looking for a photographer job, be sure to check out the jooble.org. It's one of the most popular and reputable job search sites.
Final Thoughts
Finding the best Canon digital camera becomes easy when you limit yourself to one specific brand. Especially for a brand like Canon that has developed an excellent reputation in the market. All the above-listed products are the best in terms of durability, quality, and performance. We do however recommend you consider your budget and requirement while selecting the right model.