What We Love. Even if you're not partial to those heavy, bulky medium format bodies and the massive image files they produce, the Fujifilm GFX 100 will undoubtedly endear itself to you. Fuji's newest flagship to its GFX line has been designed with the highest performance in mind, surpassing the Fujifilm GFX 50R that came before it. At $9,999, practically twice the cost of the 50R, this was wholly expected. However, it was still a satisfying improvement shooting with this camera, after having to slow our process down with the 50R. On top of its whopping 102MP sensor, phase detection across the entire sensor, 5-axis in-body image stabilization, its X-Processor 4 and that very impressive autofocusing system it adopted from the X-T3, this camera is also incredibly feature-rich. Those features include its rugged build, weather-sealing, extra photographic effects, F-Log recording, great battery life and many of the video recording formats you could ever want. To round it all out, despite it being bulky and heavy, this camera is also surprisingly simple to use.
What We'd Change. We only wish that Fuji designed this camera with ergonomics in mind as well. A whole day's worth of shooting with this camera, and our wrist and forearm were sore the next day, even with just the Fujinon GF 23mm F4 R LM WR mounted on it. It was even worse with the Fujinon GF 100-200mm F5.6 R LM OIS WR on, as the sizeable weight and considerable size made it harder to hold the whole thing steady while shooting. It doesn't help that the front grip is a bit shallower than what's necessary for a firmer hold. But then again, with the breathtaking photos this camera produces, that seems like a small price to pay and is also easily remedied with a sturdy tripod. We only wish that it has better AF tracking in low light. If your subject is in shadow, even in broad daylight, this camera will have a hard time finding that subject's face, let alone their eyes. So you'll have to switch gears to make sure you get the ideal focus you want.
Pick This Up If… you want a medium format that won't set you back more than $10,000. This is one of the best medium cameras in the world right now, even if it isn't the most comfortable to use. Its image quality alone will get you some of the most impressive portrait, fashion, landscape and wildlife photos you've ever taken.
Pros:
Excellent image quality;
Solid, rugged build;
Extensive weather sealing;
Great battery life, even when shooting videos.
Cons:
AF and tracking performance in low lighting needs improvement;
Poor ergonomics.
Intro
To put it simply, the Fujifilm GFX 100 is among the best and most powerful cameras on the market right now. And, if you've been itching to switch systems or invest in a medium format body, it should be on top of the list of bodies to consider.
Fuji's newest flagship to its GFX line is a remarkable camera, and certainly worth its $9,999 price tag, if you have the money for it. It not only delivers extraordinary image quality with great dynamic range, accurate color rendition and very minimal artifacts, but also boasts many features out of which you'll get a lot of use – whether you're taking still images or shooting videos.
It's certainly not cheap, but this camera pays for itself, even if you're not really doing photography professionally. Again, as long as you can spare the silver. Read our review to find out exactly why.
Gear used
We tested the Fujifilm GFX 100 with two Fujinon GF lenses – the Fujifilm FUJINON GF 23mm F4 R LM WR for our wide-angle needs, and the Fujifilm FUJINON GF 100-200mm F5.6 R LM OIS WR for our telephoto needs. Unfortunately, we didn't get a chance to test it with a standard zoom or a portrait lens. However, these two lenses were enough to assess just how powerful this camera is.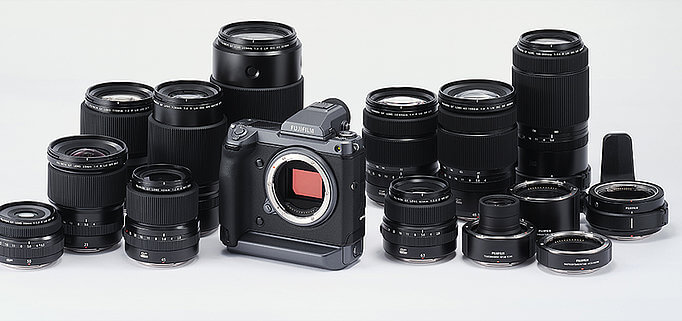 Most of our shots were handheld, except for the Milky Way shots, which we relied on our old yet trusty Manfrotto BeFree tripod to shoot.
Ergonomics
Though we'll tell you now that the Fujifilm GFX 100 will definitely give your arms a workout, especially if you've got a lens as big and bulky as the Fujifilm FUJINON GF 100-200mm F5.6 R LM OIS WR. At 6.15 × 6.44 × 4.05 inches and 3.09lbs, this isn't a camera you'd want to be walking around with while you're traipsing in Europe or trampling about in the wilderness. Not that you can't, but you probably shouldn't. This is, without a doubt, a professional's tool, something to be taken seriously; and its size is partly to blame for that.
It doesn't help that its front grip is a tad shallow – or at least, it's not deep enough for you to get a good and secure hold on the camera. This isn't as noticeable when you're just carrying the camera or when you've got it mounted. However, when we were handheld shooting with a telephoto lens mounted, we constantly had to find creative ways to find leverage in order to stabilize the camera long enough to get a couple of sharp shots in. That's not a good thing if you're shooting wildlife and sports when every second matters.
In addition, most of the controls on this camera are clustered together on the top panel and immediately next to the LCD, leaving plenty of space on the right side. That's a bit weird, and at times inconvenient since you might have to look at the buttons to know you're operating the right one, instead of just intuitively reaching for them without taking your eyes off the viewfinder.
Speed & Af Performance
With up to 5fps of continuous shooting, the Fujifilm GFX 100 is certainly faster than the GFX 50R. In addition, it boasts the same phase detection autofocusing system as the X-T3, which is Fuji's way of saying that it's impressive without, for some reason, having to mention how many phase and contract detection points its sensor has.
And, it is impressive… to an extent. With good lighting, the AF and tracking system on the GFX 100 is decently accurate and fast on continuous. It's even better if you're on Single Point mode. However, in low light, the tracking gets erratic, at times completely missing the subject, even with Face and EyeAF on. It doesn't even take that much – this happens even when your subject is in shadow in the middle of the afternoon on a bright day. That's how our experience has been during our tests, and we often had switch to Single Point AF when our subject is in shadow.
The good news is, unlike the GFX 50R, there's hardly any signs of rolling shutter here. That's a massive improvement that gives this camera an edge when shooting sports or wildlife.
Final Opinion
If you're looking for a medium format camera that offers supreme performance without the premium (in medium format standards) price, you must take a look at the Fujifilm GFX 100. What Fuji has here is a reasonable affordable contender in the medium format sphere that doesn't compromise on performance, bringing medium format digital cameras back within the consumer market's reach.
True, there are a couple of things we wish Fuji could have done better. That AF and tracking in low lighting situations could be better. And seeing as this is a heavy and bulky camera, Fuji could have improved its handling and ergonomics.
However, much of what the Fujifilm GFX 100 delivers not only more than makes up for those. But also makes it worth that price tag. This camera delivers a breathtakingly high-resolution image with incredible detail, great dynamic range and low noise levels, all in a body that's rugged, weather-sealed and boasting a surprisingly long battery life. It's also feature-rich when it comes to its video shooting capabilities, touting a variety of formats, frame rates and bit rates as well as film simulations and F-Log/HLG recording. And, because of those famously straightforward and easy-to-navigate Fuji menus, this camera won't intimidate anyone who's new to the medium format world.
If you've got the money to spare for this body and a couple of GFX lenses ­– and take our word for it; this may be an affordable camera as far as premium medium format bodies go, but you'll still be spending thousands of dollars – the Fujifilm GFX 100 will definitely give you your money's worth.