Metatarsalgia is a condition you might develop if you wear shoes that are too tight, participate in activities involving a lot of running, or if you have some other foot deformities. Even though it is not considered a severe condition, the ball of your foot becomes inflamed and painful, and that can seriously sideline you.
Wearing proper footwear with arch supports and insoles that are shock-absorbing is a must if you suffer from metatarsalgia. That means that you have to forget all about high heels or that dress shoe you noticed in the mall yesterday…yes, that's unfortunate, but don't worry!
"Comfortable shoes" doesn't have to equal "ugly shoes," and today, we are here to prove you that! We've made detailed reviews of the top-quality shoes suitable for metatarsalgia, and we guarantee you will find the pair that will allow you to walk long distances or work long hour shifts with confidence and comfort!
Metatarsalgia common symptoms/complaints
Sharp, aching or burning pain in the ball of your foot – the part of the sole just behind your toes;
Pain in the area around your second, third or fourth toes – or, only near your big toe;
Pain that gets worse when you stand, walk or run and improves when you rest;
Sharp or shooting pain in your toes;
Numbness or tingling in your toes;
Pain that worsens when you flex your feet;
A feeling in your feet as if you're walking with a pebble in your shoe;
Increased pain when you're walking barefoot, especially on a hard surface.
Sometimes these symptoms develop suddenly – especially if you've recently increased your usual amount of running, jumping or other high-impact exercise – but problems usually develop over time.
How do I find the best metatarsalgia shoes?
When shopping for metatarsalgia shoes there are many individual features to consider. These will depend on your feet and lifestyle. However, the most important feature to look for in shoes for metatarsalgia is extra support and cushioning, especially for the arch of the foot.
If possible, speak to an orthopedic specialist to find out exactly what type of shoe your feet needs. Additionally, many shoe stores provide a complimentary professional fit analysis to help ensure you find the perfect shoe for your needs.
Always take your time, try shoes on, and do not be afraid to return shoes if they are not working. Here are some of the best metatarsalgia shoes for foot pain relief.
Also read: Top 5 Best Insoles For Metatarsalgia
Best Walking Shoes for Metatarsalgia in 2023
Brooks Men's Adrenaline GTS 19 Shoe for Metatarsalgia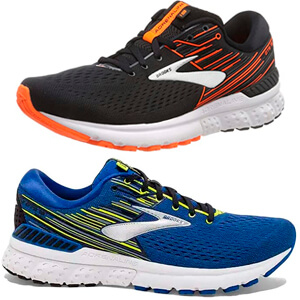 These great-looking running and walking shoes keep excess movement in check and help you move comfortably and quickly without experiencing any pain. They are perfect for runners and for people who need special arch support. Even though they are not advertised as shoes for metatarsalgia, they are soft and protective and designed especially for all those looking for shock absorbency.
These metatarsal shoes feature a DNA LOFT and BioMoGo cushioning that is designed to provide a comfortable softness and exceptional durability. They have rubber soles and come in different colors, so if you want to match them with your sports clothing, you won't have any problem doing so.
Running is excellent for your health, but when done with the wrong shoes, it can cause foot pain, knee pain, and even back pain. These synthetic-and-mesh metatarsalgia shoes provide just the right amount of foot support to help you run comfortably while also focusing on the most injury-prone part of your body- the knees. With all that being said, we can calmy say these are the leading running shoes for metatarsalgia.
Midsole drop: 12mm;
Engineered mesh;
New DNA segmented crash pad;
Rubber outsole.
Skechers Women's Slip-On Walking Shoe for Metatarsalgia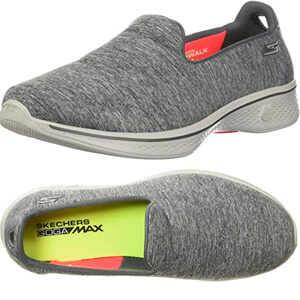 What we really liked about these shoes is that they look great not only with your favorite pair of jeans but with your workout clothes as well. They are great for people with metatarsalgia because of their V-stride technology designed specifically for pain relief. They feature angled outsoles that promote fluid stride transitions and help with long-distance walking.
Metatarsal pain can spoil even the finest vacation or walk in the park, but not if you have these Sketchers slip-on walking shoes on your feet. They have a four-way stretch mesh at the front for even greater flexibility and mesh side panels for lateral support.
Another great feature is the integrated OrthoLine sock liner that is anti-microbial and inhibits odor. Slippage also won't be a problem. The Resalyte midsoles are injection-molded and have memory retention that absorbs impact and guarantees comfortable ground contact and a painless walking experience.
Memory midsole;
GOimpulse sensors;
Anti-microbial sock liners;
Flexible and lightweight.
Skechers Men's Equalizer Slip-On Loafer for Metatarsalgia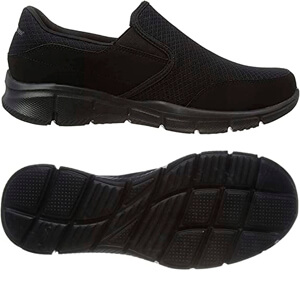 Now, this is another suggestion by Sketchers for all the men out there experiencing metatarsalgia pain. Sketchers is a company that has been making quality footwear ever since 1992, and they have never disappointed us so far. Their products are stylish, comfortable, and, most importantly, innovative, and this slip-on loafer is no different.
These metatarsalgia shoes are 100% knit mesh, and if you decide to buy them, you will quickly see for yourself they are one of the most comfortable footwear available online. Even though they feel like you're wearing a pair of slippers, they are not flimsy and are solidly made. They are ideal for walking long distances and have memory foam insoles.
The best part is that they are true slip-on, which means that you can forget all about bending over to tie your shoe. Their flexible sole can absorb shock, and we all know how important shock absorption is! We also loved the soft footbed of the metatarsal shoe.
Knit mesh;
Lightweight;
Great for long distances;
Slip-on shoes for metatarsalgia;
Memory foam insole.
Brooks Women's Adrenaline GTS 19 Shoe for Metatarsalgia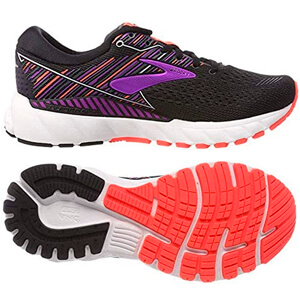 If you liked our first suggestion, but you were disappointed by the fact that the shoes were for men, we have good news for you- Brooks have thought about all the women out there searching for top-quality shoes for metatarsalgia. If you are a nurse, working long shifts, or you have wide feet with high arches and narrow heels, these stylish metatarsal support shoes are a must-have!
The shoe offers enough room in the toe box, and your toes will neither rub nor feel lost. The arch support is also ideal, and you won't feel like you have a lump in your shoe. The shoes are ideal for runners, and all width options are snug but not tight. The heel cup is comfortable and does not sit too low.
You get to choose from many different color options, and they all look outstanding. We also loved the fact that there is a nice memory foam type cushion around the collar of the heel since we all know how painful it could be when the shoe rubs on your heel. These shoes may be a bit more expensive than other shoes for metatarsalgia, but they are definitely worth the investment!
Enough room in the toe box;
Suitable for both running and walking;
Flexible sole;
3D Fit Print upper;
Durable;
Mesh-Synthetic.
Skechers Women's Go Walk Joy Shoe for Metatarsalgia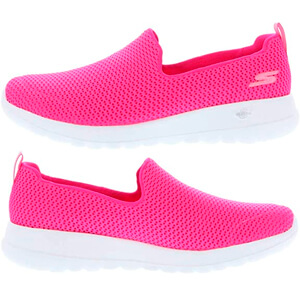 If you have feet that are always in pain because of arthritis, bunions, hammertoe, or metatarsalgia, you will love how comfortable these shoes are. They come in different color combinations, and we guarantee that once you try them on, you will decide to buy them at least in three different colors.
These Sketchers shoes are lightweight and flexible and feature a responsive 5Gen cushioning and synthetic soles. They fit better than most shoes and are ideal for hot weather where there's a lot of humidity since the material they are made of keeps them cool.
The breathable mesh upper is just one of the advantages this pair of shoe offers. The high rebound insole, the synthetic sole, and the soft fabric lining and padded collar are a guarantee that these shoes are one of the greatest shoes for metatarsalgia.
With these shoes, metatarsalgia won't be that painful. The mesh is a great choice since it not only keeps your feet cool but also dries quickly. You can wash these metatarsalgia shoes in the washing machine, and once they are dry, you will be ready to go on your next adventure.
Synthetic sole;
5Gen midsole;
Great for hot weather;
Parametric cushioned.
Skechers Men's Go Max Walking Shoe for Metatarsalgia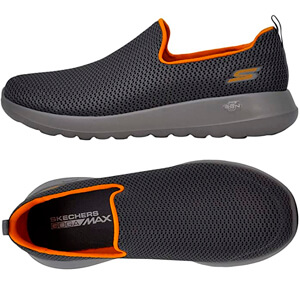 These GOwalk Max shoes are ideal for athletic walking due to their supportive sole design and mesh fabric upper. They feature a Goga Max technology insole and are super lightweight and comfortable. Whether you're running or just going for a walk, stability is one of the most important factors your footwear has to offer. These shoes, ideal for people with metatarsalgia, have solid mesh fabric toe and heel panels.
The slip-on design is also a great advantage since you will be able to put them on or take them off quickly. These high impact sports shoes help relieve the pain in your feet and knees while offering shock absorption and wide toe boxes. They are ideal for all foot conditions.
Wearing these shoes means you can say goodbye to the pain in the ball of the foot. Air circulation also won't be a problem because these athletic shoes will keep your feet cool. With their unique design, you will surely get countless compliments on your outfit. So, once again- Thumbs Up to Skechers!
Unique design;
Fit perfectly;
Metatarsalgia insoles;
Shock absorption;
Variety of color combinations.
Saucony Men's Zealot Iso 3 Running Shoe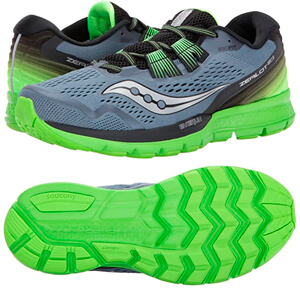 Here's a suggestion for all those whose ball of the foot is inflamed and painful but still want to look stylish! Pain in the ball does not mean you can't look and feel great, and we have the perfect solution to this problem! These Saucony shoes are 100% textile and synthetic and have a 3mm EVERUN Topsole construction.
We were definitely impressed by the dope design of these shoes. Even though they are super comfortable, they look very modern, and you get to choose from different color options – grey and black, blue and orange, and grey and yellow.
The engineered mesh upper is easily washable and will keep your feet cool even during the hottest days, whereas the updated TRI-FLEX outsole will protect your feet and provide you with the needed flexibility. Hands down, one of the best walking and running shoes available on the market nowadays!
Rubber sole;
Ideal if the ball of your foot hurts;
Unique Topsole construction;
Flexible and lightweight.
Ryka Women's Devotion Plus 2 Walking Shoe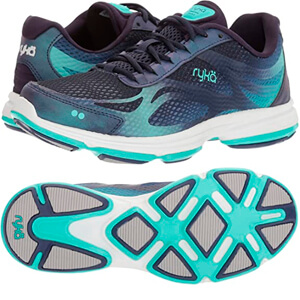 Engineered specifically for the unique muscle movement and foot shape of women, these Ryke Devotion Plus 2 shoes are one of the quality shoes for metatarsalgia. We like their simple yet very modern design and the fact that the manufacturer offers various color combinations. If you're still wondering what to combine that newly bought casual dress, shoes like these ones are the perfect option.
This suggestion features responsive cushioning for impact protection and breathable mesh that will keep your feet cool. We love the four-way gradient print on the netting as it creates beautiful visual interest, and when combined with the soft tongue, the collar with built-in cushion, and the feminine seamless overlays, it not only makes the shoe look great but also feels great!
These shoes offer good arch support, but the thing that separates them the most from other models is the strong stability they have. They will hold your feet still, allowing you to enjoy your day and walk long distances without experiencing foot pain.
Shock absorbency;
Relief foot pain;
Good arch support;
Responsive cushioning.
ALTRA Women's VALI Sneaker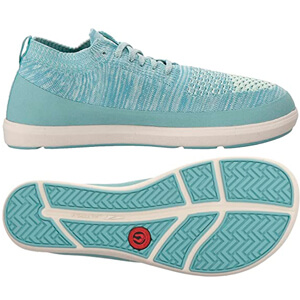 This last suggestion on our list is the perfect shoe for everyday wear. A model once again targeted at women, this ALTRA VALI sneaker will introduce you to the joy of not having your toes crammed together. These shoes are breathable and stylish and offer a comfortable snug fit from midfoot to heel.
The sleek, knit upper of this model makes it ideal for walking long-distances in hot weather, whereas the cushioned midsole offers foot pain relief for your metatarsal bones since it is made with premium EVA foam cushioning. The outsole of these shoes is entirely made of rubber, and when combined with the other features of the model, offers pressure relief in all of your foot bones.
This VALI sneaker is the perfect shoe to wear at work or while taking your evening walk in the park. It looks great with both jeans and sportswear, and if we have to give you a piece of shopping advice, it would sound something like – "Get this product, you won't regret it!"
Stack height: 22 mm;
EVA midsole;
BLOOM foam insole;
wide toe area;
Suitable for any arch type.
Saucony Women's Zealot Iso 3 Sports Shoe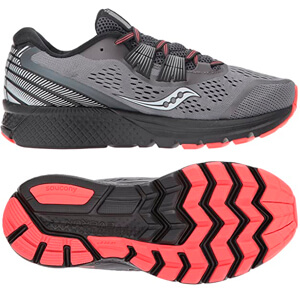 Ever since 1898, Saucony has been one of the leading brands in the sports world, giving millions of runners around the power to challenge themselves every day. This next suggestion on our list may be advertised as a running shoe, but trust us, it is one of the high-rated walking shoes for metatarsalgia that relieves discomfort in the ball of the foot and offers exceptional support.
These Women's Zealot Iso 3 shoes are lightweight, flexible, and fluid. They feature a 3mm Everun top sole construction and an updated TRI-FLEX outsole. The thing we liked the most when we tried them was the dynamic and adaptable fit they have.
The toe box of these metatarsalgia shoes is roomy and airy, which means they are ideal for hot summer days. We liked the great pull of the tongue and lacing, which secures your feet without making you feel restricted. The shoes are 100% textile and synthetic, and you won't experience any aggravation or tingles while wearing them.
Rubber sole;
Comfortable Topsole construction;
Lightweight and flexible;
Tri-flex outsole.
How do Shoes Help with Metatarsalgia
Because Metatarsalgia is caused and aggravated by improper footwear, high-impact activities, and overpronation. The right footwear that addresses the risk and symptoms can help prevent, treat, and reduce this condition's pain symptoms.
Arch Support – To prevent excessive strain and pressure in the wrong places, ARCH support is vital in good shoes for Metatarsalgia. However, you need arch support specific to your arch type, whether low, high, or neutral.
Cushioning – Cushioning under the ball of the foot provides shock absorbency to prevent impact from high impact activities, placing strain on the balls of the feet, as well as comfort and pain relief.
Low Heel – A low heel or flat-soled shoe is a better option for Metatarsalgia but should still offer some underfoot cushioning such as an EVA midsole or cushioned insole.
Wide Forefoot – Always consider a roomy toe area or wider width option in your footwear to prevent and treat Metatarsalgia.
Final Thoughts
If you suffer from metatarsalgia, wearing the best high impact walking or running shoes is essential! There are many things you need to consider when choosing a model if you want to relieve your metatarsal pain- rubber outsole, metatarsal pads, gel cushioning, and let's not forget the wide forefoot area.
Luckily for you, we've covered all those things in our shoe reviews, and we really hope you will be able to find the perfect model for you! If you've enjoyed this article, don't forget to check our other pieces you may also find useful.