Watch your child's imagination kick into high gear with one of the best dragon toys for toddlers in 2021 to creatively play with, making up their own stories and adventures. Kids are fascinated with dragons and love engaging in fantasy play and storytelling adventures.
Getting your child one of these amazing toddler dragon toys is a great way to nurture and encourage them to explore pretend play, role playing and so much more.
We know how important toy quality and safety are, so we've gone the extra mile to ensure you have peace of mind when choosing the right dragon toddler toy for your little one.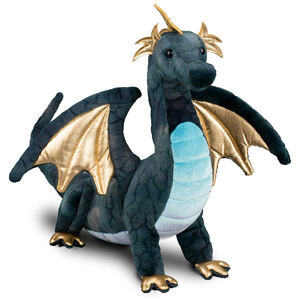 Designed in Keene, New Hampshire, U.S.A. by Douglas Cuddle Toys, makers of plush toys of exceptional quality for over 60 years. Featuring a fun and imaginative design, Aragon the Navy Dragon is an elegant plush toy. High quality designer fabrics and squeezably soft polyester fill have been used to craft a stuffed animal that will hold up to life's great adventures, but is still soft enough for hugs.
Aragon's bright eyed expression and noble pose add elegance to this dragon soft toy. Specialty fabric features a scaly pattern for lifelike fun while metallic materials add exciting gold accents to Aragon's design.
Here's why the Douglas Aragon Navy Dragon Plush Toy is our top toddler dragon toy of 2021:
Toddlers just love Aragon the Dragon and how soft and cute he is;
Encourages your child to express their emotions through play;
Huggable stuffed dragon toy that helps your child engage in imaginative play;
Helps your child to engage more in pretend and storytelling play;
Made from high quality plush material for durability.
Aurora – Dinos & Dragons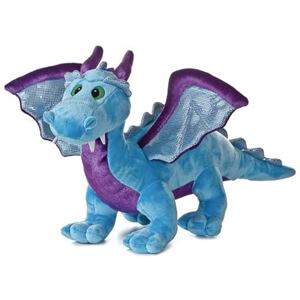 This adorable dragon plush toy is ideal for toddlers from the age of 3, guaranteeing hours of imaginative fun play. Your little knight, dragon-tamer or princess, will simply love this!
The Aurora Plush 14" Blue Dragon is manufactured by Aurora, an American company that is known the world over for their high-quality plush toys. It is just the right size, measuring 14" long, which is perfect for hugging and squeezing.
Just looking at this cute bean-filled plush toy will bring a smile to your face. It is a dragon with charming green and black eyes and a quirky, endearing expression.
If your child is fascinated with dragons, they will surely love this Aurora plush dragon. It is so soft and perfect for those nightly snuggles, that children will probably take this as a bedtime companion.
Why We Recommend:
Toddlers adore this gorgeous blue dragon as they can hug and squeeze it during play;
Well-constructed and durable plush toy, so it will stand up to wear and tear;
Encourages the development of your child's imagination through make-believe and fantasy play;
Safe to play with for toddlers because there are no plastic pieces that could easily be unfastened;
Eyes are embroidered, making it safe and durable for children;
An endearing and lovable plush toy that your child can bring everywhere they go, becoming their comfort and security in unfamiliar situations;
Will become a beloved stuffed companion that your toddler can interact with and act out scenarios where they can explore different emotions;
Your child can practice language skills through imaginary conversations with this stuffed dragon;
All materials are guaranteed child-safe, exceeding both United States (CPSIA) and European (EN71) safety standards;
Because of its washable surface, it is easy to clean.
Fisher Price Imaginext Eagle Talon Castle Dragon
Let your toddler's imagination soar with Fisher Price Imaginext Eagle Talon Castle Dragon for them to play with! This toy is recommended for children 3 to 8 years old.
With an attractive, orange-red and yellow color with gray accents, this dragon features various cool sound effects: a defiant roaring sound, varied screeches, and a chewing noise guaranteed to give your child a great time.
Children also enjoy its fascinating light-up features like glowing eyes and an illuminated stomach. This dragon toy can stand on its own and will provide hours of imaginative and creative play for toddler boys and girls alike.
Why We Recommend:
Toddlers love this interactive dragon toy and have hours of fun playing with it;
It has a fantastic character design that is destined to be a classic childhood favorite;
Helps develop your child's imaginative play through make-believe and fantasy;
Stimulates creative thinking, allowing toddlers to create various made-up characters and stories depicting good and bad characters, the use of power, or taking care of pets;
Children practice social and verbal skills through creative self-expression and conflict resolution;
Increases muscle dexterity and hand-eye-coordination as the dragon is manipulated in various ways;
Built to last, it is sturdy and durable;
A fun and awesome toy for the whole family to enjoy.
Toy Dragons Collection Guardian Dragon – Draco Custos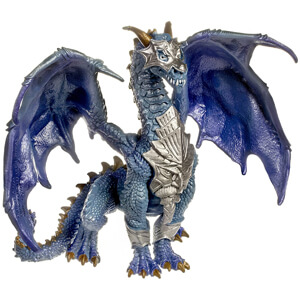 This Guardian Dragon – Draco Custos by Safari Ltd. is so richly detailed and awe-inspiring that it will surely develop your toddler's imagination. It's body is varying hues of lavender and purple, and its scales, horns, and talons are metallic gold.
The 5-inch tall Safari Guardian dragon with a wingspan of about 6.5 inches is created with such vibrant detail. Perhaps the best thing about this Guardian Dragon and guaranteed to be everyone's favorite feature is its armor.
Manufactured by American toy company Safari Ltd, it is part of their extensive range of dragon toys, which includes about 40 different kinds. The Guardian Dragon is tested thoroughly and it is Phthalate-free, so your child can play with it safely.
Why We Recommend:
Toddlers are captivated by this gorgeous Guardian Dragon and enjoy making up their own adventures during play;
Has an intricately detailed design that is not only a good toy but also a collector's item;
Helps develop imaginative play through make-believe and fantasy;
Stimulates creative thinking, allowing your child to create various made-up characters and stories depicting Guardian Dragons;
Toddlers are made to realize that dragons, just like people, can also be good and bad and create various scenarios in which Guardian Dragons do their duty;
Your child will begin to attribute good characteristics of the Guardian Dragon such as calmness, restraint, and loyalty and symbolize it in their play;
Sturdy and high-quality toy, built to be enjoyed for years;
Background story of the Guardian Dragon is very engaging and gets the imagination rolling;
Develops innate curiosity in children;
The product is safe and non-toxic, passing worldwide regulations and safety standards;
Fantasy play is a fertile ground where your child's ideas are nurtured and develops into representation thinking.
Sea Dragon by Safari LTD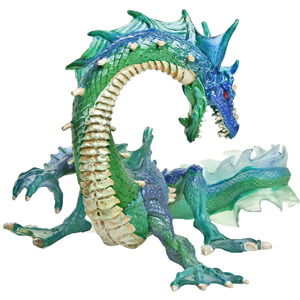 Picture the Safari Ltd. Sea Dragon majestically flying over water, or slowly rising over the water's surface. This is the stuff that legends are made of, and will keep your child's mind engaged and active.
The vibrant colors and the action-packed stance of this dragon bring fantasy and adventure to life. This hand-drawn Sea Dragon is so intricately detailed and realistic that it will surely advance your toddler's imagination.
Created by industry-leading figurine and toy-maker Safari Ltd, it is part of the Dragon Toy Collection, with a wide array of dragons, each with a story to tell.
The Sea Dragon has an interesting, mythological background based on Ancient Greek mythology.It has the ability to control wind and water, and usually takes a ship's cargo.
Recommended for toddlers and old children, this is a wonderful dragon toy to encourage interactive imaginary play.
Why We Recommend:
Toddlers simply love this Sea Dragon and enjoy making up all kinds of playful stories;
Designed to engage and enthrall children and collectors alike;
It can be used in a variety of ways – for playing with, as decoration or cake topper, as part of a costume, or to add to a collection of dragons;
Your child will enjoy hours of imaginative play with the Sea Dragon;
Because of the Sea Dragon's back story, your child will learn about Greek mythology and become more interested in more mythical creatures;
Helps develop pretend play through make-believe and fantasy;
Also helps develop problem-solving and critical-thinking skills;
Stimulates creative thinking, allowing your toddler to create various made-up characters and stories depicting Sea Dragons;
It is a sturdy and high-quality toy, very well made and built to be enjoyed for years;
The Sea Dragon figurine is safe and non-toxic;
Will only increase in value over the years because it is a highly-prized collectible item.
Why dragon toys are great for toddlers
Above all, dragon toys inspire toddlers to an explosion of creative and imaginative play. With modern creative works altering how we think about dragons, there really is no limit to the scenarios a child can muster up in their imaginations.
They're not a one-trick pony kind of toy, though. Above anything, dragon toys encourage more creativity and imaginative play than alternatives because their existence in our cultures is based on exactly that. Naturally, depending on the different types of toys offer a huge variety of developmental benefits from motor skills, social skills, problem solving and more. Dragon toys for toddlers can help to develop motor skills, social skills, problem solving, focus and more.
How To Choose Best Dragon Toys
Type of Dragon Toys
There are a wide variety of dragon toys available that are best suited to different age groups.
Plushies are best for babies, toddlers, and younger children that might prefer a dragon they can snuggle with. Some dragon plushies also make sounds when they're snuggled with.
Dragon action figures are another good choice, especially for toddlers and older kids. Some even walk around and make roaring sounds on their own. Kids who don't play too rough might appreciate something moving parts that make the dragons more interactive to play with. Others might prefer dragons that are posable or that can stand on their own, especially if they like to collect them or arrange figures on their shelf.
There are plenty of options, so the best thing to do is consider how your child will interact with the toy to see if it's a good fit. 
Durability
There are few things more upsetting to a child than playing with their favorite dragon toy for toddlers and having a wing or leg break off.
As you shop for dragon toys for toddlers, look for something that can withstand play. This is especially true when choosing toys for toddlers, as they are still learning how to manipulate the world around them. They may not know how rough they can play with something before it breaks.
Consider your child's playing style and then look for something that suits it. 
Safety and Age Range 
When shopping for toys, look for manufacturer recommendations on the appropriate age range.
In the case of younger children (usually three and under), toys have restrictions for safety reasons. Small parts are choking hazards, as are parts that might break off of the toy. You'll also want to be aware of sharp edges or pieces that are easy to break, especially with action figures and movable toys. Look out for any areas that might pinch a small child's fingers. 
The other reason that manufacturers put age recommendations on toys is for developmental reasons. Some toys might require certain abilities (like fine motor skills) or help kids develop those skills. This is especially true for highly interactive toys and toys for babies.
Of course, this is only a recommendation in these cases. Consider your child's maturity and abilities. You may find that more advanced kids might prefer toys for an older age range. You'll want to keep in mind that toys that are too immature for their skill level can cause boredom, while toys that are too advanced can lead to frustration. 
Overall Design
Your child might also appreciate a toy more depending on how it's designed.
If your child has a favorite color for example, they might appreciate blue dragon toys or red dragon toys. If there is a specific television show or movie that has a dragon they love, you might be better choosing figures from that movie for imaginative play. For example, How to Train Your Dragon dragon toys might include dragons and characters like Toothless, Hiccup, Astrid, and Hookfang.
If you're familiar with your child's interests, you're sure to pick out something they're going to love. 
Level of Interaction
Some toys have a lot more interactive features than others.
For example, the FurReal Friends dragon and the BeebeeRun RC dragon both breathe smoke. Many of the dragons also have working wings, glowing eyes, and roaring dragon noises. Others are designed simply, having realistic features but not being battery powered.
Both of these types have their benefits. Something with lights, sounds, or other working features might benefit a younger kid that is still learning about imaginative play. On the other hand, sometimes too many features can be overwhelming, especially if there are different buttons for the features.
Dragon toys with interactive features also usually require batteries. If a toy does need batteries, you'll want to consider if they are replaceable and how quickly the toy uses the batteries. You can get this information by reading dragon toy reviews to learn about experiences other parents have had. 
Final Thoughts
Dragon toys are the perfect way to let your little one's imagination run wild as they come up with all kinds of ways to play. From basic dragon action figures to plushies modeled after some of their favorite characters, there's no shortage of ways your child can have fun. To get the best dragon toy, be sure to choose something designed for your child's age range.