As you head out to the local range, you might want to double-check your gear. Are you certain your current optic delivers to your satisfaction? If not, you should be thinking about expanding your optics selection.
Trying out different optical sights is a surefooted way to spruce up your range experience. Who knows? You might even end up making a new optic friend and settle for that.
Whether you are a holographic sight fan or a reflex optical sight fan, staying abreast with the latest optic entrants in the market might make all the difference in how you wield your rifle. Especially if you know how to spot the right optic for the job.
Have you had a taste of the Holosun 510C? This multi-featured optic is giving holographic sights a good run for their money and might make perfect sense to a rifle or carbine owner.
Let's take an in-depth dive into some of the performance features, benefits, and drawbacks that make this optical sight a hype in the market.
Overview & Description
The Holosun 510C is a wide-view open reflex red dot sight specially designed for rifle and carbine users. Compared to its enclosed cousins, the HS510C features a clever design to provide a wider open range of view when shooting.
This extra functionality allows you to easily shoot with both your eyes open. What's more, it is far easier to maintain the red dot in your field of view compared to the traditional tube red dot sight. If you are cross eye dominant, you might find the effectiveness of this optic alluring to your shooting experience.
As a multi-featured ultramodern optical sight, the HS510C might be a worthy consideration if you know what constitutes a superior optic design.
Some of the striking features you can expect from this enhanced red dot sight from Holosun include:
Multiple reticle system;
Quick-release mounting system;
Eye comfort optical design without parallax;
Nicely recessed push buttons for easy control;
CR2032 battery providing up to 50,000 hours of runtime;
Dual power sources (battery and solar);
Aluminum body covered with a titanium hood;
Shake Awake Technology infusion;
0.5MOA adjustment click value.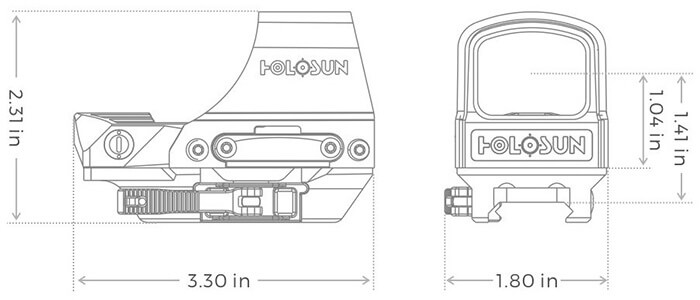 Outstanding features of the Holosun 510C
Superior optic performance is a function of many interconnected functions. These functions firmly ride on advanced features that the product manufacturer is constantly weaving into their design technology to improve your experience.
Holosun has done exactly that by delivering some of the top-of-the-range features in their HS510C. Some of these outstanding features include:
Extended runtime
Imagine enjoying the convenience of military-grade battery life without necessarily parting with military-grade cash. The CR2032 battery that comes packaged with the 510C optic promises that much. With this high-capacity battery, you can get up to 50,000 hours of optic runtime on the dot-only reticle setting.
That said, switching to both the dot and circle reticle setting will slash the battery life to 20,000 hours of runtime which is still pretty powerful to keep calling the shots. Therefore, it shouldn't be a deal-breaker because you can lengthen your shooting time using the embedded solar panel.
Furthermore, in the presence of ambient light, you can still run the optic without any battery installed. Without overdependence on battery, the Holosun 510C makes a convenient shooting companion.
Solar Failsafe
Standard to all Holosun's optics, this eco-friendly technology keeps the optic operational when the battery dies in the middle of a do or die shot. The feature ensures you get a bright reticle in the sun and a dimmer one when you retreat to ambient lighting. To be in control of the brightness, you can switch to the manual mode by long-pressing the plus "+" button for about three seconds.
In terms of your money's worth, therefore, this convenience provides an extra layer of savings (power saving) to boost your battery's life span.
Shake Awake
Another way to save power and prolong the life of your optic's battery is leveraging the intuitive Shake Awake feature. When the optic is dormant, the tech automatically deactivates the LED lens to save critical power. As soon as the in-built motion sensor detects movement, it reactivates the LED.
To minimize any inconveniences to you, this feature can accommodate four different timer settings. You can either set the sleep timer to 10 minutes, 1 hour, 12 hours, or completely disable it. If you disable the feature, the reticle will constantly display on the sight.
What about storage? If you are done with the range and want to safely store the optic, you can conserve the battery by manually turning it off. Simply long-press the plus "+" and minus "-" buttons simultaneously for about 10 seconds and the optic will go off.
Multiple reticle system (MRS)
The most significant feature of the HS510C is its MRS capability. Holosun deliberately infused this technology into their optics to afford you more shooting flexibility and better aiming precision.
Based on your shooting target and desired vision, you can conveniently switch from one reticle section to the next accordingly. More specifically, the HS510C features 3 reticle settings: a 2MOA dot only, 65MOA open circle only, and a circle-dot (2MOA/65MOA) reticle.

The 65MOA open circle reticle is an ideal choice for quick target acquisition. Alternatively, you can as well combine the circle and the dot to get the best of both worlds. There is simply no limit to what you can achieve with an MRS.
Reticle brightness flexibility
If you are a shooter who relies heavily on lens clarity, you might find this flexibility a game-changer. The HS510C, just like the 509T, features up to 12 brightness settings to suit different lighting conditions.
In bright environments, you can adjust the brightness within a scale of 10 daylight settings. On the flip side, you can equally switch between 2 night vision compatible settings in dim or low-light environments. In other words, 12 represents the brightest setting whereas 1 represents the dimmest.
Waterproof and freeze proof build
Whether covered in a spill or full submersion in water, the HS510C's performance holds up pretty well. No critical components affected. No functionality derailed. So, when the rain starts beating, just keep on shooting until your daily target is met.
Thanks to its robust build and sturdy design, even when frozen, it still holds zero rather optimally.
Rugged design
The HS510C features an aluminum body coupled with a titanium hood. This solid combination effectively sets the right stage for powerful shock absorbency and impact resistance. Therefore, the glass is always protected.
Potentially, this may greatly increase the lifespan of your optic while reliably sustaining its top-notch performance. Compared to other substandard optics that easily shatter the glass the minute you drop them, the 510C optic sounds pretty sturdy for a rifle.
Multi-layered glass coating
The Holosun 510C features a multi-layered optical glass coating to enhance its precision performance and boost the longevity of the optic. This unique design is geared at efficiently maximizing light transmission through the lens, improving overall wear and tear resistance, as well as mitigating the effects of glare.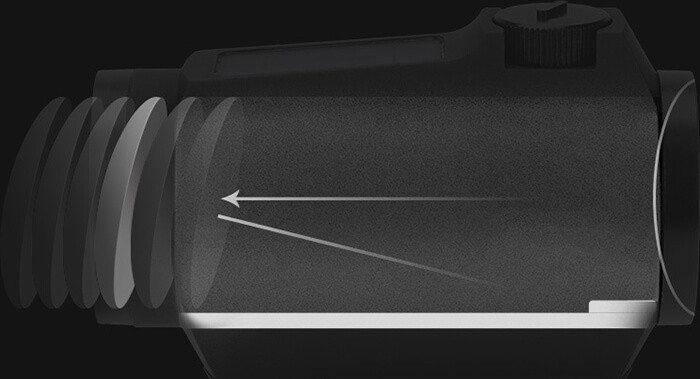 Quick-release mount
With a fast detach mount, you can expect to receive a firm grip to back your precision alignment. The mount features a cam clamp lever that interlocks firmly with your Picatinny rails. This makes the optic easy to use and promises a firm grip even under repeated recoil. What's more, you can also adjust the clamp to tighten or loosen its grip through the Torx socket on the mount's side.
Well-recessed controls
The cleverly recessed plus (+) and minus (-) pushbuttons are well aligned with the optic's housing to minimize vision obstruction during shooting. Moreover, they are situated on the side of the lens further enhancing the wide field of view needed to aim with both eyes open. That leaves the rear of the optic open where you can easily attach a magnifier to enhance your aiming accuracy.
Eye comfort optical design
Thanks to Holosun's advanced optical design, the HS510C is equipped with added convenience to the eyes. The high-quality lens supports 100% eye relief coupled with zero parallax effects to afford you more precise shots.
Side-mounted battery
Should you need to replace the optic's battery in the middle of a shooting, you can quickly accomplish that without necessarily unmounting the optic first. The optic features a tray battery compartment that's easily accessible from the side of the optic's housing.
Packaging
Upon receiving your package from Holosun or Amazon, you can expect to find a few items in the box including:
Absolute Cowitness QD Mount;
T10 L Key;
User Manual (see here on PDF);
CR2032 Battery;
Lens Cloth.
Design and Materials
The Holosun 501C comes with a special design backed by top-notch materials. It features a 6061 aluminum chassis covered with a titanium-alloyed frame. Combining both these materials yields not only a tough reflex optical sight for the harshest punishment but also an extremely lightweight one for the best shooting convenience.
The extra titanium covering provides a Micro Arc Oxidation layer finish to guard against the adverse effects of the elements and stubborn rust. This helps to eliminate the effects of corrosion especially from sweaty hands or when shooting under acidic rain.
Holosun has purposefully adopted this design and materials to prolong the lifespan of your reflex optical sight. That's because both aluminum and titanium are eco-friendly metals. Additionally, Holosun used aluminum and titanium because both these metals boast exceptional lightweight capabilities as well as impressive tensile strength.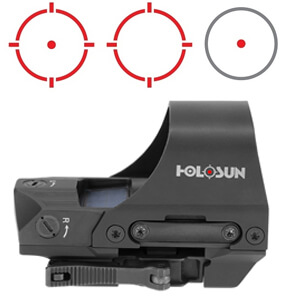 Besides the housing and the hood of the optic, the multi-layered glass coating is also a special design feature built-in to allow more light to pass into the optic lens. That's how you end up with a sharp and crisp glass view for accurate shots.
With high-quality materials dominating your HS510C, you can expect correspondingly high-quality performance from this sturdy optic. Whether for tactical shooting, hunting, mid-range shooting, or long-range shooting, an optic with such a promising build might make a lot of sense to a shooter looking to maximize their return on investment.
Budget Benefits
As a potent reflex optical sight, the HS510C is considerably cheaper than its equally powerful holographic sight counterparts like the Vortex Razor AMG UH-1 Gen II which attracts double the price of a 510C optic.
While a $300 price tag may sound quite costly to some folks, the corresponding features, precision quality, and overall top-notch performance make a concrete justification for this optic's price. On that basis, the HS510C makes a more reasonable and affordable alternative to the highly-priced holographic optics.
So, if you are actively looking for an optic with high-end features but are on a budget, settling for the HS510C might pass for a wise investment move.
With that in mind, understand that this optic is mostly ideal for rifles and carbines. It wouldn't make any economic sense to invest a lot in it only to mount it on a pistol.
That would amount to the painful frustration of your performance expectations because it would be a huge hassle just trying to fit an HS510C on a pistol let alone carrying around all the extra weight.
Performance and technical issues
Several users of the Holosun 510C have reported quality control problems largely arising from the illumination of glue and other imperfections around the lens perimeter. This is especially noticeable in high brightness settings and may cause an irritating starburst effect.
Another technical concern has to do with initial zeroing. Many users experience challenges trying to adjust the dot's position on the lens. Others have also cited losing the zero after a few shots.
Holosun 510C recommended or not?
Combining powerful impact resistance, moisture resistance, toughness, and durability with pocket-friendliness make the HS510C a potent open reflex optical sight to try. It is one of the most affordable open reflex sights available today if you are on a budget.
Adding great performance to that makes the Holosun 510C a significant value addition to your shooting experience.
That said, if you mind a little extra optic weight on your rifle, you might find this red dot sight quite heavy. In that case, the real question to ask yourself would be, "is it a worthy trade-off considering everything else the HS510C has to offer?"
For someone with astigmatism or cross eye dominance, the wide-view open reflex sight might make a perfect companion. Its open-build design promises greater eye relief compared to the enclosed versions.
Furthermore, shooting with this optic affords you more versatility, a fact that makes it worth considering. You can apply the dot-only reticle setting for all your long-range shots. If you decide to shift to something a little mid-range, say in a 10 to 100-yard range, the open circle-dot reticle setting will do.
Moreover, if you are after impressive performance for up-close home defense shots, working with the open circle-only reticle setting would do you a lot of good thanks to its wider field of view.
From this analysis, the HS510C leans more toward versatility, eye comfort, super performance, and pocket-friendliness in equal measure. Bringing all that on board, it might make a great addition to your shooting gear.
Holosun 510C Pros and Cons
Pros:
Fast detach mounting system with a solid locking method;
Rear projector with a thin membrane to enhance lens protection from the elements;
Simple and intuitive optic controls to adjust brightness settings in manual mode;
Multiple reticle settings for varying shooting needs;
Can run without battery installation in ambient light;
Excellently waterproof and freeze proof;
Layered with a titanium hood for added protection;
Highly impact resistant;
Impressive reticle quality backed by superior glass clarity and crispiness;
The crisp reticle is perfect for shooters with astigmatism;
Extremely easy to mount and use even for beginners;
Powerful anti-reflective coating on the lens;
Simple elevation and windage settings;
Multiple brightness settings.
Cons:
Larger and heavier than enclosed reflex sight optics;
Blue discoloration on lens glass may not appeal to some shooters;
Non-rechargeable battery;
Uses more battery in low-light scenes;
Reduced battery life in circle-dot reticle setting.
Frequently Asked Questions (FAQs)
Will the Holosun 510C fit on a Glock 19?
The Holosun 510C is way too big for a Glock 19. It has been specially designed with rifles in mind, not pistols. Instead, you can opt for a micro red dot sight like the Holosun 507C that uses the RMR mounting system for your pistol.
Is this the latest reflex sight from Holosun?
The Holosun HS512C is the latest red dot release from the optics manufacturer. It is a modification of the 510C featuring a wide-view enclosed lens built for rifle and carbine applications.
Do I need to place the battery in the sun for a recharge?
Not necessarily. This optic uses a CR2032 battery that is not rechargeable. The sun in this case is just a secondary power source to help you conserve battery life. The built-in solar panel will only kick in once the battery's strength diminishes or dies out.
Is the optic waterproof?
It is cleverly and sturdily designed with a titanium finish to take on all sorts of torture for consistently reliable performance. Thanks to its titanium hood, moisture resistance is always guaranteed.
What rail works best with the Holosun 510C?
This open reflex optical sight has been designed to fit on any 1913 Picatinny rail system. That means you can use it with any firearm that has a Picatinny rail. That said, it is usually most suited for an AR-15 rifle.
How do I achieve the night vision mode with an HS510C?
The Holosun 510C has two settings that are night vision compatible. They represent the dimmest light settings in the optic at setting 1 and setting 2. Adjusting your optic to these night vision modes only works in manual mode.
Can I combine a green dot and a red dot in this reflex sight?
When purchasing, the HS510C can either be packaged as a red dot sight or a green dot sight, not both. You cannot, therefore, interchange the reticle colors.
Conclusion
Whether your loyalty lies with reflex optical sights or holographic sights, it is worth noting that both optics apply different technologies. While the HS510 doesn't fit the description of a holographic sight, it qualifies as an exceptional reflex optical sight. What's more, its proven performance makes it a formidable foe to most holographic sights.
Given the impressive performance, high-end features, and military-grade quality, the price of this powerful optic is therefore well worth every dime. For the same level of functionality, its counterparts are topping the price charts with double what an Holosun 510C costs.
This makes it an affordably ideal choice for mid-range, long-range, hunting, and tactical shooting if you are already armed with your AR-15 or any other powerful rifle.