I will start by saying I exclusively pumped with our son for almost 16 months. Throughout that time, we traveled to Colorado Springs, Beijing, Cabo, Ohio, and Hawaii. I've done a lot of pumping in different places during my year and a half breastfeeding journey.
That means I've traveled with frozen breast milk, freshly pumped breast milk, had to pump on flights, had to pump at airports, and pumped in interesting places (in a van on our way to the Great Wall of China).
Over the almost year and a half of my breastfeeding journey, I learned all the tips and trips to pumping on the go. Here are the tips that worked for me to make pumping on the go easier.
10 TIPS FOR PUMPING ON THE GO
After pumping for well over a year while traveling the world, I have compiled ten tips for pumping on the go. These tips will help to pump on the go less stressful and can result in producing more milk. Here are my ten tips for pumping on the go from a traveling mama.
1. Get a Reliable Breast Pump
The most crucial thing to a pumping mom is a reliable breast pump. I will be the first to say, not all breast pumps are created equal.
I had four breast pumps, and no you did not read that wrong. Really i had four different breast pumps before finding the perfect one for me. The one that worked best for me was the Spectra S2.
2. Always pack Spare Pieces inside Ziploc Bag
As a traveling mom having spare pieces was essential. It made it easy to pump if I didn't have the time or equipment to clean my pump pieces. The Ziploc bag is to store your pump pieces in the refrigerator, if you have access to one.
A hack I learned while pumping as a traveler was to store my pieces in a Ziploc bag in the fridge as soon as I was done with them. This reduced the number of times I needed to clean the pieces.
If we were at a hotel or Airbnb, I would pump, put the pieces in a Ziploc bag, then store them in the fridge until it was time to pump again. This could save you time, and before you ask, it is safe. I checked with my lactation consultant before doing so she encouraged it.
3. Wear a Comfortable Bra
I went from wearing a small sports bras to a 3-XL while pregnant and after having our son. The size of your breasts will fluctuate based on much milk is inside. At times my bra was more comfortable than others, so make sure you are wearing a comfortable bra that isn't too tight.
Also, a looser bra will decrease the likelihood of leaking. I've had to deal with embarrassing leaks while at work and wearing a slightly larger bra helped, along with completely emptying my breast
4. Go Hands-Free
While pumping at work, I needed to use my hands to type, so going hands-free was crucial. It also made pumping on flights easier. Having a quality hands-free pumping bra was a life-saver.
5. Always Pack the Night Before
Some days I would wait until the morning before we left to pack, and I always forgot something. To avoid forgetting one of my pump pieces, storage bags, or adapter, I started packing the night before.
Trust me; you do not want to forget a crucial pump piece. It's easier to pack when you have time than it is when you are rushing.
While in Beijing, I forgot to pack my suction pieces, which resulted in over eight hours without pumping. Painful is an understatement. My breasts felt like rocks because my body is was used to me pumping every 3-4 hours. This is why I recommend always have a manual pump, to express some milk if you aren't able to pump.
6. Pump Directly into Breast Milk Storage Bags
This is one of the most important travel hacks for pumping moms. Pumping directly into breastmilk storage bags is the best way to get all of your milk into the bag, plus it makes transporting it easier.
Using breast milk storage bags instead of bottles reducing the risk of spills, and saves space in your breast milk cooler bag.
7. Have a Manual Breast Pump (as backup)
While traveling, something will always come up, so having a manual pump will help express milk when you don't have time for a full pump session. Using a manual breast pump will relieve the pressure in your breasts when they are full.
8. Have a Pumping Schedule
One of the ways I was able to get my body to produce as much as it did was sticking to a schedule. When you think schedule, you may be thinking about a specific time, but that isn't the case. As long as you are consistent with pumping, your body will know when to produce milk and when it will be expressed.
I used to pump every 3-4 hours, no matter what, up until our son was 4-months-old. After he started sleeping through the night, I increased the time to every 4 – 6 hours. As our son got older, I continued to increase the time between pumps. Although the number of pump sessions decreased, I still got a large amount of milk.
By the time our son was 14 months old, I was only pumping 2 -3 times a day and would get 12 – 14 ounces per pumping session. You don't have to be on a strict schedule, just enough to get your body into a rhythm.
9. Drink a lot of Water
To produce breastmilk, you need to be hydrated. I tried to drink a gallon of water a day, and although I usually failed, I was able to drink at least 3/4 of a gallon every day. Staying hydrated helps fuels your body, so remember to drink a lot of water.
10. Always have Snacks
Another part of pumping on the go is fueling your body. While breastfeeding or pumping, your body burns between 200 – 600 calories per day.
To continue to produce milk, you need to consume more calories. This doesn't mean you need to eat junk. You must consume enough calories to continue helping your body produce breastmilk.
Tip: Make sure you eat breakfast in the morning. I had oatmeal and coffee, which filled me up before my morning snack.
WHAT TO PACK WHEN PUMPING ON THE GO
Anytime we traveled, the first bag I packed was my pumping equipment. I made sure I had everything I needed at least 3 days before we left. Here are all of the things that I used when I was pumping on the go.
Portable Breast Pump (Spectra S1 & S9)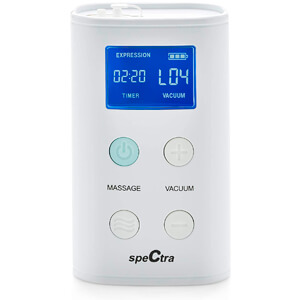 I know you may be wondering, do you need two breast pumps? The answer is no. I wanted a more compact breast pump for traveling, so that is why I purchased the Spectra S9. It was my go-to travel breast pump for flights, airport, and while we were out exploring.
I used the Spectra S2 while we were in the room. Since it is a larger hospital-grade breast pump, it was faster than the portable one, and I pumped more milk in less time. If you need a reliable hospital-grade rechargeable breast pump, the Spectra S1 is the way to go.
Note: I used the Spectra S2, but I recommend the Spectra S1 because it is rechargeable it's more portable. Both models are great, but if you need to pump on the go Spectra S1 is the model for you.
Sarah Wells Portable Cooler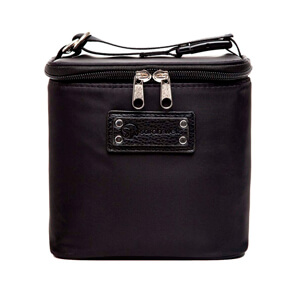 I used the Sarah Wells Portable Cooler when transporting my pump pieces and breast milk to and from work. It was easy to clip the cooler onto my backpack.
For moms that want a portable cooler with style, this is it. I didn't store bottles, so if you need to transport bottles to daycare, this may not fit certain bottle brands.
My go-to cooler for traveling with breast milk was the Momcozy Insulated Baby Bottle Bag because it could accommodate our Tommee Tippee bottles.
Simple Wishes Hands-Free Pumping Bra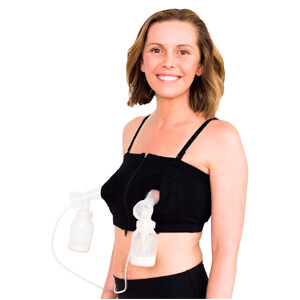 I used the Simple Wishes Hands-Free Pumping Bra, and it was a LIFESAVER. This bra shouldn't be worn all day, so I packed it in my breast pump bag for work and while we traveled.
I would lift my shirt and pull my bra over my breast (I wear sports bras, so it was easy) and put this bra on without taking my shirt off. I could work, get things done around the house, and even used it while pumping on a plane because it is discreet.
Honestly, this is the most crucial pumping accessory for busy moms pumping on the go. There are other styles, but I didn't like them, but maybe you will.
Lansinoh Breastmilk Storage Bags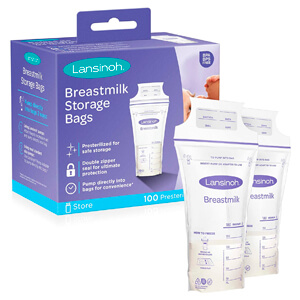 While pumping on the go, I always pumped into the Lansinoh Breastmilk Storage Bags. They are easy to connect to the adapters, and I could pump 8-9 ounces into the bags. I know it is not recommended to pump more than 6 ounces in each bag, but I'm a rebel, plus I was producing over 60 oz a day, so I wanted to reduce the number of bags I was using.
Throughout my breastfeeding journey, I did have a few instances of leakage from one box. Since the milk was contaminated, I immediately contacted the company and they sent two replacement boxes.
Sometimes manufacturers make a mistake, or there are quality control issues. I know how important liquid gold is to moms and babies, so losing some can be devastating, especially if you do not produce a lot of milk.
If you have a problem with these breastmilk storage bags, I recommend contacting the company. Based on my experience, they were understanding and did everything possible to come to an acceptable resolution.