The Thinkware F200 is a mid-ranged car cam that is meant to deliver slightly better features than a baseline dash camera at a more reasonable price than the cameras with more bells and whistles. Like most other dash cameras in this tier, the camera records in 1080p HD, 30 fps, and a 720p rear camera with both having a wide lens angle of 140 degrees, capturing the full road in front and behind your car.
Pros:
Excellent build quality;
Easy Initial Setup;
16GB Micro SD Card included;
Great, stable companion app.
Cons:
Documentation confusing and lacking in specifics;
Rear-view Camera, GPS, and Hardwiring Kit cost extra.
Hardware specs
Camera: Sony CMOS 2.12M
Camera Resolution: Front: 1080p Full HD (1920 x 1080). Rear: 720p HD (1280 x 720)
Frame Rate: up to 30 fps
Viewing Angle: 140° (Diagonal)
Capacity: Micro SD Card 16GB/32GB/64GB/128GB (UHS-I)
Recording Modes: Continuous Recording, Incident Recording, Manual Recording, Parking Recording
Sensor: Triaxial acceleration sensor (3D, ±3G)
GPS External GPS receiver (Optional)
Dimensions(WxDxH): 3.9 x 0.9 x 1.3 inch
Weight: 55g (0.121 lb)
Storage Temperature: -4°~ 158°F / -20°~ 70°C
Operating Temperature: 14°~ 140°F / -10°~ 60°C
Capacity: MicroSD card 8/16/32/64/128GB (UHS-I)
Input Power: DC 12/24V, Built-in Super Capacitor
It comes with a 16 GB SD card but supports up to 128 GB, which will hold several more hours of video. Given that this is a mid-range dash camera, it also has some features not found in cheaper models. Like a companion app, a built-in WiFi connection, and a Parking Mode. In order to use the Parking Mode you will need to purchase a hardwire kit from Thinkware. Also you can use a generic one that will allow you to wire the dash cam unit directly into your cars fuse box.
That kit can be used on any Thinkware model however. So if you are simply upgrading your Thinkware device then you can use an old hardwire kit if you have one. It only records when it detects motion and has a built-in voltage meter to prevent your car battery from draining because of Parking Mode. It is also important to note that there is no Time Lapse mode on Parking Mode. That feature is reserved for the Thinkware FA200 model, so if this feature is important to you, consider purchasing this model instead. There is an optional GPS antenna that connects to the camera and notifies you of any speed cameras or traps while you're driving, but this needs to be purchased separately from the camera.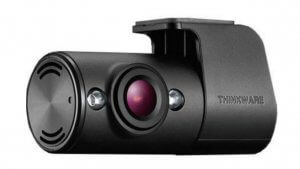 This camera also has thermal protection to prevent it from malfunctioning during extreme temperatures. It is reported that it works in temperatures ranging from 14°F – 140°F (10°C – 60°C). Unlike other cameras, this camera has no LCD display screen, making this camera smaller and more inconspicuous. If a mobile device is connected to the camera's WiFi connection then it can be used as a Live View mode to see what the dash camera would see if it were placed there.
This tool is a great resource to have while setting up the camera, especially since it comes with quite permanent adhesive pads rather than suction cups. Live View makes sure you put the camera in the right place so it can record without any obstruction. The WiFi connection also allows you to view and download videos recorded on the camera on your phone, which is more convenient than having to manually transfer them onto a computer. Due to the fact that the F200 does not have a screen to display settings, this means that all settings configuration happens through the mobile app.
Optional Accessories
The core specs for the Thinkware F200 are a fairly standard affair. The front camera does 1080p with WDR, the rear does 720p, you've got 140-degree wide recording, plus support for up to 128GB microSD cards (it comes with a 16GB card). And it's got Wi-Fi for that mobile app (though I couldn't get this connecting properly for some reason).
But if you want to get the most out of what this dashcam can do, you'll need to invest in some optional accessories. The external GPS module is about $40, for example, and that's what you'll need for the safety camera alert. The package that I received only came with 3M sticky tape for mounting, so you'll need to pony up about $15 for the suction cup mount if you prefer that. (I do.)
Curiously, the package that I received had both the front and rear camera in a single box, but I couldn't find the identical bundle on Amazon. Over there, the rear view camera is about $50 as a separate accessory. The package with the front camera is about $140. Your mileage may vary with other retailers.
Care to enable the energy saving parking recording feature? You'll need to pick up the hardwiring kit for about $30 to do that. And then there's the whole matter of wiring it up with your car's fuse panel, which some people may or may not be comfortable with doing.
Performance
Once I had everything mounted, synced, connected, and adjusted to my liking the F200 did what all great technology should do, it disappeared. The unit dutifully powered on every time I started my car, recorded every trip I made, and then shut off when I exited the car.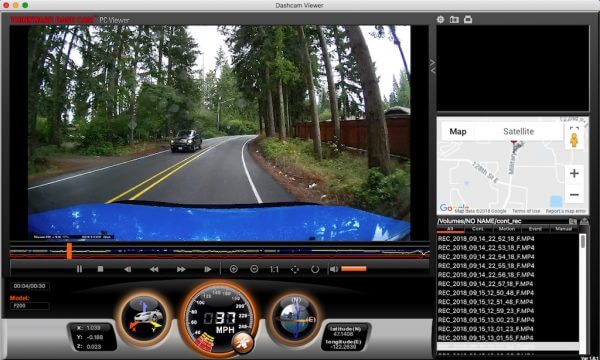 When I downloaded my first few videos to check the camera's quality, I was really impressed with the amount of information that was recorded as well as the stunning video quality. Because I was using the GPS module, the F200 takes note of my car's location as well as my speed, marking my trip with a tracking dot on Google Maps during playback. Additionally, the F200 unit itself has a built-in accelerometer recording the X, Y, Z axes of my car during all trips.
Accessing the videos on the F200 was as easy as connecting my cellphone to the unit as I did in setup and downloading what I needed. The F200 records videos in one minute blocks and then writes over the oldest videos once the SD card is full. You can also access the videos by popping the SD card into your Mac or PC and using Thinkware's desktop app.
Check out a sample video recorded by my F200. The front facing dash cam mic picks up a lot of wind noise from open windows in addition to whatever is going on in the car's interior.
THINKWARE F200 DASH CAM VIDEO SAMPLES
USER MANUAL
PDF user manual for THINKWARE F200 Dash Cam Manual: F200-User-Guide.pdf
Final opinion
We really like the Thinkware F200 Dash Cam, especially after adding on all of the accessories needed for it to be fully functional. The base F200 is definitely worth the $139.99 price tag though, and gives you plenty of built-in features. What's great about the F200 is that you have the option to build it out and add accessories as you need them. As dash cams become more popular and affordable, this would make a great first dashcam for someone just getting their feet wet with this relatively new technology.
Price: $139.99 for the F200 Dash Cam only, $39.99 for External GPS, $49.99 for Rear-view Camera, $29.99 for Hardwiring Kit
Where to buy: Thinkware and Amazon