The Vantrue N2 Pro is one of the few "taxi dash cams" on the market today that offers full HD video on both front and interior facing cameras, not just the road facing camera. The front camera has a OV4689 sensor and can record at 2560x1440P at 30fps or 1920x1080P at 60fps when used alone. The interior camera has a Sony Exmor IMX323 sensor and simultaneously captures the road and the inside cabin in 1920x1080P at 30fps. Both cameras have a wide angle lens but the inside cabin has a 140° angle while the front camera has a 170° angle.
Pros:
Good night visibility with the front dash cam;
Parking mode with motion sensors and time lapse;
Supports optional GPS modules;
18-month warranty.
Cons:
The rear camera has no IR night mode;
Doesn't include any memory cards;
No, hardwire kit;
No mobile device connectivity.
The rear cabin camera is also able to rotate 80° to capture moments outside the car or on the edge of the usual recording field. Both cameras also record audio and there's a button on the camera to turn audio recording on and off. Just like most other dash cameras on the market, it has an auto recording feature, loop recording, a G sensor, and a time lapse feature. The camera claims to work in temperatures from -4° to 158°F (-20° to 70°C).
There's an optional GPS mount you can purchase to track your route, location, and speed of the vehicle, but it's not necessary. If you have an external battery pack or hardwire system, you can also place the camera on a 24 hour parking mode if you're leaving it for a long time and want to have the dash cam monitor your car while you're away. Vantrue also offers an 18 month warranty and claims to have exceptional customer service with a quick response.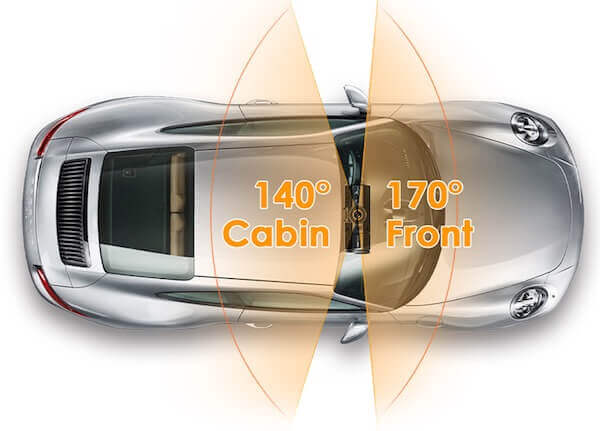 The main part of this camera that stands out from the competition is the Infrared Night Vision provided on the interior camera pointed at passengers. While many other cameras claim to have night vision, the Vantrue N2 Pro can provide.
In short, the N2 Pro is a professional grade camera that can record the road and the driver at the same time. It also includes a microphone for audio recording.
I can see a lot of uber drivers hyped up for this one. Record funny incidents in your car with audio and upload it to YouTube. Whatever the case, this model should be high on your purchase list.
7 Things You Should Demand from a Dashcam
I've seen a lot of dashcams over the years. Most of them have been absolute disasters. So, what should you demand from a new dashcam?
Easy setup — it should be simple to get the dashcam up and running.
Stable software — the dashcam shouldn't randomly shutdown or reset while you're driving.
Reliable battery — they have notoriously short charges!
Appropriate storage media — buying a dashcam without storage basically means you're not using it.
Easy to install in your car — the suction cup should be reliable.
Light — a lightweight camera should be compact enough to position.
Lengthy power lead — you need enough cable to reach the car charger point, without distracting you from driving.
So, does the Vantrue N2 Pro offer all of these features?
Why Install A Dash Cam?
You might have been using an old smartphone as a dash camera, perhaps a disused action cam or you might have an older model that crashes a lot and leaving your driving unmonitored.
With a dash camera installed, incidents on the road that you witness can be recorded and forwarded to insurance companies and law enforcement agencies. You might even capture moments from other events such as explosions, fires, car chases, generally any newsworthy occurrence.
As long as the unit is easy to set up, features stable software, has a reliable battery and has a straightforward to install process in your car, it should be high on your list for possible purchases.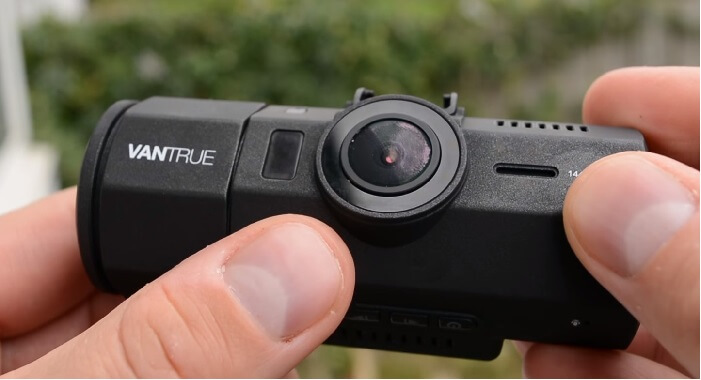 With a cam installed on your windscreen, you can record incidents happening on the road automatically. Share them with your friends or on YouTube.
There are cheaper ones out there, but they don't perform the same as this model does. Here are the top seven features you should look for in a dashcam.
Easy setup.
Stable software.
Decent amount of storage.
Reliable battery.
Lightweight.
Easy to install.
Long power cable.
A lot of people talk about the importance of getting one, but strangely very few people do. You know very well how frequently accidents occur on the road and we all had lucky escapes at some point in our life.
It's time to record everything on the go and collect evidence that you can use to sue drivers behaving in irresponsible ways. These footages will be very useful to the emergency services too.
Does the N2 Pro tick all these boxes?
Of course, it does. Don't believe me? Check the VanTrue N2 Pro Review to find out for yourself.
Using Parking Mode
As well as recording journeys in daytime and at night, the Vantrue N2 Pro will also capture footage of activity around your car when parked. This Parking Mode isn't enabled by default, but can be activated in the setup menu. It can also be toggled using the Event/Parking button. Motion sensitivity for Parking Mode can be adjusted using the G-Sensor setting in the Record Setup menu: options are High, Medium, Low and Off.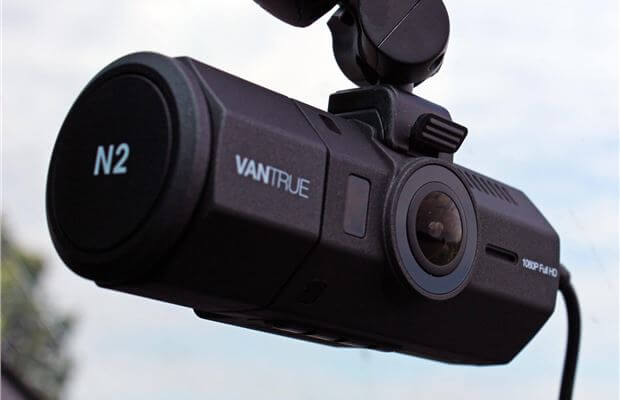 Once running, Parking Mode uses motion sensors to detect activity in front of and behind the car. This in turn switches the camera on to start recording. Persons committing criminal damage towards your car will be recorded, as will violent incidents that occur nearby. Shockwaves from blasts will typically initialize recording in parking mode too, as will attempts to open the car. Other vehicles hitting yours will also initialize recording.
The downside of parking mode is that when active, the camera requires a permanent power supply. If you don't have the ignition primed, the camera cannot stay on long-term, due to the limits of the built-in 250mAh 3.7 V Li-ion battery. As such, you'll need to pay for the special hard-wiring kit to connect the N2 Pro to the car battery.
Does the Vantrue N2 Pro Meet Dashcam Requirements?
Earlier, we looked at the seven things you should demand from a dashcam. How does the N2 PRO measure up?
Easy setup — after the initial charge, all you need to do is plug and play.
Stable software — our review device showed no signs of instability.
Reliable battery — while a two-hour initial charge is required before use, the dashcam can only be used for a few minutes when disconnected!
Appropriate storage media — sadly the N2 Pro doesn't ship with built in storage, or a microSD card.
Easy to install in your car — the dashcam has a reliable mount with a pass-through power connector. Sorting out the cabling is time-consuming, but straightforward.
Light — the Vantrue N2 Pro weighs just 12.8 ounces, and is just 3.5-inches long.
Lengthy power lead — the 10-foot-long cable should be enough in most cars. (Our review device was mounted in a Citroen C4 Grand Picasso, which has quite a large cabin and windscreen. A few inches of cable were left over.)
Other than the lack of a packaged microSD card, the Vantrue N2 Pro meets the minimum requirements for a dashcam. Indeed, the onboard hardware and camera quality means that it surpasses those requirements.
Frequently Asked Questions
Can I connect a Wi-Fi adapter or HDMI to view the footage on my phone or tablet?
No, you cannot do that with N2, unfortunately.
What is the battery for if it just holds a couple of minutes of charge?
It is for emergencies and saving your settings and video files if the main power source cuts off. In accidents, this is exceptionally useful as even hardwired dash cams can lose power if, for example, the car battery is damaged.
Can you output the footage directly to a computer?
No, you can only view the contents of the MicroSD card with a card reader or by connecting the dash cam to your computer via USB.
Do I need to have the camera hardwired at all times?
If you want to use parking mode, you should keep the dash cam system hardwired. The internal battery is not designed for powering the cameras in parking mode.
Can I use external microphones with N2?
No, this dash cam doesn't support external microphones.
Vantrue N2 Pro Dash Cam Installation
The attachment process is rather easy and less time-consuming using the suction mount. It can easily be attached as well as detached. Using the mini cables that comes with the dash cam, connect power from the cigarette lighter port. Equipping some external cable clips will let you handle the unwanted cable popping issues. You can easily clip it near the sides or within the dash compartment. However, the suction mount has, in fact, earned a few negative ratings. Our tests showed that the ball joints attached to the main unit seem to wobble a bit while accelerating. The rear camera housing can rotate a little bit. Based on our experience, once you fix the front camera, you can tilt and adjust the inside view with the rear camera.
Final Thoughts
Fitting a Vantrue N2 Pro dashcam probably isn't going to make you into a better driver, but it can help you to become a safer one. Installing one will certainly reduce your insurance cost.
While the compact 1.5-inch LCD TFT display isn't the easiest interface to navigate but the simplicity of the VanTrue N2 Pro coupled with its high definition dual camera should put it at the top of any dashcam shopping list.