The best way to avoid a speeding ticket is not to speed in the first place but, I get it, things happen. Whether you're in hurry, distracted by your kids, or honestly just have a lead foot, one effective way to avoid a speeding ticket is to use a radar detector. A good one alerts you to speed traps, forcing you to slow down and pay attention. If you're looking for the best radar under 300$, we have just the device for you. Consider the Escort Passport 8500X50.
1. Escort Passport 8500X50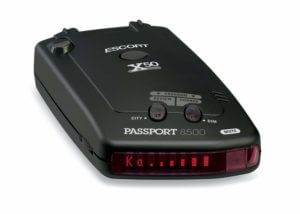 This device has an impressive detection range and accurately determines which signals are real and which ones are just a distraction. Its simple design is easy to use, reliable, and effective. The Escort Passport 8500X50 has some of the most impressive features available. It picks up every type of radar used by police today, as well as cutting edge POP mode guns and laser signals. Plus, it covers a long range while delivering fewer false alarms than most comparable products.
Quite simply, it's one of the strongest performers in its price range.
Something unique to Escort products is Traffic Signal Rejection (TSR) and it's something you'll love about the 8500X50. It minimizes false alarms from traffic measuring equipment on highways and interstates. This feature alone makes it one of the most effective options available when it comes to filtering out false alarms.
Another way to keep things quieter on a long drive is to use the intelligent mute feature. Simply press the button when you hear an initial alert and subsequent warnings for that same signal will be quieter and less intrusive. Or, choose AutoMute which stops subsequent audio alerts altogether.
The LCD display on this Escort radar detector has various display modes to choose from. There's a standard bar graph that displays the strength of one signal, ExpertMeter which shows the strength of multiple signals, and SpecDisplay which provides the numerical band information of the signal its detecting.
Perhaps the best thing about this radar detector is its simplicity. Although you can adjust it to suit your particular driving style, this one is ready to go right out of the box.
2. Beltronics RX65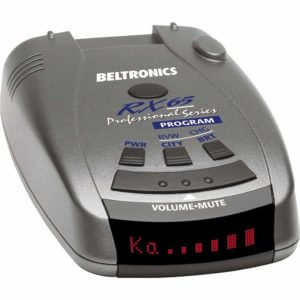 Next up is the Beltronics RX65, a police radar detector with a simple display that shows you the band of the detected signal and uses a simple bar graph to indicate its strength. This is a great choice for someone who hasn't used a radar detector before. It's straightforward and really easy to use.
The RX65 has three different detection modes. Autoscan adjusts the sensitivity depending on the signals it's picking up from its surroundings and tries to filter out any false alarms. City mode desensitizes bands that are most likely to experience interference in the city where garage door openers, motion sensors, and other radar detectors can get in the way.
The third mode is highway mode which is the most sensitive. Why? Because there's less likely to be interference on long stretches of highway. There aren't a lot of other cars crowded around and you're most likely miles from a crowded city center.
While you're on road, you can use Threat display to see how many different bands are detected at that moment and how strong the signals for each are. This is a cool way to see how heavily enforced some areas are and to make extra sure you slow down.
Another cool thing about the RX65 is it receives messages from the Safety Warning System. This feature is turned off by default but is worth turning on. It alerts you to roadwork ahead, provides severe weather alerts, and lets you know of any emergency vehicles in the area.
3. Radenso SP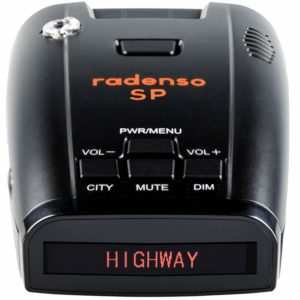 If you're looking for a speed radar detector that gives you a lot of bang for your buck, take a closer look at the Radenso SP.
This radar detector is extremely sensitive because it uses a low noise amplifier (LNA) antenna. It gives you early warning about any K or KA band radar or laser in the area so you have plenty of time to adjust your speed.
Another great thing about this product is it's really effective at avoiding false alarms. Because it filters out traffic sensors and blind spot monitoring systems from other cars, it stays relatively quiet, even in urban areas. To keep false alarms down even more, switch between highway and city modes as appropriate.
Multiple threat display lets you monitor up to three different signals at the same time on the bright, easy to read OLED display. That's not all: there are also 260 different voice alerts, as well as an adjustable mute volume if you're rather monitor alerts visually.
The simple design of this radar detector makes it a good choice for anyone who hasn't used one before or who doesn't consider themselves tech-savvy.
Programming the machine to your specifications is simple- just press the menu button to toggle between the different settings, like brightness, sensitivity, and filtering. Then, use the plus and minus buttons to make the changes.
4. Whistler CR90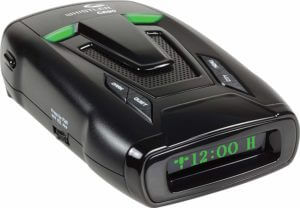 There's a lot to love about the Whistler CR90. This top-of-the-line modelis the brand's first to come with GPS-enabled radar detection. This means it displays real-time notifications of known speed cameras and red-light cameras in the area.
How does it work?
Most pre-existing cameras are already programmed into the device. The GPS tracks your location and warns you when you approach one. You can also use the USB port to update the device and get the location of any new cameras that have been placed since the last update.
This Whistler radar detector has a modern design and a bright OLED display with bold green text that's easy to read. It gives audio alerts, too. In fact, you can even connect the device to your vehicle's speakers to make sure you don't miss anything.
I know what you're thinking: these features are great but what about actual radar detection?
Don't worry, the CR90 is really effective. It picks up X, K, and Ka bands, lasers, and even POP radar. It has 360 degree detection which picks up signals from any direction making sure you're completely covered.
To reduce interference and false alarms, it uses traffic flow signal rejection and ignores signals from traffic flow sensors. Plus, you can choose from three different city modes to eliminate possible interference from things like garage door openers or motion sensors.
5. Cobra Electronics SPX 7800BT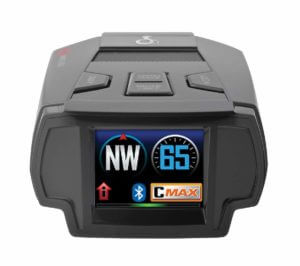 Last in our top 5 radar under 300$ is another Cobra radar detector- the SPX 7800BT.
Cobra's SPX line uses military grade technology and materials to make a super-fast and accurate design that's easy to use and loaded with features.
The first thing you'll notice when looking at it is the large, easy to read OLED display. Because it's so clear. Drivers can quickly take in alerts and react to them quickly while barely taking their eyes off the road. Best off all: it's easy to see even in bright, sunny conditions.
One of the most advanced features this radar detector has is Cobra iRadar compatibility. This is Cobra's app that lets all users upload experiences to create a large database of local speed traps, red-light cameras, and speed cameras. It also provides live traffic information as well as simple navigation.
If you're not particularly tech savvy, don't worry. Syncing with the app and your Smartphone is easy. But, if you'd rather forget about the high tech aspects and use it simply as a radar detector, can you?
The powerful CPU in this device sweeps the entire band spectrum in less than 240 milliseconds. Here's why that matters. Not only does it pick up radar, lasers, and POP radar quickly, it also gives you plenty of time to react and reduce your speed.
Final verdict about top 5 radar under 300$
The Escort Passport 8500X50 is our pick for best radar under $300. It effectively picks up every kind of radar and laser detection being used today.
It has a long range and is really effective at preventing frequent false alarms.
While it might not have a lot of the high tech features of some of its competitors, I have to admit, I like the simplicity.
It's easy to adjust but you can also use it right out of the box. This is a reliable device that not only does exactly what it says it will, but also does it well.