The GoPro Hero7 records smooth, beautiful 4K video at 60 frames per second. And its new HyperSmooth stabilization smooths bumps and camera shake better than rivals. We love the new TimeWarp mode, which creates stabilized time-lapse videos. And the new touch interface makes it easier to change vital settings on the fly. Even the sound has been improved with a redesigned mic. Built-in waterproofing and live-streaming, voice control, and compatibility with the full range of GoPro accessories amount to icing on the cake.
If you don't own a 4K display and just want a cheap action camera that's user-friendly and records excellent 1080p footage, the GoPro Hero is a solid choice. It enjoys many of the Hero7's key features, including built-in waterproofing, voice control, and compatibility with the entire suite of GoPro accessories. That compatibility makes using the Hero much easier than some of the other budget cameras we tested. Which directly correlated to better footage, even at lower resolutions. Its biggest flaw is that it doesn't offer stabilization at any resolution, but we think most casual users will be more than satisfied with the footage they get.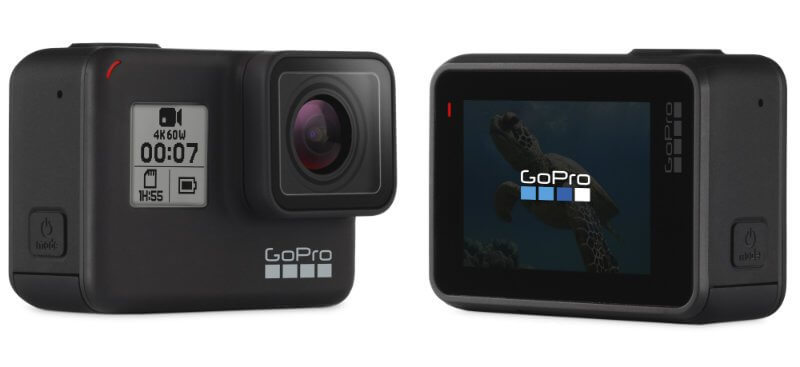 GoPro Hero 7 Review Design and features
The Hero 7 doesn't look any different from last year's Hero 6. It's around the size of a matchbox and the square lens housing still sticks out at the front by a few millimetres.
It might be boring but this is very much a good thing, especially if you use your GoPro in a professional capacity as it's likely you already own a selection of mounts and accessories. In fact, you can use the GoPro Hero 7 in any accessory dating back to the Hero 5.
As with older GoPro cameras, there are two flaps on the GoPro: one houses the camera's removable 1,220mAh battery and the microSD card slot, while the other hides a micro-HDMI 2.0 video output and a USB- Type C "supercharger" port that can also be used for data transfers.
The power and shutter buttons are located in the same places – on the left edge and the top plate – and at the rear is a 2in touchscreen, which now works in both landscape and portrait orientations. There's also a simple monochrome LCD screen at the front, which displays key information such as the mode and the elapsed recording time.
Camera interface and touchscreen display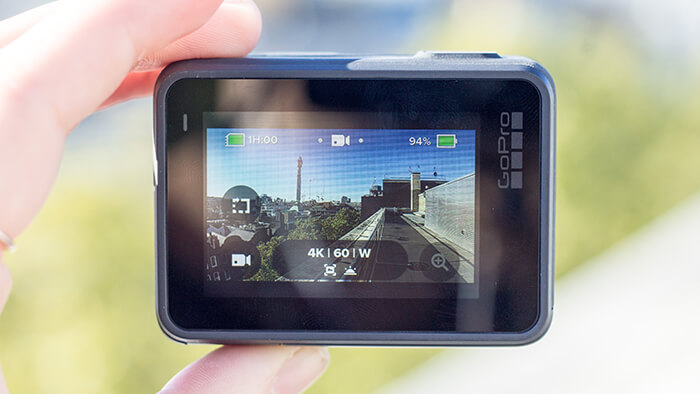 The camera's interface has also been improved over the GoPro Hero 6. It's still far from perfect and isn't as responsive as I'd like, but it's a step in the right direction. Using the 2in touch screen at the rear, you can switch modes (video, photo, timelapse), add digital zoom, change resolution. Aspect ratio and frame rate and, by long-pressing on the display, you can enable spot metering and lock the camera's exposure.
For those requiring more control over colours, sharpening and exposure, ProTune makes a reappearance and allows you to adjust colour, ISO, exposure, and shoot in RAW among other things.
You can also adjust the camera's settings by swiping down from the homescreen and entering your preferences. Here, you'll also find four hotkeys that allow you to enable or disable voice commands, beeps, QuikCapture, and auto-rotation.
GoPro Hero 7 Review: Final Verdict
It might be a tad pricey, but if you want the very best in video recording quality, the Hero 7 is the action camera you want. Its HyperSmooth technology is jaw-dropping. Its native waterproofing capabilities are impressive, and the still photograph quality is also stupendously good.