With a whopping 108MP sensor, the Xiaomi Mi Note 10 is certainly set to impress…
The Xiaomi Mi Note 10 is one of those exotic phones with specs and price that sound too good to be real. Here's a shortlist: 6.5-inch AMOLED display, 5230mAh battery with fast charging, 128GB of storage, and a total of 5 cameras at the back including one with the jaw-dropping 108 megapixels – all for ~$525.
After several weeks with the phone, I'd say that it's a solid offering for the price – though it does have a few flaws you absolutely must know about.
Pros:
Excellent camera for the price;
Premium design;
Includes a headphone jack.
Cons:
Underpowered at times;
Dynamic range isn't iPhone or Pixel good.
Design and display quality
Let's start with the good stuff. The Xiaomi Mi Note 10 looks and feels well made. The phone feels solid in the hand, and its glass surfaces blend seamlessly with the metal frame. The only disturbing bit is the humongous array of cameras sticking out, but slapping the free silicone case bundled with the phone makes it look much less distracting.
The Mi Note 10 pro doesn't have fancy features like wireless charging or an IP rating for water resistance, but it does offer a headphone jack and an IR blaster for controlling appliances like TVs and air conditioners. It worked well with one of the AC units at the office but not with another from a less-popular brand.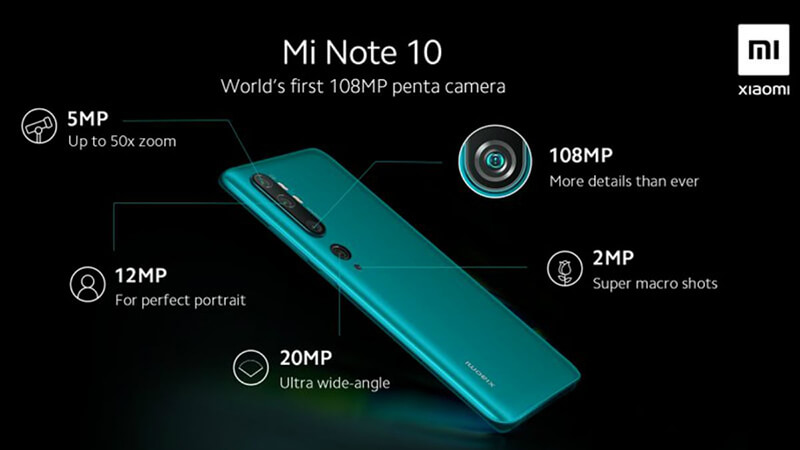 On the front is a gorgeous 6.5-inch OLED screen with a tiny teardrop notch for the 32MP selfie camera. Colors are great and the resolution of 1080 by 2340 pixels is more than sufficient. An acceptably fast and reliable optical fingerprint scanner is built into the display.
The only annoyance with the screen are its curved edges. I know many people like how they look, but I find them hugely impractical. The letters Q, A, P, and L on the keyboard are positioned exactly on the curve, and taps don't always register because of this. I installed a narrower third-party keyboard to take care of this issue.
Display measurements and quality

Performance
Qualcomm Snapdragon 730G
Adreno 618 GPU
6GB of RAM
128GB of UFS 2.1 storage
Even though the Mi Note 10 isn't using a flagship Qualcomm processor, it still performed adequately during my time with it. The Qualcomm Snapdragon 730G is a bump up from Qualcomm's standard Snapdragon 730 processor, adding 15% better graphics performance, among other things.
In daily use, I didn't notice any hiccups or stuttering. The processor is assisted by 6GB of RAM and 128GB of storage, so things ran smoothly the entire time I tested it. The Xiaomi Mi Note 10 performed as expected in benchmarks, edging out devices that use the standard variant Snapdragon 730 such as the Xiaomi Mi 9T.
In 3DMark, the Mi Note 10 achieved a score of 2,384 and 2,240 in OpenGL and Vulkan, respectively. This can be compared to the Snapdragon 730-powered Xiaomi Mi 9T, which achieved scores of 2,197 and 2,064 in the same tests. In AnTuTu, the Mi Note 10 had a score of 259,773 vs the score of 211,963 on the Mi 9T. In Geekbench, it achieved a single-core score of 2,535 and a multi-core score of 6,821 versus 2,550 and 6,948 on the Mi 9T, which, surprisingly, won in this test.
108 megapixels of disappointment
A key selling point for the Xiaomi Mi Note 10 is the 108-megapixel main camera which I already covered in a dedicated article. Long story short, it's not great, despite the record-breaking number of megapixels it boasts. It does capture a lot of detail in certain situations, but pictures taken at close distance can look awful.
But the phone also comes with two telephoto cameras, one with 2x and another with 5x zoom. The former is great for portraits and the latter excels at zooming in on stuff. Those two I can appreciate. The super wide-angle camera is also useful and even has auto-focus for close-ups. And speaking of close-ups, there's a fifth, 2MP camera with a macro lens that can focus on objects as close as 2 centimeters from the camera. In practice, it is the camera you're less likely to need, and photos won't really wow you with their quality. Still, it's fun to try it out.
Without the cameras, it would just look like any other phone
Its sides curve into the gunmetal gray frame, and the similarly curvy back is actually a dark shade of gray instead of black. The vertically laid out penta camera setup on the back will catch the eye of camera nerds, but it's not particularly exciting.
There are details in that design that I love, like the way the frame is curvy all around but flattened on the top and bottom. Details like that make the Mi Note 10 really pleasant to hold; compared to my slightly-too-big iPhone 11 Pro Max, its size feels just right. But overall, the Mi Note 10 doesn't do enough to differentiate itself from other Android phones.
With most premium and even mid-tier smartphones switching to AMOLED these days, it's getting harder to see a difference between displays in terms of quality. I've compared the Xiaomi Mi Note 10 with several phones with OLED displays, and it's not the brightest, nor does it have the best contrast, but the differences are minor. One thing I did notice is the color can sometimes shift blue. In fact, you can permanently see it on the display's curved sides, which are bluish compared to the rest of the display.
Battery life
No complaints here. The Xiaomi Mi Note 10 lasts me two days on average, without me trying to conserve power in any way. This should come as no surprise given the 5230mAh capacity of its battery. To give you an idea of how the phone compares against rivals, we loaded a YouTube video playlist and put it on repeat. The phone lasted exactly 11 hours at a fixed brightness of 200 nits. Phones like the iPhone 11 Pro Max and the Huawei P20 Pro lasted 9 and 8 hours respectively on the exact same test. Charging is reasonably fast, given the large capacity of the battery. A full charge using the stock, 30W charger takes about an hour and a half.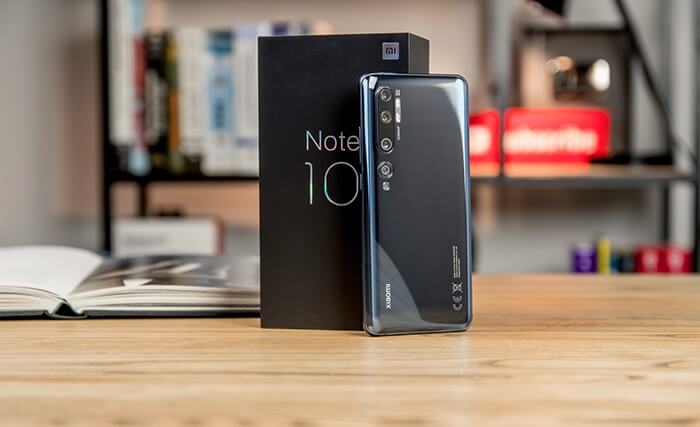 What's in the box?
30W charging brick
USB-A to USB-C cable
Dark grey TPU case
Quick start guide
The Xiaomi Mi Note 10 comes with a 30W charger, so it will charge quickly, even with the huge battery. The green version also comes with a black case, but if you buy the white model you get a transparent case. There are no headphones included.
Final Verdict
The Mi Note 10 isn't perfect, but as a camera phone, it's the best you'll get for its ~$525 asking price. The design, screen, and battery all come together well too; there's also an under-display fingerprint scanner and a headphone jack too; in short – it's a very good phone.
The power under the hood will, however, slow it down occasionally, especially when you're taking pictures at the sensor's full 108MP resolution. Even when shooting at 27MP – the default resolution, it isn't as nippy as other phones in its price range, however, those other phones don't pack such cutting edge camera tech under the hood.
In turn, if you're looking for a camera phone first and foremost and want maximum bang for your buck, the Xiaomi Mi Note 10 delivers. If, however, you're looking for the most powerful smartphone you can pick up for a similar price, then there are other better options out there.