Almost all kids love tablets partly due to their bright, attractive screens and the endless variety of apps that keep them happily occupied and entertained. Tablets are a great alternative to the frustrations of sharing your smartphones with your little one. Here we have prepared a list of the best tablets for kids.
In today's world, mothers need not worry – there are several amazing tablets available for kids. While some are made specifically for children, others may require more active parental supervision. Allow our list to guide you in making an informed decision.
The market for kids tablets isn't that broad, thus options are fairly limited. While a few manufacturers have stated their tablets are child and budget-friendly. Others attract parents and children due to their interesting design and specs. To make the selection process more simple, I have experimented with quite a few. Below you'll find my seven favorite picks.
Apart from cost, basic criterion for most when choosing a tablet is the quality and features. The primary features that are a must have in kid's tablet include a sound chassis with a rugged material for support. IP certified splash proof rating, and an attractive design. It needs to be noted that while children's tablets are an integral learning tool with some built-in apps and games that also may require wi-fi.
Comparison of  7 Best Kids Tablet in 2019
Top 7 Best Kids Tablet Reviews in 2019
1.

 Amazon Fire 7 Kids Edition Tablet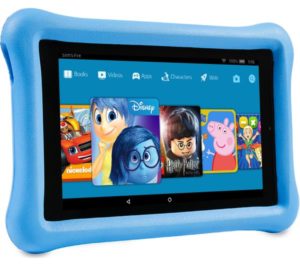 This cheap kids tablet is the smaller variant of the two tablets created by Amazon for children. The real bonus of this device is its one year free access to a plethora of child-friendly videos, games, and apps known as FreeTime Unlimited. FreeTime Unlimited gives you access to more than 15,000 apps, games, videos, and content from kids-related providers. Also included is a no-fuss, two-year warranty.
Amazon's tablet for kids also comes with top class parental control allowing you manage content access and limit usage as needed. Another reason we love this device is because of its high durability.
Typically, we as parents are afraid of giving electronic gadgets to small childrenbecause they can be destructive little critters. With the Amazon Fire 7 Kids Edition Tablet, you do not have to be concerned about handing this tablet to your child.
You can opt for the Fire 8 or the Fire 10, which has the largest screen. All three sizes feature a microSD slot that allows for expandable storage should you reach the limits of what the tablet can store, so don't base your decision on storage capacity. Instead, focus on the size that you think your kid will most enjoy and be able to easily tote around in their bag or your car's seatback.
2.

 Yuntab Q91 7 inch Android 5.1 Kids Edition Tablet PC
Yuntab has created the most durable kids tablet. With a powerful A33 Quad core processor by Allwinner, this tablet is also powered by an Android 5.1 system capable of functioning in adult or kids mode without fuss. I personally love this product as it truly helped my children learn and develop educational skills that other tablets couldn't.
The tablet comes with iWawa pre-installed which is a fun, safe, and reliable software app for kids. iWawa gives your child access to numerous apps, books, educational games, music, and more through the Kids Store. The iWawa app also allows parents to manage parental controls on the device including setting usage limits.
Quality materials are used in manufacturing this product to ensure higher durability. Additionally, all four corners of the Yuntab Q91 Kids Edition Tablet are protected with  silicone material to minimize the effect of bumps and drops.
3.

 TUFEN Tablet for Kids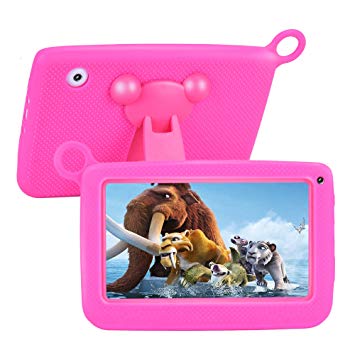 The TUFEN 7 kids tablet is undoubtedly one of the best not just due to the pricing point. But it certainly has everything you need in a kids' tablet. The TUFEN Tablet for Kids features a preinstalled iWawa application which ensures that your child learns and enjoy fully.
The app comes with numerous apps, games, books, educational content, movies, music, and more. It also gives parents the option to limit accessibility and usage so that their children can use the tablet in an appropriate manner.
With internal storage of 8 GB and 1024*600 HD screen, the tablet is powered by a high speed Quad Core processor This device features a two-year worry-free guarantee. If you are concerned about the running time, the TUFEN easily provides 3-4 hours of continuous video play time and 24-hours of standby time. The TUFEN tablet is simple to set up and use.
Kid-proof case,: high quality soft and lightweight silicone case to feel comfortably hold in hand and meanwhile to protect against any drops and bumps caused by kids at play; the case is environment-friendly, sweat-proof, unscented and will do no harm to kids health.
4.

 Dragon Touch Y88X Plus 7 inch Kids Tablet 2017 Version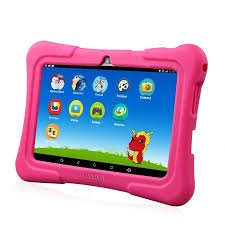 When it comes to mobile devices, tablets really have a lot to offer. With access to movies and games, they can be great for entertainment. You can use the different communications features to stay in touch with friends.
Along with that, there are also thousands of apps that you can download to add features and functions to the device. For consumers that want an economical tablet option that still does all of the things that you need, the Dragon Touch Y88X is a good bet to fit your needs.
With access to Disney's exclusive content, the preloaded kids tablet is a popular choice and is designed to make use of technology in a positive manner fostering learning, safety, and improving cognition.If your child is a Disney fan, this is it! There is a free Disney library included which features four audio books and 20 story books.The Dragon Touch also has a preinstalled app known as Kidoz where children can make and play in their own world.
The app allows children to create their personal playground and play apps and website.The company has also designed an exclusive case which includes a stand function. The high durability of this product make it ideal. Find out more about Dragon Touch Y88X Plus 7 in our review.
5.

 BENEVE 7 Inch Kids Tablet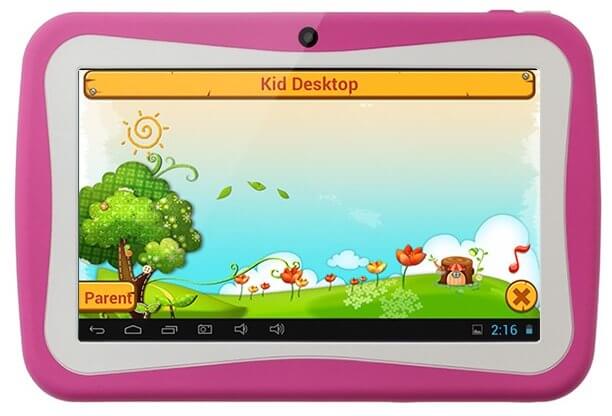 If you are looking for a kids tablet with camera, BENEVE has got you covered! With a 7 inch screen and 1024*600 display – it is a powerful tablet for your child that is run on Google Android 7.1. Apart from this, the BENEVE 7 Inch Kids Tablet features Bluetooth, Dual Camera, WiFi, and 1 GB RAM. Other applications and software that come preinstalled include Google Play Store, Netflix, YouTube, Facebook, and it also supports Skype video calling.
A no-fuss 18 month warranty adds more value to its offerings. BENEVE provides lifetime technical support to its customers making sure they have nothing to worry. To ensure better protection, a kid-proof case is also included to protect it from bumps and drops. The cover case is made using high-quality silicone material and supports standing function.
6.

 Samsung Galaxy Tab E Lite
Samsung Galaxy Tab E is built with children in mind. Buyers get a three-month free subscription to Samsung Kids which allows your little ones to access thousands of apps including several with STEM and Core educational content.
This is the best tablet for older kids and features content from National Geographic, DreamWorks Animation, Sesame Street and more. In terms of learning and educational value, the Galaxy Tab E checks all boxes.
7.

 B. B. PAW Kids Tablet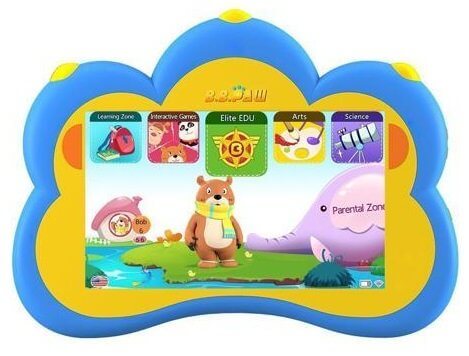 The B. B. PAW Kids touch screen tablet for kids is always a bestseller and for good reason. With more than 90+ apps, music, games, eBooks, and more – the tablet is a steal for the price.
This device features parental control so that parents can monitor and set limitations on the type of content that can be accessed by your little one. You can also manage the duration of your child's screen time, along with the breaks that they need to take.
The educational content featured on the tablet was curated by preschool teachers from China, USA and Italy.Kids regardless of their age simply love this paw-shaped tablet. Available in bright attractive colors, it is durable and loaded with features similar to most Android devices.
How to Choose The Best Tablet For Your Little One?
Most of us have heard the terrible stories of kids making accidental purchases that rack up a fortune from a logged in shopping account. Similarly, while freely exploring the internet, children may also visit sites which aren't age-appropriate. Therefore, it is of utmost importance for parents to purchase a tablet with child safe browsers and parental control. For adequate monitoring and for child safety. The majority of tablets come with advanced parental control settings.
Another important factor that parents need to take into consideration is battery life. You would not want to buy a tablet that switches off right before Elsa is about to sing "Let It Go!" would you? If purchasing a tablet with long trips and vacations in mind. Make sure the tablet you buy has a good battery life. While an 8-hour battery life is sufficient in most cases, some tablets offer a 12-hour battery life.
Final opinion
There are numerous kids tablet available on the market and choosing the right one for your child could be overwhelming. We understand not all parents are tech savvy. Thus, with our list of seven best kids tablet, we are hopeful that you will make an informed decision.